Sleep experts consistently advocate for back sleeping, as it is believed to be the easiest on the spine and the least likely to lead to soreness or wrinkles. Despite consistent advocacy for back sleeping, this is by far the rarest sleep position, with the National Sleep Foundation reporting that just eight percent of adults sleep on their backs.
Pros and Cons of Back Sleeping
Sleeping on your back is one of the most common sleep positions, and it has both pros and cons. Here is a list of some of the advantages and disadvantages of sleeping on your back:
Pros:
Spinal alignment: Sleeping on your back helps maintain a neutral position for the spine, reducing the risk of developing back and neck pain. This alignment also minimizes the likelihood of experiencing discomfort due to pressure points.
Reduced acid reflux: By keeping the head elevated and the stomach below the esophagus, back sleepers can minimize the risk of experiencing acid reflux and heartburn.
Minimized wrinkles and facial pressure: When you sleep on your back, your face is not pressed against a pillow, which can help reduce the development of wrinkles and minimize facial swelling or puffiness.
Decreased risk of developing pressure sores: Since the body's weight is distributed evenly in this position, there is less pressure on specific areas, reducing the risk of pressure sores for those who are bedridden or have limited mobility.
Less strain on internal organs: Sleeping on your back can help reduce strain on internal organs, particularly the lungs and heart, which can be beneficial for overall health.
Cons:
Snoring and sleep apnea: Sleeping on your back can lead to a higher risk of snoring and sleep apnea due to the relaxed position of the tongue and soft palate. This can obstruct the airway, leading to breathing difficulties during sleep.
Lower back pain: For some individuals, particularly those with existing lower back issues, sleeping on the back can exacerbate pain. This can be mitigated by placing a pillow under the knees to maintain the natural curve of the spine.
Pregnancy discomfort: Pregnant women may find sleeping on their backs uncomfortable, particularly during the later stages of pregnancy. This position can also decrease blood flow to the uterus and may not be recommended by healthcare professionals.
Not suitable for everyone: Some people simply find it uncomfortable to sleep on their backs, making it difficult for them to fall asleep or stay asleep in this position.
Potential for limb numbness: Sleeping on your back with your arms resting beside you may lead to reduced blood flow and nerve compression, resulting in numbness or tingling in the arms or hands.
Ultimately, the best sleep position for you depends on your personal comfort, any underlying health conditions, and individual preferences. If you have concerns about your sleep position, it's a good idea to consult with a healthcare professional for personalized advice.
Downsides and Challenges of Back Sleeping
There are few personal downsides to back sleeping, but it can be aggravating for others if you share your room — and if you happen to snore. Unfortunately, back sleeping aggravates snoring, which can keep others awake. Some people believe that back sleeping is problematic for those with sleep apnea, but research actually indicates that the prone (stomach) position is more harmful for apnea sufferers.
Mattresses for Back Sleepers
Top Pick for Back Sleepers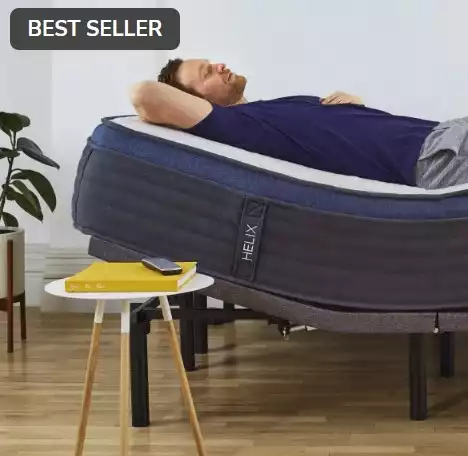 We earn a commission if you make a purchase, at no additional cost to you.
Helix offers a variety of mattresses designed to cater to different preferences and sleep positions. As of my knowledge cutoff date in September 2021, the following Helix mattress models are considered suitable for back sleepers:
Helix Midnight: The Helix Midnight is a medium-firm mattress (rated around 5.5-6 on a 1-10 firmness scale, where 10 is the firmest) that provides a balance of support and pressure relief for back sleepers. It features a combination of memory foam and polyfoam layers for contouring and comfort, as well as individually wrapped pocketed coils for support and motion isolation. This mattress helps maintain proper spinal alignment while providing adequate pressure relief for back sleepers.
Helix Dusk: The Helix Dusk is another medium-firm option (rated around 5.5-6 on the firmness scale) suitable for back sleepers. It offers a slightly firmer feel than the Midnight, providing more support and less contouring. The Dusk features a combination of latex-like and polyfoam layers, along with individually wrapped pocketed coils for support, motion isolation, and responsiveness.
Helix Dawn: For those who prefer a firmer sleeping surface, the Helix Dawn (rated around 7-7.5 on the firmness scale) could be a good choice. This mattress is designed to provide more support, with less contouring and sinkage than the Midnight and Dusk models. The Dawn features a layer of latex-like foam for responsiveness, a high-density polyfoam transition layer, and a supportive base of individually wrapped pocketed coils.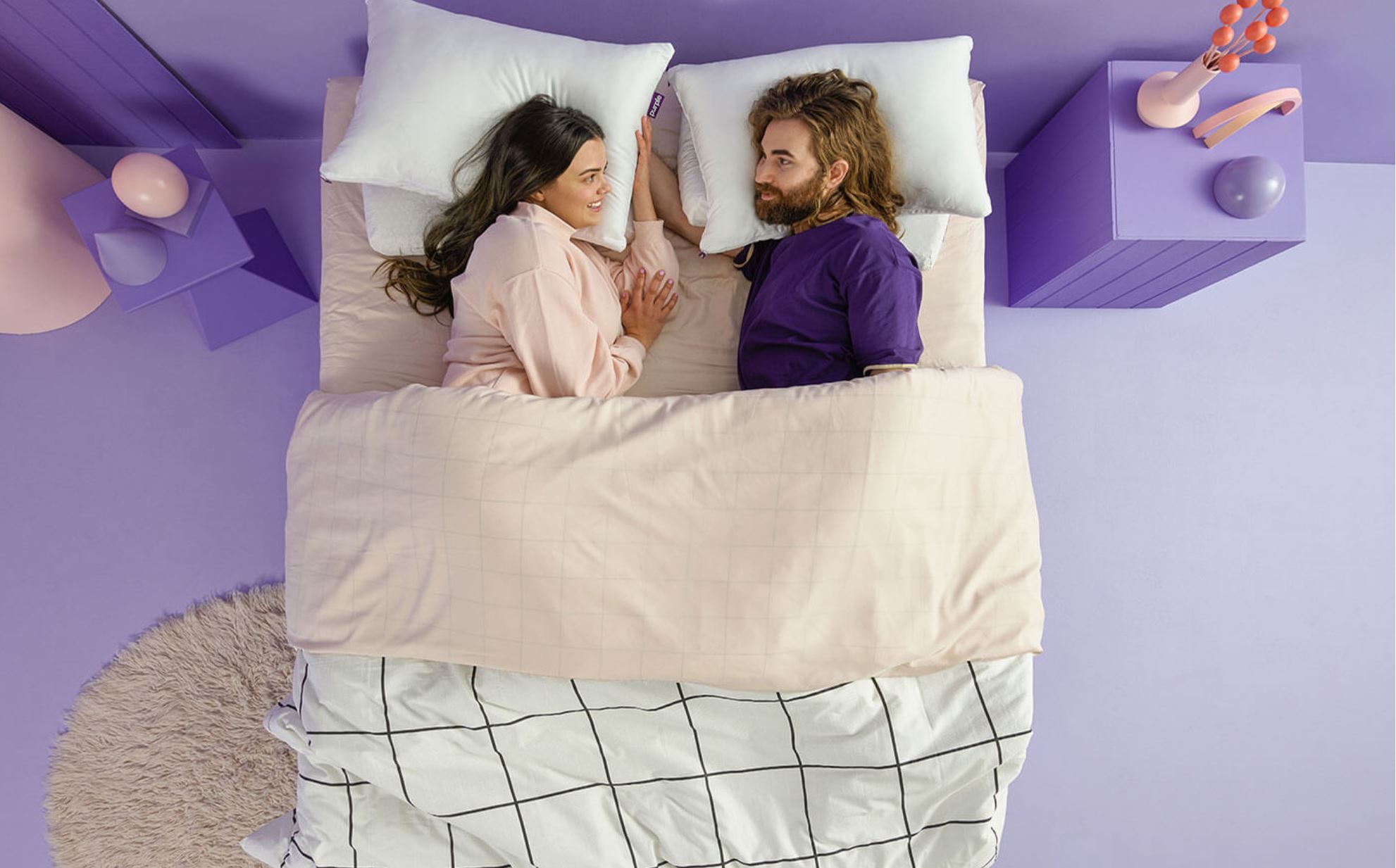 Purple is an excellent choice for anyone looking for a contouring mattress not constructed from memory foam. The no-pressure mattress features a polymer gel layer, which offers excellent pressure point relief and a unique floating sensation. A versatile mattress, it can accommodate all sleeping positions — including supine, which is notoriously difficult to shop for. Point elasticity is exceptional for the Purple, thereby making it perfect for sleeping with a partner (particularly a supine sleeping partner). The downside of Purple is that it is a one-size-fits-all mattress; adjustments can therefore only be made with toppers or mattress pads.
If you primarily sleep on your back, you can expect fewer aches and pains each morning — especially if you invest in a high-quality mattress. For the best sleep possible, aim for medium-firm mattresses that provide a mix of support and contouring. Keep your secondary sleep position in mind, as many back sleepers shift onto their sides or flip into a supine position. A versatile mattress can provide the support you need while also accommodating your partner. Choose carefully — the quality of your mattress can have a direct impact on your general health and wellbeing.
Get the full Purple Mattress Review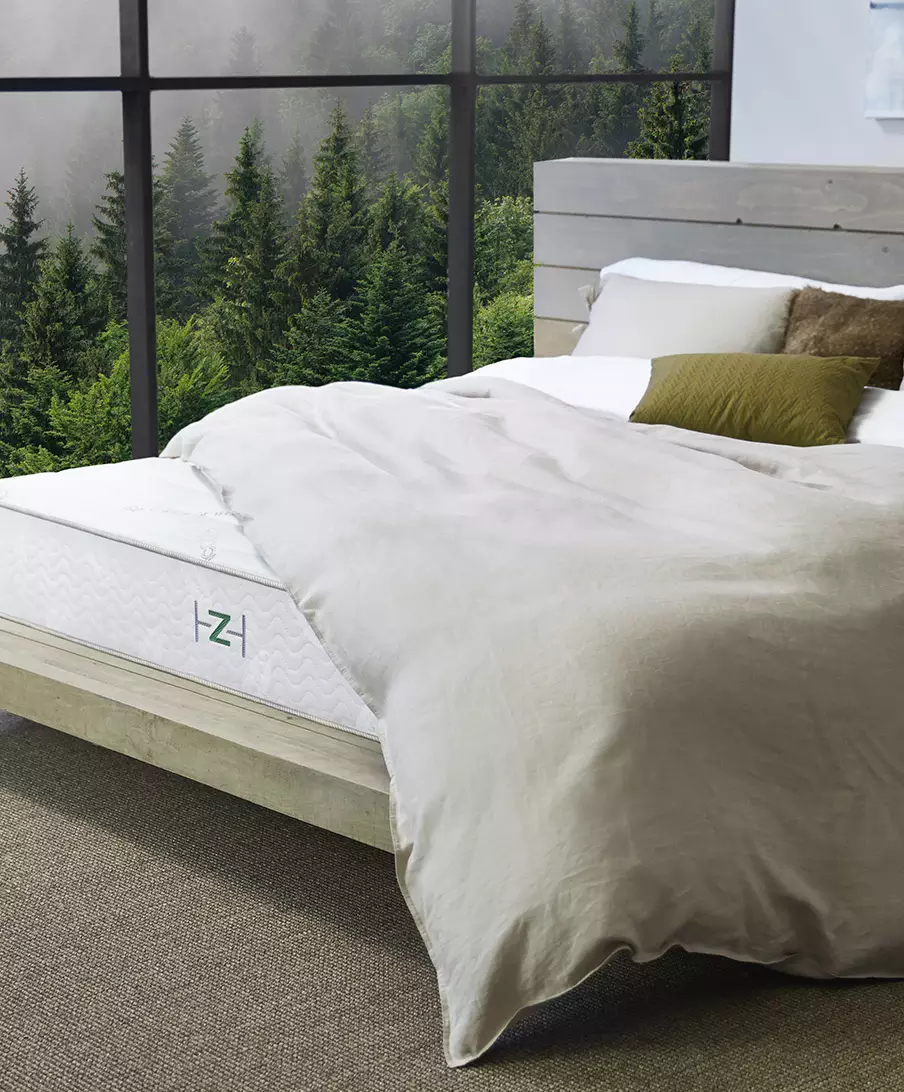 Some back sleepers find it all but impossible to sleep on memory foam, as they feel as if they are sinking into the bed. Latex provides a far different feel; there is some contouring, but also a sensation of resting on top of the mattress, as opposed to sinking into it. Zen Haven mattresses can be flipped where one side is firmer and the other softer. Back sleepers tend to prefer Zen Haven's firm side. The soft side is best for side sleepers. This is one of the few natural latex mattresses with a money-back trial period. If you're new to latex and want to try it out without the risk. Zen Haven is an excellent choice.
Get the full Zen Haven Review
Bear Mattress
Specifically designed for the active individual, the Bear Mattress is intended to help athletes and exercise enthusiasts recover overnight so that they can get back up on their feet the next day. This means minimizing pressure points — the last thing active types need are lingering aches and pains from their overly firm mattresses. The medium firmness of the Bear accommodates most individuals, including back sleepers and combination back and side sleepers. The mattress has four layers of supportive foam, but its Celiant cover is most impressive, especially given Bear's relatively low price point.
Get the full Bear Mattress Review
Novosbed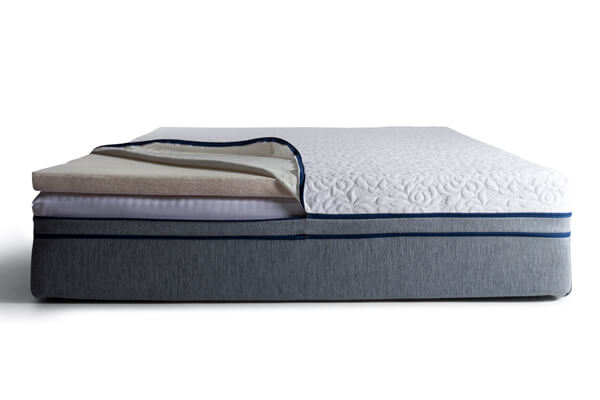 The Novosbed comes in three firmness ratings. The medium and firm options (formerly known as the Aria and Classic) are best for back sleepers, as they minimize sinking. If, after ordering the Novosbed, you find that it isn't as soft or firm as you desire, you can order a free kit that will help you adjust the mattress to your liking. This is a nice option for back sleepers, as it can be difficult to pinpoint the correct firmness. All of Novosbed's firmness levels feature super soft top covers and elastic covers designed to protect the foam core.
Get the full Novosbed Review
Winkbed

Hybrid mattresses are excellent for back sleepers, who sometimes require greater firmness than standard memory foam can provide.  Winkbeds combine spring technology with foam, thereby ensuring both comfort and support. Tempered support springs promote localized relief for pressure points, while hypersoft foam offers the buoyancy that memory foam sometimes lacks. Winkbeds are compatible with adjustable frames, which many back sleepers prefer.
For back sleepers, the WinkBed Luxury Firm model is generally considered the most suitable choice. Here's a brief overview of the Luxury Firm model:
WinkBed Luxury Firm: This model provides a balance of support and comfort for back sleepers. With a medium-firm feel (rated around 6.5 on a 1-10 firmness scale, where 10 is the firmest), it offers enough support to maintain proper spinal alignment while providing adequate pressure relief. The Luxury Firm model features a Euro-pillow top with gel-infused foam for added comfort, a layer of pocketed micro-coils for contouring, and a supportive base of individually wrapped pocketed coils. The zoned support system in the mattress helps maintain proper alignment, particularly for the lumbar region, which is essential for back sleepers.
Get the Full Winkbeds Review
Get the full list of mattress reviews here.
All Mattresses For Back Sleepers