Recently updated on December 16th, 2018 at 03:40 pm

Yawnder readers get $450 off your Sleepovation mattress with coupon code SHERPA.  Activate Here
The Sleeepovation mattress is a completely different mattress than any other I have tried. I was given a queen size for review. This mattress is touted as 700 mattresses in 1. That's because each coil works independently and each coil has an independent piece of foam on top. This creates a mattress that hyper contours and is very breathable.
Ordering Your Sleepovation Mattress

Here's what it looks like out of the box. Since it's roll packed it will work just fine on an adjustable base.
Overview of the Sleepovation Mattress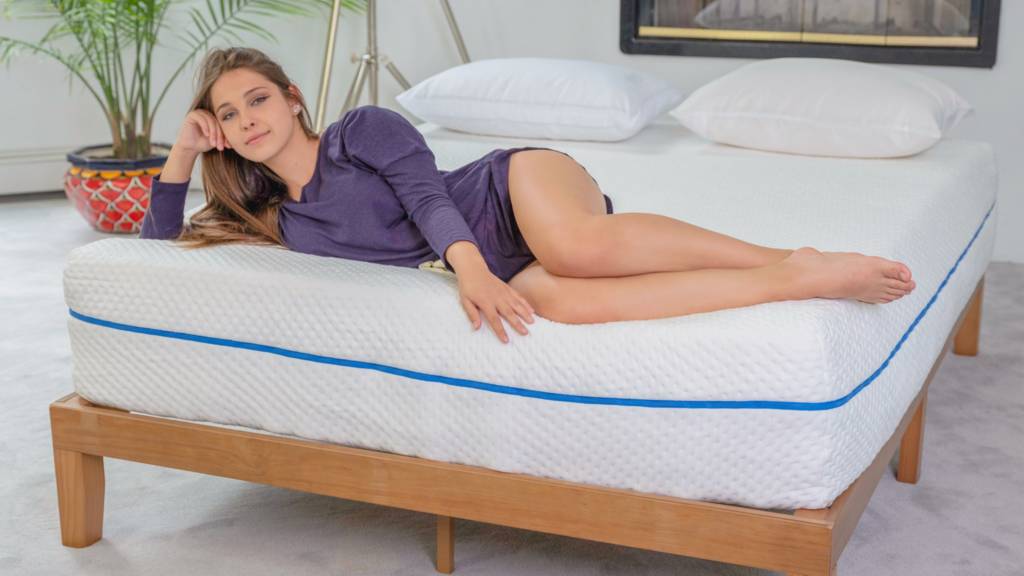 In the video below I show you the inside of the Sleepovation mattress. This mattress has high point elasticity, In simple terms this is the ability of the mattress to conform to specific areas without affecting the feel of the rest of the mattress. Memory foam is well known for this but Sleepovation takes it to another level by achieving better point elasticity by creating independent spring and foam pieces.
How Much Does it Cost?
Here are the most recent prices of the mattress as listed on their website:
Twin $1,049
Twin XL $1,149
Full $1,249
Queen $1,449
King $1,649
Cal King $1,649
Construction of the Sleepovation Mattress
Below are the technical specifications of the mattress as listed on their website.
| | |
| --- | --- |
| Individual Cushion | 2.25″ x 2.25″ x 3″ rectangular high density foam cylinder of hybrid formulation optimized for our CPS technology. |
| Cushion Pocket | Foam cylinder encased in fabric pocket. |
| Pocket Coil Spring | 8″ premium .078 high carbon steel spring encased in a fabric pocket. |
| Cushion Pocket Spring | Single cushion pocket engaged with its own indidivual pocket coil spring. |
| Fabrics | Knit polyester and elastane cover designed to maximize our patented technology. |
We have also integrated a removable quilted fire cap, that acts like an internal fitted mattress pad for added comfort. This ingenious design eliminates the need for an external mattress pad and ensures the sleeper is in direct contact with the 700 tiny mattresses.
Measurements & Dimensions
| | |
| --- | --- |
| Twin | 39″ x 75″ x 12″ ; 56 lbs. |
| Twin XL | 39″ x 80″ x 12″ ; 60 lbs. |
| Full | 54″ x 75″ x 12″ ; 77 lbs. |
| Queen | 60″ x 80″ x 12″ ; 90 lbs. |
| King | 76″ x 80″ x 12″ ; 113 lbs. |
| Cal King | 72″ x 84″ x 12″ ; 116 lbs. |
My Sleepovation Findings
This mattress was ready to sleep on just a few minutes after opening it. Because it has springs, it bounced into shape quickly. There was very little recovery time.
As seen in the picture below, you can access the inside of the mattress via a zipper which goes all the way around. You will probably never need to use this but I thought it was fun to see and play around with the inside of the mattress.
Upon opening the mattress you will see that it has a mattress pad on top of the "tiny mattresses". I believe it serves two purposes, one as a fire barrier and the other as a way to keep the mattresses from bending out of shape.
Below is a photo of my 14lb. bowling ball on the tiny mattresses. This is a good illustration of how well this mattress contours.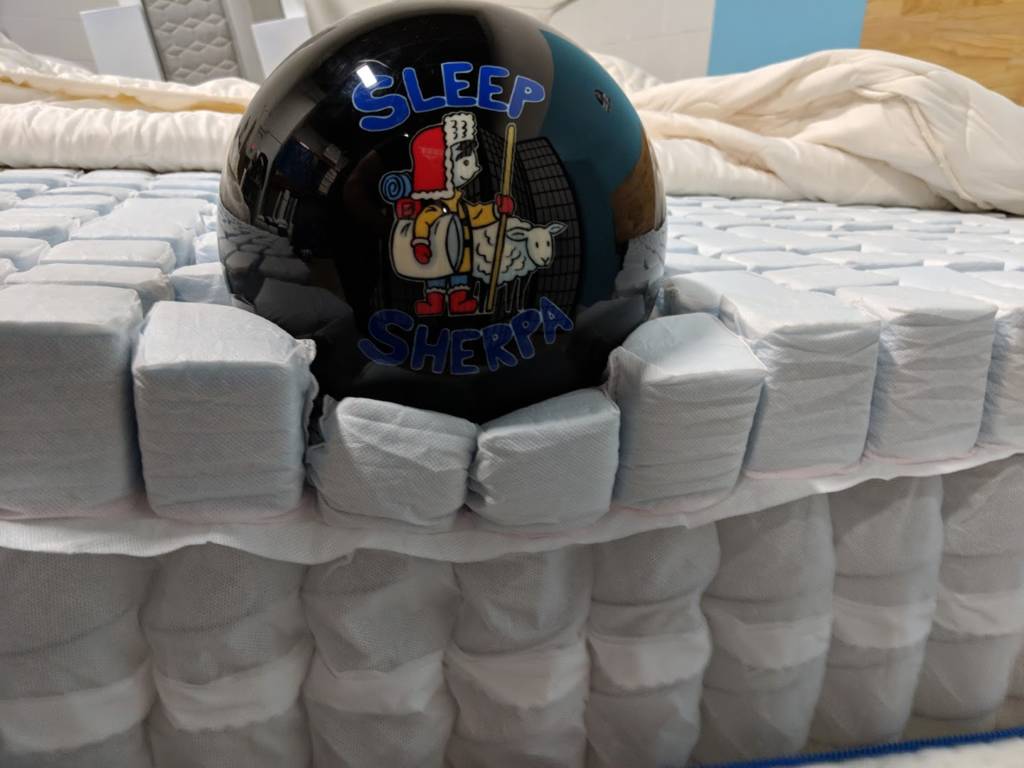 Below is a video that illustrates motion transfer on the mattress. Since all the pieces work independetly you won't get much partner disturbance. This mattress performed better than the other hybrid mattresses I have tested because they rely on a solid piece of foam over the coils which can pull to some extent.
Here's a closeup of how each tiny mattress responds.
My Sleepovation Recommendation
This mattress brings some true innovation to a marketplace that has become very stale with, "me too" models. Side and back sleeper will love this mattress for its excellent contouring that can recover quickly with the help of coils. An added benefit is that this mattress is very breathable because of the channels created throughout the mattresses allowing for superior airflow.
If you like the feel of coils but want the pressure relief of foam with superior contouring and breathability, the Sleepovation is worth every penny.

Yawnder readers get $450 off your Sleepovation mattress with coupon code SHERPA.  Activate Here