There's something really comfortable about curling up on your side, which, perhaps, explains why the vast majority of adults sleep this way. According to the National Sleep Foundation, 15 percent of adults sleep on their side with their legs outstretched, while another 41 percent sleep in the fetal position, with their back hunched and their legs bent. Side sleeping is particularly common among pregnant women, who might otherwise struggle to accommodate their growing baby bumps. With the right mattress, side sleeping can provide superior rest, all while improving circulation and preventing snoring. We take a look at the best mattress for side sleepers based on a host of other requirements. 
Benefits of Side Sleeping
Side sleeping just feels natural. It just feels nice to curl up in the fetal position and drift off to sleep. For pregnant women, this position is particularly beneficial, as it prevents the fetus from pressing up against the liver. Side sleeping is also a good option for those who tend to snore. If the spine is kept elongated, this position can minimize sleep-associated neck and back pain. Some side sleepers also report fewer acid reflux symptoms, as compared to other positions. Side sleeping may also be the most beneficial for the brain; research from Stony Brook University indicates that lateral (side) sleepers are more effectively able to rid their brain of the waste that contributes to Alzheimer's disease. This waste is discarded via the glymphatic pathway, which is most efficient at night, and especially while the body is in a lateral position.
The Journal of Neuroscience (2015) published a groundbreaking study revealing that side sleeping potentially promotes brain health. The research pointed out that this sleeping position enhances the glymphatic system's effectiveness, our brain's waste-clearing mechanism. The efficient removal of brain waste products, like amyloid-beta, could potentially reduce the risk of developing neurodegenerative diseases, such as Alzheimer's.
Another advantage of side sleeping can be found in its effects on the respiratory system. According to a study published in the American Journal of Respiratory and Critical Care Medicine (2005), side sleeping can alleviate symptoms in people suffering from obstructive sleep apnea, a condition characterized by frequent pauses in breathing during sleep. This position, by keeping airways open, significantly decreases the number of apneas and promotes more restful, undisturbed sleep.
But is one side better to sleep on than the other? The Journal of Clinical Gastroenterology (2005) provides some insight, suggesting that left-side sleeping can lead to better health outcomes, particularly in digestion. The study found that due to the positioning and layout of our internal organs, left-side sleeping allows gravity to facilitate digestion, potentially easing symptoms of conditions like gastroesophageal reflux disease (GERD) and heartburn.
Further, pregnant women are often advised to sleep on their left side. As outlined in a study published in the BMJ (2011), this position improves circulation to the heart, benefiting both mother and baby. It also relieves pressure on the back, keeps the uterus from compressing the liver, and increases blood flow to the uterus, kidneys, and fetus.
While side sleeping appears to have several benefits, it's important to note that individual health factors can influence what position is best. For example, people with certain types of physical ailments or injuries may find other positions more comfortable or therapeutic. Additionally, maintaining proper spinal alignment while side sleeping is essential to prevent neck and back pain, often achieved with a supportive pillow and mattress.
Most side sleepers prefer a hybrid mattress but there are now many side sleeper foam mattresses that have recently come to market that provide great contouring and cooling properties. 
Challenges Faced By Side Sleepers
Side sleeping can be incredibly comfortable, but there are a few notable drawbacks. When sleeping in a fetal position, breathing can be restricted. Those worried about the visual signs of aging tend to avoid side sleeping, as spending so many hours with the face crunched up on a pillow can lead to wrinkles. For side sleepers of all ages — but particularly those above the age of 50 — curling up in the fetal position can lead to soreness in the morning. This can be prevented to some extent by placing a pillow between the knees, but a supportive mattress is also important.
Best Mattresses For Side Sleepers
Side sleepers typically prefer a softer surface, and therefore a soft mattress as this allows them to sink into the mattress while they are curled up on their side. Ideally, a softer mattress will also accommodate the natural curve of the spine and maintain proper alignment throughout the night. Memory foam's superior contouring makes it an especially wise option for side sleepers, who require as little pressure on the shoulders and hips as possible. Memory foam is great for pressure relief but I find that if motion transfer from your partner getting up at night isn't an issue, a hybrid mattress is ideal for side sleepers. 
Best Overall Mattress for Side Sleepers
The Nolah Evolution is a side-sleepers dream. It starts with a cool-to-the-touch cover and underneath that you get cooling graphite foam, which is a type of memory foam that sleeps cool, and a breathable gusset. As a hybrid mattress, it is going to sleep cooler than an all-foam mattress and provide better contouring, responsiveness and pressure relief. It is on the softer side which is perfect for sides sleeping because it will take away all the pressure on your hips and shoulders. At 15 inches thick, it makes a statement and is packed with quality. But just because it is a soft mattress doesn't mean it lacks support. 
As an innerspring mattress it can contour in ways an all foam mattress cannot. The Nolah Evolution has a zoned coil system that has firmer coils in the middle at your lower back for proper support and softer coils at your shoulders so you can sink into the mattress more for better pressure relief. 
The zoned coild system also has firmer coils along the perimiter so that side sleepers can sleep right up to the edge of the mattress without feeling like they may fall off the bed. 
For hot sleepers, Nolah has a phase change cover that draws heat away to cool you off a bit as you go to sleep. 
Get the full Nolah Evolution Review
Best Luxury Mattress for Side Sleepers
Brentwood Home Oceano
The Oceano Mattress from Brentwood Home sells itself. The quality of materials and construction make it a thing of beauty and it feels as good as it looks. You get a great hug with this mattress but also quick recovery due to its pocket coil base layer and a layer of micro coils on top of that. Throw in the 2-inch gel foam layer, natural wool fire barrier, and hand tufting and you have a mattress that sets the bar for quality at this price point. I have had the Oceano in the Yawnder showroom for the past 6 weeks and everyone gravitates to it. A large portion of side sleepers end up purchasing it as well.
Along with a zone coil system similar to the Nolah, the Brentwood Home Oceano is also tufted. The hand tufting gives the mattress a more consistent feel across the entire bed. Heavy-side sleepers will appreciate this as they are less likely to roll towards the middle of the mattress in comparison to a cheaper hybrid mattress. 
The Brentwood Home Oceano gives you that classic innerspring mattress feel with all the newest mattress features including a Tencel cover that help wick away heat and moisture. This is not only one of the best mattresses for side sleepers, it is simply one of the best mattresses online, period. 
Get the full Oceano Mattress Review
Best Natural Mattress for Side Sleepers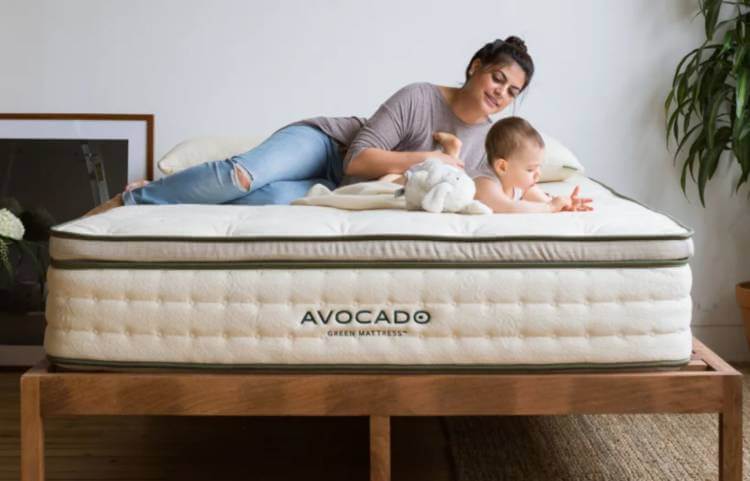 The Avocado mattress has dozens of certifications and awards. It is one of the "greenest" mattresses you can buy. It is also one of the most comfortable and well made. This mattress has GOLS certified latex, organic cotton, New Zealand wool and quality steel coils. On top of that, it is hand-tufted and made in a GOTS certified factory. You can rest easy knowing that you are sleeping on an all-natural mattress made with quality and care. The pillow top version is made with an extra layer of latex at the top for added contouring for side sleepers. Avocado also has an industry-leading, 1-year trial, so you get to see how this mattress performs for an entire year to see if its right for you.
Underneath the latex comfort layers is a pocketed coil system for added contouring. Pocketed coils move independently to reduce motion transfer which is important in a mattress with latex since a latex mattress is naturally bouncy. Hot sleepers will appreciate the temperature regulation the wool layer provides and the latex has holes throughout to provide natural venilation. 
Latex on average usually feels firmer than foam and is not always the best choice for side sleepers that need to address certain pressure points. In this case, I recommend the Avocado Pillow top as it has an extra layer of latex giving you better pressure relief at your hips. This all natural mattress has a premium zoned coil system similar to the Brentwood Home Oceano and is also tufted. Brentwood Home and Avocado are sister companies and share many of the same benefits and features. 
Get the full Avocado Mattress Review
Best Spring Mattress / Best Hybrid Mattress for Side Sleepers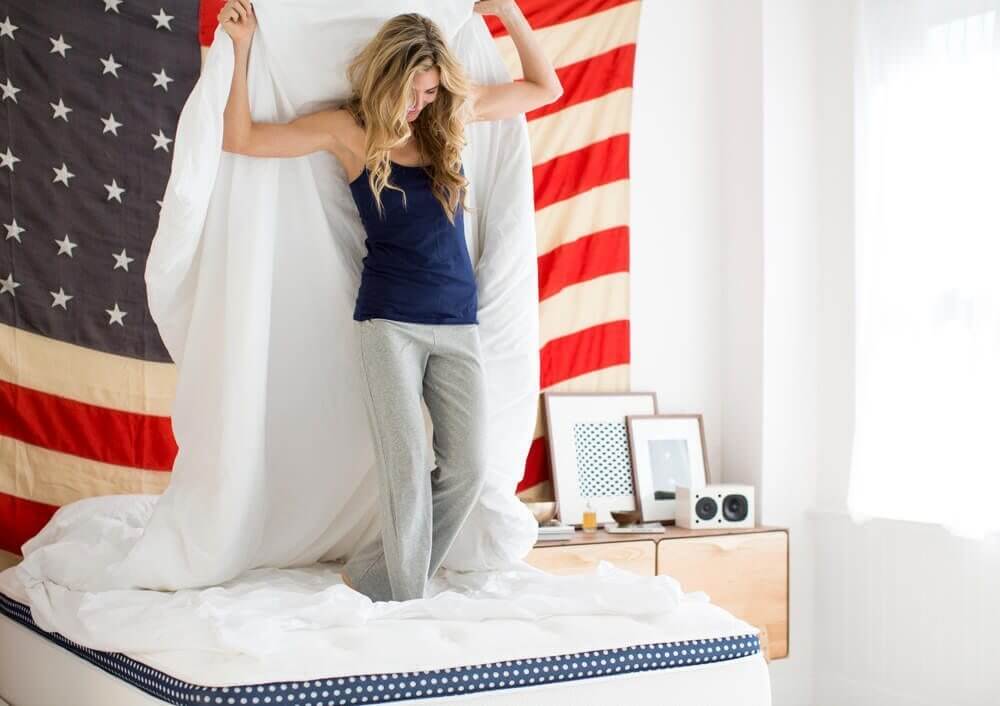 For those struggling to choose between the contouring abilities of memory foam and the greater support and resilience of innerspring mattresses, there is a third and arguably better option: hybrid mattresses. These feature a unique combination of foam and innerspring construction. Winkbeds combine these two distinctive sleep technologies to great effect, thereby ensuring that side sleepers enjoy both the plush feel of foam and the extra support associated with spring mattresses. Side sleepers tend to gravitate towards the outer perimeter of their mattresses; Winkbeds addresses this with its dense perimeter of high-ILD foam, which is designed to prevent the sagging that might occur over time with a lower-quality mattress.
No one mattress is perfect for every type of sleeper — even preferences among side sleepers can vary considerably. In general, however, side sleepers do best with slightly softer mattresses that avoid placing pressure on the shoulders or hips. No matter your preferred position, the right mattress can have a huge impact on your health and happiness, so choose carefully.
If you are a heavy side sleeper, check out the Winkbed Plus. It has a stronger coil system to handle the extra weight and adds a layer of latex which is more durable than foam and recover faster. Most side sleepers will be happy with the Winkbed soft for the extra memory foam layer over the Winkbed Luxury Firm.  Having the additional memory foam layers will give you that extra pressure relief you need in your hips and shoulders. 
Get the full Winkbeds Review
Best Performance Mattress for Side Sleepers
You know who sleeps on a Molecule mattress? Tom Brady from the New England Patriots. If it's good enough for Tom Brady, chances are it will be for you too. This mattress is extremely breathable for an all-foam mattress which means you won't wake up sweaty at night or throwing off covers. By keeping your temperature regulated you will stay asleep longer and get more restorative sleep. But temperature aside, this mattress is just plain wonderful for side sleepers. It has excellent pressure relief without being too soft or firm which is a hard balance to strike in an all-foam mattress.
If pressure point relief is key, there are really no substitutions for foam. 
The Molecule mattress is great for hot side sleepers and side sleepers that are more athletic and need to prioritize recovery at night. 
Get the full Molecule Mattress Review
Best Memory Foam Mattress for Side Sleepers:
Puffy Mattress
Want to sleep on a cloud? That's exactly what Puffy tries to achieve and nails it with the Puffy Original mattress. It is a side sleepers dream come true. Puffy has been awarded best mattress consistently by major publications and other popular mattress review sites. This is a mattress where you will feel almost weightless as the layering of memory foam and cooling foam and stretch knit cover cont0ur you perfectly. The Puffy mattress also eliminates motion transfer so if you and/or your partner move around at night, you won't feel it. But chances are, once you are sleeping on the Puffy you should stay asleep all night. 
Get the full Puffy Mattress Review
Best Budget Mattress for Side Sleepers: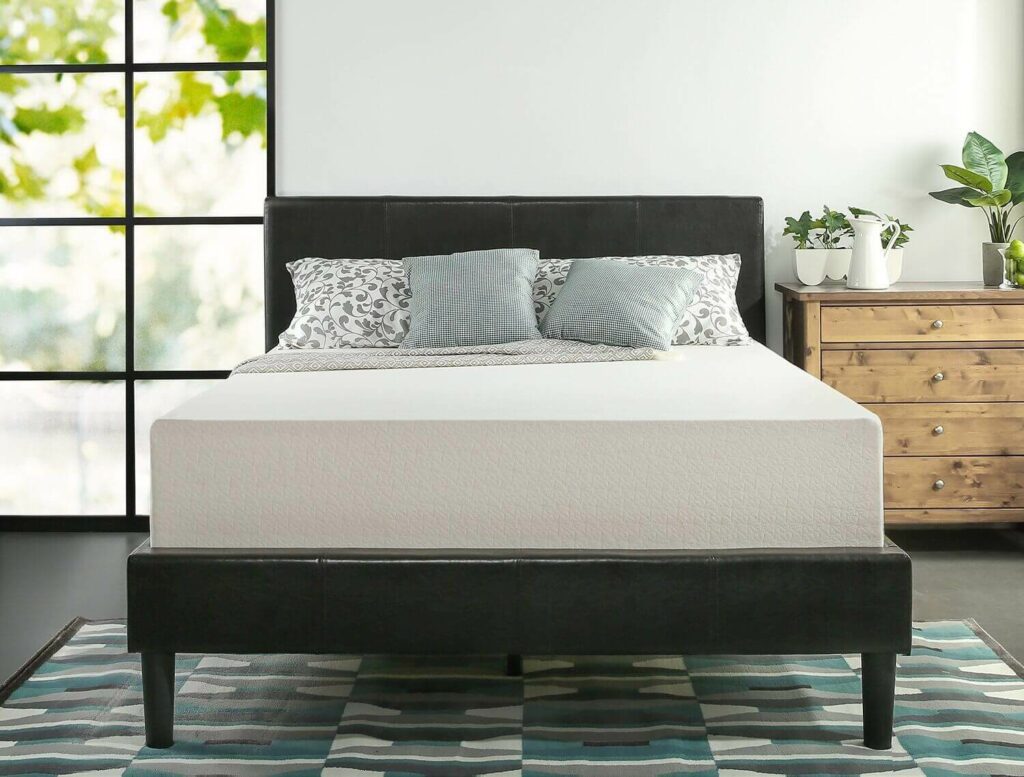 The Zinus Green Tea mattress is your best bet for a mattress under $500. This mattress comes in different thickness levels and for side sleepers, you ?swcfpc=1need to get the 12-inch version. The extra layering provides a super cozy experience. You will sink deep into this mattress and it will give you that sleeping on a cloud feeling. But beware, all that cradling comes with a cost. This mattress will sleep warmer because your body will be further into the mattress. I think it's a small price to pay for all the comfort you get at an unbeatable price. 
One con of the Zinus mattress is that although it is excellent for side sleeping, it lacks the edge support that a hybrid mattress has. So if you like to sleep right up to the edge, take a look at the other mattresses in this list. 
Get the full Zinus Green Tea Mattress Review
As always contact me direct at: [email protected] if you need any further guidance.
All Side Sleeper Mattresses
7 Facts About Side Sleeping
This dominant sleep position, adopted by a large majority of adults, is more than a mere comfort preference—it's closely linked to health, personality traits, and even evolution. Let's delve into some intriguing aspects that make side sleepers a fascinating study.
Side Sleeping and Brain Health: A study published in the Journal of Neuroscience found that side sleeping may help the brain clear waste and harmful chemicals more efficiently, potentially reducing the risk of Alzheimer's and other neurodegenerative diseases.

The Fetal Position is the Most Popular: According to the National Sleep Foundation, over 40% of adults prefer the fetal position (a form of side sleeping with the legs curled up), making it the most popular sleep position. Interestingly, the study also found that women are twice as likely as men to sleep in the fetal position.

Side Sleeping May Reduce Snoring: This position can help keep airways open, leading to less snoring and symptoms of sleep apnea. That's why it's the recommended sleep position for those suffering from these conditions.

Evolutionary Preference: Anthropologists suggest that side sleeping could have been favored in the evolution of our species. It allowed our ancestors to balance the need for quality sleep with the need for vigilance against potential threats.

Personality Links: A survey by UK-based bed maker Sealy revealed a potential connection between sleep position and personality. Side sleepers who preferred the fetal position were found to have a tough exterior but were still sensitive and prone to overthinking.

Digestive Health: Thanks to the positioning and layout of our internal organs, left-side sleeping may be beneficial for digestion and could potentially alleviate symptoms of conditions like heartburn and acid reflux.

Improves Maternal Circulation: For pregnant women, sleeping on the left side is often recommended as it improves circulation to the heart. This, in turn, provides optimal blood flow to the fetus.