Mattresses are known to be expensive. They tend to put a big dent in your pocket as per the popular perception in the market. People always set aside mattress purchases and try to stretch their existing mattress beyond its productive use simply because a new mattress is over the top expensive. There are definitely cheaper options available, but they are generally of very low quality, prone to sagginess, and easily torn with no back support to speak off.
You don't have to despair. There are plenty of cheaper options in the market that can easily give the more expensive mattresses a headache in terms of quality and looks both. You might have to compromise on the materials used and the eco-friendly nature, but there is no compromise on the body posture support and comfy factor. Read on to know the best eight mattresses you can buy without worrying about your wallet capacity.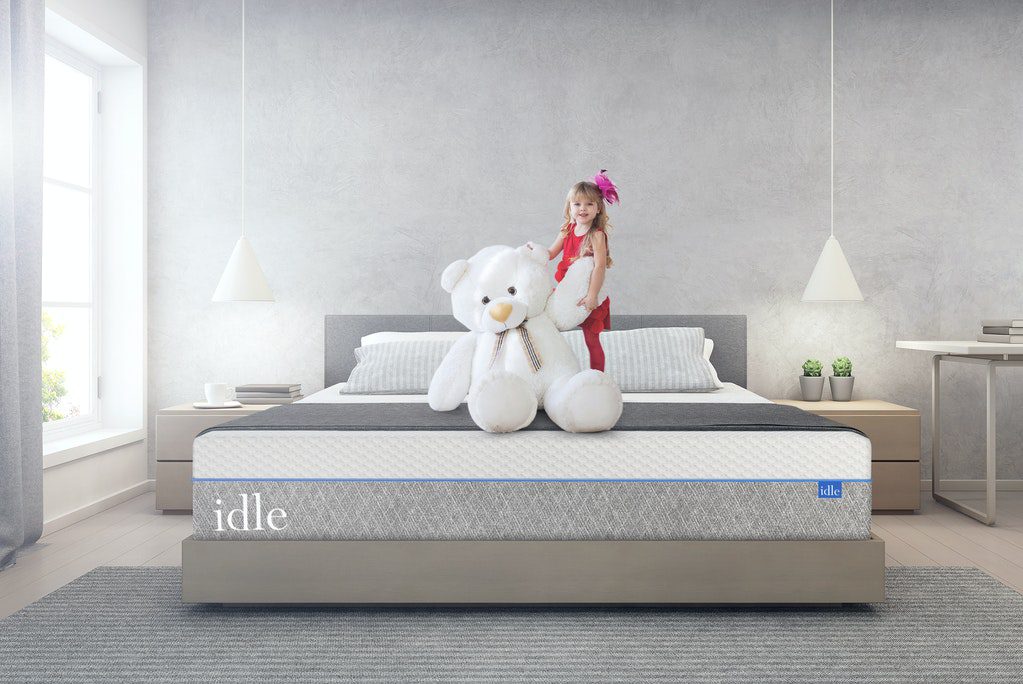 | | |
| --- | --- |
| Pros | Cons |
| Maintains idle body temperature throughout the night | A higher price point than other budget mattresses |
| 12 Inch thickness for added plush and comfort | |
| Lifetime warranty covering body impressions | |
Labeled as "America's Most Affordable Gel Mattress," the Sleep Idle gel foam mattress will not leave you disappointed on the comfort and quality spectrum. It features five layers of foam infused with cooling gel to give you contoured body support and a cool, comfortable night.
The memory foam used is of the highest quality, with no sinkholes and uncomfortable temperature trappings. The foam is infused with cooling gel, which keeps your body temperature well regulated so that you do not wake up in sweats or chills. The mattress comes with a 450 GSM quilt cover, which is easily removable and machine washable. This quilted cover also aids in maintaining the body temperature by keeping you cool when the temperature gets hot and vice versa.
The materials used in the mattress construction are all-natural and safe materials free from petroleum-based synthetics, carcinogenic chemicals, and toxic substances like Bromine, HCL, and HCI.
Specifications
Custom blend 3-inch cooling foam
2-inch supportive perforated foam layer
7-inch base foam
4 lbs. base for extra durability
Fireproof and 100% cotton zippered cover
Tier-1 450GSM+ fiber quality cover
Available in 7 standard sizes
18-month risk-free trial
Lifetime warranty covering body impressions
Easy return policy with the full cost borne by the company
Read the full Idle Sleep review
| | |
| --- | --- |
| Pros | Cons |
| Great price point | Shows signs of wear and tear quickly |
| Highly durable | Made in China |
| Green tea infused for extra freshness | |
Zinus brings to you a truly affordable mattress that ranks pretty high on quality. Unlike other "budget" brands, Zinus means budget when it tags budget. With a $290 price tag for its queen green tea mattress, you will be hard-pressed to find a better deal in the market. Infused with green tea extract in the foam layers, this mattress takes freshness to the next level. You will never find any humidity or dankness in the mattress, making it ideal for high humid conditions.
One of the biggest drawbacks to this mattress is that it is sourced outside America for manufacture. It is made in China with local resources and materials. That said, it does sport CertiPUR – US Certification, so the quality is under control.
The mattress comes in 4 different density inches, from 6 inches to 12 inches. Hence you can choose the mattress height as per your individual preferences. All of these varieties feature memory foam and high-density pressure-relieving foam in varying heights. The 10 inches and 12-inch versions also come with a bigger support foam base for better stability.
The mattress is extremely comfortable with a medium to medium-firm softness. It also does great with motion absorption and is highly versatile. It also ranks well in the pressure relief zone and provides great back support.
Specifications
Made of memory foam infused with green tea, comfort foam, and base foam layers
Available in 6 inches, 8 inches, 10 inches, and 12 inches thickness
Comes in 7 standard sizes
Moisture absorbing active charcoal-infused pressure-relieving foam layer
Body temperature regulation
Ideal for all sleepers
Medium to medium-firm
CertiPUR US certified
Shipped in a compressed state
Twin mattress size supports 250 lbs., and all other sizes support up to 500 lbs.
100 nights trial period
Ten years limited warranty
Read the full Zinus Green Tea Review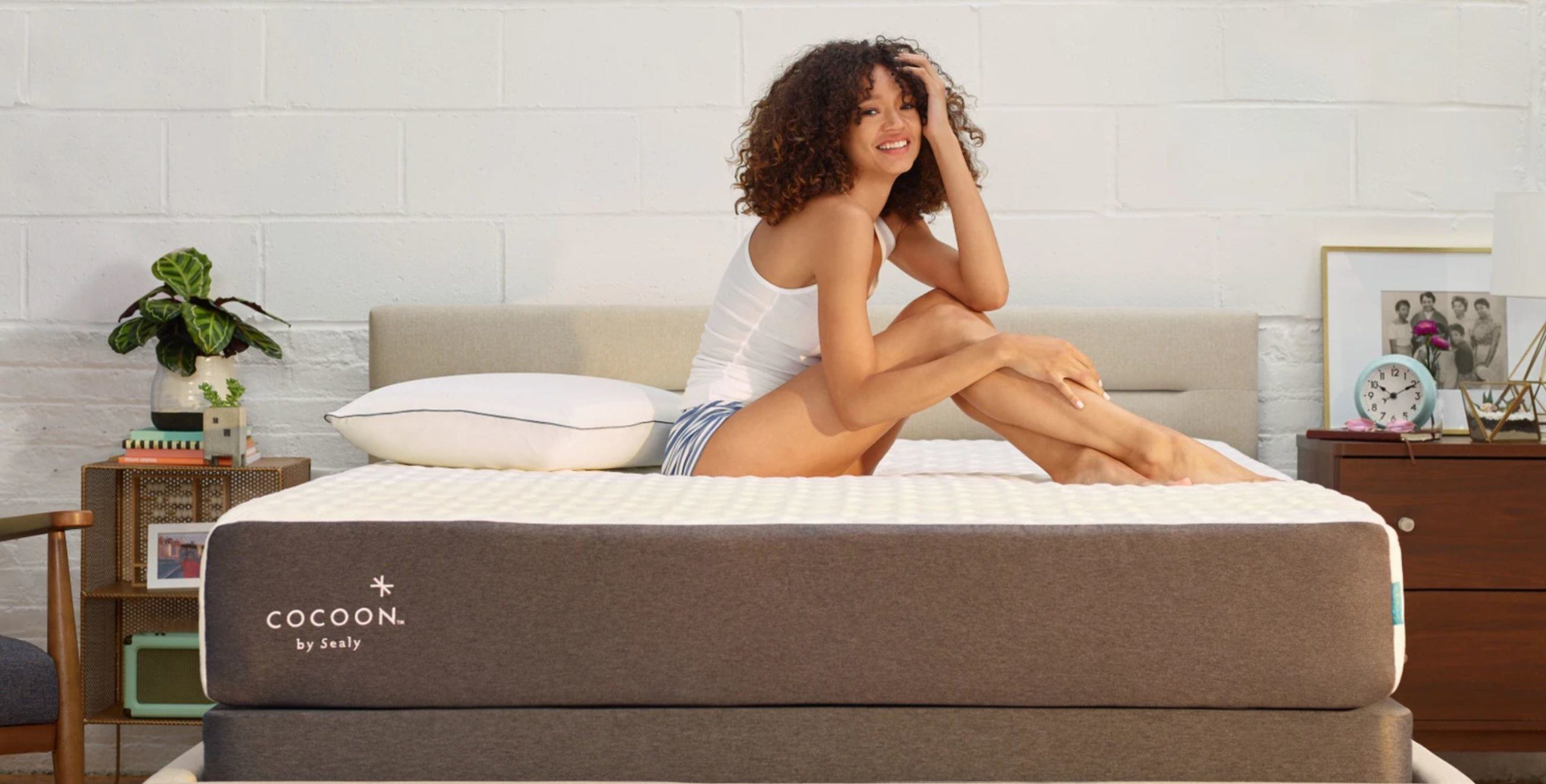 | | |
| --- | --- |
| Pros | Cons |
| Can choose your preferred firmness level | High price point |
| Features proprietary phase charge material for optimal temperature regulation | |
| Easy finance options | |
Sealy is a well-known mattress brand and one of the biggest mattress manufacturers in the world. They have a 2016 Opera endorsement, which just speaks for the quality this brand offers. With start-ups pulling the traditional brands down, Sealy has managed to change its operation strategy to keep up with the market trends with their Cocoon mattress line.
Like most other mattresses, Cocoon also comes in a compressed state. This mattress takes longer than others to unfold once unpacked from the box. This is because Sealy has used comparatively higher density foam on the top level to offer better comfort and support.
The softer version has a decided "sink in" feel, and the firmer version provides a good firm base without being too hard on the body. Either way, you are guaranteed plush comfort through the night with no tired and aching bones in the morning. Motion transfer is easily absorbed by the mattress, and it does pretty well on the heat retention area as well. The mattress is covered with a stretch-knit cover that is infused with phase charge material. This allows the cover to absorb and dissipate excess heat, ensuring that you have a well-regulated body temperature while sleeping.
Specifications
Comprises of cooling cover, perfect fit memory foam, responsive comfort foam, and support layer at the bottom
Cooling cover sports proprietary phase change material
Available in 6 sizes
Comes in 10 inches for a memory foam mattress and 12 inches for a hybrid mattress
Ideal for all sleepers, especially side sleepers and hot sleepers
Designed and manufactured in the USA
Free returns within the USA
CertiPUR US certified
100 nights trial period
Ten years limited warranty
Read the full Cocoon Mattress Review
| | |
| --- | --- |
| Pros | Cons |
| Good value for money | Not manufactured in the USA |
| Four firmness levels to choose from | |
| Both CertiPUR-US and OEKO-TEX certified | |
It is often difficult to find a mattress firmness that suits you perfectly. You generally only get to choose between firm and soft. This is not the case with the OkiOki mattress. Here, you get to choose between 4 different firmness levels to buy the one that suits you perfectly. If you still cannot find the right firmness level for you, then you can leave them a recommendation and feedback that is taken very seriously by the brand.
The construction of the mattress depends on the type of mattress. They each feature a hypoallergenic cooling ice yarn cover and high-density PU foam. Apart from this, the OkiSoft and OkiEasy versions have memory foam that conforms to your body shape and cocoons you in sleep. The OkiFlex and OkiFirm options come with graphite memory foam for the added firmness. Optimal use of the different OkiOki mattress is discussed below:
OkiSoft: This is great for side sleepers and gives you the perfect "sink-in" feel. It has a 3-inch comfort foam layer that just screams plush comfort.
OkiEasy: It is a little bit firmer with a great recovery rate. It is ideal for back sleepers. The coil in foam allows it a good bounce and great versatility. However, the bounce also makes it least impressive with motion transfer control.
OkiFlex: This mattress is a hybrid mattress with both coils and springs. The coils are well encased within the foam, so you do not have to worry about getting poked anytime during the mattress lifetime. The motion transfer is well absorbed by the coil-encased foam and the thick top layer, so you do not feel jittery on the mattress. This option is great for side sleepers, but it does not offer good pressure relief since it is a bit on the firmer side.
OkiFirm: If you are looking for a firm mattress, then OkiFirm is the one for you. The construction is similar to OkiSoft but with denser memory foam to give it extra firmness. There is no motion transfer making this ideal for stomach sleepers.
Specifications
Comes in 4 levels of firmness
Available in 6 sizes
Features high porosity gel memory foam
Ice yarn zip cover maintains and regulated body temperature
Supports up to 600 lbs
CertiPur US and OEKO-TEX certified
Ships within 1 – 2 days after order placement
Returned mattresses are either recycled or donated to a local charity
365 days free nights trial
Ten years limited warranty
Read the full OkiOki Mattress review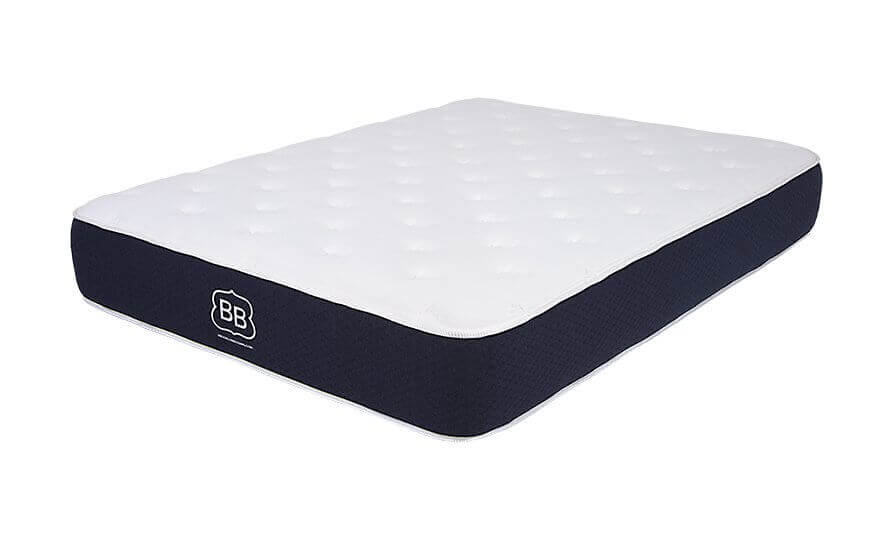 | | |
| --- | --- |
| Pros | Cons |
| Soft and plush top layer | Pronounced motion transfer |
| Minimal off-gassing issue | |
| Good price point | |
Brooklyn Bedding is a direct-to-consumer company that operates online with no physical stores. It does not believe in a standard mattress size and firmness for all and gives you just enough options without making it overwhelming and daunting. This is one mattress that likes to stand out in the crowd.
It is super easy to navigate through the Brooklyn Bedding mattress page. Placing the order is even easier. You simply have to choose the level of firmness and size before clicking the order icon on the page. No endless levels of choices and questions to answer. You have simple soft, medium, and firm options to choose from.
The mattress comes with a good 120-night free trial, which is more than the usual 100 nights trial given by other brands. Unfortunately, the free returns only apply for a single return. Any consequent return is chargeable with costs borne by the customer.
The Signature mattress comprises three layers, including their patented hyper-elastic TitanFlex foam layer, the TitanFlex comfort layer, and lastly, the ascension pocketed coils. The TitanFlex comfort foam is engineered to immediately conform to your body shape. This layer is infused with TitaniumGel to keep it cool and well regulated. This gel also allows for an anti-bacterial cover on the mattress, protecting it from dust mites and other bacterial residues.
All in all, this mattress is great for those looking for quick conformity with added bounce and a sink-in feel even on medium firmness.
Specifications
TitaniumGel infused 2-inch TitanFlex comfort layer
6 inches 961 ascensions pocketed coils
2-inch TitanFlex supportive layer
Available in 14 sizes with three levels of firmness
Custom made in the USA
120 nights free trial
10-year limited warranty for 1.5 inches or more body impressions
Read the full Brooklyn Bedding Signature review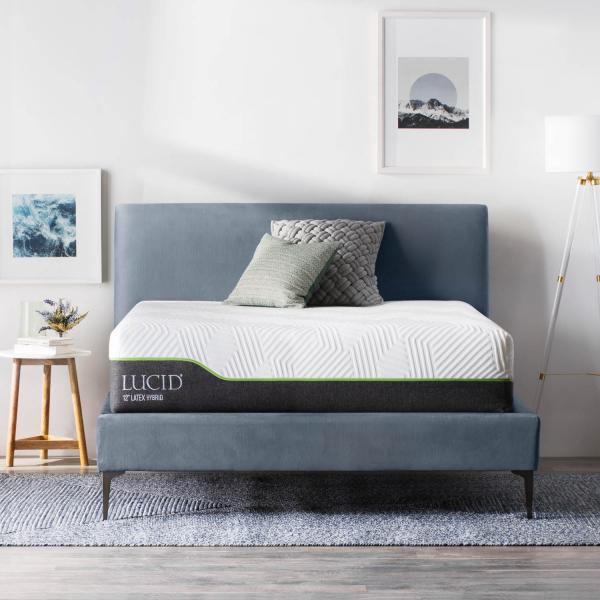 | | |
| --- | --- |
| Pros | Cons |
| Charcoal and aloe vera infused foam | Low body conformability |
| Edge support | |
| Good motion transfer control | |
The worst thing about foam mattresses is the pungent smell it tends to carry with it. This hybrid mattress from Lucid comes with foam that is infused with both charcoal and aloe vera. This means that you get a refreshing smelling mattress with no nights spent trying to escape the chemical pungency. The charcoal is infused in the top layer to absorb any odors the mattress might pick up throughout its lifetime.
The mattress comes to you rolled rather than folded. This makes it easier to place on the bed and also allows you to start using it almost immediately with no creases or smell that needs to ease out. You also get to choose between 10-inch thickness and 12-inch thickness. The main difference between these is that the 12-inch mattress sports a 6.5-inch spring with 3.5-inch charcoal and aloe vera infused foam on top, whereas the inch mattress comes with 5.5-inch spring foam and 2.5 inches of charcoal and aloe vera infused foam.
The mattress has a distinct construction layer starting with a zippered cover, followed by a charcoal-infused layer, then the aloe vera transition layer, then you have the foam encased coils, and lastly, there is the supportive base layer. The mattress also sports 6-inch foam around the mattress perimeter to prevent sagging at the edges.
This mattress is a bit denser on the top layer, making it somewhat firm. It does not conform well to the body shape and is hence not recommended for side sleepers. Back and stomach sleepers preferring a soft, firm mattress will fare well with this one.
Specifications
Bamboo charcoal and aloe vera infused 3.5 inches or 2.5 inch top layer
5 inch or 5.5 inches individually foam encased steel coils
2-inch support frame
6-inch perimeter support edge foam
Available in 6 sizes and two thickness variants
Soft firm
Good for back and stomach sleepers
CertiPUR-US certified
100 nights free trial
10-year warranty
Get the full Lucid Hybrid Review
| | |
| --- | --- |
| Pros | Cons |
| Anti-bacterial and hypoallergenic | Low durability |
| Good back support | High price point |
| Silver ion cover | Only available in 3 sizes |
Side sleepers generally have a hard time finding the perfect mattress that is both soft enough to sink in yet firm enough to relieve those pressure points. This GladGird mattress uniquely combines these two features to give you a mattress that will make side sleeping a comfortable cloud-like experience.
GladGird is very quick in their deliveries and offers both free shipping ad returns. The mattress comes in a box that is nice with no clumsy pretensions. The mattress is only available from their website with no third-party retailers.
This mattress is the softest in the market that with memory foam. It offers a cool hug-like experience without the customary sink-in feel. The heat-away technology does a great job at keeping you cool throughout the night with no waking up in sweat episodes. The cover is both anti-bacterial and hypoallergenic, which makes it ideal for sensitive people as well.
The cover is made of a breathable cotton material sitting on top of copper-infused memory foam. This is followed by a gel-infused layer that is a slow rebound for better body support. The base is made of high-density material that provides durability and stability to the overall mattress.
The GladGird mattress comes with a lovely black and white checks pattern cover that is silver-infused. The stitching is beautifully done, and the handles are perfect. This mattress is on the soft side and offers pressure relief for the whole body in general and the shoulders in particular.
Specifications
5-inch copper infused memory foam
5-inch gel-infused slow rebound second layer
6-inch support base
Soft minus technology for temperature control
Black and white check zippered cover
Available in 3 sizes
CertiPUR-US and OEKO-TEX certified
Anti-bacterial and hypoallergenic
Company based in Honk Kong
120 nights free trial
10 year limited warranty
Read the full GladGrid mattress review
| | |
| --- | --- |
| Pros | Cons |
| Good pressure relief | No edge support |
| No motion transfer | Distinct off-gassing |
| Plush and comfortable | |
Brentwood is a local company that believes in offering plenty of mattress choices to its customers. All their mattresses are designed and manufactured in the USA with high stress on locally sourced materials. They are also 100% committed to green materials that are environmentally friendly and toxic free making them a good choice for sensitive people.
The mattress is quickly delivered all over the USA and comes compressed in a box. The packaging excellent with no tears, and the mattress takes about 4 hours to inflate to its full size. That does not mean that you can use it after 4 hours since the mattress does sport a distinct pungent off-gassing problem that takes quite a while to dissipate.
You get to choose between an 11-inch medium-firm mattress or a 13-inch medium feel mattress. Either way, you get a semi-firm mattress that does a good job at providing a sink-in feeling. The mattress comes encased in a bamboo zippered cover that is easily removable for washing. The cover is made from 100% bamboo wood cellulose giving its dexterity and luxuriousness that is hard to match.
The mattress top sports a wool lining from New Zealand that is highly effective in absorbing any moisture on the mattress surface. It also aids in temperature regulation and odor control. This is followed by a memory foam layer that conforms to your body shape and prevents motion transfer. It is gel-infused for temperature control. The ventilated air zone keeps the mattress well ventilated, allowing the air to circulate freely within it.
This gel mattress is an amazing value for money. You get good comfort with excellent pressure relief and back support. The flip side is that the mattress has no edge support. This means that it tends to sag on the edges, with the stitches coming apart rather quickly.
Specifications
Memory foam made with plant-based "BioFoam."
Polyutherane base foam
99% polyester cover
15% wool panel fabric
Available in 6 standard sizes and eight custom-designed RV sizes
Charcoal infused memory foam
CertiPUR-US and Greenguard Gold certified
Optional white glove delivery
1 year free trial period
25-year warranty
Read the full Brentwood Cypress Review
Things to Look Out for In Budget Mattress
It is trickier to buy a budget mattress that is good value for money than to buy a good quality mattress with money to spare. Given the reduced price tag, you get a hit on the quality, but that does not mean you have to compromise with a poor quality product. You can easily buy a quality mattress that does well on all the important parameters. Some of the features you need to be careful about to get a good deal on a budget mattress are:
Firmness Level
On average most budget mattresses give you a medium firmness level. This makes the mattress ideal for all kinds of sleepers. On a spectrum of 1 to 10, the firmness level will lie between the 4 to 6 range. A mattress with a firmness level on either end of the spectrum is not a great idea and will generally exhibit low durability and comfort issues.
Motion Transfer
One of the common problems with budget mattress buys is the poor motion isolation. While you might want a coil or spring mattress over a foam mattress for the added bounce, these mattresses will not provide good motion isolation. To cut costs, most brands tend to use cheaper coils and springs in their construction that are not properly encased within the foam resulting in sagging sides and middle and poking springs. You should opt for foam mattresses, especially if you are looking for lasting durability, or jack up your budget a bit and buy a slightly higher-priced motion isolating coil or spring mattress.
Pressure Point Relief
A good mattress is one that provides adequate body support and relieves your pressure points. This is an essential feature of any mattress. For this, you should look for a mattress that is constructed in layers. A foam mattress is once again the best choice since the layers help support your body by conforming to your body shape, thereby relieving any pressure on the hips, joints, and shoulders.
Edge Bearing
Most mattresses tend to start showing signs of wear and tear on the edges very quickly, with stitching coming apart and side sagging. You should opt for coil base mattresses, or foam encased mattresses for better edge support than your regular all-foam mattress. Also, look for double stitching on the sides for added durability.
Body and Spine Alignment
For proper body and spine alignment, you need a mattress with a good support layer and high-pressure relief. Spinal alignment with body structure is very important for all types of sleepers, especially stomach sleepers. For this, you should look for hybrid mattresses with denser supportive foam layers and coils on the lower construction for good bounce and comfort.
Temperature Regulation
Nobody likes waking you hot and sweaty. The common problem with budget mattresses is their lack of temperature regulation. Most brands skip the cooling gel infusion and the top cover that helps in keeping your body cool. Look for mattresses that offer gel-infused foam, phase changing technology, layers with perforated holes for ventilation to aid in temperature regulation.
Environment Friendly and Toxic Free
You do not want a mattress that comes loaded with toxic materials. With cheaper versions, you have sub-standard materials. These types of foam and coils contain chemicals like HCI, petroleum-based compounds, volatile gaseous substances, and other chemicals that are hazardous to your health. Always buy mattresses that are CertiPUR-US and OEKO-TEX certified.
Warranty
Most mattresses come with 7 to 10 years of limited warranty. Some even come with a lifetime warranty. Look for a mattress that follows this norm. This means that the brand has faith in the product.
Best Place to Buy Cheap Mattresses
The best way for manufacturers to cut costs is by selling directly to consumers. This way they save a lot on shops. Another advantage of selling directly to the consumer is that they skip the retailers altogether, giving you a better price since it does not factor in the profits and commission of the retailer.
Apart from this, when you shop directly from the manufacturer, you get amazing discounts as well. Bottom line is that if you want the same quality at a lower price, try shopping online from the manufacturer sites. You can also try third-party sites like Amazon for great deals.
Is It Better to Buy an Expensive Mattress Instead?
Buying a cheaper mattress does come with its set of problems that may not seem like a good trade-off for the dollars you save. Some of the common problems with cheaper options include:
Pressure point aches and pains
Higher risk of developing chronic body ache problems
Poor spinal alignment
Lower backache
Joints, knee, and hip pain
All of these collectively lead to poor sleep, which in turn can lead to a host of problems, including depression. However, you do not have to run to get a more expensive mattress. You can get a good quality mattress that works for you individually at a cheaper price tag. Most really expensive mattresses do offer the better and best quality, but they also carry a brand value price tag.
Be sure to keep the vital points listed above in mind while you purchase your budget mattress and take full advantage of the sleep trial offered. Pay attention to how well the mattress conforms to your body shape. Do you wake up all refreshed, or do you have some aches and pains due to poor support? What is the motion transfer like on the mattress? The sleep trial period will be able to give you all these answers and help you make up your mind whether to keep the mattress or not. This way, you can always return your mattress for a full refund if you feel like it is not an appropriate choice.
What do You get with the Budget Buys?
When you are looking for cheaper options in the market, there are certain standard features you can expect from certain price ranges. It is always helpful to know exactly what you can expect from a mattress in a particular price segment. These are listed below:
Less Than $1000 Range
For the under $1000 range, you will get more options than you bargained for. This is especially true for online shopping. You will be amazed at how you can get the same quality online for under $1000 that you would get for double that price at a physical store. Some features to expect in this range are:
High quality denser foam options
Hybrid mattresses with foam and springs
Optimal motion isolation
Good body support
Plush comfort levels
Firmness level choices
Temperature regulation with gel-infused foams and other fancier elements like charcoal, green tea, or aloe vera infusions
Good sleep trial and warranty terms
Less Than $500 Range
You will get some very good options in the under $500 range. You will, however, need to compromise on certain luxurious features and the premium range. In this range, your best bet is all-foam mattresses if you do not want to skimp on quality. The durability will be less, but overall it is quite workable. Some features to expect in this range are:
Mostly foam mattress choices
Lower durability
Poor edge support
Lower-grade foam but still conforming to the standards and certifications
Fair motion isolation, especially if you opt for the foam mattresses
Average temperature regulation
Less Than $300 Range
You have very limited options in this category. In the under $300 price range, you can be expected to get a few foam choices and low-quality hybrid or spring choices, but that's about it. The durability and versatility of the mattresses in this category are, in general, pretty low.
Your best bet will be to look for an all-foam mattress that is somewhat denser for good back and posture support. The edges will sag with time, and the mattress will also wear off quickly compared to the other slightly more expensive options, but you will not be getting a completely sub-standard product. This option is great for those looking for a short-term solution, like college students or people working on a short contract. It also makes for excellent guest mattresses.
Less Than $200 Range
This is not recommended. You will be compromising on durability, quality, and back support to the point that it might not feel like a good trade-off. You will be far better off shelling out a $100 extra and getting a mattress that will hold up better.
If you want to go for this range, then consider sizing down on the mattress. This way, you can save up to $100 and not have to compromise too much on the quality aspect. This is especially helpful if you are buying the mattress for a single adult or kids.
Less Than $100 Range
In this range, your options are mostly limited to blow-up mattresses or second-hand choices. You might want to check out your local market's used goods bumper sales or go online on Facebook and OLX for good deals.
While looking at second-hand mattresses, keep in mind the condition of the mattress. You can get an amazing deal with high-quality mattresses that have barely been used and are in mint condition.
FAQ Corner
Is It Possible to Buy A Good Quality Mattress on A Budget?
You can easily get a good deal on a mattress. Going for a budget but does not necessarily mean having to compromise on quality. By keeping a few important pointers in mind, you can easily buy a good quality mattress at a fraction of the branded cost.
How Do You Choose A Good Mattress?
The better the density and thickness of the foam, the better its quality. You should look for mattresses that exhibit higher-density foam with a layered construction.
Is It Better to Buy A Foam Mattress Or A Spring Mattress?
Foam is always better than spring since it gives you better motion isolation and improved body support.