Discover the ultimate sleep experience with our in-depth Purple mattress review, where we'll explore the unique features and benefits of this innovative sleep solution. Designed with the patented Hyper-Elastic Polymer grid, Purple mattresses are known for providing exceptional pressure relief, support, and breathability. In this comprehensive analysis, we'll examine the mattress's construction, performance, and pricing, helping you determine whether it's the perfect fit for your needs. Join us as we dive into the world of Purple and uncover the secrets behind its growing popularity among sleepers seeking both comfort and quality.
Purple Mattress Pros and Cons
Pros
Cons

Unique Hyper-Elastic Polymer grid provides pressure relief and support
Good airflow and temperature regulation
Durable and long-lasting materials
Available in various thickness and firmness options
Minimal motion transfer, making it suitable for couples

Higher price point compared to some other mattress brands
Initial off-gassing odor, which may take a few days to dissipate
Heavier and more difficult to move or set up
Unique feel may not be comfortable for all sleepers
Edge support may not be sufficient for some users
The Purple mattress has come a LONG way since I first reviewed the Purple Signature back in 2016. They now have multiple models and a host of bedding products. Back then,  the Purple company sent me a free king-size Purple mattress to test out. This mattress may make the color purple more popular than Prince himself. The reason for my excitement is that this mattress has a top-layer construction that is unlike anything I have reviewed so far. I first found out about the Purple mattress through the Kickstarter campaign, where 320 backers pledged $171,560 to bring the project to life. I have seen other mattress Kickstarter campaigns that don't even come close to the popularity of Purple. Below is their official Kickstarter video.
Since I first reviewed Purple in 2016, I have had them in our retail stores for customers to try. Long story short, they either love it or hate it which is why it's always best to try it in person and chances are there is a Purple mattress retail store near you or a Purple showroom such as Mattress Firm or another major chain that carries them. 
Purple is so popular now, it is THE dominant online native mattress brand to take over retail. There are now new mattresses coming out now with a technology similar to the Purple Grid which may give Purple a run for its money. 
Purple Mattress vs. Memory Foam Mattresses
Purple mattresses and memory foam mattresses are two popular types of mattresses that offer different benefits and features. Here are some differences between the two:
Material: Memory foam mattresses are made of synthetic materials, such as polyurethane foam, while Purple mattresses are made of a proprietary material called Hyper-Elastic Polymer.

Support: Memory foam mattresses conform to the shape of the body, providing even support and pressure relief. Purple mattresses have a more unique feel, with a responsive surface that supports the body while still providing pressure relief.

Cooling: Memory foam can sometimes retain heat, causing sleepers to feel uncomfortably warm. Purple mattresses are designed with airflow in mind, which helps to dissipate heat and keep sleepers cool.

Bounce: Memory foam mattresses have a slow response time and do not provide much bounce or resilience. Purple mattresses have a more bouncy surface that responds quickly to movement.
Ultimately, the choice between a Purple mattress and a memory foam mattress comes down to personal preference. If you prefer a more conforming feel and pressure relief, a memory foam mattress may be the better option. If you want a responsive surface that still provides pressure relief and a cooler sleep experience, a Purple mattress may be the way to go.
Purple Edge Support
The Purple mattress's edges are made of the same grid-like polymer material as the rest of the mattress, which means that they are less dense and less supportive than the center of the mattress. As a result, some people may experience a slight "rolling off" sensation when sleeping near the edge of the mattress.
That being said, Purple has designed its mattresses to have reinforced edges, which provide better support and prevent excessive sinking. Additionally, Purple offers hybrid mattresses that combine its unique polymer material with coils for increased edge support and stability.
Best Sleep Positions for the Purple Mattress
The Purple mattress is designed to provide excellent support and pressure relief for a wide range of sleeping positions. Here's how it may feel in different sleeping positions:
Back sleepers: The Purple mattress can be a great choice for back sleepers, as it offers a good balance of support and comfort. The grid-like structure of the Purple material adapts to your body's contours, helping to keep your spine in proper alignment.

Side sleepers: The Purple mattress can also work well for side sleepers. The grid-like structure of the Purple material can help distribute pressure more evenly, which can reduce pressure points that can cause discomfort for side sleepers.

Stomach sleepers: Stomach sleepers may find that the Purple mattress is too soft, as it may not provide enough support to keep the hips and spine properly aligned. However, the Purple Hybrid and Purple Hybrid Premier models may be a better fit for stomach sleepers, as they offer more support than the original Purple mattress.
Sex on the Purple Mattress
the Purple Mattress's unique design and features have been marketed as being beneficial for sex due to its comfort, support, and minimal motion transfer. Many couples have reported enjoying sexual activities on the Purple Mattress, citing its cushioning and responsiveness as enhancing their experiences. However, as with any mattress, individual preferences may vary, and it is important to choose a mattress that is comfortable and supportive for both partners.
What Is the Average Price of the Purple Mattress?
the prices for Purple mattresses could range from around $600 for a Twin size to over $3,000 for a California King, depending on the specific model and optional features. There are various models available, such as the Purple Mattress, Purple Hybrid, and Purple Hybrid Premier.
How Long Does the Purple Mattress Last?
The longevity of a Purple mattress can depend on several factors, such as usage, care, and the specific model. On average, a high-quality mattress like the Purple mattress is expected to last around 7-10 years. Some users may experience a longer lifespan, while others might find that their mattress shows signs of wear sooner.
To prolong the life of your Purple mattress, it's essential to follow the care and maintenance guidelines provided by the manufacturer. These can include rotating the mattress periodically, using a mattress protector to guard against spills and stains, and ensuring proper support with a compatible bed frame or foundation.
It's also worth noting that Purple offers a 10-year warranty on their mattresses, which covers manufacturing defects and certain types of wear. Always check the specific warranty terms for your mattress model to understand what is and isn't covered.
What Body Type is Best for the Purple Mattress?
The Purple mattress is designed to cater to a wide range of body types and sleeping preferences, thanks to its unique Purple Grid technology. The grid is designed to provide both support and pressure relief, making it suitable for various body types and sleep positions.
However, different people have different preferences and needs when it comes to mattress firmness and support. Here's a general guideline for choosing a Purple mattress based on body type and sleep position:
Light to average weight sleepers (under 230 lbs): The Original Purple mattress or the Purple Hybrid with a 2-inch grid might be suitable, as they offer a good balance of support and pressure relief.

Heavier sleepers (over 230 lbs): The Purple Hybrid Premier with a 3- or 4-inch grid is likely a better choice, as it provides additional support and durability for larger body types.

Side sleepers: A mattress with more pressure relief, like the Purple Hybrid Premier with a 3- or 4-inch grid, may be ideal, as it can help relieve pressure on the hips and shoulders.

Back and stomach sleepers: The Original Purple mattress or the Purple Hybrid with a 2-inch grid could be suitable, as they offer a firmer feel that provides adequate support for the spine.
It's essential to remember that these guidelines are general suggestions, and individual preferences may vary. It's always best to test a mattress in person or take advantage of a trial period to ensure the right fit for your body type and sleeping preferences.
Is it OK to Fold a Purple Mattress?
Folding a Purple mattress is generally not recommended, as doing so could potentially damage the mattress's unique grid structure or the internal layers. Instead, it is advised to follow the manufacturer's instructions for moving and storing the mattress.
When moving a Purple mattress, it's best to keep it flat or, at most, at a slight angle. If you need to transport the mattress in a vehicle, you can try placing it on its side, but avoid folding or bending it. To protect the mattress during the move, cover it with a mattress bag or plastic wrap.
For long-term storage, it's recommended to store the mattress flat and in a climate-controlled environment to prevent damage from extreme temperatures or humidity.
If you have specific concerns or questions about folding or moving a Purple mattress, it's a good idea to consult the manufacturer's guidelines or contact their customer support for further guidance.
My 2023 Updated Purple Mattress Review
Purple Mattress is the first mattress in a box to offer its hyper-elastic polymer grid. That's the top layer that makes the mattress so unique. It's sort of like a gel grid but a stiff gel grid that makes it suitable for stomach sleepers, back sleepers, and side sleepers. It really shines for side sleepers though by giving you optimal relief in your hips and shoulders. 
We'll get into which Purple mattress model is right for you but also know that no matter your sleep position the Purple mattress is ideal for hot sleepers. If you sleep hot there is no other mattress on the market that does as good of a job of keeping you cool throughout the night as the Purple mattress and that goes for all models. 
Below is their famous raw egg test video on the Purple Mattress featuring Mallory Everton from Studio C, a well-known YouTube channel:
Another favorite Purple Mattress video is the one made by the Purple Boys
Overview of the Purple Mattress 2023
Since this mattress has been around for a while, I updated my review to reflect how the mattress has evolved over the years.
---
How to Order the Purple Mattress
You can order Purple direct from the Purple website. According to my UPS tracking, the mattress with packaging weighs in at 143 lbs. By far the heaviest mattress I have reviewed. Right now you can get a king-size for $1,299. As a general rule of thumb, I find the heavier the mattress, the more quality you get. That's because there's just more material in there to work with. The Purple mattress also comes with a trial period of 100 Nights. Here are the details from the Purple Mattress website: 
Your 100-night trial begins the day your mattress is delivered to your doorstep. If you decide it isn't a perfect fit for you within the first 100 nights, we'll have it picked up and issue a full refund. (Awesome, right?)
We do ask all customers to spend at least 21 nights on their mattress before starting a return or exchange so their bodies have enough time to adjust to Purple's unique feel + support!
---
Unboxing the Purple Mattress
The mattress comes in a plastic bag as shown below. There's no external box, just this which is really cool. the top unzips and then you can slide it out of the bag. Getting it out of the bag may take two people since it's in there tight. Instead, I just cut the bag open which is a shame because it would be great to reuse to store things in.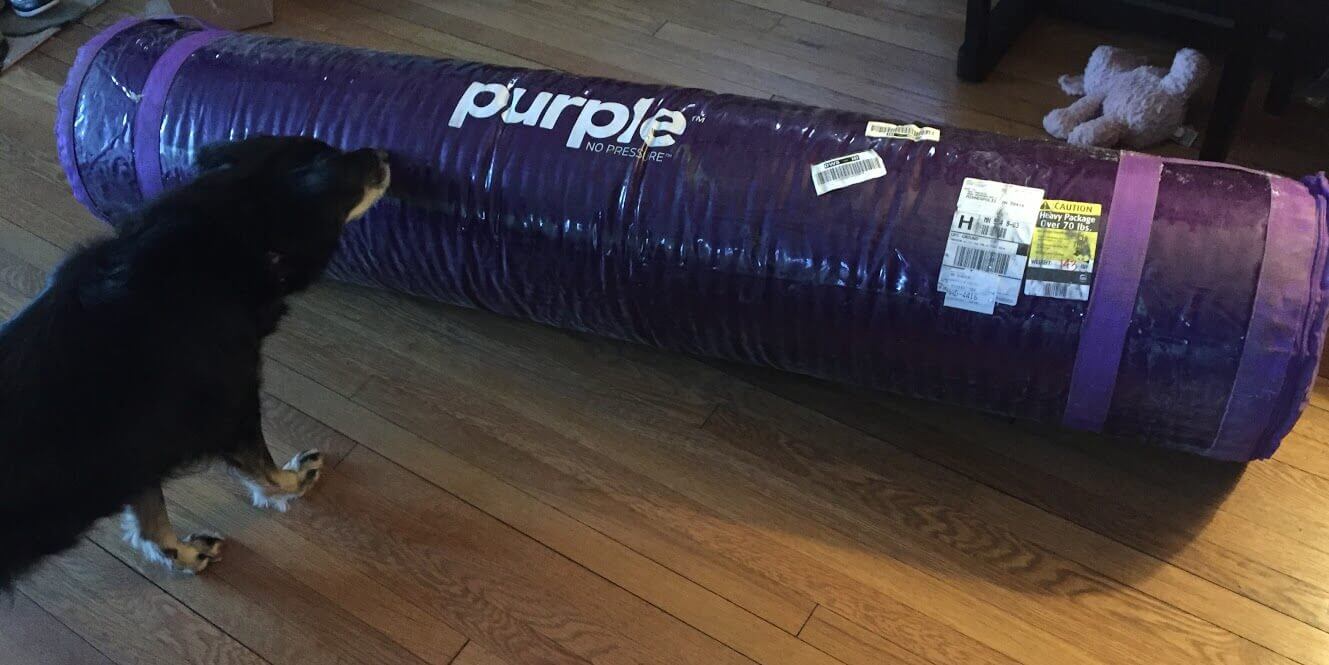 The bag also comes with handles so it makes it easier to move. This came in super handy while bringing it up a flight of stairs. At over 140 lbs. I'll take all the help I can get.
Here's me unboxing the Purple Mattress. When unzipping the cover I found that they give you a cutter, instructions, and two mini samples of the purple top layer.
If you buy a Purple 2 Purple 3 or Purple 4 they will schedule a delivery with a local delivery company. These mattresses are just too big and heavy to ship in a box or in a plastic bag. 
Purple mattress video. What's Inside the Purple Mattress?
You can unzip the ticking. I really like the embossed "Purple" logo on the sides:

---
The Purple Mattress Smart Grid 2023 update
What really makes this mattress stand out from the competition is the Smart-Comfort Grid. Here's a sample that comes with the mattress when you open the purple plastic casing. When you lay down on this polymer grid it will buckle where it gets the most pressure and support you where you need it. It's completely different than foam because it conforms instantly and recovers instantly. The other huge advantage is that it sleeps really cool because the air passes right through the top layer.
The original Purple mattress is great for people that weigh up to 220 lbs. Beyond that, I would advise heavy people to take a look at the Purple 2 or 3. The Purple 4 will be too soft for heavy people and won't provide enough support.
Purple Mattress Specifications and Construction
Trial & Return: 100 Nights
Warranty: 10 Years
Top Layer (2″): Hyper-elastic polymer™ Smart-Comfort Grid
Middle Layer (3.5″): 1.8 lbs density polyurethane foam
Base Layer (4″): 2.0 lbs density polyurethane foam
Appx Dimensions (WxLxH – Inches): 75.5″ x 79.5″ x 9.5″
How much does the Purple mattress weigh? Appx Weight (lbs): 140
Color: White
Fabric Content: Knit Fabric: 29% Viscose, 67% Polyester, 4% Polyester-Lycra (all +- 5%) Weight: 450 g/m2 +- 10% Non-Skid Bottom: 100% Polyester stitch bond with non-FR coating
Fire Retardant: Firegard® Knit Barrier
Shipping Dimensions (LxW-diameter – Inches): 76″ x 16″
Model Number: TPB-K-01
How to clean the Purple mattress: Spot clean with mild detergent (such as upholstery cleaner).
---
Findings of Purple's Unique Layer
Here's what the layers look like. The bottom two layers are really just for support. What makes Purple unique is the top layer. So, what is the Purple mattress made of? The Purple mattress is made of a hyperelastic polymer grid that collapses when exerting a certain amount of pressure. The grid will provide support and pressure relief where need while maintaining a cool sleep environment.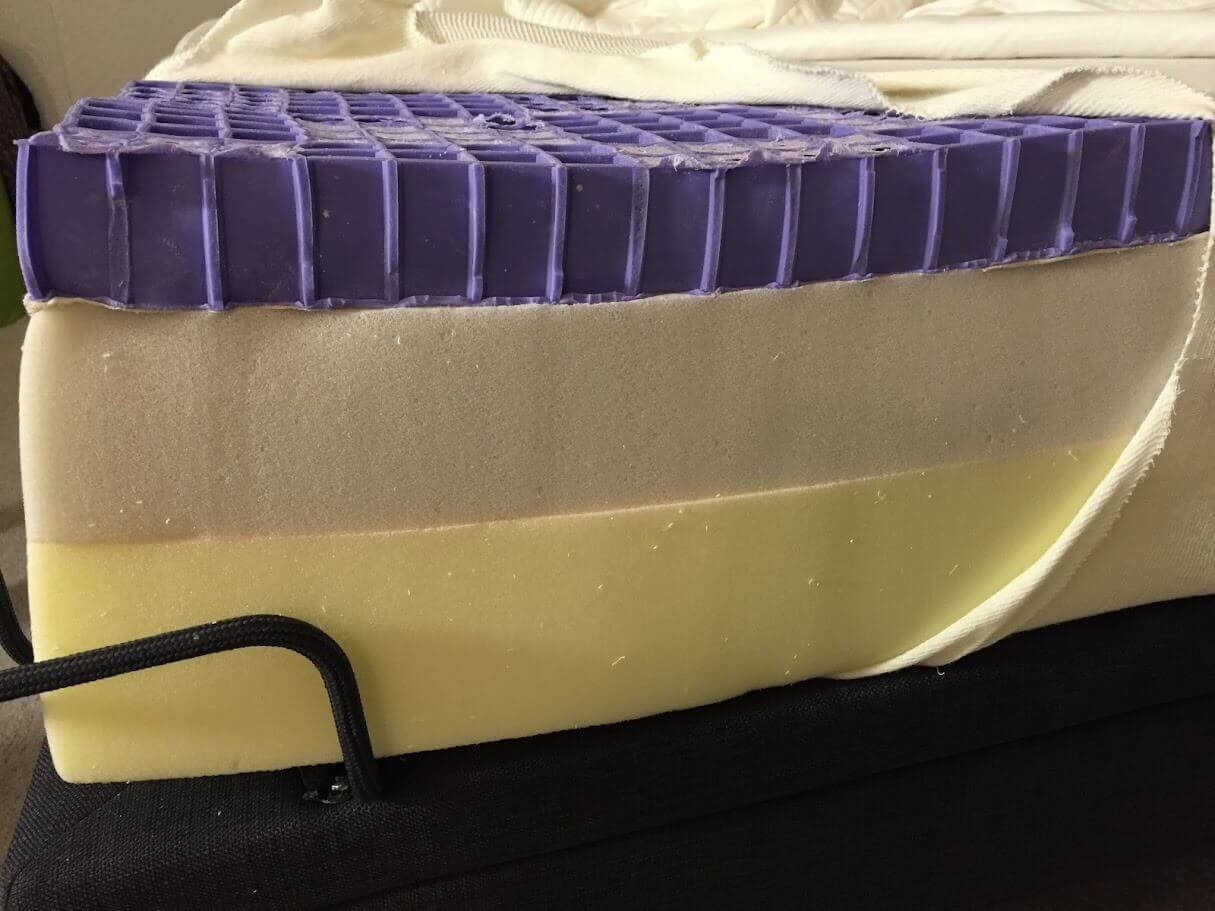 The first night of sleeping on this mattress was wonderful. This is truly a unique sleep experience in large part because of the Smart-Comfort Grid. You get a sort of floating sensation and the grid conforms to all your pressure points while providing support where you need it. Here's what the grid looks like: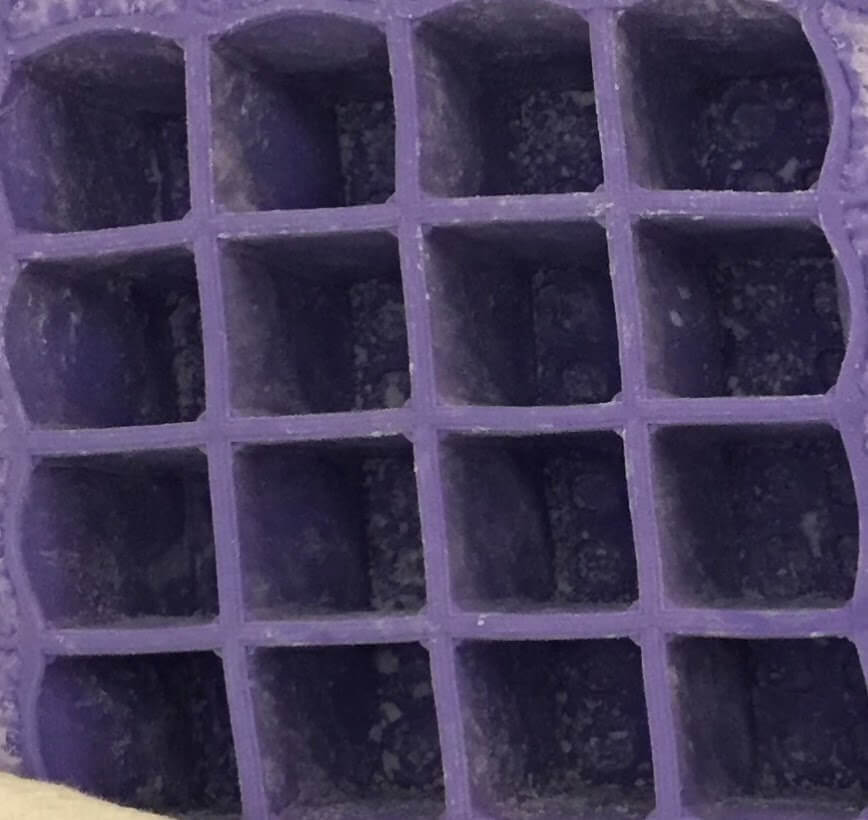 This is also the most breathable mattress I have ever tested. If your major concern is sleeping hot, then get this mattress. It beats all the competition hands down. The Purple ranks extremely high in point elasticity. That means it will collapse where needed without affecting the other parts of a mattress. A traditional innerspring has low point elasticity, think about how you feel your partner moving around. The best example of the Purple point elasticity is their egg test where it rapidly adjusts to the pressure exerted by the egg.
Here's a video illustrating how each layer works:
With this mattress, you sleep on it more than on it. Whether or not that's a good thing comes down to preference. Some people like more of a pillow top feel some don't. Notice that there isn't a large amount of sinkage with this mattress however, it does a wonderful job with pressure relief.
Here's how it handles motion transfer:
I don't notice my partner shifting around on this mattress. Motion is very well contained and it also bounces back into shape well which is very hard to achieve in a mattress.
To give you a better sense of how the polymer grid works, here's a video with the Purple Pillow. I took off the cover of the pillow so you can see how the grid system works. This is in slow motion.
If you're looking for sheets for the Purple mattress, I strongly recommend going with a set the Purple Sheets. They are stretchy and breathable so you will get the full performance of the mattress. The same goes for a mattress protector. You can get other brands of performance sheets such as Sheex or Bedgear but I haven't come across a mattress protector like the Purple Mattress protector. It is very stretchy but still waterproof, breathable, and light.
After a few months of use, I washed the Purple cover. Yes, you can wash the Purple mattress cover. I washed it in a Samsung High-Efficiency washer on the gentle cycle with cold water and regular detergent then dried it in the dryer with the "air dry" feature which just blows cool air through the dryer. It took a few cycles to completely dry but when I put it back on my mattress it was just fine and looks great. Here's a picture below after washing the Purple mattress cover.
---
Final Thoughts After Test Driving Purple Mattress
The Purple mattress provides amazing pressure relief and temperature regulation. It doesn't sleep "cool" or "hot" instead it just passes heat through the comfort grid. I love how it contours so well to your body. In my opinion, it truly is a Goldilocks mattress in the sense that you get great support and contouring. However, it isn't a mattress that feels "cozy" or will hug you. I weigh over 210 lbs. and the grid handled my body just fine. According to their side, 300 lbs. is the threshold for weight. That means 300 per person so 600 total.
I sleep primarily on my stomach and side and this mattress felt great in both positions. Sometimes I get numbness in my arm from sleeping on my stomach on certain mattresses. The Purple was able to sink enough in the right areas so this didn't happen.
Expect to hear a lot about Purple in the near future. It's a game changer in the mattress industry and is exploding in popularity.
Purple has recently launched some new accessories including the Purple Mattress Protector and the Purple Pillow. Below is a video overview of the Purple Pillow
Purple Mattress Complaints
The Purple can be hard to return. I think the reason for this is that they are growing quickly so they are overwhelmed with customer service. That said they will process your return if you follow the rules of the trial, it just may take a bit longer than other brands.
The Purple line of mattresses isn't for everyone. It has a very unique feel and the biggest complaints we hear about when customers try them out in our store is that they aren't cozy, they don't sink in much and sensitive sleepers can feel the grid underneath. If this sounds like it would bother you, then don't I would consider a different mattress. You can't add a topper to the Purple to make it softer because that would just negate how the mattress is supposed to work and you end up with an expensive mattress that you could have otherwise purchased for half the price.
Purple Mattress Warranty
The Purple mattress comes with a 10 Year warranty. The other purple products such as the Purple Pillow and Purple adjustable base have separate warranties that I recommend you read carefully. This is a unique mattress and so the long-term use of this mattress is still being figured out. That said here are the details on the Purple mattress warranty as of this writing. One thing that stood out is that indentations have to be 1 inch or more without you or anything on the mattress. That is actually more generous than other mattress warranties I have seen that require an indentation of 1.5-2 inches. 
During normal, properly supported use, a warranted defect only exists if: (i) the materials of construction develop a visible indentation in the mattress greater than one (1.00) inch compared to the surrounding mattress areas after full recovery from load, or (ii) if the materials of the mattress crack, split, or otherwise fail during normal use and normal handling which is in accordance with Purple's care and use instructions for the mattress (available at purple.com ). The indentation must be of large enough width and length to be considered a body impression, and only applies to the mattress and not to settling of the cover fiber-fill materials.
Localized firmness changes are normal and are not covered under warranty. Comfort preferences are not covered under warranty. The mattress must be always covered in use, or the warranty is void (UV light degrades cushioning materials).
When I first reviewed the Purple mattress I was worried about the hyperelastic polymer material holding up long term. I'm sure it was designed for average-weight sleepers and of course, you do get the free shipping and the 100-night sleep trial but after that, you are kind of on your own unless you qualify for the warranty claim. 
I haven't heard many complaints about the polymer grid breaking down quickly so it must be holding up ok and since Purple manufactures the mattresses themselves out of their factory in Utah, they should be able to iterate and improve upon the design to make it more durable. 
Purple Mattress Recommendation
I rarely recommend going with the same bedding that a mattress company makes unless it's good quality. With Purple, they have designed all their bedding including the Purple Mattress Protect, Purple Sheets, and Purple Pillow to give you the same conforming, bouncy, stretch, cooling feel you get with the Purple mattress and everything just works together and compliments each other. So if you go with Purple, go all the way and get the whole setup for the complete Purple experience. 
A lot has changed since my signature purple mattress review and lots of changes in general with the whole bed-in-a-box industry. One thing that won't go away is a free trial period, free returns, and a generous warranty not only from Purple but the other bed-in-box players. 
Disclosure: We aim to highlight products and services you might find interesting, and if you buy them, we may get a small share of the revenue. I have an affiliate relationship with Purple.
Purple Mattress Models Ranked
The Purple Plus Mattress is a Medium 
The Purple Plus will give you a true medium feel and is great for combination (back, side, stomach sleepers) as well. It has an extra layer of comfort foam underneath the  Purple polymer grid for a little more sink without extra bounce or motion. 
Purple 3 Mattress is a medium soft
Go with the Purple 3 mattress if you are primarily a side sleeper. This is also known as the Purple Hybrid Premiere 3 I think it is still way too soft for stomach sleeping and back sleepers may find it doesn't give them enough support either. 
Purple 4 Mattress is soft
The Purple 4 mattress is by far the softest of the Purple mattresses.  Also known as the Purple Hybrid Premiere 4. 
Here's the full Purple 4 Mattress Review. Of all the Purples, the Purple 4 is my favorite and an absolute must for side sleepers. Side sleepers will also like the Purple 3. Stomach and back sleepers need to stick with the Purple Original or Purple Hybrid also known as the Purple 2. 
To learn more about how the Purple 3 and Purple 4 compare to Purple 2, check out this comparison guide I made.
Purple Original vs. Purple Hybrid
The Purple Original mattress is constructed using a top layer of Purple's proprietary hyper-elastic polymer grid, which is designed to provide excellent pressure relief and support while also allowing for airflow to keep you cool. The mattress also features two layers of polyurethane foam for added comfort and support.
The Purple Hybrid mattress, on the other hand, has a similar top layer of the hyper-elastic polymer grid, but it is placed over a layer of pocketed coils. This design provides more support and responsiveness compared to the original Purple mattress. Additionally, the Purple Hybrid includes a layer of transitional foam to help with motion isolation.
Purple Hybrid might be a better option for you. However, if you prefer a mattress that is more conforming and has a unique feel, then the Purple Original may be the better choice.
Best Purple Mattress by Body Weight
The best Purple mattress for your body weight will depend on your individual preferences and sleeping habits. However, as a general guideline, here are some recommendations based on body weight:
Purple Original: The Purple Original mattress is a good option for people who weigh between 130 and 230 pounds. Its unique polymer grid provides excellent pressure relief, making it a good choice for side sleepers. However, it may not offer enough support for heavier individuals.

Purple Hybrid: The Purple Hybrid mattress is a good choice for people who weigh over 230 pounds. Its combination of coils and foam provides excellent support and durability, making it a good choice for heavier individuals.

Purple Hybrid Premier: The Purple Hybrid Premier mattress is available in three different thicknesses: 3-inch, 4-inch, and 4-inch pillow-top. The thicker options offer more support and are better suited for heavier individuals.
The All New Purple Luxury Mattress the Purple Luxe
Purple offers a luxury mattress called the Purple Luxe. It features an additional layer of their signature "Purple Grid" material, along with other high-quality foam layers, for an even plusher and more supportive sleep experience. The Purple Luxe is designed for those looking for the ultimate in comfort and support, and it is one of their most premium offerings.
The
The Purple Grand mattress retails for $6,999 in a queen size and is extremely heavy.  It features 2 layers of the Purple grid system along with latex, and a rigid foam border for side support.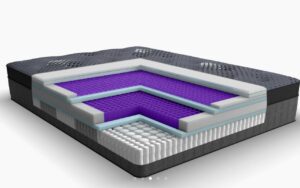 Many customers who have purchased the Purple Grand mattress report that it provides excellent pressure relief, comfort, and support. The combination of coils and foam layers, along with the unique "Purple Grid" technology, helps to keep the spine aligned and prevent aches and pains.
Additionally, the Purple Grand is also appreciated for its temperature neutrality and breathability, which helps to keep sleepers cool and comfortable throughout the night.
Purple Grand Mattress Complaints: 
Price: Some customers have complained that the Purple Grand mattress is relatively expensive compared to other mattresses on the market.

Firmness: Some people have found that the Purple Grand is firmer than they expected, and may not be suitable for those who prefer a soft mattress.

Smell: Some customers have reported a strong off-gassing odor when they first received their Purple Grand mattress, which can be unpleasant and linger for a few days.

Sinkage: Some people have reported that they sink into the mattress too much, especially those who are lighter in weight.
It's important to note that everyone's sleep preferences are different, and what may be a great mattress for one person may not be as comfortable for another. So, while the Purple Grand mattress has received positive reviews from many customers, it's always a good idea to try a mattress out in person or take advantage of the company's sleep trial to see if it's the right fit for you.
Purple Mattress Consumer Reports Rating
Consumer Reports has conducted tests and evaluations on the Purple mattress, and their rating is based on several factors including comfort, support, durability, and overall value.
According to their testing, the Purple mattress scored an overall rating of 80 out of 100, which is considered "very good" by Consumer Reports standards. Specifically, the mattress scored highly in terms of pressure relief, spine alignment, and durability.
One of the unique features of the Purple mattress is its use of a patented grid technology, which provides both support and airflow. Consumer Reports found that this design helped to evenly distribute body weight and alleviate pressure points, resulting in better sleep quality.
However, Consumer Reports did note that the Purple mattress may not be ideal for everyone. The grid technology may feel too firm or bouncy for some sleepers, and the mattress may not provide enough support for heavier individuals. Additionally, the mattress can be quite heavy and difficult to move.
Overall, Consumer Reports considers the Purple mattress to be a good option for those seeking pressure relief and improved sleep quality, but it's important to consider personal preferences and needs when selecting a mattress.
How to Clean a Purple Mattress
Cleaning a Purple mattress is simple and can be done using a few household items. Here's a step-by-step guide on how to clean your Purple mattress:
Gather your supplies: You will need a vacuum cleaner with an upholstery attachment, some mild dish soap, water, a clean cloth, and a few clean towels or paper towels.

Remove the bedding: Before you start cleaning, remove all bedding, including sheets, mattress protectors, and pillows.

Vacuum the mattress: Use the upholstery attachment on your vacuum cleaner to remove dust, dirt, and debris from the surface of your mattress. Make sure to vacuum all sides and edges thoroughly.

Spot clean stains: Mix a small amount of mild dish soap with water to create a gentle cleaning solution. Dip a clean cloth into the solution and gently dab any stains or spills on the mattress. Be careful not to saturate the mattress with water, as this can cause damage. Use a circular motion to lift the stain, and avoid rubbing or scrubbing, which can spread the stain.

Absorb excess moisture: After spot cleaning, use a clean, dry towel or paper towels to gently blot the area and absorb any excess moisture. Press down on the towel to remove as much moisture as possible.

Air dry the mattress: Allow the mattress to air dry completely before putting any bedding back on. This may take several hours or even a day, depending on the humidity and airflow in your room. You can use a fan or open windows to help speed up the drying process.

Vacuum again: Once the mattress is completely dry, vacuum it once more to remove any remaining dirt or dust.

Replace your bedding: Put your clean sheets, mattress protector, and pillows back on the mattress.
Remember that it's essential to keep your Purple mattress clean to ensure its longevity and maintain a healthy sleeping environment. Regular vacuuming and spot cleaning as needed should keep your mattress in good shape. Always refer to the manufacturer's care instructions for specific cleaning guidelines.
Purple Mattress Stores
In addition, Purple operates its own website where customers can purchase mattresses directly from the company. They also offer a 100-night sleep trial and free shipping, which makes buying a Purple mattress online a convenient option for many people.
If you prefer to see and test out the mattress in person before making a purchase, you can visit one of the stores that carry Purple mattresses. It's always a good idea to call ahead to make sure the store has the specific model and size you're interested in.
Purple Mattress in Art and Pop Culture
The Purple Mattress has made several appearances in popular culture over the years. Here are a few notable examples:
Shark Tank: The founders of Purple Mattress, Terry and Tony Pearce, appeared on season 7 of the popular show Shark Tank in 2015. The Pearce brothers secured a deal with Kevin O'Leary and licensed their technology to a manufacturer.

The Ellen Show: In 2016, Ellen DeGeneres featured the Purple Mattress on her show. She praised the mattress for its comfort and support and gave one away to each member of her audience.

The Bachelor: In season 23 of The Bachelor, contestants were shown sleeping on Purple Mattresses during their time in the mansion.

Parks and Recreation: In season 6, episode 11 of Parks and Recreation, character Leslie Knope is shown purchasing a Purple Mattress for her friend Ann Perkins.

YouTube: The Purple Mattress has been featured in many YouTube reviews and unboxing videos, with many popular YouTubers praising the mattress for its comfort and unique design.

Music videos: The Purple Mattress has also made appearances in several music videos, including "Deadpool Rap" by Teamheadkick and "No Cap" by Bankroll Freddie.
The Purple Mattress has also made appearances in a few movies over the years. Here are a few notable examples:
Bad Moms: In the 2016 comedy film, character Carla Dunkler, played by actress Kathryn Hahn, purchases a Purple Mattress for her son's bed. She praises the mattress for its comfort and support, saying "It's like sleeping on a cloud, but not the kind of cloud that rains on you."

Super Troopers 2: In the 2018 comedy film, characters Foster and Mac, played by actors Steve Lemme and Paul Soter, are shown sleeping on Purple Mattresses in a hotel room.

The Spy Who Dumped Me: In the 2018 action-comedy film, characters Morgan and Audrey, played by actresses Kate McKinnon and Mila Kunis, are shown sitting on a Purple Mattress in a furniture store.

Always Be My Maybe: In the 2019 romantic comedy film, character Marcus, played by actor Randall Park, is shown sleeping on a Purple Mattress in his apartment.
While the Purple Mattress may not have had a major role in any movies, it has made several small appearances, often as a sign of modernity and comfort.
The Purple Mattress has been featured in several TV shows over the years. Here are a few notable examples:
Modern Family: In season 9, episode 5 of the popular sitcom, character Claire Dunphy, played by actress Julie Bowen, purchases a Purple Mattress for her husband Phil's bad back.

The Big Bang Theory: In season 11, episode 3 of the long-running sitcom, characters Sheldon and Amy, played by actors Jim Parsons and Mayim Bialik, are shown shopping for a new mattress at a store that sells Purple Mattresses.

Brooklyn Nine-Nine: In season 6, episode 12 of the comedy series, character Terry Jeffords, played by actor Terry Crews, mentions that he recently purchased a Purple Mattress for his daughter's room.

The Good Place: In season 2, episode 8 of the philosophical comedy series, character Michael, played by actor Ted Danson, asks his assistant Janet, played by actress D'Arcy Carden, to summon a "Purple Mattress" for him to lie on while he thinks.

The Kelly Clarkson Show: In a segment on her talk show, singer and host Kelly Clarkson reviewed the Purple Mattress and praised its comfort and support.
The Purple Mattress was not featured in the original Wreck-It Ralph movie released in 2012. However, it made a brief appearance in the 2018 sequel, Ralph Breaks the Internet. In one scene, the main character Vanellope von Schweetz is shown lounging on a giant-sized Purple Mattress while using a laptop to browse the internet. The mattress is shown as one of the many product placements in the movie, which parodies the world of internet advertising and consumerism. While the Purple Mattress's appearance in the movie was brief, it did help to increase its visibility among audiences, particularly among younger viewers who were fans of the franchise.
Purple and Saatva are both well-known mattress brands, but they have different features and benefits. Here are some differences between the two mattresses:
Construction: Purple mattresses use a proprietary material called "Hyper-Elastic Polymer" in their comfort layers, which provides a unique feel and exceptional pressure relief. Saatva mattresses have a more traditional construction, with layers of foam and/or coils.

Firmness: Purple mattresses are known for their medium-firm feel, which is suitable for most sleepers. Saatva offers three firmness levels (plush, luxury firm, and firm) to accommodate different preferences.

Price: Saatva mattresses are generally more expensive than Purple mattresses, but they offer free white-glove delivery and a longer warranty.

Motion transfer: Both Purple and Saatva mattresses are designed to reduce motion transfer, but Purple's Hyper-Elastic Polymer material is particularly effective at isolating motion.

Cooling: Purple's Hyper-Elastic Polymer material also promotes airflow and cooling, which can be beneficial for people who tend to sleep hot. Saatva offers a "Cooling" option that features a layer of cooling gel foam.