<h2 class="entry-title"><a href="https://yawnder.com/eight-sleep-pod-review/" rel="bookmark">Eight Sleep Pod 3 Mattress Review 2023</a></h2>
Recently updated on March 30th, 2023 at 06:15 am
Best for Hot Sleepers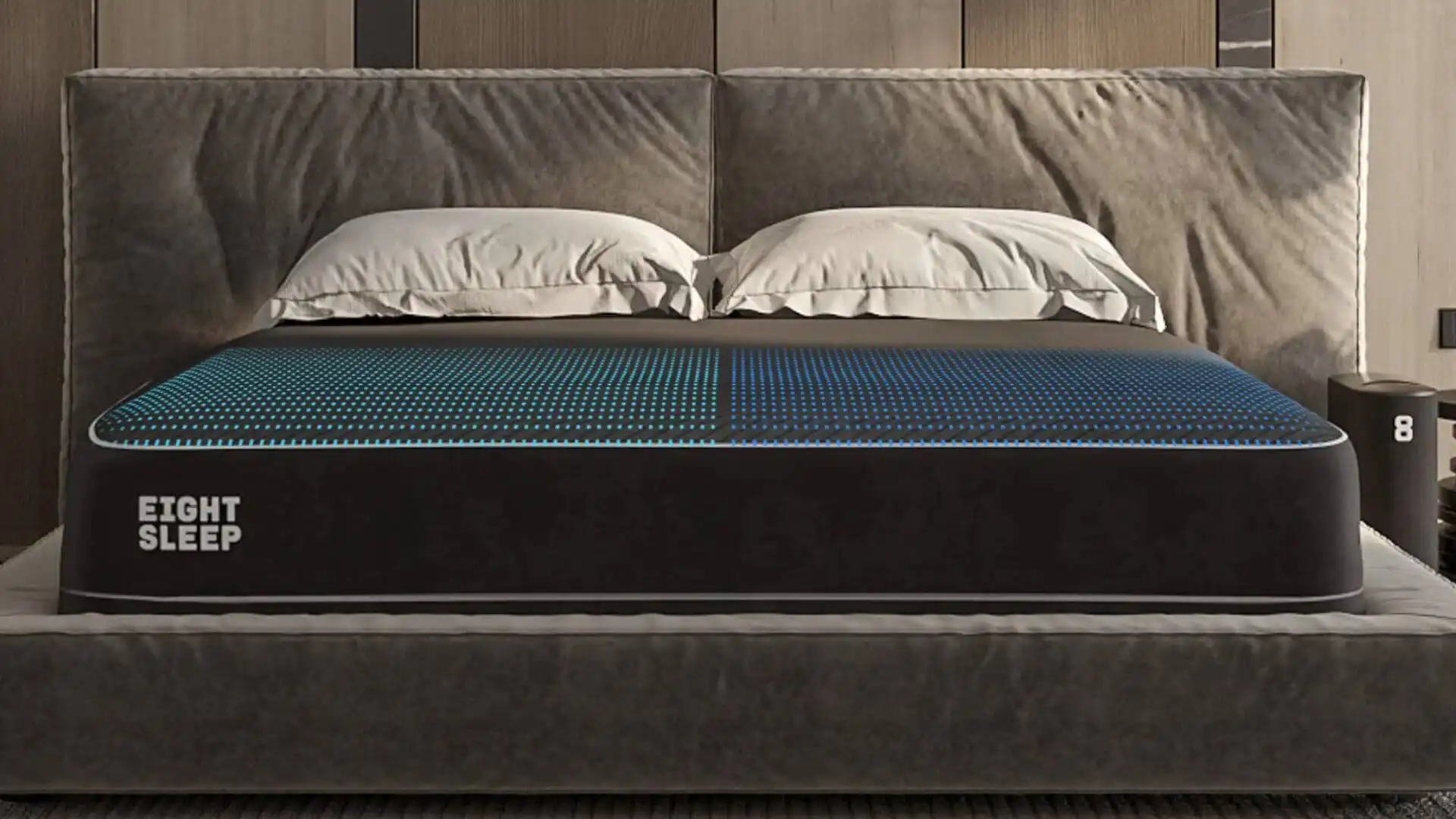 Eight Sleep Pod Pro 3
The only smart mattress that can adjust the temperature of the bed while you sleep. It's a game-changer. Get $200 off with coupon code sherpa200 at checkout
The Eight Sleep Pod is more than just a mattress, It's a next-generation sleep system that makes it the best mattress for tracking and optimizing sleep. In fact, it was named one of Time magazine's best inventions of 2019 and since then has gone through many improvements and updates. This isn't my first Eight Sleep Pod review. In fact I reviewed all iterations of Eight sleep right up to the newest Pod 3 mattress.
I first experienced the Eight Sleep Pod when I was invited by Eight Sleep at the Standard Hotel in New York where Eight Sleep outfitted a room with the Pod mattress for me to try. I knew right away this wouldn't be your typical mattress review. This mattress has a heating and cooling system where you can control the temperature of the mattress in 2 zones for each sleeper. So for instance, you can cool the mattress while at the same time your partner heats it up. All of this is controlled and monitored with the Eight Sleep app you use on your phone for sleep tracking.
In 2022 I had a chance to review the Eight Sleep Pod 3 Max. The Eight Sleep Pod 3 is a six layer mattress along with the Pod 3 Pro cover. This is a significant upgrade over the Pod 2 Pro in that it just feels better due to the sensors being smaller and more foam padding above the plastic membrane. You also get more accurate sleep data to track your sleep making this a smart mattress. Here's a video of me unboxing and setting up the Eight Pod 3 Max. Before you open the box though, make sure you download the Eight Sleep app, it will also walk you through installation. 
Overview of the Eight Sleep Pod 3
Here's an overview of how it works, how to set it up and most importantly how it feels. 
When you order your sleep system or eight sleep pod pro cover, it will come shipped in a box like this. The Eight Sleep mattress is roll packed and the smart technology comes in a separate smaller box.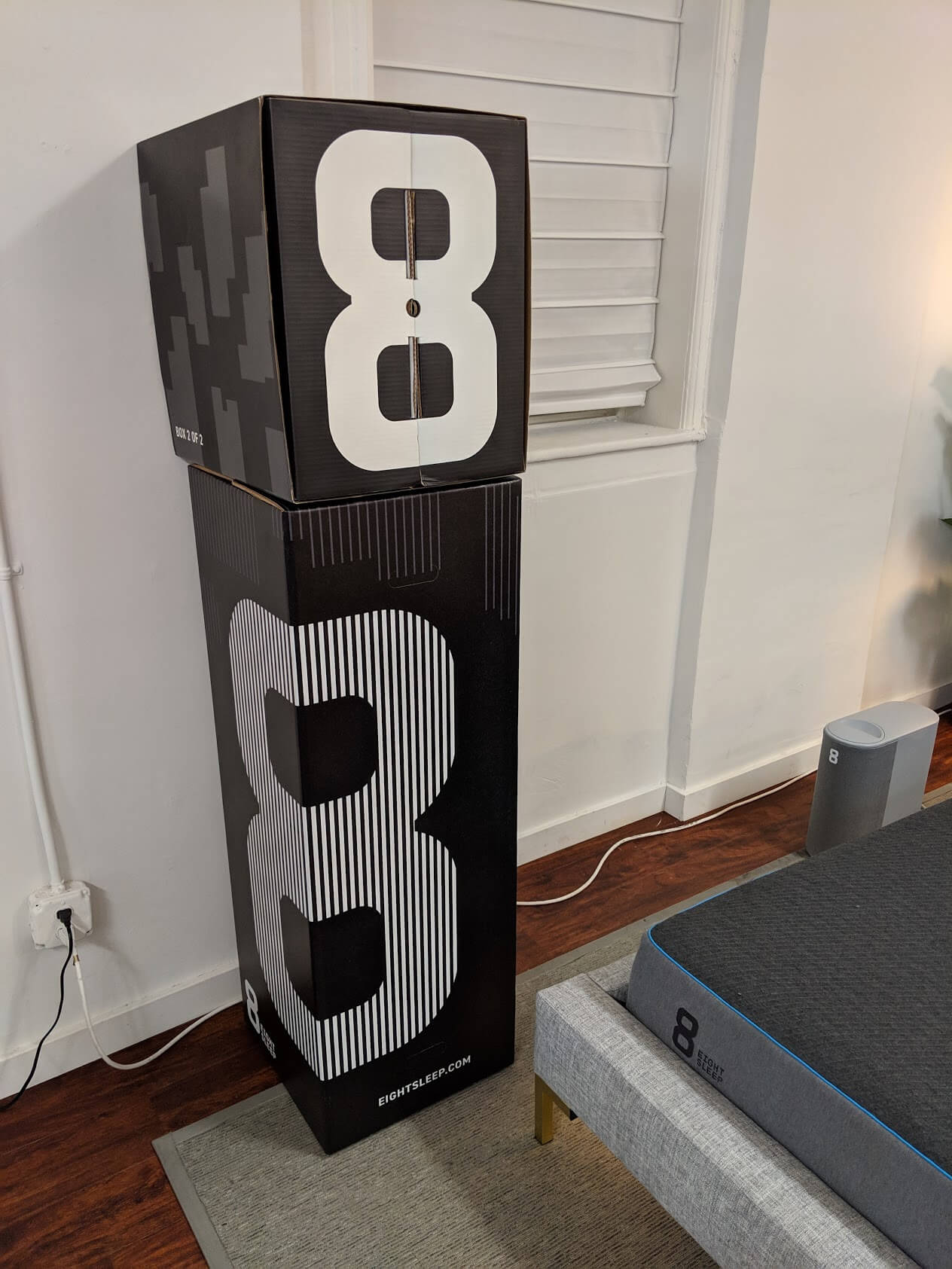 It's very easy to get everything set up. You basically just zip the grid system to the mattress and plug in the hose to the water pump system. Before installation make sure you have about 2 gallons of distilled water and some hydrogen peroxide to add to the tank to keep the lines clean. 

Once everything is setup it looks just like a normal mattress. The water pump is small and quiet. Of course wha'ts different is that the Eight Sleep Pod Pro mattress will passively track your sleep without you having to remember to activate an app. Sleep and health tracking is becoming increasingly popular but if you forget to set your tracking every night, what's the point?

What Makes the Eight Sleep Pod Unique?
This is more than just a mattress. The technology embedded is game-changing and will make you rethink sleep. Here are the capabilities of the mattress so far according to their website:
Dynamic temperature: The Pod allows for you to control the full range of temperature on either side of the Pod to enjoy a cooler environment for deeper, longer and uninterrupted sleep. The temperature controls range from 55 to 115 degrees Fahrenheit. This is especially useful in the summer months when you need to cool down at night without cranking up the AC.
Smart temperature mode: Powered by machine learning and biofeedback, the smart temperature mode in the app automatically adjusts the temperature of your bed throughout the night for optimal sleep. Eight Sleep members have the option to engage smart temperature mode within the app. These sleep metrics are a game changer when it comes to keeping you asleep.
Thermo alarm: Leverage temperature to wake up more naturally and without disturbing a sleeping partner using a thermo alarm that begins to gradually cool the bed minutes prior to the set wake-up time. You can set the specific temperature you want your thermo alarm to wake you up at as part of your Smart Temp profile to ensure a more cohesive temperature flow from bedtime until morning. Set Wake Up temperature experiences to repeat on any day of the week to maintain consistency for a positive morning start.  Not only do you get a good night's sleep, it helps you wake up in the most gentle way possible through temperature.
HRV variations can help users track their health and anticipate illness or fatigue if they see significant drops in this metric. The Pod now allows for constant monitoring of HRV, alongside other biometrics like Resting Heart Rate, Respiratory Rate, Sleep Stages, and Sleep Time.
 
Biometric tracking: The Pod seamlessly monitors over a dozen physiological and environmental data points such as: time slept, time to fall asleep, time of wake up, respiratory rate, heart rate, heart rate variability, temperature in bed, sleep breaks, light sleep, deep sleep and REM sleep.
Sleep coaching: Eight Sleep's AI-engine calculates your sleep fitness score and sleep patterns, provides recommended Pod settings and allows you to compare with your friends and peers.
Smart Home Integrations: The Pod integrates with any other Wi-Fi-enabled devices such as c your Alexa, Google Home, Philips Hue lights or your Wemo coffee maker, etc.
How Much does the Eight Pod Cost?
Below are the current prices of the Pod before applying the $200 coupon code, SHERPA200
Construction of the Eight Sleep Pod Mattress and Active Grid Cover
Here are the construction details of the mattress. What you get is a comfortable, four-layer all-foam mattress with some unbeatable cooling and heating technology all optimized to enhance sleep quality.
Active Grid technology: The Pod's signature layer is unlike anything you've ever slept on. Its patent-pending grid design offers targeted pressure point relief thanks to its perforated surface and malleable material. In addition to comfort and support, it houses the thermoregulation and sensor network that make the smart thermostat and biometric tracking possible.
Adaptive foam bed: The bed was designed with your comfort in mind, made of four layers of adaptive foam for contouring comfort on any sleep position.
Hub: The Hub is the engine to the product's thermoregulation capabilities and attaches to the Pod. It houses a water tank and connects to Wi-Fi, enabling seamless control of all Pod functionalities through the Eight Sleep mobile app.
Eight Sleep App: Control your Pod through our sleek and intuitive mobile interface. Adjust your temperature, browse your sleep stats and interact with your sleep coach all from the palm of your hands.
My Eight Sleep Pod Findings
It's important to remember that you aren't just getting another mattress in a box. Just as Peleton exercise bikes made people rethink home gyms, Eight Sleep is making people rethink sleep entirely. The Eight Sleep app can control the temperature of the mattress but also provides excellent feedback on how you slept, the quality of your sleep, when you slept best and how you can get better sleep. The more you sleep on the mattress the more data you get which gives you better guidance. They use certified sleep science data and incorporate this into recommendations for better sleep based on how you slept the night before.
Here's a pic of the interface. Controlling each side is easy as you can just adjust the dial with your finger.

What makes this such a cool mattress is that you can adjust the temperature on each side. It's easy to heat a mattress and if the Pod did just that, it wouldn't be worth writing about but the fact that it can cool and heat at the same time is remarkable. Using a Flir thermal camera, you can see just how much variation in temperature you get when turning one side down and the other all the way up.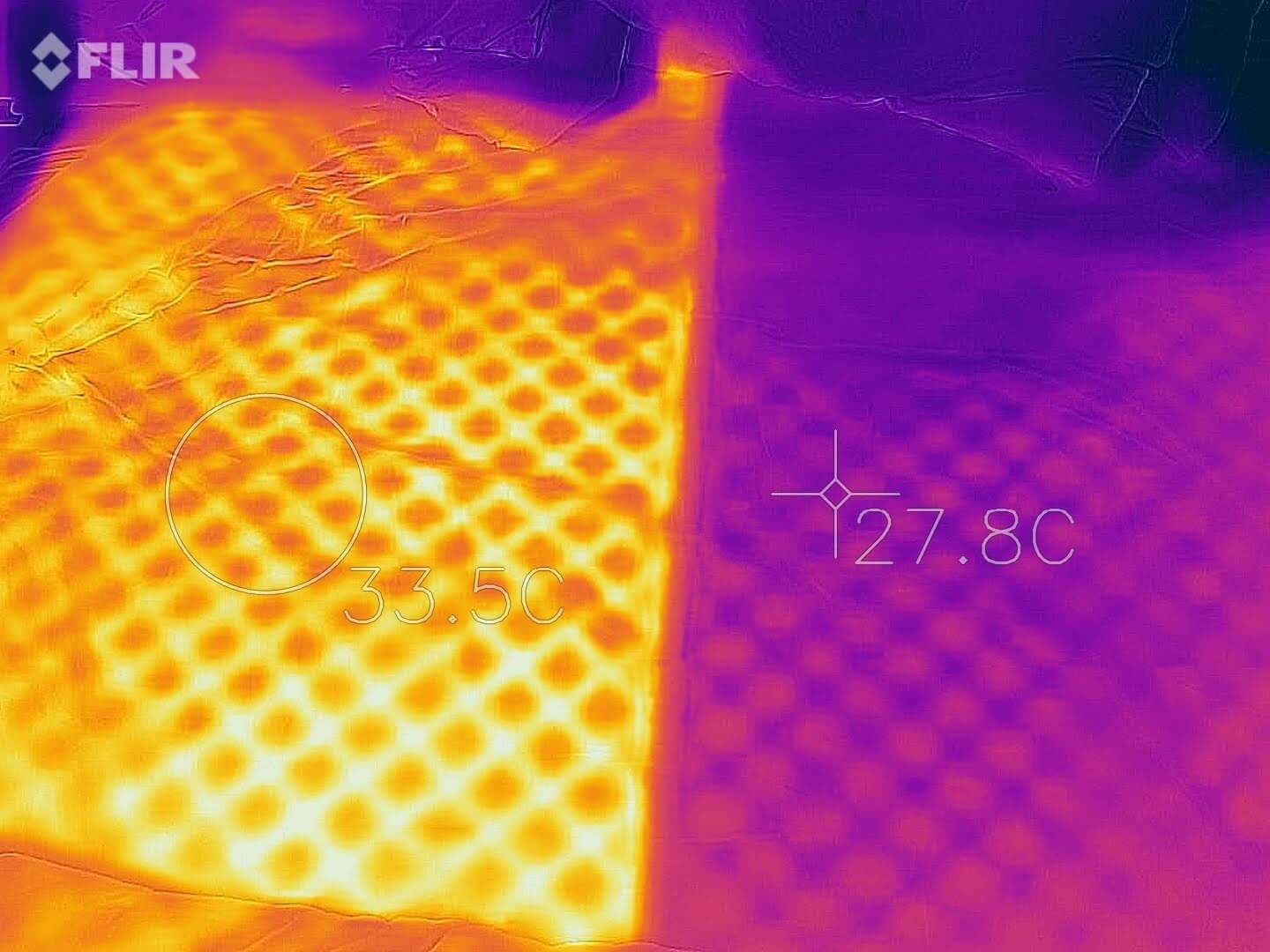 Here's a shot of the app where you can adjust the temperature. It's very intuitive. Since I have installed the app I have noticed regular performance updates as well. Once you dial in the right temperature you should be able to improve your sleep dramatically which is why I recommend the pod to people who don't necessarily have an issue with comfort but regulating temperature throughout the night to keep themselves asleep.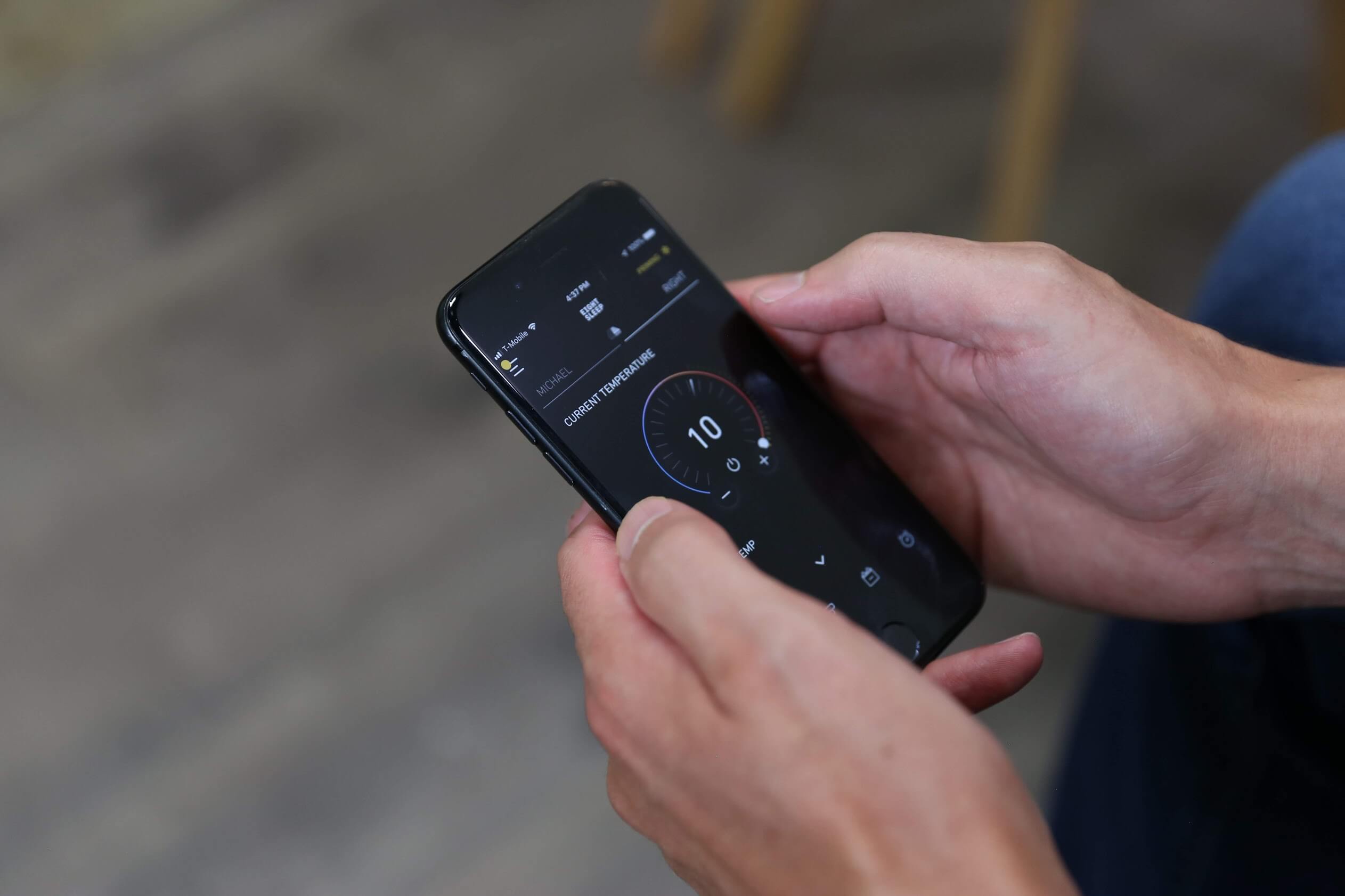 What makes this even more remarkable is that it can do all this with very little water. Other devices similar to this require more water and a conditioning unit on each side of the bed. They are also louder. This machine is whisper quiet and has a sophisticated processor with wifi built in to communicate data to you your phone.
Here's a picture of the water reservoir that you will need to occasional fill due to evaporation.
This is what the mattress cover looks like. I like the darker color as it just has a more sophisticated look. Not like you will see it that under the sheets but I appreciate that they deviate from the standard white.
The mattress cover that houses all the technology is also removable. You just unzip it from the mattress. It is not washable so I recommend a mattress protector over the Pod cover. Trust me, you will still feel the heating and cooling under a mattress protector and sheets.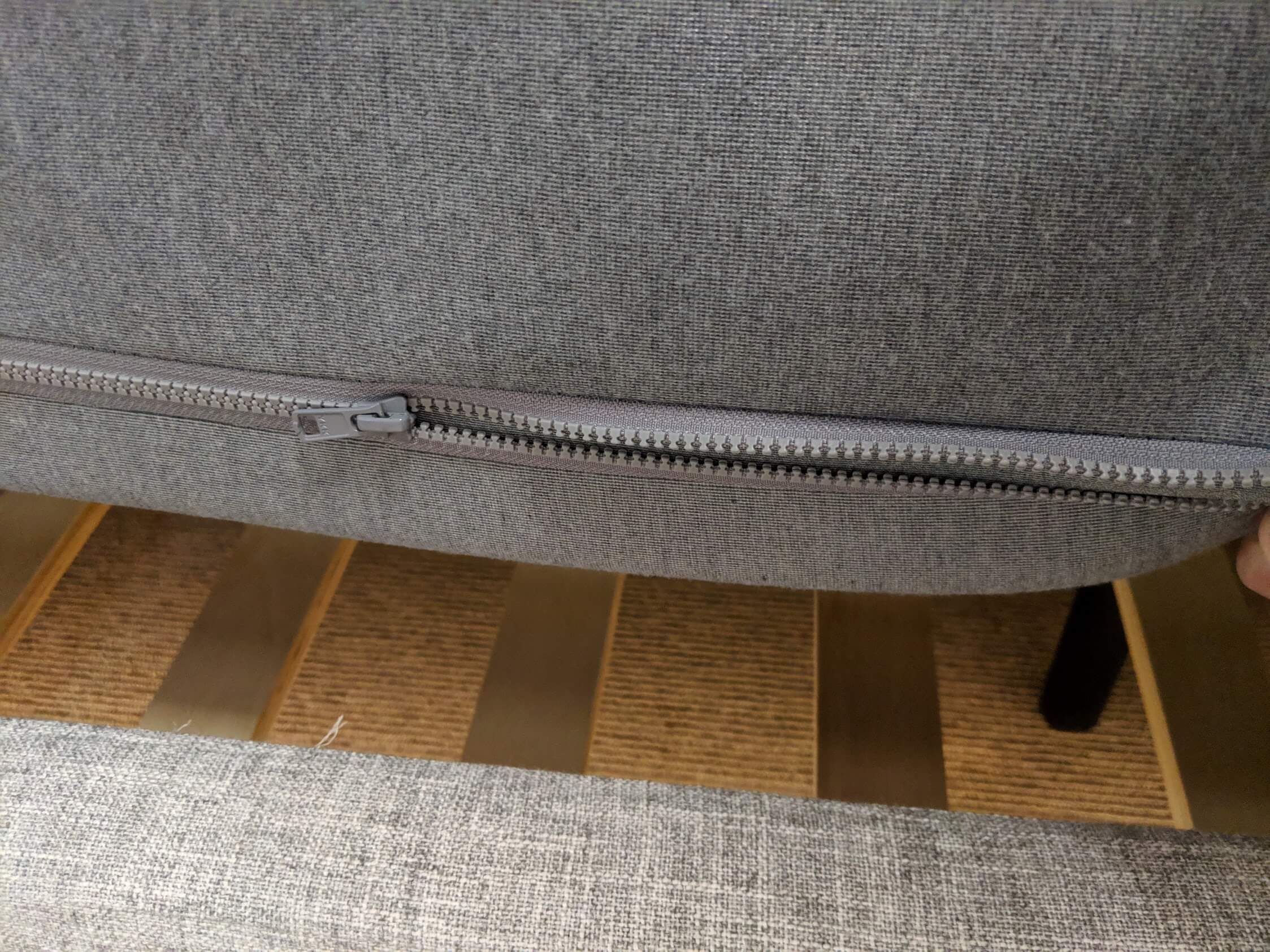 How Does the Eight Sleep Pod Feel?
This mattress is a an all foam, 4 layer mattress so there is no motion transfer whatsoever. It has excellent pressure relief as well. You can feel the tubes on the top of the mattress when you run your hand across and it will feel a little firm when you sit on it but when I slept on the mattress, I didn't feel the tubes and had great support and pressure relief. The Eight Sleep Pod 3 mattress is best suited for a side sleeper but if you are a stomach sleeper or back sleeper it will also accommodate you although you may prefer a firmer feel. If I were to do an independent Eith Sleep Pod Mattress review, I would list it towards the softer end of the spectrum. Just keep in mind that if you were to add the Eight Sleep Pod cover to a different mattress, the cover will make that mattress slightly firmer.
Here's a photo with my 14 lb. bowling ball to illustrate how much the mattress contours.
This mattress was designed to accommodate for the heating/cooling grid and adding this technology to your existing mattress would certainly change the feel so it makes sense that this is sold as a package as a lot of prototypes were developed to get the feel just right.
That said, many people will probably prefer a firmer feel and so I would recommend just buying the Eight Sleep Smart Cover then going with a mattress feel that suits your comfort level. The last thing you want to do is get a mattress that doesn't feel right but can regulate temperature. You solve one problem but create another.
The Eight Sleep Pod Pro 3
Eight Sleep recently launched the Eight Sleep Pod Pro. This is an upgraded version of the Eight Sleep Pod. Here's the difference between the two.
First there is a significant difference in price. If you want a softer, more contouring feel, I would suggest upgrading to the Pod Pro
| Price | Pod | Pod Pro |
| --- | --- | --- |
| Full Size | $2,095 | $2,595 |
| Queen Size | $2,395 | $2,895 |
| King Size | $2,795 | $3,295 |
| Cal King | $2,795 | $3,295 |
Here are the other advantages of the Pro which make it a substantial upgrade.
| Feature | Pod | Pod Pro |
| --- | --- | --- |
| Mattress Depth | 11″ | 12″ |
| Comfort Blend integrated topper | No | Yes |
| Dual zone heating and cooling | Yes | Yes |
| Room climate and weather response | No | Yes |
| Advanced sleep tracking | Yes | Yes |
| Dailty health check and HRV monitoring | No | Yes |
| Gentle rise wakeup technology | No | Yes |
| Free Android/IOS app | Yes | Yes |
My Eight Sleep Pod Recommendation
Eight Sleep is setting a new paradigm for sleep tracking and sleep comfort. They make tracking and monitoring your sleep effortless by embedding the technology into the mattress so there's no need to set anything or wear any device. It's like getting a certified sleep science coach monitoring you every night along with an extremely sophisticated sleep tracker and smart alarm. You also get a temperature regulation system that will help you fall asleep faster. Conversely, this system can help you wake up without the need for a loud alarm clock. You can set the mattress to gradually cool until you wake up. By cooling down, your body will want to maintain its temperature and increase your heart rate which will cause you to awaken.
Nowadays it's pretty hard to find anyone who doesn't have sleep issues. We all have nights where we don't sleep well but this is a device that can track our overall sleep and measure our daily sleep habits and help us optimize them.
Lots of people ask me how the Eight Sleep Pod compares to the Purple mattress. The Purple mattress is great for cooling as well but not nearly as good at regulating temperature and of course does not have all the sleep technology integrated. The Eight Sleep Pod has a more familiar feel than Purple and because you can use the Pod Pro cover on any mattress, it makes it a more versatile product.
Aside from comfort and partner disturbance, temperature is the most important factor in falling and staying asleep. Eight sleep checks all three boxes with the Pod. This is hands down the most advanced sleep system on the market and has truly improved my sleep. No matter your sleep preferences in regard to position or firmness, having a mattress adjust to your optimal temperature is a game changer. Using the Eight Sleep will change how you feel in just a few weeks. Sleep and health are so tightly linked that this is a technology worthy of the investment.
The Pod comes with a 100 day trial where if you aren't happy with it they will give you a full refund. I like the pod so much that I'm confident that won't be the case but if I'm wrong, Eight Sleep will take care of you.
We have one of the best Eight Sleep offers. Use Eight Sleep Coupon Code Sherpa200 for $200 off your Eight Sleep Pod Pro 3 System or Eight Sleep Pod Pro 3 Cover.
Best for Hot Sleepers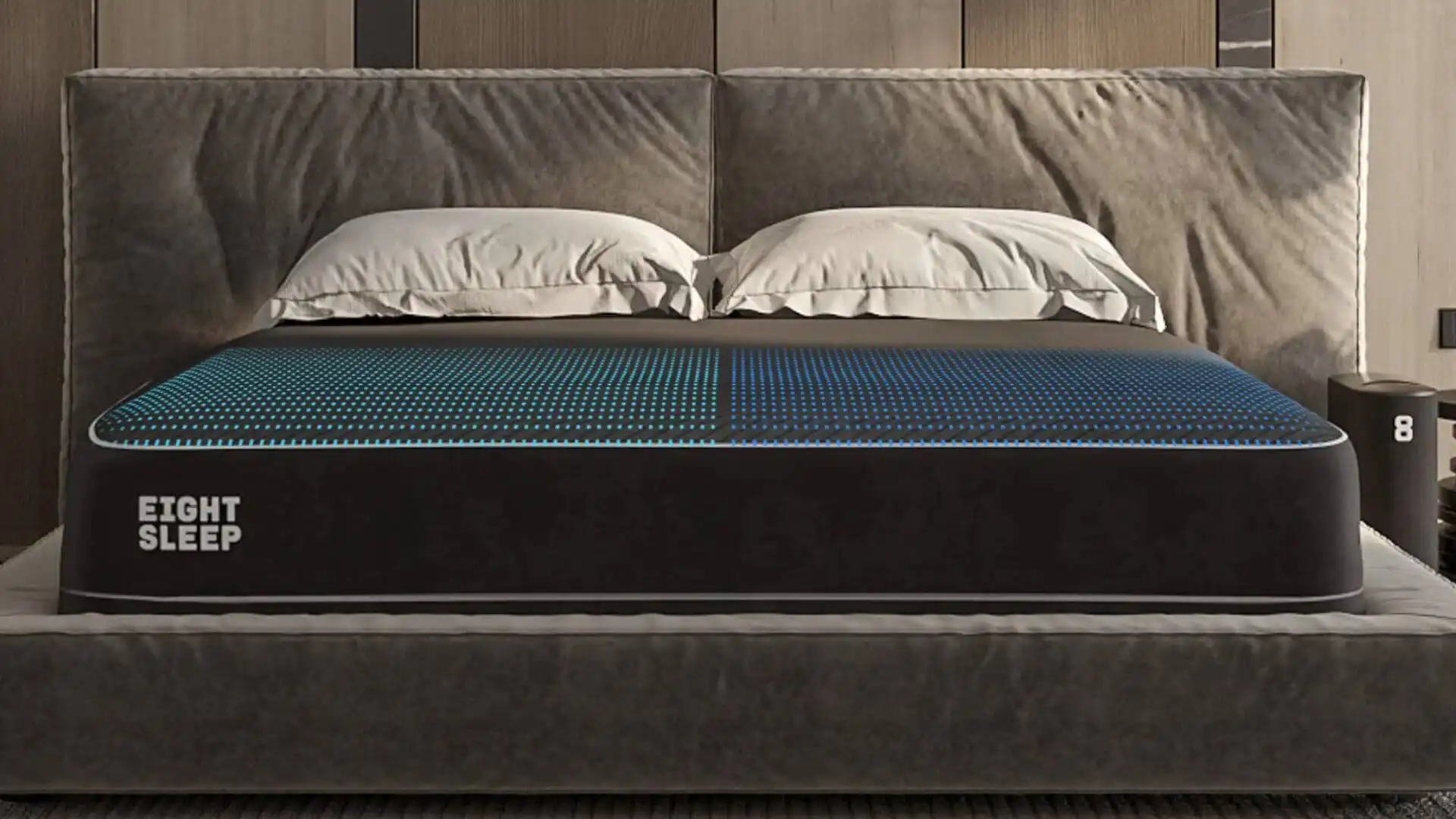 Eight Sleep Pod Pro 3
The only smart mattress that can adjust the temperature of the bed while you sleep. It's a game-changer. Get $200 off with coupon code sherpa200 at checkout
Eight Sleep Alternatives
Bedjet
The BedJet is a climate control system designed to improve your sleep experience by allowing you to customize the temperature of your bed. It can be used as an alternative to Eight Sleep's temperature control features, but it does not replace the entire mattress.
Here's how BedJet compares to Eight Sleep's temperature regulation:
Compatibility: BedJet is a versatile option that can be used with most mattresses, while Eight Sleep's temperature control is built into its mattresses. This means you can enjoy the benefits of BedJet with your existing mattress or any other preferred brand.

Temperature control: Both BedJet and Eight Sleep offer dual-zone temperature control, allowing each side of the bed to be customized separately. This is ideal for couples with different temperature preferences.

Temperature range: BedJet provides a wider range of temperature settings, offering both cooling and heating capabilities. Eight Sleep's temperature control primarily focuses on cooling, though it can provide some warming during preheat mode.

Sleep tracking: While Eight Sleep's mattresses come with built-in sleep tracking features, BedJet does not offer this functionality. If sleep tracking is important to you, you would need to find an alternative solution to complement your BedJet system.
In summary, BedJet is an excellent alternative for those who want temperature control without having to purchase a new mattress. However, keep in mind that it does not provide sleep tracking or other smart features found in Eight Sleep mattresses.
Eight Sleep vs. ChiliSleep
Eight Sleep and ChiliSleep are two popular brands that offer sleep technology products to help people get better sleep. Here are some key differences between the two:
Cooling technology: Both Eight Sleep and ChiliSleep offer cooling technology to help regulate body temperature during sleep. However, Eight Sleep uses a water-based system, while ChiliSleep uses a hydrogel-based system.

Mattress vs. mattress topper: Eight Sleep offers a smart mattress that integrates with their sleep technology, while ChiliSleep offers a mattress topper that can be placed on top of your existing mattress.

App features: Both brands offer apps that allow you to control the temperature of your sleep technology. However, Eight Sleep's app also offers features like sleep tracking and a smart alarm system.

Price: ChiliSleep's products tend to be more affordable than Eight Sleep's products.
Ultimately, the choice between Eight Sleep and ChiliSleep will depend on your specific needs and preferences. If you want a smart mattress and advanced app features, Eight Sleep may be the better option for you. If you're looking for a more affordable option or prefer a mattress topper, ChiliSleep may be the way to go.
Eight Sleep Brand Ambassadors
Eight Sleep has a number of athletes as brand ambassadors, including:
Justin Medeiros, the 2021 CrossFit Games Champion
Brooke Wells, a 7x CrossFit Games Athlete
Travis Mayer, a CrossFit Athlete
Kristi O'Connell, a CrossFit Athlete
Caroline Conners, a CrossFit Athlete
Danny Green, an NBA player
James Lloyd Townsend, a CrossFit Athlete
These athletes have all spoken about how Eight Sleep has helped them improve their sleep and their athletic performance.
Other brand ambassadors for Eight Sleep include:
Lewis Hamilton, a Formula One driver
Tim Grover, a personal trainer and performance coach
Dr. James Levine, a sleep expert and professor at the Mayo Clinic
Dr. Andrew Weil, a holistic health practitioner and founder of the Weil Center for Integrative Medicine
Dr. David Perlmutter, a neurologist and author of the best-selling book "Grain Brain"
Dr. Daniel Amen, a psychiatrist and author of the best-selling book "Change Your Brain, Change Your Life"
These experts have all spoken about the importance of sleep and how Eight Sleep can help people get a better night's rest.
Here are some more brand ambassadors for Eight Sleep:
Dr. Shelby Harris, a sleep expert and professor at the University of Arizona
Dr. Michael Breus, a sleep expert and author of the best-selling book "The Sleep Doctor"
Dr. Jill Blakeway, a sleep expert and founder of the Good Night Sleep Site
Dr. Chris Winter, a sleep expert and author of the best-selling book "The Sleep Solution"
Dr. David Cunnington, a sleep expert and founder of the Sleep Hub
Dr. Matthew Walker, a sleep expert and author of the best-selling book "Why We Sleep"
These experts have all spoken about the importance of sleep and how Eight Sleep can help people get a better night's rest.
Research on Eight Sleep
ight Sleep is a sleep technology company that sells a smart bed called the Pod. The Pod uses thermoregulation technology to adjust the temperature of the mattress throughout the night, which can help users get a better night's sleep.
There is some research to support the claims made by Eight Sleep. For example, a 2018 study published in the journal Sleep found that people who slept on a Pod for 28 days reported significantly better sleep quality, including more time spent in deep sleep and fewer sleep disruptions.
Another study, published in the journal PLOS One in 2019, found that people who slept on a Pod for 28 days had lower levels of stress hormones and higher levels of the hormone melatonin, both of which are associated with improved sleep.
However, it's important to note that these studies were conducted on a small number of people and more research is needed to confirm the findings. Additionally, Eight Sleep is a for-profit company, so it's important to be aware of the potential for bias in the research that they fund.
Overall, there is some evidence to support the claims made by Eight Sleep that their Pod can help people get a better night's sleep. However, more research is needed to confirm these findings and to determine whether the Pod is safe and effective for everyone.
Eight Sleep Awards
Eight Sleep has won the following awards:
CES Innovation Award (2018)
Red Dot Design Award (2018)
Men's Health Sleep Award (2021)
GQ Fitness Award (2021)
The CES Innovation Award is awarded by the Consumer Technology Association (CTA) to products that demonstrate outstanding engineering and design. The Red Dot Design Award is awarded by the German Design Council to products that exhibit design excellence. The Men's Health Sleep Award is awarded by Men's Health magazine to the best sleep product of the year. The GQ Fitness Award is awarded by GQ magazine to the best fitness product of the year.
When Does Eight Sleep Go on Sale?
Eight Sleep goes on sale during major holidays, like Black Friday, Cyber Monday, and Memorial Day. You can also find discounts throughout the year on the Eight Sleep website. In addition, Eight Sleep offers a 0% APR financing option for up to 36 months.