Best for Guest Rooms
Brooklyn Bedding Signature
A universally appealing comfort that is bound to please guests. It's also great for sleeping on every night.
We earn a commission if you make a purchase, at no additional cost to you.
I was given a free Brooklyn Bedding mattress to review. Brooklyn Bedding started in 1995 as a factory-direct mattress manufacturer and eventually evolved into an online factory direct mattress manufacturer that goes against the one size fits all philosophy for mattresses that others have adopted. Brooklyn Bedding offers some unique features and a  fresh choice when it comes to purchasing your next mattress online.
Overview of the Brooklyn Bedding Models
Brooklyn Signature Hybrid Mattress: Combining comfort and support, the Brooklyn Signature Hybrid incorporates both foam and pocketed coils in its construction. It offers three firmness levels—Soft, Medium, and Firm—allowing sleepers to choose according to their preferred sleep position or comfort level.

Brooklyn Aurora Hybrid: One of the most luxurious models, the Aurora Hybrid is specially designed for optimal cooling. It combines CopperFlex™ foam, which has cooling and antibacterial properties, with TitanCool™ technology that maintains ideal skin temperature. Available in three firmness levels, this mattress is ideal for those who tend to sleep hot.

Brooklyn Spartan Hybrid: This model is designed with athletes in mind. The Spartan Hybrid utilizes unique technology called Far Infrared Rays (FIR) to transform body heat into energy that is then reflected back, aiding in recovery and promoting quality sleep. It also features an advanced cooling system and is available in three firmness levels.

Brooklyn Bloom Hybrid: A natural and eco-friendly option, the Bloom Hybrid uses sustainably sourced Joma Wool and organic cotton in the cover, along with a layer of Talalay latex and individually encased Ascension™ coils. This model is perfect for sleepers who prefer organic materials and wish to minimize their environmental impact.

Brooklyn Bowery: The Bowery is an all-foam mattress designed to provide pressure relief and contouring comfort. It's an excellent choice for budget-conscious customers who still desire a quality product.

Brooklyn Bowery Hybrid: An evolution of the Bowery model, the Bowery Hybrid combines a top layer of Energex™ foam with a base of Ascension™ coils. This hybrid design ensures a balanced feel, offering both responsive contouring and robust support.

Brooklyn Plank: For those who prefer an ultra-firm feel, the Plank mattress provides an almost hard sleeping surface, which can be beneficial for certain sleepers. It also has a flippable design with one side slightly less firm than the other, allowing some degree of customization.

Brooklyn Plank Hybrid: The Plank Hybrid takes the flippable firmness concept of the original Plank and adds a layer of pocketed springs for enhanced support and breathability.

Brooklyn Sedona Hybrid: As a luxury hybrid model, the Sedona combines multiple foam layers, including a top layer of patented comfort technology, with a responsive base of individually encased coils. This mattress offers a plush, cooling, and responsive sleeping surface.
How Much Does the Brooklyn Bedding Signature Cost?
| Size | Soft | Medium | Firm |
| --- | --- | --- | --- |
| Twin | $699 | $799 | $899 |
| Twin XL | $799 | $899 | $999 |
| Full | $999 | $1,099 | $1,199 |
| Queen | $1,199 | $1,299 | $1,399 |
| King | $1,399 | $1,499 | $1,599 |
| Cal King | $1,599 | $1,699 | $1,799 |
Ordering & Unboxing the Brooklyn Bedding Signature Mattress
Ordering the Brooklyn Signature was simple and quick. You can choose from 3 different levels of firmness: soft, medium and firm. For this review, I received the medium. This is a departure from the one mattress fits all claim and gives consumers a little more choice. What's nice though is that it's not overwhelming or confusing.
Brooklyn Bedding offers a 100  night trial period where if you aren't satisfied with it, they will come and pick it up. I have heard that this applies only to the first mattress. If you were to buy it then return it then buy a firmer or softer one and return that, there may be a fee associated with that.
Unboxing the Brooklyn Signature was similar to all the other bed in a box mattresses I have reviewed. The box is sleek and stylish, sorry no swag like some of the others but that's OK!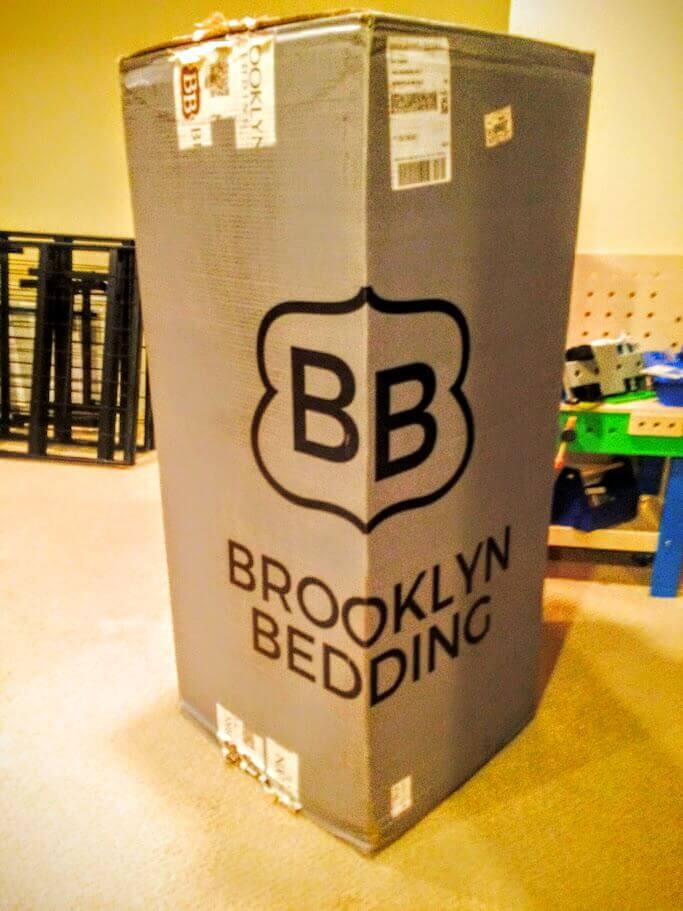 Below are the current prices both including the 20% discount.
As with all the other bed in a box type mattresses, the Brooklyn Bedding Signature "inflated" very quickly and was ready to sleep on in under an hour.
Here's a video of the new 2018 version of the Brooklyn Bedding mattress.
Construction of the Brooklyn Bedding Signature
Brooklyn Bedding recently upgraded thier mattress construction of the Best Mattress Ever. Below is a picture of the inside of the new mattress along with construction details.
Aside from an upgraded look the mattress now has Omniflex which provides better support and cooling than traditional memory foam.
2" TITANFLEX™ COMFORT
Our patented, hyper-elastic TitanFlex™ foam features immediate response technology that adjusts to your body each time you move. An added infusion of TitaniumGel™ helps promote cooling along with an anti-bacterial sleeping environment and greater stability.
2" TITANFLEX™ SUPPORT
A firmer pairing of the TitanFlex™ high density foam creates a transition layer, promoting both deep compression support and body contouring.
6″ ASCENSION POCKETED COILS
An engineered layer consisting of up to 1,024 individually pocketed coils allows for exceptional reactivity to movement in sleep as well as maintaining the structural integrity of your mattress.
My Brooklyn Bedding Signature Recommendation
The Brooklyn Bedding mattress is true to size. I waited a day to take this measurement and it comes in right at 10 inches in depth which doesn't include the lofty plush top.
This mattress also has handles stitched into the sides which makes the mattress easier to rotate.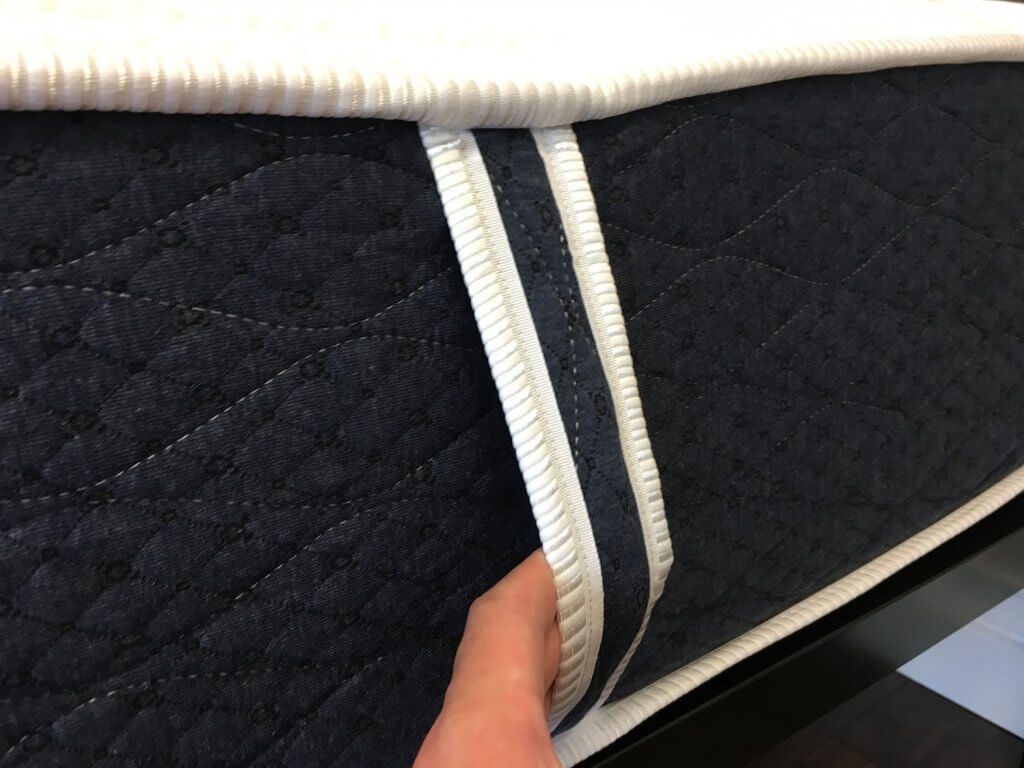 For the Brooklyn Bedding review and all other recent reviews, I conduct a test to determine how much bounce and motion transfer has. This mattress has a lot of bounce due to the coil system.
Here's a picture that illustrates sinkage on the medium firm version of the Brooklyn Bedding mattress.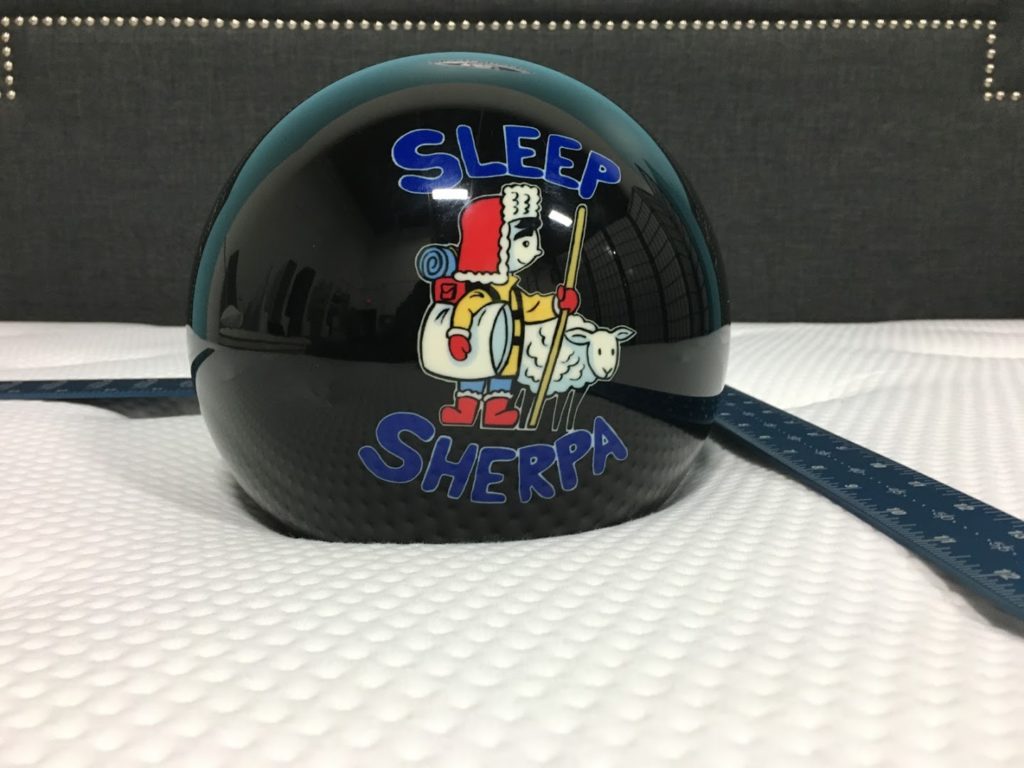 Even though the Brooklyn Bedding mattress is made of memory foam, it recovers quickly and acts similar to latex but still conforms a bit better than latex.
Here's how all the layers react:
My Brooklyn Bedding Mattress Review Recommendation
Pros:
Customizable Firmness: The Brooklyn Bedding Signature Mattress is available in three firmness levels (soft, medium, and firm), allowing customers to choose the best comfort level for their individual sleep styles.

Hybrid Design: The hybrid design provides a balanced feel that combines the contouring of memory foam with the bouncy responsiveness of an innerspring mattress. This could appeal to people who want the best of both worlds.

Quality Construction: The mattress is well-regarded for its quality construction and use of high-quality, durable materials, which may lead to a longer lifespan than some other mattresses.

Cooling Capabilities: The mattress has cooling capabilities due to the gel-infused foam and breathable cover, which may help regulate body temperature and prevent overheating during sleep.

Good Value: Many customers and reviewers have noted that the mattress provides good value for its price, offering a level of quality and comfort often associated with more expensive mattresses.
Cons:
Potential Off-gassing: As with many bed-in-a-box mattresses, there may be some initial off-gassing smell after unboxing. This is typically temporary and should dissipate within a few days.

Edge Support: Some users have reported that the edge support isn't as strong as they'd like. This could be a disadvantage for people who frequently sit or sleep near the edge of the bed.

Weight: The mattress can be quite heavy due to its hybrid construction, which can make it challenging to set up, move, or rotate.

Motion Transfer: While the hybrid design does help minimize motion transfer compared to a traditional innerspring mattress, some users have reported that they can still feel their partner's movements. This could be a disadvantage for light sleepers.

Break-in Period: Some customers have noted that the mattress requires a break-in period before it becomes fully comfortable. This isn't unusual for a new mattress but can be a slight inconvenience.
I slept well on the Brooklyn Bedding Signature. I like the updates that they made for 2017. There is no longer any latex in this mattress and it is now a 3 layer foam bed.
The Signature from Brooklyn Bedding is still a great choice for people who want the bounciness of an innerspring mattress but don't want all the problems that come with them. This is a very high quality bed that should have lasting value given its materials. The company has a 10 year warranty against impressions that are greater than 1.5 inches.
Disclosure: We aim to highlight products and services you might find interesting, and if you buy them, we may get a small share of the revenue. I have an affiliate relationship with Brooklyn Bedding.
Best for Guest Rooms
Brooklyn Bedding Signature
A universally appealing comfort that is bound to please guests. It's also great for sleeping on every night.
We earn a commission if you make a purchase, at no additional cost to you.