I just bought the Purple mattress protector to see how it compares to some of the other mattress protectors I have reviewed and I must say it is an impressive item. You may have heard about it while looking at the Purple mattress or seeing some of their viral videos online. Here's the one that explains it in depth.
Here's a video of me giving an overview of the mattress protector.

A queen size Purple mattress protector retails for $79 but as of this writing they currently have it on sale for $59. You can order directly from their website and they will give you tracking so you know when it will arrive.
It arrives in a very well packaged box that includes a cool little comparison sample of a traditional mattress protector that does not stretch.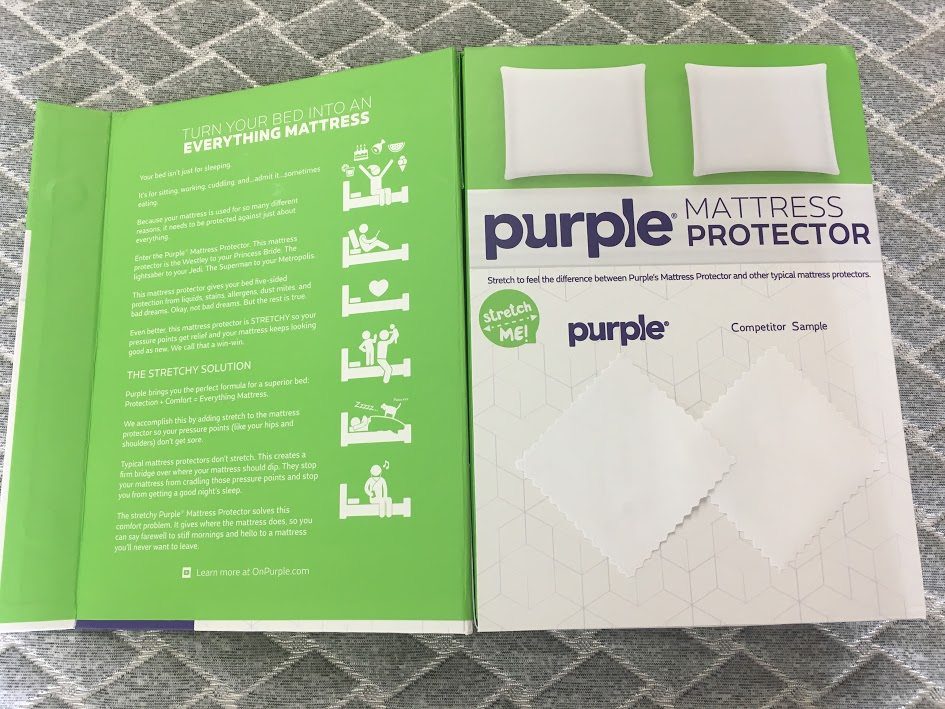 Specifications
Below are some of the key benefits of the mattress protector:
Stretchy – Because the protector stretches, it will work with your mattress. This wasn't necessary years ago when beds didn't have the conforming features they do now. This is designed to work with the Purple mattress so that you sink in properly. If you are looking to buy the Purple mattress, I highly recommend this protector.
Stands up to anything – The whole reason for buying a mattress protector is to keep your bed from getting ruined. Again, this is extra important for the purple mattress because the purple membrane is basically a grid of holes so if you spill into your mattress, it's almost impossible to clean.
Sleep cool and quiet –  A cheap mattress protector is made of vinyl and sort of feels like you are sleeping on a trash bag.  They don't breathe and they trap heat which completely ruins all the features of a new mattress. The Purple mattress protector not only stretches to give you all the features of your mattress but protects it on the top and all four sides.
Save time – I was really impressed with the elastic band on this mattress. It is thicker and grips to the bottom of the bed easily. That means it won't come undone at night. This is also machine washable and light.
Conclusion
The Purple mattress protector is a really good value for all the features that you get,. It used to be a trade off between protecting your mattress and compromising comfort. This protector lets you have both. A common refrain I hear is that people fall in love with the feel of a mattress in a showroom only to be disappointed when they get it home and load it up with a cheap mattress protector and sheets.
The Purple mattress protector is in line or even better price wise with some of the brands on Amazon. One draw back is that they do not have a money back guarantee. So, if you were to buy this, you are sort of stuck with it but I really can't see a reason why someone would enjoy the benefits of this protector after having reviewed many of the others on the market.