Puffy Royal Mattress Review
Best Soft Mattress
Puffy Royal
Nothing beats the Puffy Royal for the true sleeping-on-a-cloud feeling. If you have any pain points, this mattress is sure to address them.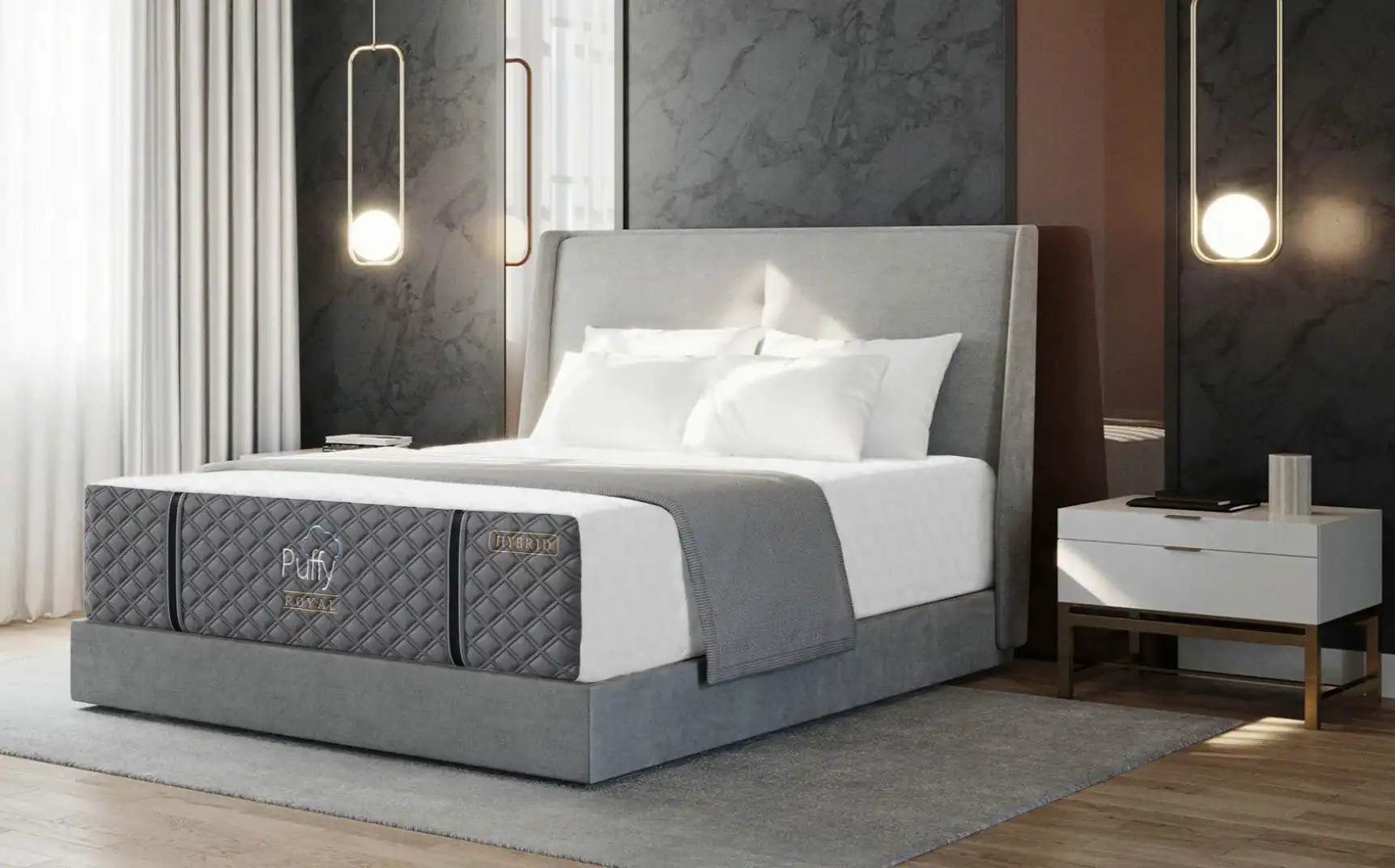 We earn a commission if you make a purchase, at no additional cost to you.
The Puffy Royal mattress debuted in 2020. It is the company's most luxurious mattress, featuring a hybrid construction that combines memory foam and coils for a plush, contouring feel with just the right amount of bounce. The Puffy Royal is also backed by a lifetime warranty, so you can enjoy it for years to come.
The Puffy Royal mattress has been well-received by customers, with many praising its comfort, support, and quality. It is a popular choice for sleepers who are looking for a luxurious and supportive mattress that can help them to get a good night's sleep.
In this Puffy Royal mattress review, we will be taking an in-depth look at the puffy royal hybrid mattress which is a step up from the puffy lux, also known as the puffy lux hybrid
While the puffy lux hybrid mattress is soft, this one is even softer. 
The Puffy mattress has been around for over 7 years now and my first
The Puffy Royal mattress review was done when it came out about 4 years ago.
Before that, the Puffy Lux hybrid mattress was their top-of-the-line offering, and while
hybrid is a good mattress the premier mattress among the Puffy lineup is the Royal hybrid. 
While most people consider the task of buying a mattress as a complicated and tedious chore, there are a few who relish indulging in the process of buying one. The primary problem is the plethora of options available to the buyer, making it challenging to conclude. Moreover, there are a host of other factors such as the type of bed for which it is to be purchased, and the kind of sleeper, among others. If you feel the same, don't worry as you are not the only one. Once you search online, you will be presented with one mattress review after another. Some reviews are from people that have never even tried the Puffy Royal hybrid mattress. This is Puffy's Premier mattress and truly gives you that sleeping on a cloud-feeling. In this review, we will cover what makes the Puffy Royal so special and why you should consider it when choosing a new mattress
There are a handful of standalone mattresses that break the conventional mattress mold and are worth exploring. The Puffy Mattress is one among them, which has won a place in the coveted 2019 Best Mattresses Guide by Consumer Reports and continues to win awards from top mattress review sites, including this one through 2022 and beyond. There are several reasons why this new mattress deserves such recognition, and a significant contributor to such fame and popularity is the Puffy Royal Mattress.
Many people think that they know what it feels like sleeping on a foam mattress. But all their knowledge and experience start to fade out once they explore the insanely deluxe 14 inches thick Puffy Royal Mattress. This premium bed offers a 5-layer comfort and support that makes the user feels like he/she is lying on the puffiest cloud ever. This is a hybrid version which means you also get all the benefits of springs for proper support.
Puffy Royal Hybrid Mattress Review & Mattress Performance
Your Puffy Royal will arrive in a box like this. Considerably bigger than the Puffy Lux Hybrid box. Out of all the hybrid mattresses I reviewed, this is one of the largest boxes I have opened.
My Puffy Royal Hybrid Video Review
Here's a video review of the Puffy Royal and all its features. I personally test all these mattresses and we sell the Puffy Royal Mattress along with the Puffy Hybrid and the Original Puffy in our Showroom. On the firmness scale, the Puffy Royal is considerably softer than the original Puffy Mattress.
Construction of Puffy Royal Hybrid Mattress. Is it a Good Mattress?
First, there was the original 3-layered Puffy Mattress, then came the 4-layered Puffy Lux Mattress, and now is the time for the ultra-modern 5-layered Puffy Royal Mattress. The Puffy Royal Mattress is an upgraded version of the previous ones with reflexive pressure relief, advanced airflows, and zoned support for upgraded sleep.
Although an extra layer may not seem like much, it makes all the difference when going from the Puffy Lux Hybrid mattress to the Puffy Royal.
Material and Construction Specifications of the Puffy Royal Compared to the Puffy Lux Hybrid
The Puffy Royal Mattress is one of the thickest foam beds combining five unique layers of memory foam to produce the impressive 14-inch thick mattress. Detailed information on the materials used for the construction of the king or queen-sized mattress is below. In this picture you can see how the Puffy Royal is meticulously designed for superior contouring while still providing superior support.
Unique Comfort Layers For A Sound Sleep
While most premium quality mattresses contain two to three layers of comfort, the Puffy Royal Mattress comes with an added layer, offering the user with the fluffy feel of four layers combined. Each of these layers serves a different purpose of providing pressure relief, cooler sleep, and outstanding support.
The Upper Layer
The topmost layer is referred to as the cooling memory foam layer that is filled with cooling beads that helps in the dispersion of heat from the mattress.
The Middle Two Layers
The next two layers beneath the top layer are designed from ultra-pressure relieving and cooling memory foam. Both these layers have their unique properties that highlight the contour of this mattress. These layers are flexible enough to adjust to the lying posture of the person so that the user doesn't get a feel of being stuck in the mattress. This dual-layer of foam also helps in regulating the temperature and effective for climate control.
The Bottom Layer
This lowermost layer among the comfort layers draws a massive line of difference between the Puffy Royal with that of other premium mattresses. Even though this unique one-of-a-kind designed layer is made out of foam, the presence of channels and grooves in this layer offers incredible airflow and breathability to the mattress. In addition to this, it also provides zoned pressure support and relief for an extra bit of comfort and a cloud-like feel.
Supportive Core Base Layer for Longevity
The core support foam used for this mattress is one of the best base foams in the market. Not only is the base layer made out of 6-inch firm and durable foam material for the ideal support, but it is also 99 percent more responsive due to its Insta-Firm technology. This innovative technology provides the base foam to be four times more supportive than any other standard base foam used for other mattresses.
Upgraded Cover for the Ultimate Finish
The cover of the new Puffy Royal mattress provides an excellent upgrade to this premium quality product. The plush cover on this mattress is more luxurious and thicker than the previous versions of the Puffy and Puffy Lux mattress, making it more of a comfort layer than just a simple covering. The cover is perfectly tailored to give a premium fit and feel, making it easier to adjust the mattress with the zipper. Apart from that, this cover is also soft, breathable, and stain-resistant. This durable and safe cover is an Oeko-Tex® Standard 100 Certified.
What Makes Puffy Royal Mattress The Best Among The Premium Mattresses?
While comfort is the priority of every mattress, there are certainly a host of other reasons why people choose to buy one mattress over the other. Some of the critical aspects to look out for are motion isolation, the cooling effect, firmness of the edges, and the like. The notable benefits of a Puffy Royal Mattress are as follows –
Motion Isolation
Puffy Royal is one of those mattresses that have negligible to no isolation. The excessively thick all-foam mattress absorbs motion as soon as it comes in contact with the bed. This mattress is a dream choice for sleepers who are sensitive to minor movements. Whether your partner is used to tossing and turning during sleep or the two of you have different schedules, the Puffy Royal will eliminate any motion transfer to ensure that you have a sound night's sleep. Here's a picture of how much sink you can expect using my 14 lb. bowling ball.
While you weigh much more than a bowling ball it illustrates that the Puffy Royal Hybrid is a perfect choice for side sleepers. Even back sleepers will enjoy this mattress. It can accommodate stomach sleepers but I thin they may be better suited to the Puffy Lux Hybrid or the Puffy Original instead.
Supportive Edges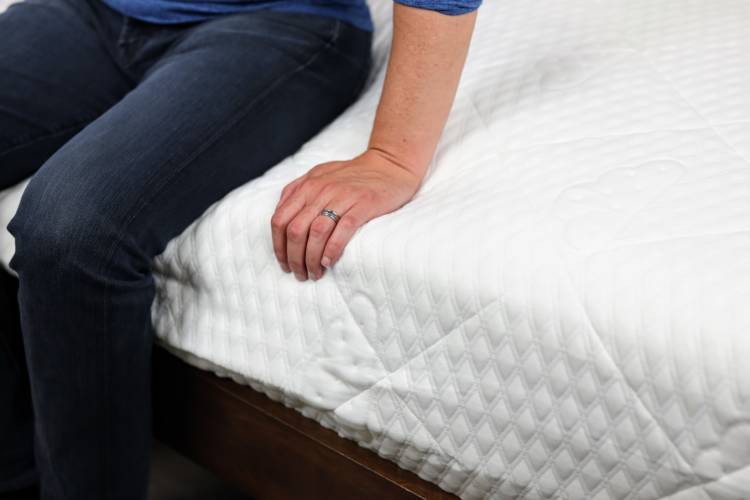 Solid Edges provide several benefits to a mattress. Pronounced and sound edges offer a glimpse of the quality and durability of the material used for the mattress, helping the user understand the supportive nature of the perimeters. This is what makes a hybrid a good mattress for people that want to sleep right up to the edge of the bed without feeling like they will fall off.
One of my fears when reviewing this mattress is that the edge support would be lacking on the Puffy Royal given that it is an all foam mattress. I will say that while it does sink at the edge, you need to remember that you will sink into this mattress when you sleep so it would take a lot of effort to try and roll out of the bed accidentally. I typically sleep close to the edge of the mattress as do most people and did not feel like I would roll off at all.
Below is a picture of my hand impression on the top layer of the Puffy Royal to give you a sense of the mattress firmness and the mattress performance. If you want a super soft and cozy mattress, this is exactly what you get. Puffy spares no expense in using foams designed to make you feel like you are sleeping on a cloud.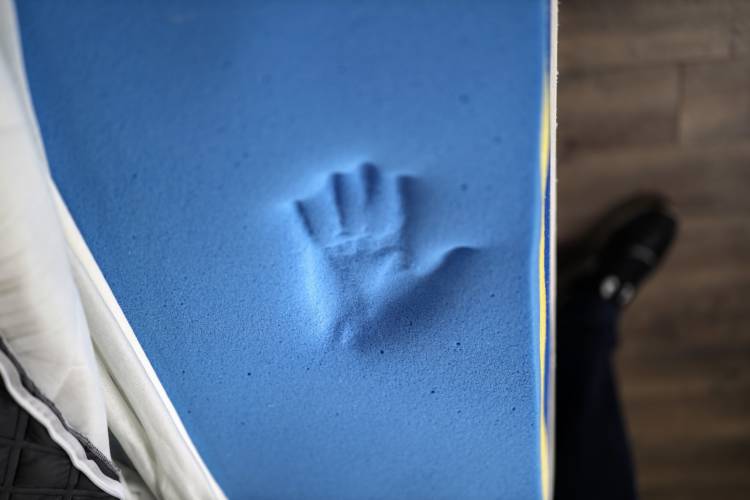 Having good edge support is crucial for several reasons –
It allows the user to make the most out of a mattress by using it from edge to edge without any loss of comfort or support. This ensures that you are making the most out of your sleeping space.
Having sturdy mattress edges allows you to move in and out of your bed with ease, eliminating the possibility of rolling out of the surface while sleeping.
A supportive perimeter means that you get a surface to sit on occasionally. Though sitting on the edges is not recommended, it is human instinct to use the sides of the bed while sitting and having a mattress with such supportive edges is always a plus point.
Advanced Airflow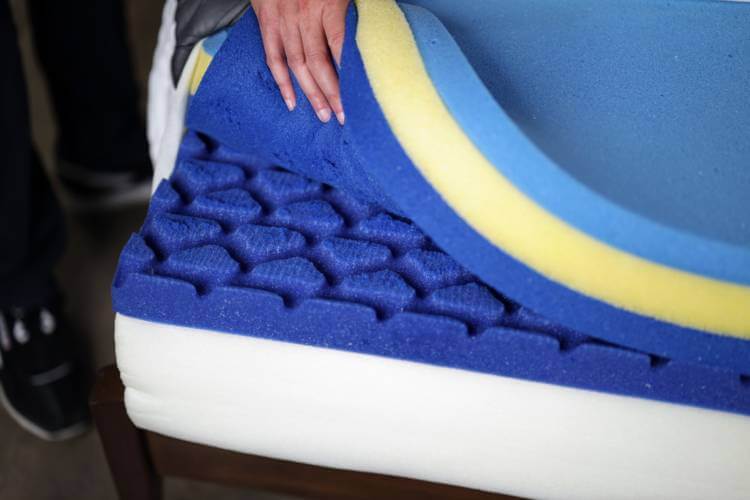 Now you no longer have to be concerned with night sweats. The Puffy Royal mattress contains a unique SMT cloud design on its fourth layer. This helps in eliminating the absorption of heat, thereby enabling superior airflow throughout the entire mattress. The cooling gel memory foam mattress gives the user a cooler feel while sleeping. The climate control foam used in each of its layers acts as humidity and temperature resistant. Sleepers can experience deeper and sound sleep without changes in mattress temperature throughout the year.
Keep in mind though that this mattress has multiple layers of foam and you will sink into the mattress considerably which will retain more heat. I recommend a cooling mattress protector that will help draw away heat and help you sleep better at night.
101 Night Sleep Trial
A free trial is something that has become a norm in the online mattress industry, and Puffy is no different. Puffy Royal allows its users to enjoy a full 101 night's sleep. In case you are not satisfied with the quality of the product or its comfort level after using it for 101 nights, you are eligible to return the mattress for a full refund. After all, for overall health and well-being, it is worth investing in quality sleep.
Free of Harmful Chemicals
The Puffy mattress foams are all independently tested and CertiPUR-US® certified. This means that they are made without ozone depleters, PBDEs, TDCPP or TCEP flame retardants, mercury, lead, and other heavy metals, formaldehyde, and phthalates, giving customers peace of mind. The Puffy mattress foams also have low VOC (Volatile Organic Compound) emissions for indoor air quality (less than 0.5 parts per million). So sleep peacefully knowing that they're free of harmful chemicals.
Free Shipping
Puffy Brand believes that shopping for comfort should be simple. Buyers should not buy added time and money in getting the mattress of their choice. You can get your Puffy Royal mattress delivered at your doorstep entirely free of cost and that too within a mere two to five business days.
Suitable for any surface
The supportive and flexible Puffy Royal mattress is specifically designed to be placed on any surface or frames, including slats, flat frames, box springs, and even any adjustable surfaces. You can also choose a frame like the Puffy Adjustable Base or the Puffy Bed Frame to go with your Puffy Royal Mattress.
Stain Resistant Fabric With Ease Of Washing
The fabric from which the Puffy Royal Mattress is made is completely stain-resistant, which means that any minor spills can be cleaned out in no time. Also, the mattress cover is easily washable, allowing the user to experience year-round freshness on his sleeping space. You can also opt for a seasonal deep cleaning to maintain the freshness of your mattress cover. Simply unzip the cover and give a gentle wash at home.
Pricing Specifications
The cost of Puffy Brand mattresses can range from $500 to almost $2700, depending on the type and size of the mattress opted for. The Puffy Royal is the costlier than the Puffy and Puffy Lux mattress due to the increase in the number of layers and the oft of the bed. The Royal features an additional two layers of cooling, making it expensive for the manufacturer to make these incredibly plush mattresses.
The Puffy mattress comes with a free set of bamboo sheets, a waterproof mattress protector and two puffy pillows. 
Where to Buy a Puffy Royal Mattress?
You can buy through the Puffy website or directly through Yawnder. Feel free to contact us for discounts.
How Firm is the Puffy Royal Mattress?
The Puffy Royal is one of the softest mattresses I have reviewed that still provides good support.
Can I Flip the Puffy Royal Mattress?
No. None of the Puffy models are flipabble. However, you can rotate the mattress to prolong its lifespan.
Can I Purchase a Puffy in a Retail Store?
Yes! We have all 3 Puffy models to try and buy at the Yawnder Showroom.
Is the Puffy Mattress Cover Washable?
Yes and now. While you can unzip the cover and wash it on a cold cycle in a washing machine with mild detergent, I don't recommend it. Instead, I would go with a mattress protector to keep your mattress clean and free of any dust mites and other bacteria.
Is the Puffy Royal a Good Choice for Heavy People?
Whil this is a very durable mattress, people over 275 lbs. may sink in a little too much. It's hard to say but this is a case where you may want to try the mattress in stores.
Q: Is the Puffy mattress made in China? A: No, the Puffy mattress is not made in China. It is manufactured in the United States.
Q: What type of mattress is Puffy? A: Puffy mattresses are memory foam mattresses. They are designed to provide optimal comfort and support by contouring to your body shape.
Q: What is the life of a Puffy mattress? A: The life expectancy of a Puffy mattress depends on various factors, including usage and care. On average, a well-maintained Puffy mattress can last around 8-10 years.
Q: How thick is the Puffy Royal? A: The Puffy Royal mattress has a thickness of 14 inches. It offers a substantial amount of comfort layers and support to ensure a restful sleep experience.
Q: Can I flip the Puffy Royal mattress? A: No, the Puffy Royal mattress is not designed to be flipped. It is constructed with specific layers and materials that are meant to be used in a particular orientation. However, you can rotate the mattress periodically to promote even wear.
Q: Is the Puffy Royal mattress made in the USA? A: Yes, the Puffy Royal mattress is proudly made in the USA. It is manufactured with high-quality materials and craftsmanship to ensure exceptional performance and durability.
Final Thoughts About the Puffy Royal Hybrid
The Puffy Royal is a side sleeper's dream. It is hands down, my top pick for anyone that is a dedicated side sleeper. It contours like no other while still maintaining airflow. Compared to other top competitors like the Original Nectar mattress it is miles softer. It even offers better pressure relief than the Nectar Premier Copper.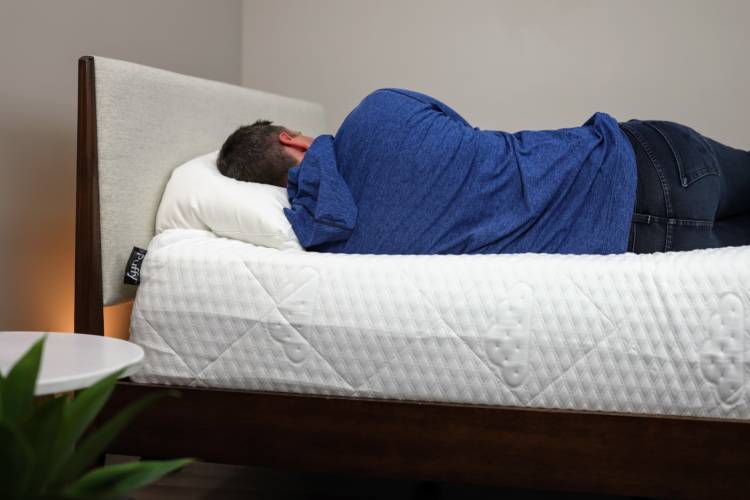 Overall, the Puffy Royal Mattress is quite versatile, with several healing properties ideal for any sleeper. Though the Puffy Royal is a recent inclusion to the Puffy Brand, it has garnered several reviews on their official website as well as other reviewing sites. While this mattress may seem to be a bit expensive, the array of benefits that it provides simply outweighs its price tag. If you are still in doubt about whether to invest so much for a mattress, you can send it back within the trial parameters for a full refund in case you are not satisfied with your experience. This is among the brand's most luxurious mattresses. If you want a firmer mattress, check out the Puffy Lux or Original Puffy which is the all-foam Puffy.
If you are looking for a mattress feel that is on the softer side of the firmness scale and has all the features of a luxury mattress that should cost much more, give the Puffy Royal a try. If you want to go with a medium firmness, take a look at the Puffy Lux Hybrid. The Puffy Royal Hybrid's strengths are its catering to dedicated side sleepers. There's no better excuse to ditch your old mattress. I recommend the Puffy Royal to those sleepers that only want the best pressure relief available.
Shop direct through Yawnder and get the best pricing along with free sheets, pillows and mattress protector and pay no sales tax! We ship directly from Puffy and are an authorized Puffy retailer. 
Shop the Puffy Royal and get an extra 5% off with coupon code, sherpa5 at checkout with no sales tax and a 101 night free trial with free shipping and free returns, shipped directly from Puffy. 
Pros, Cons, and Complaints
Pros of the Puffy Royal mattress:
Comfort: The Puffy Royal is designed to be comfortable for all sleeping positions. It uses a combination of memory foam and coils to provide pressure relief and support.
Cooling: The Puffy Royal has a number of features that help to keep sleepers cool at night, including a breathable cover and cooling gel foam.
Motion isolation: The Puffy Royal does a good job of isolating motion, so you are less likely to be disturbed by your bed partner when they move.
Warranty: The Puffy Royal comes with a lifetime warranty.
Cons of the Puffy Royal mattress:
Price: The Puffy Royal is a relatively expensive mattress.
Softness: Some sleepers may find the Puffy Royal to be too soft.
Weight capacity: The Puffy Royal has a weight capacity of 300 pounds per side. Heavier sleepers may need to look for a mattress with a higher weight capacity.
Complaints about the Puffy Royal mattress:
Some sleepers have complained that the Puffy Royal is too soft.
Others have complained that the mattress does not provide enough support for their back and neck.
A small number of sleepers have reported that the mattress has developed sagging over time.
Overall, the Puffy Royal is a well-received mattress with a number of positive reviews. However, it is important to note that not everyone will find the mattress to be comfortable or supportive. It is also important to consider the price and weight capacity of the mattress before making a purchase.
The Puffy Royal mattress may offer a number of benefits for people with arthritis and fibromyalgia, including:
Pressure relief: The Puffy Royal is designed to provide pressure relief, which can be helpful for people with arthritis and fibromyalgia. The mattress uses a combination of memory foam and coils to conform to the body and distribute weight evenly. This can help to reduce pressure on sensitive areas, such as the joints and muscles.
Support: The Puffy Royal also provides good support, which is important for people with arthritis and fibromyalgia. The mattress's hybrid construction combines the pressure relief of memory foam with the support of coils. This can help to keep the spine aligned and reduce pain.
Motion isolation: The Puffy Royal does a good job of isolating motion, which can be helpful for couples sleeping together. This means that you are less likely to be disturbed by your bed partner when they move, which can lead to a more restful sleep.
Cooling: The Puffy Royal has a number of features that help to keep sleepers cool at night, including a breathable cover and cooling gel foam. This can be helpful for people with arthritis and fibromyalgia, as heat can exacerbate pain and inflammation.
It is important to note that the Puffy Royal mattress is not a cure for arthritis or fibromyalgia. However, it may offer some relief from pain and discomfort, and it may help to improve sleep quality.
Best Soft Mattress
Puffy Royal
Nothing beats the Puffy Royal for the true sleeping-on-a-cloud feeling. If you have any pain points, this mattress is sure to address them.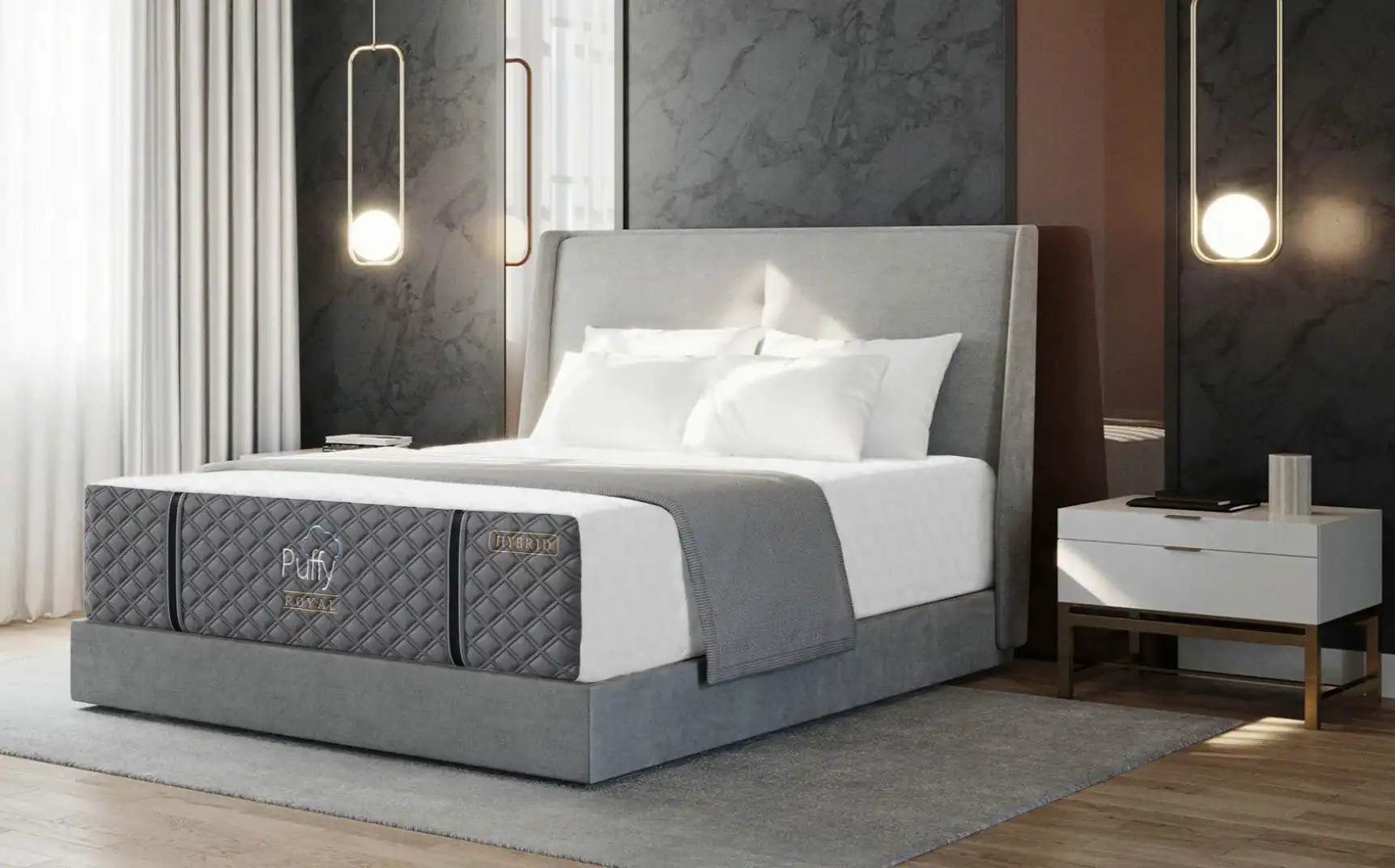 We earn a commission if you make a purchase, at no additional cost to you.