Recently updated on February 21st, 2023 at 12:26 pm
Looking for an electric blanket to keep you warm and cozy this winter? Check out the Biddeford Electric blanket with micro plush and sherpa. This blanket has some great features that will maximize your comfort all winter long. This is the highest rated electric blanket on Amazon and it lives up to expectations.
Ordering
You can buy this electric blanket on Amazon. It currently is selling for $66.48 for a twin size and comes with free shipping for Prime members. I ordered the twin size which is perfect for using on the couch while reading, working on the computer or watching TV. You can get full, queen and king sizes for your bed but I have found that electric blankets aren't ideal for sleeping in overnight. You will most likely overheat. You actually sleep better in cooler conditions so if you're going to get an electric blanket, I would use it during the day to keep you warm.
Specifications
According to Amazon, these are the specifications of the electric blanket:
100 % Polyester

Machine Wash and Dry

Digital Control(s) with Ten Heat Settings

10 Hour Auto Shut-Off

Dual Temperature Control for Queen and King Size

The twin size weighs 5 lbs. and the King size weighs almost 10 lbs.
The dimensions of the electric blanket are as follows. Please note that these dimensions may be different than what you may be used to for a standard blanket.
Twin Size: 12.2 x 6.9 x 14.6 inches
Full: 12.2 x 7.5 x 14.6 inches
Queen:12.2 x 8.9 x 14.6 inches
King: 13 x 9.8 x 15 inches
Right now the Biddeford electric blanket only comes in the following colors:
Brick
Denim
Sage
Taupe
Findings
What really makes this electric blanket cozy is the sherpa liner. The sherpa just feels super cozy and it also insulates the cords better so that you don't feel them through the blanket. This electric blanket comes with a controller that allows you to adjust the heat to different levels.
I used my infrared camera to show where the cords is placed through the blanket. As you can see below you get thorough coverage:
I turned up the setting to "Hi" which is the max it will go to see how warm the blanket will get. As you can see below, when I point the the temperature reader at the coils inside the blanket, I get a readout of 95.2.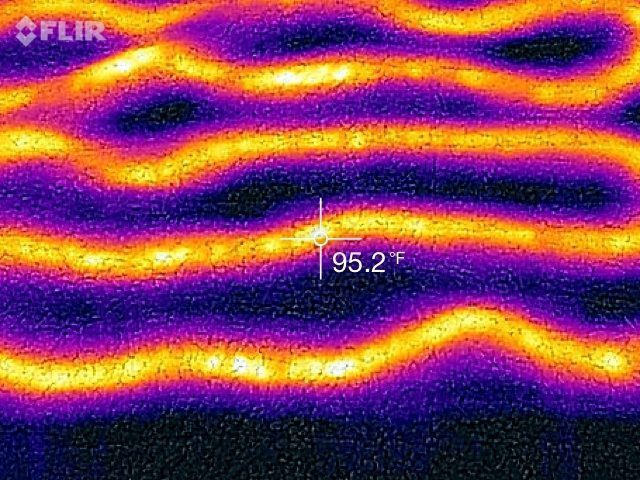 I warmed up under the blanket at the hi temperature and had to turn it down after about 20 minutes. I really can't see a reason why you would need it any warmer in normal conditions.
The controller is very handy. Instead of a dial attached to the cord, there is a separate control panel that you can put on the floor or a table to adjust the settings with a digital display. The blanket also has an auto shutoff feature so that if you forget to unplug it, it will turn off automatically.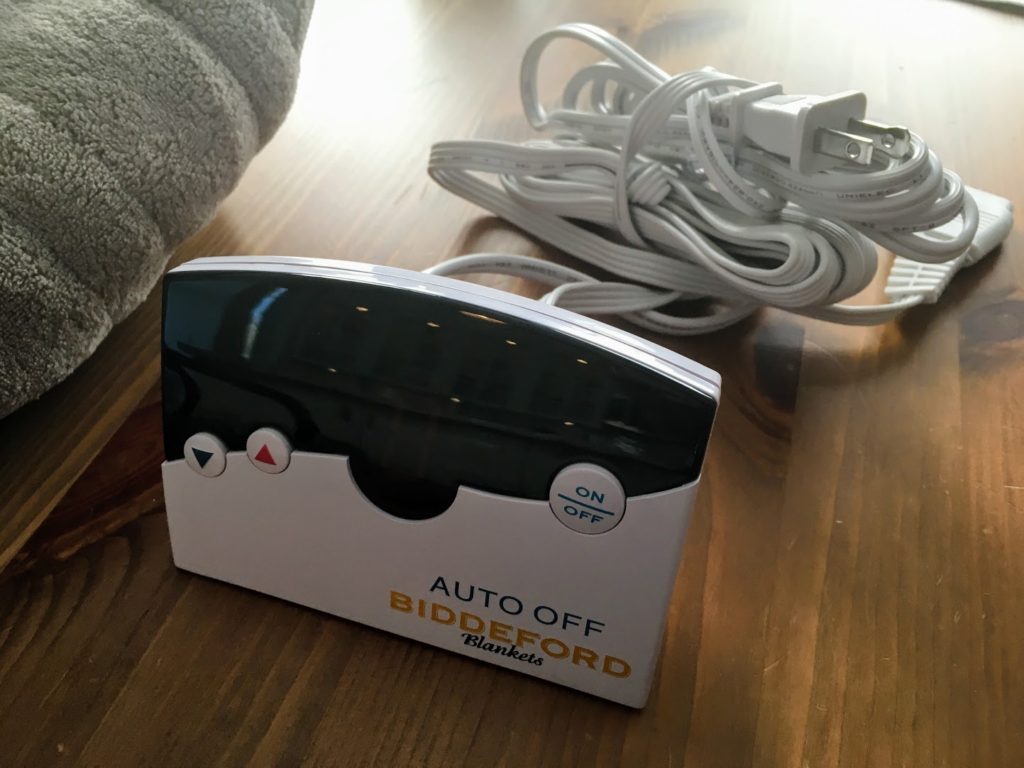 Below is a close up of the plug receptacle.
A big bonus is that this is a machine washable electric blanket. I haven't tried washing it yet so can't say how it will fare but to know that this is even a possibility is great.
Conclusion
I am very happy with this electric blanket. A huge advantage of having one is that you can create a micro climate just for yourself. This allows you to stay cozy warm and turn down the heat in the rest of the house which will save on energy bills. The blanket looks as great as it feels and the cords are well insulated from the outer part of the blanket. In the winter, the floors are the coldest part of the room and since this is washable, I have put this on the floor for the kids to stay cozy warm while watching movies. In that regard it's like having a portable heated floor.