The History of Mattress Brands in the United States
Beginnings
The history of mattress brands in the U.S. can be traced back to the 19th century. Before the proliferation of brands, mattresses were handmade, often stuffed with straw or feathers. The late 1800s saw the first wave of commercially manufactured mattresses, a shift that set the foundation for the burgeoning industry.
Pioneers of the Trade
Sealy Corporation: One of the oldest mattress brands, Sealy, began in 1881 when Daniel Haynes, a cotton gin builder from Sealy, Texas, created a compressed cotton-filled mattress. He patented his invention, leading to a company that would later be synonymous with mattresses in America.

Simmons Bedding Company: Founded in 1870 by Zalmon G. Simmons, the company revolutionized the mattress industry in 1925 by introducing the pocketed coil spring design, known as the Beautyrest mattress.

Serta: Established in 1931, Serta emerged from a collaboration of 13 mattress manufacturers. Over the years, it's become known for innovations like the "Serta Perfect Sleeper" and its iComfort series.
The Mid-20th Century Boom
The post-WWII era brought a housing boom in the U.S., subsequently increasing the demand for home goods, including mattresses. The number of mattress brands grew exponentially during this period, with regional brands mushrooming across the country. Major innovations included the waterbed in the 1960s and the introduction of memory foam by NASA in the 1970s, which was later commercialized for mattresses in the 1990s.
The Digital Disruption
Come the 21st century, the mattress industry experienced a seismic shift due to the rise of e-commerce. The 2010s, in particular, saw a proliferation of direct-to-consumer online mattress brands like:
Casper: Launched in 2014, Casper became an industry disruptor, marketing its mattress-in-a-box model, which quickly gained traction.

Purple: Founded in 2015, Purple's hyper-elastic polymer grid system distinguished it from competitors.

Tuft & Needle: Established in 2012, this brand emphasized transparency and customer-centric policies.
The success of these and other online brands compelled traditional manufacturers to rethink strategies and strengthen their online presence.
Current Landscape
As of 2023, the U.S. houses hundreds of mattress brands, a blend of legacy manufacturers and digital-first startups. The market has become saturated, with differentiation becoming key for brands to thrive. Sustainability has emerged as a significant trend, with brands like Avocado and Brentwood Home emphasizing organic materials and eco-friendly processes.
The Future
The mattress industry is poised for further evolution, with advancements in technology and a heightened emphasis on personalized sleep experiences. Sleep tracking, AI-driven comfort adjustments, and sustainable innovations are expected to define the future.
Furthermore, the blurring lines between technology and health might foster collaborations between tech firms and mattress companies, enhancing the holistic sleep experience.
From handmade beginnings to tech-driven futures, the American mattress industry has witnessed a transformative journey. With sleep being central to well-being, the pursuit for the perfect mattress remains eternal, promising continued innovations and an ever-evolving landscape of brands in the U.S.
There are around 175 online mattress brands in the United States. This number is constantly growing, as more and more companies are entering the market.
It is difficult to say exactly how many online mattress brands exist in the world, but it is estimated to be around 500. This number includes brands that are only available in a few countries, as well as brands that are available globally.
It is important to note that not all online mattress brands are created equal. Some brands offer high-quality mattresses with excellent customer service, while others may offer lower-quality mattresses with less than stellar customer service. It is important to do your research before buying an online mattress to ensure that you are getting a good deal and a quality product.
| Brand | Date Founded | Number of Models | Price Range | Trial |
| --- | --- | --- | --- | --- |
| Casper | 2014 | 6 | $549-$1,399 | 100 nights |
| Tuft & Needle | 2012 | 3 | $499-$1,099 | 100 nights |
| Purple | 2015 | 4 | $799-$1,599 | 120 nights |
| Saatva | 2010 | 8 | $899-$2,399 | 120 nights |
| Leesa | 2013 | 5 | $599-$1,499 | 100 nights |
| Brooklyn Bedding | 2014 | 14 | $699-$2,199 | 120 nights |
| Helix | 2015 | 20+ | $599-$2,999 | 120 nights |
| DreamCloud | 2016 | 6 | $699-$2,199 | 365 nights |
| Nectar | 2016 | 2 | $499-$999 | 365 nights |
| Brand | Date Founded | Number of Models | Price Range | Trial |
| --- | --- | --- | --- | --- |
| Avocado | 2019 | 2 | $1,199-$2,799 | 100 nights |
| Eight Sleep | 2014 | 2 | $2,199-$3,499 | 30 nights |
| Nest Bedding | 2011 | 10 | $699-$2,499 | 120 nights |
| Molecule | 2018 | 3 | $1,199-$2,699 | 120 nights |
| Nolah | 2016 | 3 | $599-$1,299 | 365 nights |
| WinkBeds | 2014 | 5 | $899-$1,899 | 120 nights |
| Bear Mattress | 2016 | 4 | $649-$1,299 | 365 nights |
| Plank Firm | 2020 | 3 | $1,099-$1,599 | 120 nights |
| Birch Mattress | 2016 | 2 | $999-$1,699 | 120 nights |
In Store Mattress Brands
There are around 11 in-store only mattress brands in the United States. These brands typically have physical stores in major cities and shopping malls.
There are a few reasons why there are fewer in-store mattress brands than online mattress brands.
Cost of opening and maintaining physical stores. It is expensive to open and maintain physical stores, especially in high-traffic areas. Online mattress brands do not have these costs, which allows them to pass on savings to consumers.
Reach. Online mattress brands can reach a global audience with their marketing efforts. In-store only mattress brands are limited to the geographic area where they have physical stores.
Convenience. Online mattress brands offer a convenient way for consumers to shop for and purchase mattresses. Consumers can browse and compare mattresses from the comfort of their own homes and have them delivered directly to their door.
Trend towards online shopping. Consumers are increasingly shopping online for all sorts of products, including mattresses. This trend has made it more difficult for in-store only mattress brands to compete.
In addition to these factors, some in-store mattress brands may have chosen to focus on their online presence in recent years. This is because online sales can be more profitable than in-store sales.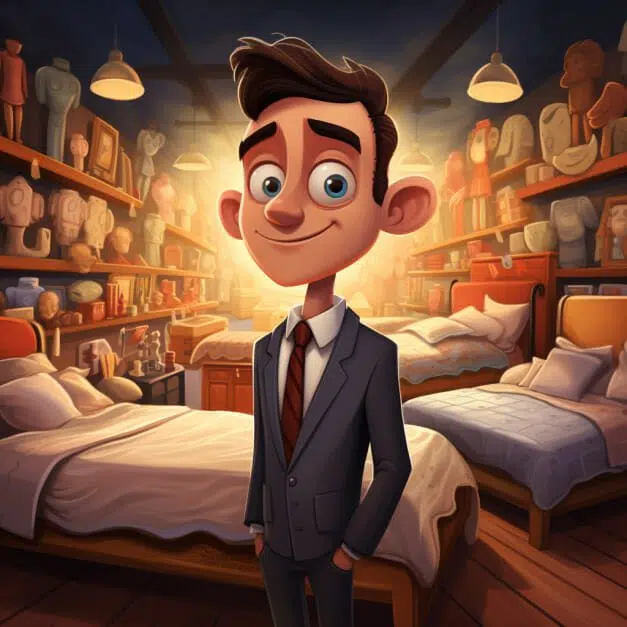 Mattress Brands
Brand Name
Brand Name
Brand Name
Brand Name
A.H. Beard
Ace Sleep
Aireloom
Allswell
Amerisleep
American Bedding
American Sleep Collection
Arctic Dreams by Dreamfoam Bedding
Ashley Furniture
Ashley-Sleep Better Than a Boxspring
Ashley-Sleep iKidz
Atlas
Avocado Green
Bed In A Box
Bedgear
Beautyrest Black Hybrid
Beautyrest Platinum
Beautyrest Recharge
Beautyrest World Class
Biltmore by Restonic
Birch
Boyd Night Air
Brentwood Home
Classic Brands
Classic Sleep Products
Coaster
Comfort Bedding
Comfort Dreams
Comfort Revolution
Comfort Tech Elite Aurora
CozyPure
CozyPure Organics
Corsicana
Diamond Dream
Diamond Royale
Dormeo
Dormia
Dr. Marvin's Sleep System
Dream Cloud
Dreamfoam Arctic Dreams
Dreamzee
Drömma
Duroflex
Dynastymattress
Eco Terra
EcoCloud by WinkBeds
EcoSleep
Eco Terra Natural Latex
Eclipse GelMax
Englander Tension Ease
Enso Sleep Systems
Essential
Fashion Bed Group
Five Star Mattress
Four Seasons
Futon Shop
GelFoamBed Response
Glideaway
Gold Bond
Gold Bond S-Series
Hampton and Rhodes 10" Gel Memory Foam Mattress
Helix
Hush
IKEA
Inofia
Insignia Collection by Serta
Intellibed
Intex
J&M Furniture
Joma Sleep
Joybed
Keetsa Plus
King Koil Natural Response
King Koil Perfect Contour
King Koil Perfect Response
Kingsdown Sleep Smart
Kaya Sleep
Latex for Less
Layla
Leesa Original
Loom & Leaf
LUCID
Lullaby
Luxi
Magniflex
Magnolia Organics
Macybed
Martha Stewart Sleepwise
Milliard
Modway
My Green Mattress
Natura
Natural Response
Natural Sleep and Wellness
Nature's Spa by Paramount
Nectar
Nest Bedding
Night Therapy
Oceano Luxury Hybrid
OkiFlex
Orient Express
Pacific Mattress Co. Cool Serenity
PangeaBed
Perfect Cloud
Perfect Cloud UltraPlush
Plank by Brooklyn Bedding
PlushBeds
Puffy
Pure Talalay Bliss
Ravean
REM Sleep Solutions
Restonic ComfortCare
Reverie
Rocky Mountain Mattress
Saatva Classic
Saatva HD
Saatva Latex Hybrid
Savvy Rest
Serta
Sealy Conform
Sealy Hybrid
Sealy Posturepedic
Sealy Response
Sealy Response Essentials
Sealy Response Performance
Sealy Response Premium
Sealy Traditional Innerspring
Serenia Sleep
Serta Perfect Sleeper
Serta iComfort
Simmons Beautyrest Black
Simmons Beautyrest Hybrid
Simmons Beautyrest Platinum
Simmons Beautyrest Silver
Simmons ComforPedic
Sleep Comfort
Sleep EZ
Sleep Innovations
Sleep Number
Sleep On Latex
Sleep Science
Sleep Trends
SleepChoices
Sleepy's
Solaire by Saatva
Solay
Somzi
Spring Air Back Supporter
Spring Air Chattam & Wells
St. Dormeir
Stearns & Foster Estate
Stearns & Foster Lux Estate
Stearns & Foster Lux Estate Hybrid
Sweet Zzz
Symbol Response Performance
Tempur-Pedic Adapt
Tempur-Pedic ProAdapt
Tempur-Pedic ProBreeze
The Bed Boss
The Original Mattress Factory
The Saatva Youth
Thuma
Tuft & Needle
Valley & Bloom
Vibe
Viola
Voila Box Luxury Hybrid Coil-Spring Mattress
WinkBeds EcoCloud
Wolf Corporation
Wonderland Beds
Yaasa Studios
Yogabed
Zenhaven
Zinus
Zoma Sports Mattress
Characteristics of the Most Popular Mattress Brands
The most popular mattress brands right now are known for a few key distinguishing characteristics:
Affordability: Many of the most popular mattress brands offer mattresses at a more affordable price point than traditional mattress brands. This is due to their direct-to-consumer model, which eliminates the need for middlemen.
Trial periods: Most of the most popular mattress brands offer generous trial periods, typically 100-365 nights. This allows consumers to try out the mattress at home before committing to buying it.
Comfort: The most popular mattress brands offer a variety of comfort levels to accommodate different sleepers. This is important because everyone has different sleep preferences.
Innovation: Some of the most popular mattress brands are known for their innovative materials and construction techniques. This allows them to offer mattresses that are more comfortable, durable, and supportive than traditional mattresses.
Here are some specific examples of distinguishing characteristics of some of the most popular mattress brands:
Casper: Casper is known for its simple, yet effective design. Its mattresses are made with a combination of memory foam and latex, which provides a comfortable and supportive sleep experience. Casper also offers a 100-night trial period, so consumers can try out the mattress at home before committing to buying it.
Tuft & Needle: Tuft & Needle is known for its affordable mattresses that are made with high-quality materials. Its mattresses are made with a combination of two types of foam: a soft layer and a firm layer. This combination of foams provides a comfortable and supportive sleep experience for most sleepers. Tuft & Needle also offers a 100-night trial period.
Purple: Purple is known for its unique Hyper-Elastic Polymer Grid material. This material is designed to conform to the body and provide pressure relief. Purple mattresses are also known for being very cool, which is important for hot sleepers. Purple offers a 120-night trial period.
Saatva: Saatva is known for its high-quality mattresses that are made with natural materials. Its mattresses are made with a combination of latex, wool, and cotton. Saatva mattresses are also known for being very durable and supportive. Saatva offers a 120-night trial period.
Here are some more distinguishing characteristics of some of the most popular mattress brands right now:
Helix: Helix is known for its customization options. Consumers can choose from a variety of firmness levels, comfort layers, and support layers to create a mattress that is tailored to their individual needs. Helix also offers a 120-night trial period.

DreamCloud: DreamCloud is known for its plush and supportive mattresses. Its mattresses are made with a combination of memory foam, latex, and coil springs. DreamCloud also offers a 365-night trial period.

Nectar: Nectar is known for its affordable and comfortable mattresses. Its mattresses are made with a combination of memory foam and gel, which provides a pressure-relieving and cooling sleep experience. Nectar also offers a 365-night trial period.

Eight Sleep: Eight Sleep is known for its smart mattresses. Its mattresses are equipped with sensors that track sleep data and adjust the temperature of the mattress to help users sleep better. Eight Sleep also offers a 30-night trial period.

Nest Bedding: Nest Bedding is known for its eco-friendly mattresses. Its mattresses are made with organic materials and sustainable manufacturing practices. Nest Bedding also offers a 120-night trial period.
These are just a few more examples of distinguishing characteristics of some of the most popular mattress brands right now. When choosing a mattress, it is important to consider all of your individual needs and preferences. Be sure to read reviews and compare prices before making a purchase.
Best Luxury Mattress Brands
These high-end brands, often distinguished by superior materials, meticulous design, and impeccable craftsmanship, promise an unparalleled sleeping experience. As the importance of a good night's rest becomes increasingly recognized, luxury mattress brands have risen to the occasion, delivering products that cater to the most discerning of customers. Here's an authoritative look at the best luxury mattress brands that have set the gold standard in the industry.
1. Tempur-Pedic
A pioneer in memory foam technology, Tempur-Pedic has become synonymous with luxury and comfort. Originating from NASA's research to develop cushioning for astronauts, the brand's proprietary TEMPUR material offers a unique blend of support and plushness, adapting to an individual's body shape, weight, and temperature.
2. Hästens
Hailing from Sweden and with a history that spans over 160 years, Hästens is a brand revered for its handcrafted beds. Made from all-natural materials such as horsehair, cotton, flax, and Swedish pine, their mattresses are a testament to time-honored craftsmanship and sustainable practices.
3. Savoir Beds
A British luxury brand, Savoir Beds prides itself on bespoke craftsmanship. Each mattress is tailor-made, often involving hundreds of hours of artisan work. Favored by elite hotels and discerning homeowners, Savoir Beds is an embodiment of opulence in the sleep world.
4. Vi-Spring
Another heavyweight from Britain, Vi-Spring (now known as Vispring) has been crafting luxury beds since 1901. Renowned for their hand-nested pocket springs and natural fillings, Vispring offers a timeless approach to luxury bedding, with each mattress hand-stitched and tailored to individual preferences.
5. Aireloom
With a Hollywood lineage, Aireloom is often dubbed as the "Rolls Royce" of the mattress world. Founded in the 1940s, Aireloom's patented designs and artisanal craftsmanship have made it a favorite among celebrities and those seeking a touch of Tinseltown glamour in their bedrooms.
6. Stearns & Foster
A stalwart in the luxury mattress industry, Stearns & Foster has been delivering handcrafted mattresses since 1846. With an emphasis on detail, the brand merges innovative sleep technology with timeless techniques, offering mattresses that are both opulent and supportive.
7. Duxiana (The DUX Bed)
Originating from Sweden, Duxiana's DUX bed boasts a sophisticated system of continuous spring coils, adapting seamlessly to body contours. Paired with luxe materials and a commitment to research, The DUX Bed offers an exceptional balance of luxury and ergonomics.
Memory foam, heralded for its contouring and pressure-relieving properties, has revolutionized the bedding industry since its commercial introduction in the 1990s. The technology, initially developed by NASA, has been embraced by a slew of brands vying for a slice of the memory foam pie. However, a select few have risen to prominence, setting industry benchmarks with their relentless commitment to quality, innovation, and customer satisfaction. Here's an authoritative overview of the best memory foam mattress brands that consistently deliver exceptional sleep experiences.
1. Tempur-Pedic
Arguably the trailblazer in the memory foam arena, Tempur-Pedic's mattresses are often touted as the gold standard. Their proprietary TEMPUR material, derived from the original NASA technology, offers a perfect blend of plush contouring and supportive resilience, catering to a broad spectrum of sleep preferences.
2. Nectar
A relative newcomer, Nectar quickly garnered attention with its premium yet affordably priced memory foam mattresses. With a balanced feel that merges support with pressure relief, the brand's commitment to quality and a generous trial period has earned it a dedicated customer base.
3. Loom & Leaf by Saatva
A luxury memory foam offering from the well-regarded Saatva brand, Loom & Leaf emphasizes eco-friendly practices. With organic cotton covers and foam layers free from harmful chemicals, it's a brand that combines opulence with conscience.
4. Amerisleep
With a range of memory foam mattresses categorized by firmness levels, Amerisleep caters to a diverse audience. Their Bio-Pur foam is an open-cell structure variation of memory foam, ensuring breathability and a responsive feel.
5. Layla
Innovating with a flippable design, Layla offers dual firmness options in a single mattress. Infused with copper for cooler sleep and enhanced support, their memory foam layers cater to sleepers toggling between plush and firm preferences.
6. Puffy
Having made waves in the online mattress space, Puffy's memory foam mattresses emphasize cloud-like comfort. With a design that promotes spinal alignment and pressure relief, the brand has successfully carved a niche among memory foam enthusiasts.
7. Bear
Catering especially to active individuals and athletes, Bear's memory foam mattresses incorporate Celliant technology. This FDA-determined infrared textile aims to boost recovery and overall sleep quality, positioning Bear as a brand that merges innovation with health-centric features.
These mattresses are crafted using materials that are organic, eco-friendly, and devoid of harmful chemicals. While many brands have jumped on the "green" bandwagon, a select few have distinguished themselves through unwavering commitment to authenticity, quality, and eco-innovation. Here's an authoritative examination of the best natural mattress brands that are leading the charge towards greener sleep solutions.
1. Avocado Green Mattress
A frontrunner in the natural mattress realm, Avocado is revered for its organic latex, wool, and cotton components. Certified by GOTS (Global Organic Textile Standard) and GOLS (Global Organic Latex Standard), the brand's commitment to sustainability extends to its carbon-negative promise and ethical manufacturing practices.
2. Naturepedic
Specializing in organic mattresses free from flame retardants and synthetic materials, Naturepedic ensures a sleeping environment that's as pure as it gets. With offerings for adults, children, and babies, the brand emphasizes a holistic approach to healthful sleep.
3. Saatva
While Saatva boasts a diverse mattress lineup, its eco-friendly offerings, particularly the Zenhaven latex mattress, are noteworthy. With organic cotton covers, natural latex, and wool fire barriers, Saatva beautifully marries luxury with sustainability.
4. PlushBeds
A name synonymous with natural latex mattresses, PlushBeds offers a range of options, including customizable firmness levels. With GreenGuard Gold certification, the brand's commitment to non-toxic sleep solutions is evident in every product.
5. Birch by Helix
Harnessing the goodness of organic cotton, wool, and Talalay latex, Birch offers a mattress that's both comfortable and environmentally responsible. Backed by Helix, a respected name in the mattress industry, Birch's offerings underscore the perfect blend of support and eco-consciousness.
6. Awara
Merging the contouring properties of natural latex with the support of pocketed coils, Awara's mattresses are a testament to sustainable luxury. Their Rainforest Alliance-certified latex and commitment to tree planting initiatives set them apart as a brand that cares deeply about ecological impact.
7. My Green Mattress
Born from a personal quest to find hypoallergenic sleep solutions, My Green Mattress has grown into a brand that champions natural, organic materials. With offerings like the Natural Escape and Kiwi mattresses, they provide a range of eco-friendly options for discerning sleepers.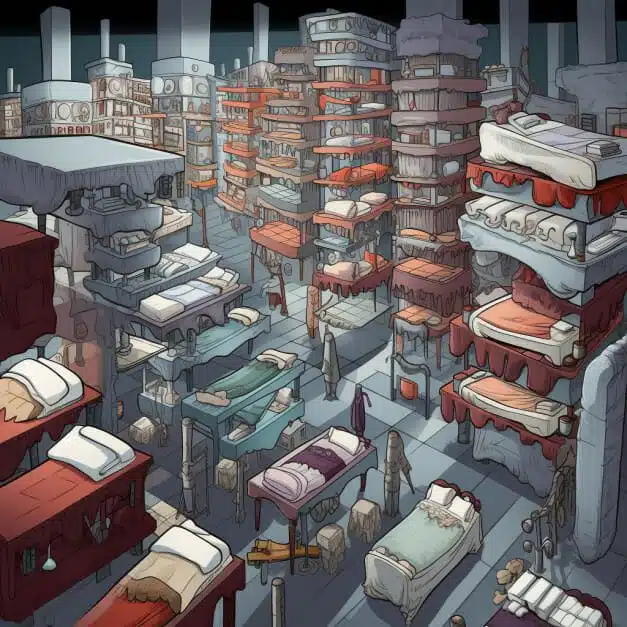 Direct to Consumer Mattress Brands
actory Direct Brands: The Rise of Brooklyn Bedding and the Direct-to-Consumer Revolution
In today's retail landscape, the factory direct model is disrupting traditional sales channels, offering consumers high-quality products without the retail markup. At the forefront of this movement, particularly in the bedding industry, is Brooklyn Bedding. By eliminating intermediaries and selling directly to customers, factory direct brands like Brooklyn Bedding have revolutionized the way we shop, promising affordability without compromising on quality. Here's an authoritative exploration of the factory direct model with a spotlight on Brooklyn Bedding.
Brooklyn Bedding: A Paradigm of Factory Direct Excellence
Founded in 1995 by two brothers, John and Rob Merwin, Brooklyn Bedding began as a small mattress refurbishment business. It evolved over the years, embracing the factory direct model to deliver high-quality mattresses at competitive prices.
The Merwins recognized early on the advantages of controlling the entire production process. By manufacturing in-house and selling directly to consumers, Brooklyn Bedding was able to maintain rigorous quality control, innovate rapidly, and pass the cost savings directly to the customer.
Brooklyn Bedding's commitment to American craftsmanship and its state-of-the-art manufacturing facility in Phoenix, Arizona, underlines the brand's dedication to quality. With an extensive range of mattresses, from the signature Brooklyn Signature to specialized offerings like the Spartan and Bloom Hybrid, the brand caters to a diverse spectrum of sleep preferences.
The Direct-to-Consumer Advantage
The factory direct, or direct-to-consumer (DTC) model, boasts several distinct advantages:
Cost Savings: By eliminating middlemen, brands can offer products at a fraction of the traditional retail price.

Quality Control: Owning the manufacturing process means brands can ensure consistent quality across products.

Rapid Innovation: Direct feedback from consumers allows DTC brands to iterate and innovate faster.

Transparent Pricing: Without hidden markups, consumers get a clear understanding of what they're paying for.

Personalized Customer Service: Dealing directly with consumers allows for more personalized and efficient customer service.
Brooklyn Bedding epitomizes the success and potential of the factory direct model. Their commitment to quality, combined with the inherent advantages of DTC, has positioned them as industry leaders. As consumers become more discerning and seek greater value for their money, the appeal of brands like Brooklyn Bedding will only grow. They stand as a testament to the power of innovation, quality craftsmanship, and consumer-centric approaches in reshaping retail landscapes.