Recently updated on February 17th, 2019 at 08:58 am

Yawnder readers get $200 off your Luxi mattress plus free pillows with our exclusive coupon code: LuxiSleepSherpa  Activate Here
I received a free Luxi mattress for review. Luxi takes the risk out of buying a mattress online and has brought something truly unique to the market that has put them ahead of the pack. Luxi is one mattress that you can adjust to soft, medium or firm. Anytime.
The Luxi is actually 9 mattresses in 1. That's because if you buy a queen or king, the layers can be configured to be soft, medium or firm, on each side, for each sleeper. It's not complicated and feels great. Luxi's value is in the feel and the technology. If you're looking to buy a mattress online, you get versatility with latex AND memory foam at a great price.
Take this example below with the Sleep Number mattress
On the left is Luxi mattress and on the right is the Sleep Number Bed CSE model which is their entry-level model. As you can see the Luxi is about $600 cheaper and gives you all of the benefits of an adjustable bed. With the Yawnder Luxi coupon code, it becomes even less.
Ordering and Unboxing the Luxi Mattress
The Luxi ordering process is fast and easy just like the other bed in a box reviews I have done. It arrives in a box at your doorstep in about a week and is ready to sleep on that night. Aside from the design of the mattress they completely break away from the pack on their trial period. Luxi has a 100 night trial period where you can return it.
Here's how the Luxi works:


The Unique Construction of the Luxi Mattress
The Luxi mattress has 3 layers, dunlop latex and two types of foam. What I call a traditional memory foam layer and what Luxi calls a "balancing layer".
Below is a picture of the Luxi balancing layer also known as the SBT  (support balancing technology) element.
This is the most interesting layer and it is different than all of the others I have slept on. It is definitely soft and is designed to collapse when you lay directly on it. What you get though is a soft yet supportive mattress that is extremely breathable given all the room for air flow in between the columns.
According to the Luxi, the SBT (Support Balancing Technology) element came in response to customer demands for softer and still softer mattress surfaces.  Unfortunately, if the surface is made softer and softer by adding more and more layers of softer materials, soon the mattress becomes non-supportive, sagging and mushy.  So LuxiSleep delved into some of the other physical dimensions of softness and by doing so created a unique feeling and extremely soft surface that, because the support balancing point was moved closer to the top surface, continued to provide underlying support.  SBT provides an extremely soft surface without diminishing the underlying support (good for lying down – either side lying or supine – posture).
This is analogous to some of my favorite pillows. They are made of a shredded foam or latex that collapses but also provide support. So your perception of softness is enhanced while still getting the firmness you need for proper spine alignment.
Below is a video of it in action.
My Luxi Mattress Experience
What I like most about this mattress is its versatility. Buying a mattress online is a bit of a leap of faith considering the cost and size of the product. I do my best to give you a sense of how a mattress will feel compared to store brands and other online mattresses but you may still be hesitant. Luxi drastically reduces this risk because one of the 3 Luxi feels will most likely be right for you.
This mattress is a great pick for couples sleeping together that have different sleep preferences. Plus, your firmness preference may changes over time, Luxi will accommodate those changes.  The firmest setting is the base foam layer which is quite firm and the softest is the SBT layer which contours very well and has great breathability. 
Luxi has great edge support. The SBT element ends up delivering a edge support unlike most memory foam mattresses. When you sit on the edge of the bed the buckling column collapses under you seat so you sink back instead of forward like most memory foam mattresses. There is also a border of firm foam along the edge so that you can sleep on the whole mattress without feeling like you will fall off. This is the second most common complaint I hear among memory foam mattress consumers, heat retention being the first.  Luxi solves both of these problems.
Below are videos to illustrate the firmness and bounce you will notice with each layer. Because each side of the queen and king size mattresses are separate, motion transfer is greatly reduced.
Firm Layer
The photo below illustrates how much sink you get with the firm layer, not much!
Medium (latex layer is on top)
Sinkage in the firm layer is consistent with the majority of mattresses I have reviewed.
Soft (softest layer is on top also known as the SBT layer)
The SBT layer sinks considerably but what is remarkable is that it still will give you excellent support where you need it.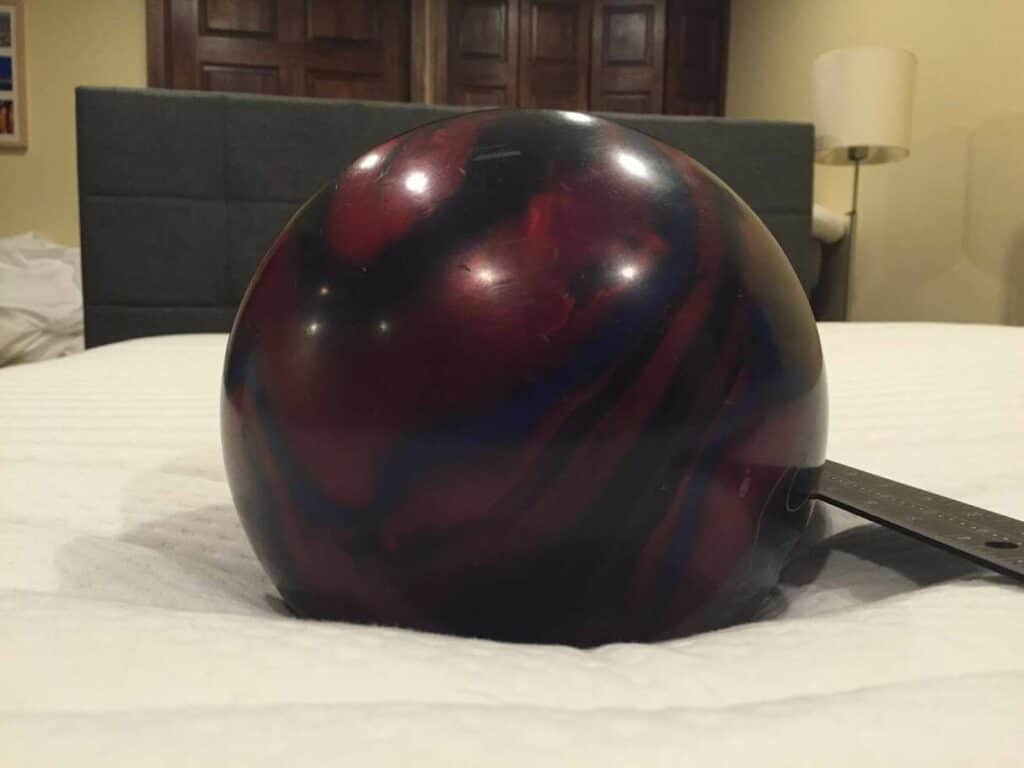 The mattress measures about 10 inches deep which is standard for a foam mattress. It will fit any standard sheets you purchase.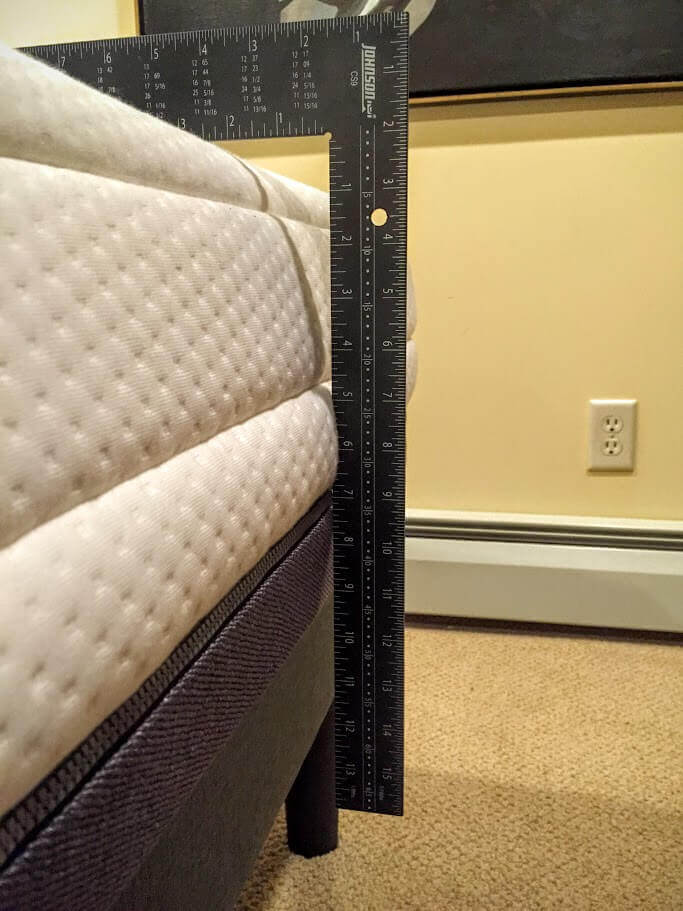 The Luxi makes for an extremely verstaile bed. That's because it's so easy to customize to a sleeper's firmness preferences. Each firmness setting has a unique feel.
The medium firm where the dunlop latex layer is on top provides great support and feels similar to the GhostBed. However, unlike some of the competitors, you can configure the Luxi. But beyond that, you really are in for a treat by sleeping on the SBT layer. It is a one of a kind experience that no other mattress offers.
The Luxi Bedrooom
Luxi has recently introduced a bedframe and pillows that will complement your Luxi mattress. The bed frame is sturdy and looks great without the need for a box spring or bed skirt. The pillow also has a nice down like feel and are designed to work with the Luxi mattress.
Here's a video overview of the new offerings from Luxi
My Luxi Mattress Recommendation
If you are looking for versatility and customization, this is your mattress. Often partners have different firmness preferences and the Luxi is a novel way to get the firmness you want. It is very easy to switch out the layers. It took me about 5 minutes to make an adjustment to either side of the mattress.  The founder of this company, David, is known for his innovation in the industry and he has taken his decades of mattress knowledge and put it into the Luxi.
As I write this we are in the midst of an online mattress bubble. There are many new companies flooding the market that are very similar to each other. Luxi has brought something truly unique to market that has put them ahead of the pack.
Luxi also created #sleep4change which allows customers to choose which charity a portion of their purchase will go to.
At Luxi we created the #Sleep4Change movement because sleep is an activity that we do every night that is so close to our heart! WE ALL LOVE SLEEP! What if every night a portion of that night's sleep was donated to a cause we let our customers select? What if our product could be a vehicle to support our individual customers causes with a contribution to something they so deeply cared about!!! 

Yawnder readers get $200 off your Luxi mattress with our exclusive coupon code: LuxiSleepSherpa  Activate Here
Disclosure: We aim to highlight products and services you might find interesting, and if you buy them, we may get a small share of the revenue. I have an affiliate relationship with Luxi