Update. Get the Full Tulo Mattress Review Here.
Mattress Firm just recently launched a competitor to all the other online brands. Mattress firm is like the Starbucks of the coffee world. There is one on almost every corner and they are a dominant player in the mattress space. It's only fitting that they would get into a growing segment of the mattress market.
Mattress firm can leverage their wide distribution network to get you your Tul mattress quickly. Apparently within 48 hours in most areas.
Here are some videos that give an overview of the mattress.
Below is a more in depth explanation of the mattresses.
Below is a press release from the latex bed in a box brand, Tulo…
One is Not a Choice: Introducing tulo, a Bed-in-a-Box Brand with Variety
tulo offers mattresses in three comfort levels, all at the same affordable pricing, with the option to purchase online or in-store
tulo™, a new bed-in-a-box-brand puts the customer first by offering choice, convenience, comfort and value, launched in New York today.  tulo offers consumers with choice, such as three different mattress comfort levels at the same great price, buying online or experiencing the product in-store, 120 nights to decide if your tulo is the right fit, and 48-hour delivery. The brand was created to fill the gap that exists in the category by putting everything consumers want in a bed, into a box. Each tulo incorporates an exclusive combination of materials designed to provide a durable, pressure relieving mattress that helps consumers sleep cool.
Based off years of research and development, tulo™ recognized that there is not a perfect bed for everyone.  Using sleep position as the baseline for development, tulo identified a growing need to provide consumers with more choices when it comes to their mattress in order to appeal to all kinds of sleepers:
tulo Soft: Made for  side sleepers and designed to relieve pressure on the shoulders and hips  to minimize tossing and turning
tulo Medium: Ideal for multiple sleep positions, but specifically stomach sleepers, offering a unique blend of Soft and Firm – providing that just-right feel
tulo Firm: Created for back sleepers and designed to provide head-to-toe and edge-to-edge firmness, allowing for total body support
"We fundamentally believe that one is not a choice, and that everyone should be able to choose the mattress that provides them with the best night's sleep based upon their comfort needs," said Sunni Goodman, SVP of Communications at Mattress Firm and tulo Brand Ambassador. "We understand a mattress is a personal investment and strive to accommodate consumers with choice, including the mattress' comfort level, how they experience it, and, ultimately, how they purchase and receive it."
Each tulo™ mattress features a unique blend of open cell technology and high resiliency material to contribute to a long lasting and fatigue-free comfort level. Additionally, unlike most bed-in-a-box mattresses who only offer one, two or three layer designs, all tulo mattresses feature a four-layer design. Combined, these four layers will increase airflow—as the top two layers form an exclusive airflow system— to control comfort, and keep consumers cool throughout their sleep cycle.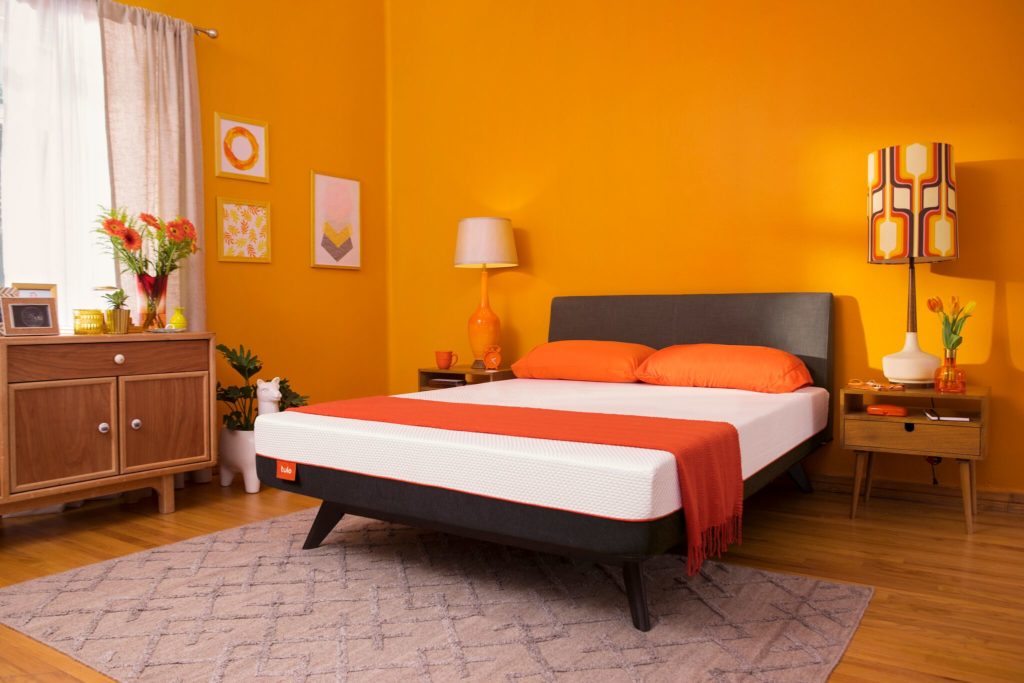 Consumers can simply order online and choose their delivery date and time; or, they can visit Mattress Firm stores nationwide to experience tulo's™ three mattress options in-person. Each tulo mattress arrives at consumers' doors in two days or less, with unboxing taking no more than a few minutes. Customers can also choose to have a delivery expert unbox and set up their new bed as well as remove the old mattress and packaging.
tulo™ is now available and currently offers the following mattress sizes: Twin ($375), Twin XL ($425), Full ($550), Queen ($650), King ($800) and California King ($800).
tulo™ will be available online and in Mattress Firm's more than 3,000 stores nationwide by the end of 2017. For more information about tulo, please visit www.tulo.com or join the conversation on Facebook, Twitter, Pinterest or Instagram @tulobed.
About tulo™
tulo™ is a bed-in-a-box brand launched in the U.S. in October 2017 with the fundamental belief that "one is not a choice." tulo offers the complete package, combining a great design, an informative and interactive online and offline purchasing experience, and three comforts at the same affordable price. Every tulo is proudly made in the United States. tulo is a global brand under Steinhoff International, the parent company of Mattress Firm, and is sold exclusively online at www.tulo.com and in Mattress Firm stores.