Recently updated on July 16th, 2021 at 11:19 pm
Snoring affects people of all age groups. However, habitual snoring usually begins after the age of thirty and is more prevalent among overweight people. The US has around 33% overweight adult population, and every third American is a habitual snorer. It not only affects the sleep quality of the snorer, in some cases their partner too is affected.
What is snoring and why does it occur?
As an adult American, you must be putting up with the gruff and harsh nasal sounds quite often.
Snoring produces an intermittent pattern of loud nasal sounds followed by a few seconds of silence during which breathing pauses.
There are several reasons for snoring. Major among them are:
Seasonal viral infections such as cold and cough
Throat and chest infection
Blockage of the nasal passage
Advancing age
Habitual alcohol consumption
Obesity
The construction of one's mouth and jaws
The uneven partition of the nose's two tunnels
The placement of sinuses
Lack of sleep
Sleeping position
When you are drifting from a shallow sleep to deep sleep, the muscles and tissues of the entire body relax. This includes the soft palate or the upper ridge of your mouth, the tongue, and throat. As they relax, the tongue 'sticks' to the upper ridge. This narrows the air passage and causes a partial air blockage. Thus, the air has to force itself out of the mouth. As a result, the throat tissues vibrate, producing the harsh snoring sound. Snoring is more acute in case of a narrow air passage.
Overweight people have a thicker inner mouth construction. Thus, they snore louder and frequently. People who sleep on their backs also tend to snore more.
At present, there is no permanent cure for snoring. However, there are snoring prevention devices available in the market that may alleviate the effects to a certain extent. Among them, anti-snoring mouthpieces and mouth guards are widely recommended by experts.
What Are Mouthguards or Mouthpieces?
These are anti-snoring devices that can be readily inserted or fitted into the mouth. These devices help in reducing snoring without any medical procedure or intervention. These devices are popular because of the following features:
Easy to use – These DIY devices do not need any external help as far as fitting is concerned.
Easy to maintain
The materials used for making these devices are certified and safe to use.
Prolonged use does not cause any harm.
Types of Mouthguards
There are two types of mouthguards that are popular and prescribed by the sleep care experts, they are:
Mandibular Advancement Devices or MADs
This name is derived from the lower jaw's medical term, mandibular.
MADs help reduces snoring using a twin-action process. Because of its design, the device exerts slight tension on the mandibular or the lower jaw. This brings the jaw slightly forward and thus does not allow it to become too relaxed. Secondly, since the lower jaw is slightly projected, the tongue gets more space to settle into the mouth. Thus, it does not 'stick' to the upper jaw. The entire process helps in keeping the air passage open while you are asleep.
MADs are also of two types:
Monobloc or single-piece mouthpieces that are easier to use and are affordable.
Bibloc MADs have a 2-part design that is connected through adjustable joints such as elastic bands or metallic screws. These devices may cause slight discomfort during initial days. They are also costlier than the monobloc devices.
MADs can be custom-designed to suit your jaw size and mouth shape.
Tongue Retaining Devices or TRDs
Also known as TRDs, these are single-action devices. TRDs prevent the tongue from sticking to the upper jaw without projecting the lower jaw forward.
TRDs are easier to use and cheaper than MADs. However, they have a universal size, and may not fit all types of jaws making them less effective in certain cases.
As the market is flooded with several devices from multiple brands, it can become difficult to choose the best suited anti-snoring device for you. We have made this easier for you by reviewing Top 5 Anti-Snoring Devices available in the market today.
The Top 5 Mouthguard Brands
One of the most popular MAD type of mouthguard. ZQuiet is a preferred by many users because of its following unique features:
Pivotal Design – ZQuiet incorporates a hinge in its design. This enables it to adjust to your mouth without any major problems. Since the hinge operates smoothly, the movement of the jaw is easy and effortless. This unique design also makes its universal size adoptable across various types of jaw and mouth shapes and sizes.
Exceptionally smooth air passage throughout the night. This results in superior air circulation in various stages of sleep, and in different sleeping positions.
Ease of Opening and Closing Of Mouth – The flexible design and smooth hinges ensure that you can open and shut your mouth easily.
Free Lateral Movement – The jaws can move from side to side freely.
Two Settings – ZQuiet operates in two settings – small and large, to offer you the easy adaptability to the mouth. This is of benefit for people who sleep in different positions during the night.
Superior Material – ZQuiet is made from best quality non-toxic plastic that does not produce any side effects.
30-day Trial – This feature has helped establish the users' confidence in the product.
Great Value for Money – Despite multiple unique features and user-friendly characteristics, ZQuiet is reasonably priced to suit every pocket.
How ZQuiet Fares?
ZQuiet is a brand that offers the best of both the worlds – value for money and great quality. Because of its exclusive pivotal design, it is especially beneficial for people who prefer minimal jaw movement and those who have a history of jaw pain.
SnoreRX has a unique product feature of adjustable distance between the top and the bottom trays. You can vary the distance to as much as 6 millimeters using this feature. This feature makes SnoreRX the best device for those who sleep differently each night. It is also ideal for those with a habit of sleeping with their mouths open. This MAD type device also has a locking system that prevents any accidental changes to the distance setting.
The other features of SnoreRX are:
Boil-n-Bite – You can mold the device around your teeth using finger and tongue force, once it has softened.
Open Front –SnoreRX has an opening at the front. This allows easy escape of air and significantly reduces snoring.
Teeth cushioning for better wearing convenience
FDA-approved
Effectively Priced – The company has priced the product very competitively, and this is helping it gain more market share.
No need for a doctor's prescription
All this, and more, in the form of a 30-day trial with a money-back guarantee.
How SnoreRX Fares?
SnoreRX is a serious product at a casual price. With its rich features, especially that of an adjustable tray height, this MAD is made for you. If you are considering buying this product, do so without much hesitation.
This small device comes with big benefits. It is considered a leading brand in the TRD segment.
The biggest advantage of Good Morning Snore Solution is that it is an over-the-counter product. No prescription is required to purchase it. Its other features are:
Approved by the FDA – It means that the product is 100% safe to use
Accredited by BBB – The manufacturer's accreditation with the Better Business Bureau helps it gain the trust and confidence in the anti-snoring devices' market.
Better Design – Good Morning Snore Solution is one of the best-designed brands in the market. Its soft material and flexibility make it user-friendly. You will not feel that you have to compromise on convenience in order to avoid snoring.
Non-Toxic Material – The plastic used in this device is BPA-free making it safe for use.
Single Size – Because of its extremely flexible and soft design, the product's single size makes a great match with multiple types of users.
On the flip side, the Good Morning Snore Solution TRD is priced higher than its competitors.
The product comes with a 30-day trial offer.
How Good Morning Snore Solution Fares?
The Good Morning Snore Solution is a small wonder, literally. Its design, size, and flexibility make it one of the best TRDs to alleviate the snoring problem. However, great products come at a price.
Shop Good Morning Snore Solution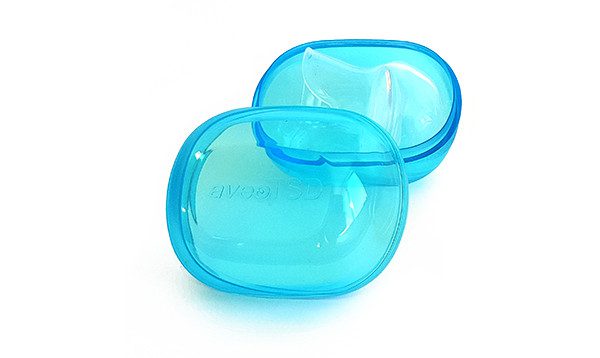 This TRD is positioned as a no-frills, simple yet effective mouthpiece. The makers claim that it is:
A clinically proven product known for its efficacy
Simple to use yet effective
Non-invasive
Very reasonably priced TRD
Looking at the features of aveoTSD, it can be considered as a front-runner in the TRD market.
Made from silicon and not plastic, which makes aveoTSD softer, easier on the jaw, and flexible
Lodges the tongue firmly between the upper and the lower jaws using a unique suction method
Does not require any adjustment or re-sizing inside the mouth
Single-piece, static design – The design of aveoTSD does not consist of any hinges, screws or other parts. This feature, combined with the silicon material, makes the product easy to use and maintain.
Available in small, medium, and large sizes
Competitive price – the product is priced lower than the other TRDs
Dentures? No problem – You can wear the device even with the dentures
How aveoTSD Fares?
aveoTSD is a good TRD if you are looking for value for money, single-piece, easy-to-maintain, and comfortable-to-wear mouthpiece.
The only negative – Doctor's prescription is necessary to buy and use the aveoTSD device.
Check the latest prices for aveoTSD
VitalSleep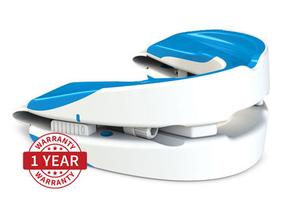 Makers of the VitalSleep claim that their product is recommended by doctors. That should not come as a surprise, because the product has multiple unique benefits for its users. According to the manufacturer, VitalSleep has helped over 225,000 snorers wake up to better mornings.
So, what is it that makes VitalSleep so pivotal in the MAD category?
FDA-approved – Which guarantees product safety
Boil-n-Bite – This method makes wearing the VitalSleep MAD extremely easy, comfortable, and effective. You just drop it in boiling water, let it soften, and then mold it around your jaw using finger and tongue pressure. Within seconds, you get a snugly fitting VitalSleep mouthguard. The company has a special name for this advanced feature – the Accu-Adjust System.
Airhole – VitalSleep has a small opening in the front. It facilitates free and smooth air circulation.
Available in two sizes – The regular size is for men, and the small size, for women.
Sleep in any position – Once VitalSleep mouthguard is inserted in your mouth; you can sleep in any position, even change positions several times in the night.
Breathe through your nose or mouth – The exclusive air ventilation system of the product makes breathing through the nose or the mouth seamless.
Apart from these exclusive benefits, VitalSleep offers several unique, industry-first offers that include:
Size Exchange – No-obligation size change if one size does not fit you well
Same-day shipping
1-year unlimited warranty and free replacement
Money back guarantee and trouble-free refund procedure
60-night free trial
How VitalSleep Fares?
Makers of VitalSleep pitch their product using an innovative pitch – It says, if you need a reliable, effective anti-snoring device, try this simple test. Move your lower jaw forward and then breathe through the mouth. If you can do so more freely, then VitalSleep will certainly work for you.
This sums up the product quality and performance.
However, potential buyers are advised to check the price before making the purchase.
What Precautions Should You Take Before Using a MAD or TRD Device?
Both the MAD and TRD types of mouthpieces are directly related to a vital body function – breathing. They are after all foreign bodies inserted temporarily into the mouth. If you are considering using any of these devices, these are the precautions to follow:
Please check thoroughly, whether the device you are thinking to buy comes with necessary certifications.
Please consult your family physician, or better still, a snoring specialist, before you buy any anti-snoring device. Each jaw and mouth type is unique. They can guide you to select the best-suited device for you.
Do not make an impulsive over-the-counter purchase, even if the device does not require a doctor's prescription. Talk to a specialist before buying.
Unfortunately, if snoring persists even after wearing a device, discontinue its use immediately and consult your physician or a specialist.
The Advantages and Disadvantages
While these devices are a boon for snorers and their sleeping partners from multiple perspectives, they do have a few drawbacks. Both are noted below to help you make an informed decision.
Advantages
Simple and User-Friendly – Any mouthpiece, whether MAD or TRD, targets the snoring problem by tackling its root cause. They perform the primary task of opening the air passage and facilitating free air flow. This is done in simple but in ingenious ways. Further, they don't require any intervention or elaborate process. Wearing any mouthpiece is as simple as wearing a denture. They are equally user-friendly. They don't cause irritation or mouth ulcers, their material are food grade, and they adjust to the jaw and teeth-line very easily. Being made from high quality materials, they are 100% safe and harmless.
Relatively cheap and cost-effective – MADs and TRDs are priced appropriately. For example, a good mouthpiece costs just one-third of a denture. Its cost-to-benefit ratio is also very high, considering the high efficacy.
Maintenance-Free – MAD and TRD devices require no maintenance, except for the routine cleaning and sterilizing in boiling water.
Handy and Easy to Store – Being small and often flexible, these devices can be easily stored. Special cases to store them are also available.
Disadvantages
Occasional Side Effects – Although there are no major side effects of using MADs and TRDs, some initial discomfort and stiffening of the lower jaw is experienced by few users. This is especially true for the fixed type of devices. Apart from this, the mouth may become dry, or in some cases, excess saliva is secreted by the mouth.
Ineffectual on Sleep Apnea – These devices restrict only snoring, without tackling the sleep apnea disorder.
Short life – On an average, any MAD or TRD functions effectively for around a year. depending on various factors, a single device may last anywhere between six months to 24 months.
How to Choose the Mouthguard?
Both the MAD and TRD mouthguards have their individual characteristics. They are built on concepts that tackle the snoring problem from different angles. When buying a mouth guard, it is important to consider the following factors:
MAD devices are created around the concept of modularity and flexibility. They are adjustable devices that can adapt to your jaw and mouth shape and size. On the other hand, TRDs are fixed apparatuses. Which device type suits you? If needed, talk to your doctor before making a purchase. Please note, now there are varying adjustments available, as in the case of SnoreRX.
If you wear dentures, TRDs are your best choice.
If you have a habit of mouth-breathing in sleep, go for a MAD device.
If you have bruxism, meaning the habit of grinding teeth in sleep, MAD devices can multi-task to inhibit that condition.
If you need a more customized fit, a MAD mouthguard is advisable. Most of them offer different sizes.
If your snoring problem is caused by sleep apnea, then a mouthguard may not be the solution. Apnea is a serious sleep disorder that can be treated with procedures other than the simplistic MAD or TRD devices. These treatments are discussed below.
What Are the Treatment Options For Sleep Apnea-Related Snoring?
What Is Sleep Apnea?
Sleep apnea is a serious disorder in which the patient experiences frequent gaps in breathing during sleep. At times, these breathing intervals are more than 10 seconds, during which the lungs remain void of air supply. The brain immediately intervenes to correct the disruption and restore air supply. It awakens the person from sleep so that they can resume breathing consciously.
Depending upon the acuteness of sleep apnea, such breathing gaps can occur even hundreds of times during a single sleep cycle. These frequent interruptions severely affect the sleep quality and make the patient sleep deprived. A sleep-deprived person's normal lifestyle gets affected, and in the long term, it can lead to major problems such as hypertension and cardiac complications.
Snoring is a major sleep apnea symptom.
Treatment Options for Sleep Apnea
MAD and TRD devices cannot provide any relief in case the root cause of snoring is due to sleep apnea. For this purpose, there are special machines that facilitate regulated air supply artificially, and thus arrest breathing gaps during sleep. There are two types of such machines – Continuous Positive Airway Pressure or CPAP machines, and their advanced version, BiPAP or BiLevel Positive Airway Pressure machines.
If you are suffering from sleep apnea and researching for its treatment, it is vital to understand how these machines work.
How Do CPAP And BiPAP Machines Function?
These systems are basically designed to provide uninterrupted and regulated air supply to the user during sleep. They consist of a regulatory machine connected to a tubed face mask. When the machine is turned on, it provides the individual constant air supply through the mask.
As the devices' names indicate, the air flow is generated and regulated through pressure which is calibrated by the machine. The doctors attending you conduct several trials to determine the precise air pressure required for uninterrupted sleep. They then calibrate the machine settings accordingly so that it generates the desired air pressure.
With these treatments, an apnea patient can enjoy normal sleep without the interruptions.
What is the Difference Between CPAP and BiPAP Machines?
CPAP machines provide a tried-and-tested apnea treatment. They have a proven history of arresting apnea episodes by providing consistent pressurized airflow that arrests events of breathing gaps.
However, there is a drawback of CPAP machines. They are single-setting systems. You can set only one air pressure level with CPAPs. Now, a single breath consists of one inhalation and exhalation episode. These episodes don't occur with the same air pressure. We don't breathe in air with the same force that we breathe it out. For a comfortable and natural sleep experience, we need different airway pressures for inhalation and exhalation.
That is where BiPAP machines come into the picture.
The advanced technology of these machines overcomes the single-pressure limitation of CPAP machines. They factor in the air pressure variations in inhalation-exhalation cycles and provide the precise pressure required for hassle-free breathing.
Again, every individual sleeps differently, with dissimilar breathing counts. BiPAP machines can be customized under expert supervision, conducting sleep trials on patients. This increases the system's efficacy and patient comfort.
Advanced BiPAP machines have three types of air pressure settings:
Standard – the machine automatically senses when a person stops inhaling and starts exhaling, and instantly changes the pressure accordingly.
Programmed – In this setting, the machine programs the inhalation and exhalation cycles and sets the air pressure accordingly, so that the individual gets a pre-determined number of breaths every minute.
Standard or programmed – combining the above, the machine changes air pressure as and when the breathing changes.
BiPAP machines are especially recommended for patients with pulmonary and or cardiologic disorders.
Conclusion
The twenty-first-century lifestyle is defined by two characteristics. First, our lives have become hectic and stressful with pressure to perform at peak levels on multiple fronts. Second, we have become prone to physical passiveness. The combination of these two traits has had a direct effect on the quantity and quality of our sleep.
We have been forced into sleeping less. Precisely due to this reason, it has become imperative for us to sleep better.
With snoring as a major barrier to sleep quantity and quality, the modern treatments such as MAD and TRD devices, and the CPAP and BiPAP systems for sleep apnea patients, are a timely blessing.
Special note: This is a third-party overview and should be read for a general understanding of the subject matter.