In this fast-paced, space-starved city living, multifunctional products are preferred. The focus is more on modern, effective, and highly functional furniture pieces rather than on conventional bulky furniture options. Futons are one such highly convenient bed cum sofa option. It not only stands out and makes the room stylish but also gives you adequate support for a good restful night's sleep. Futons are simple in their design and perfect for those all-night parties, college one-room living, or even families that like having overnight guests and family get-togethers. Futons are suitable for anyone wanting some extra sleeping space or simply looking for a multifunctional fuss-free type of furniture. You do not have to be a varsity goer to get a futon. It is just as suitable and appropriate for an office, dorm, and studio apartment as it is for a sprawling villa. Your futon can be placed near the fireplace for a comfortable lounge or even act as a sofa in your office, which can double up as a bed on those crazy workdays. Imagine having a bed at your fingertips as and when you need it. Sounds amazing, doesn't it? This article will help you navigate the futon space in the market, taking you through all the points you need to know to buy a good futon. There is also a list of the best futons available right now that you can add to your buying list.
What Is a Futon?
Futon originally refers to the traditional Japanese style of bedding. In the traditional Japanese futon, the platform and mattress are both pliable enough to be aired outside, folded neatly, and stored in cupboards or drawers along with the duvet during the day. This leaves the space free of bedding and available to be used for other purposes throughout the day. This pliability is incorporated within the western day futon. The modern futon or the western style of futon has evolved from this basic concept and is a bed with springs and knots that allow the upper part of it to be raised, converting the bed into a recliner or a sofa during the day. It rests on a futon frame that can easily be raised for the conversion. The futon mattresses are thinner than the average mattress so that they can easily fold up for the sofa or recliner position.  The three parts of the western futon are:
Platform or Base: The base is liable to be turned into a sofa when needs. It comes with levers and locks that accommodate the front portion to be raised. The base is a metal frame to easily accommodate the flexibility required and do not have strings attached. The armrests of the recliner also serve as the head and foot of the bed.
Mattress: The futon mattress is usually made of foam. It is a two-part mattress to accommodate the reclining position or the sofa position when the backrest is pushed up. When it is used as a bed, the mattress lays level with the frame for a plush adequate body support. The mattress can also be made with memory foam for a more comfortable feel.
Mattress Cover: The mattress cover is the fabric that is layered over the mattress to protect it from dust and mites. This fabric is removable and can be washed regularly. It comes with appropriate stitching that accommodates the folding of the mattress.
Types of Futon
The different types of a futon can be broadly classified according to their base structure, the material used, design, and functionality. These are listed below:
Base Structure
There are essentially three types of base structures or frames that you can choose from for futons. These are:
Two-Fold Base: This is the most common and the most preferred type of futon structure. In this, the upper part of the frame can be lifted to convert the bed into a sofa. The backseat of the seat and the lower seat is connected with the armrest.
Triple Fold Base: This is a futon that allows for a backrest, sitter, and footrest as well. The base structure in this type of futon is made of three parts, which are held together at differing angles to convert into a three-part seater.
Love Seat Base: This is a smaller sized futon than the regular two-fold futon. The rest of the frame is on the same lines as a regular two-fold futon. The size can only fit two adults, and the mattress is softer, thicker, and more comfortable than the regular futon mattress.
Base Material
The futon base is made of either wood or metal. The specifications are as follows:
Metal: This is the preferred base material for futons by the manufacturers. Metal is a light material that is more pliable and flexible than wood. Metal frames are prone to rust, but a good coat anti-rust can keep it going for a long.
Wood: Wood is more stable, sturdy, and durable than metal. However, it is also a lot less flexible than metal. This makes it a little difficult to work for a futon, but a wooden futon is more comfortable with no creaking and more stability.
Design
The design of the futon is another aspect you can choose from. The three types of futon designs are:
Traditional: These are the most conventional style of futons. They are two framed metal structures with a foamy and plush back and arm seat on either side. The whole futon is upholstered, and the frame remains completely hidden by the upholstery.
Bunk Bed: This is the most modern and the newest of all futon types. The bun bed futon has a bunk bed that has a futon underneath it. This is a great double space-saving solution. The bunk bed can stay as a bed, and space underneath can house a futon that doubles up as an extra bed.
Armless Type: This is the most simplistic futon style. It is a traditional futon without the armrest on both sides of the futon. The frame is simple, with no attachments to it. It converts into a settee with both sides open.
Top Reasons to Buy a Futon
Futons are great. They come as excellent space-saving solutions. Some of the prime reasons you should own a futon are:
 Easy on the Wallet: Futons are two for one furniture. You get a sofa and a bed in one product and at a cost that is cheaper than both of these individually. This is great news for your wallet
Highly Versatile: Futons are highly versatile pieces of furniture. E.g., split futons allow one person to sleep while the other can lounge. Then you can easily change the futon setting from your living area to the bedroom to office space or even out on the sundeck.
Comfort: Traditional futons were made with thin mattresses of recycled fibers. This made them very uncomfortable and not very suitable. Over time the popularity of space-saving and multifunctional furniture has made the futons transition to highly comfortable options. You get futons with thick and plush mattresses made of foam wrapped in latex or cotton with latex topping to give you optimal comfort for snuggling in on the sofa style or laying back and sinking into the luxurious bed for the night.
Ideal Extra Sleeping Space: There is nothing more disheartening than planning a night over with friends and family only to get constrained with sleeping space. Futons are the ideal solution. You can seat your guests during the party and accommodate them for the night on the same furniture. Perfect solution.
Durability: There are other space solutions in the market and other options for providing an extra sleeping space as well. However, none of them can match futons for their durability. Made with metal and wood, futons are sturdy with high durability. They are built to last and have long life spans.
Style Statements: Futons are great stand out pieces. They add a modern, stylish element to any room décor and will have your friends wanting to buy one themselves. You have plenty of color options, designs, and add-ons that you can play with to make a futon your style of furniture.
Who Should Buy a Futon?
All said and done about how great futons are; you should only indulge in getting one home if they are the right match for you individually and as a family. In the end, it boils down to your personal preference in this regard. Nevertheless, the following list will make it simple for you to know if a futon is ideal for your home:
People looking for effective bug resistant space solutions. Futons have higher bug resistance than normal mattresses. This is because it is covered in two protective layers of cover. The inner casing is firstly covered, and then this is covered with another casing for extra protection. Further, the frames are varnished wood and rust-resistant metal that tends to keep the bed bugs away.
People wanting an additional guest bed at hand
Great for kids' room and sleepovers
Those looking for multifunctional furniture
Good for office people who like to pull all-nighters
People with pets
People who want to make a classic style statement on a budget
Best 8 Futons to Consider
| | |
| --- | --- |
| Pros | Cons |
| Sturdy and durable frame | Stiff mattress |
| Easy assembly | The velvet feels scratchy |
| God color options | |
Novogratz is known for its stylish and designer pieces. This impeccable elegance comes through in the Tallulah Memory Foam Futon. Available in six bold and muted colors, this futon effortlessly combines style with versatility and durability. It creates an excellent ambiance in whichever corner of the house you seat it at. The wooden frame hosts a mattress that is made of both foam and memory foam to give you the ultimate comfort without compromising on support. It comes with wooden legs and an armrest on both sides. The upholstery is button tufted velvet to give it a rich and classy finish.
Key Features
Weighs 104 lbs.
83x 33.5x 32.5 inches futon dimension
73x 44x 17.5 inches bed dimension
45-degree recline angle
600 lbs. maximum weight support
Button-tufted velvet upholstery
High-density foam and memory foam mattress
14 inches floor clearance
Available in six colors
Pricing
| | |
| --- | --- |
| Pros | Cons |
| Sturdy frame | Thin chrome legs |
| Split back structure | Firm mattress foam |
| High support factor | |
DHP is an expert for offering versatile and flexible space solutions. The furniture quality is great, as with almost all DHP products. High-quality materials have been used in the production of this futon, and the chrome legs only add to the modern look of the whole design. The end legs on each side of the futon are slanted to give it a traditional 70's look that works well with the modern theme. The futon is good sized to easily accommodate two people when converted to a bed. It is highly durable with a long lifespan.
Key Features
Weighs 70.5 lbs.
71x 34x 32 inches futon dimension
71x 43x 16 inches bed dimension
600 lbs. Maximum weight capacity
Split back design
Available in six colors
Matching room furniture pieces available
Velvet square tufted upholstery
16 inches seat height
Comes with 1 yr. Limited warranty
Pricing
| | |
| --- | --- |
| Size | Price |
| One Size | $255.46 |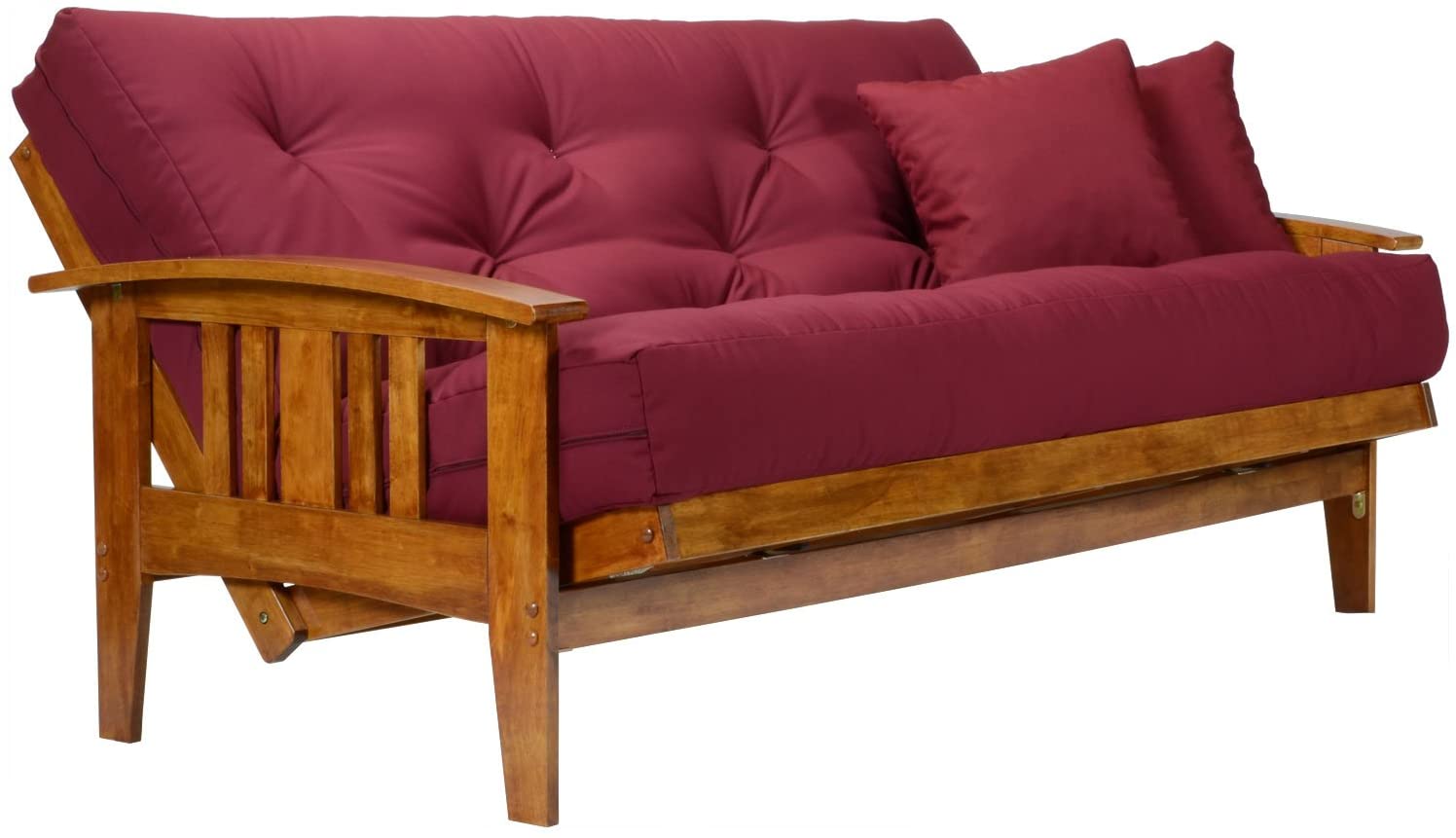 | | |
| --- | --- |
| Pros | Cons |
| Big enough for 3 to 4 adults | Need to buy the mattress separately |
| Three styles of flexibility | Hard to shift positions |
| Easy assembly | |
This futon frame from Nirvana is made of solid wood. This makes the futon highly durable and extremely sturdy. The wood is solid and heavy duty to ensure a lifetime of durability. The design is classic and timeless. The finish is excellent as well to give it a sophisticated look. It is bigger than the usual futons in size and is good enough to accommodate 3 to 4 adults. The futon can be converted into a sofa, recliner, or a bed. The three different styles give it more flexibility than the other futons.
Key Features
81x 32x 33.5 inches dimension
750 lbs. Maximum weight capacity
Only available from DCG stores
Eco-friendly product
An anti-slip mechanism for added safety
Comes with 5 yr. Warranty
Only the frame is included; mattress and pillows need to be bought separately
Pricing
| | |
| --- | --- |
| Size | Price |
| Full Size | $349.84 |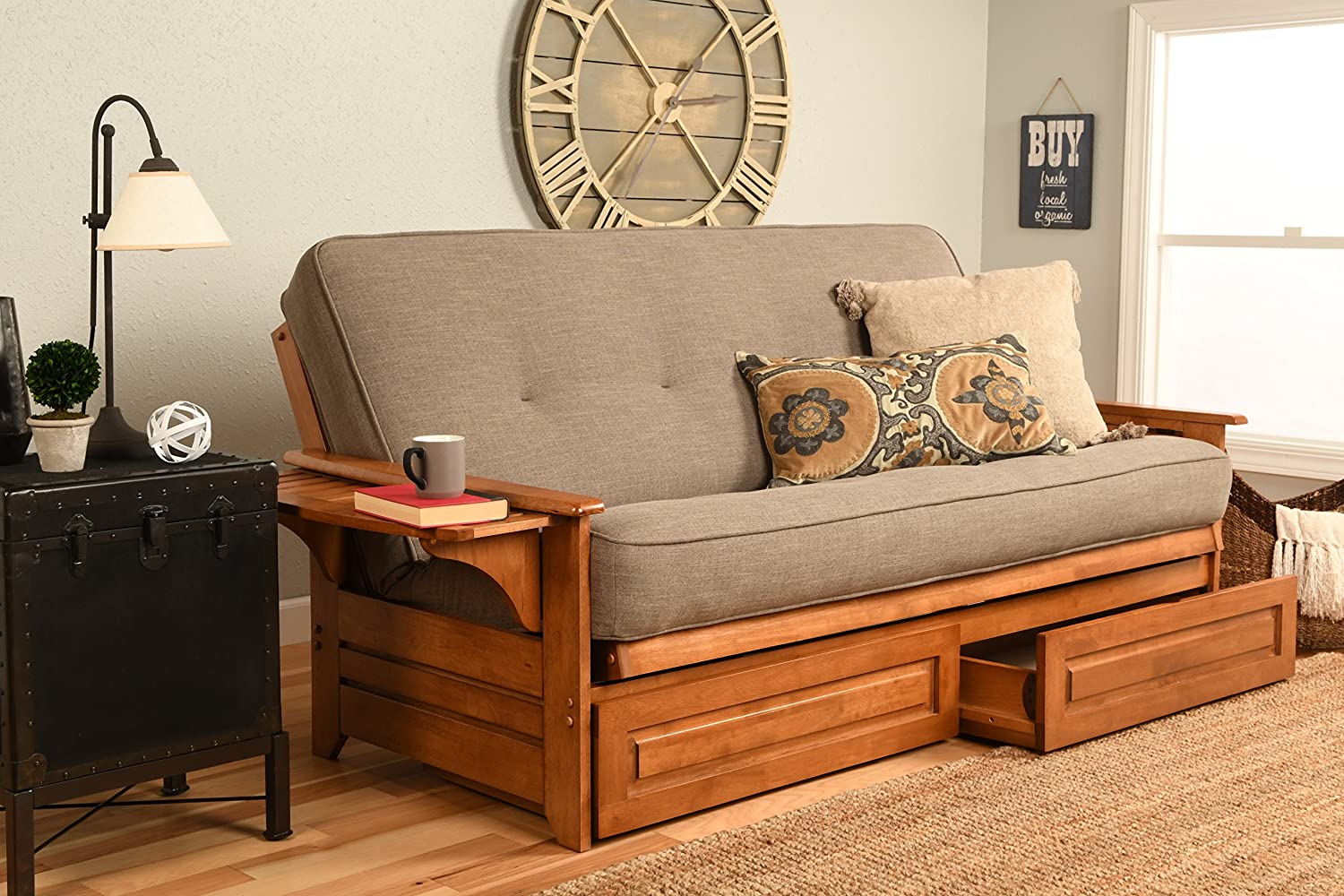 | | |
| --- | --- |
| Pros | Cons |
| Classy finish | Cannot be easily transported |
| Full size | Assembly construction is complicated |
| Good add-ons with drawers are tray | |
These futons are extremely plush and luxurious. They are the most comfortable futons that come packed with additional functional add-ons. It looks pretty attractive and features a high matte finish and good quality. It is a beautiful design with high functionality. The futon comes with drawers and a side tray attached to the armrest. The wood used in manufacture is sustainably imported from Indonesia and is of high quality. The mattress is thick and made of soft foam that retains and molds to your shape to provide a high comfort level. The cover is made of 100% polyester which makes it easy and convenient to clean.
Key Features
Weighs 211 lbs.
82x 37x 33 inches dimension
75x 54x 8 inches mattress dimension
Ships in separate boxes
Lot of color options available
Sustainable and eco-friendly wood import
Pricing
| | |
| --- | --- |
| Size | Price |
| Full Size | $545 |
| | |
| --- | --- |
| Pros | Cons |
| Classy finish | Cannot be easily transported |
| Full size | Assembly construction is complicated |
| Good add-ons with drawers are tray | |
DHP is a premier in futon frames and mattresses. A futon mattress can be purchased independently of the futon frame. It is pretty much the same as a regular bed mattress but has a lot more flexibility in its construction and design. This flexibility is required since the mattress needs to be folded when the futon is in the sofa or recliner shape. This 8-inch futon mattress from DHP is perfect for a full-sized or large-sized bed. It is made with 15-gauge coils that are perfectly aligned with each other to create a seamless comfort experience. This gives a high bounce to the mattress and makes it resistant to sinking with the body weight. Further, the mattress has high versatility and shape retention properties that allow it to fold and bounce back to shape without any creaks.
Key Features
Weighs 59 lbs.
Certi-Pur US certified against harmful chemicals
8-inch thickness
75x 54x 8-inch dimension
Easily fits any full-size futon frame
Polyester layer between coils for added comfort
Comes with a microfiber mattress cover
Pricing
| | |
| --- | --- |
| Size | Price |
| Full Size | $177.28 |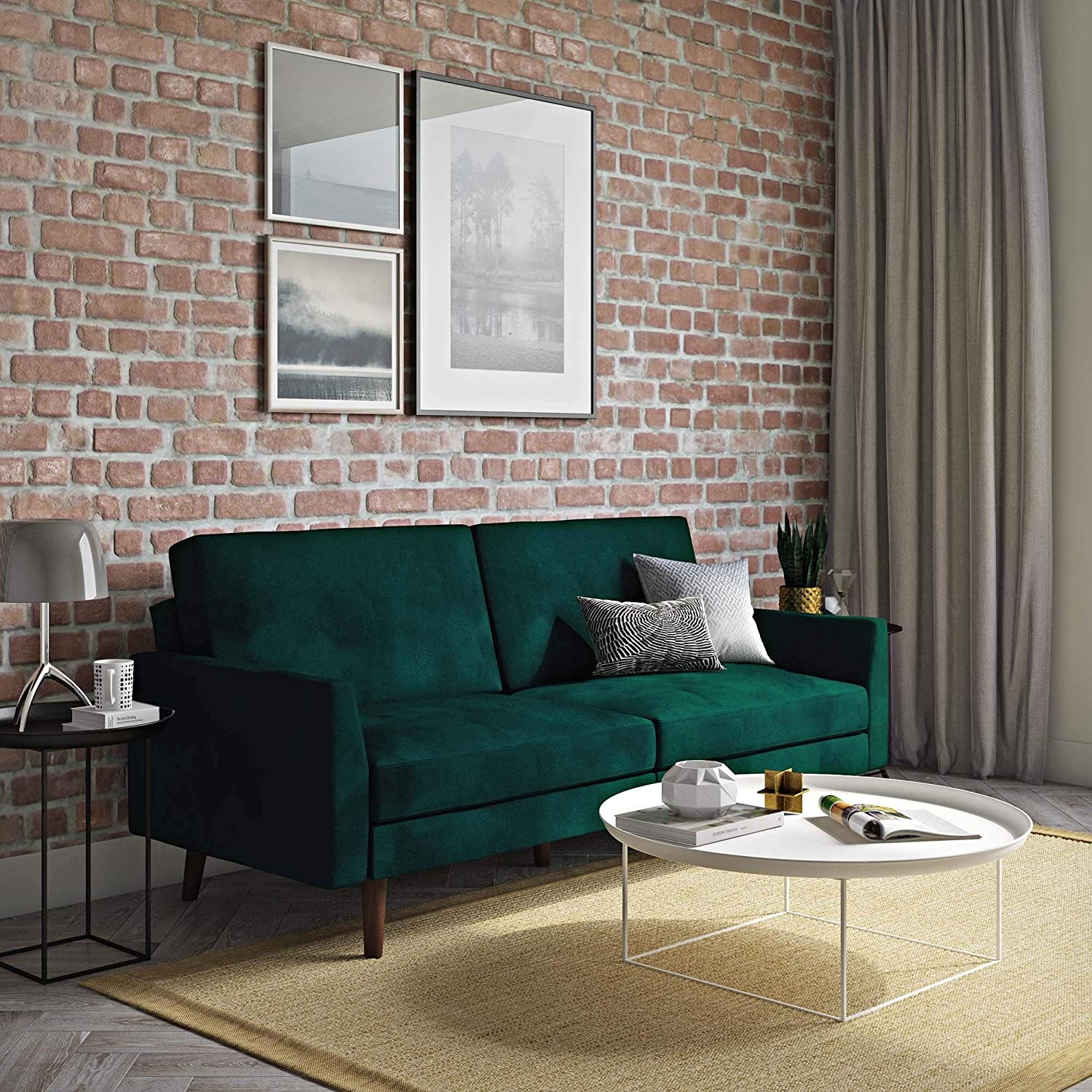 | | |
| --- | --- |
| Pros | Cons |
| Elegant design | High maintenance |
| Luxurious velvet finish | Only available in dark colors |
| Easy assembly | |
The Audrey Futon from Novogratz is another extremely classy and elegant product. It is a timeless piece that is sure to steal your heart with its simple cuts. It features a hardwood frame with long tapered and slanted legs. The floor clearance is excellent and designed to make it easy to get in and out of this futon. The mattress is made of plush and thick foam that is soft to feel. It gives excellent comfort while providing even weight distribution for good support as well. It comes with a velvet cover that is soft and rich to feel. It is shipped in one box for convenience, and the futon can be changed from bed to sofa in seconds.
Key Features
Weighs
5x 35x 34 inches futon dimension
5x 44.5x 17.5 inches bed dimension
600 lbs. maximum weight capacity
Wooden frame in velvet upholstery
5-inch floor clearance
Pricing
| | |
| --- | --- |
| Size | Price |
| Blue Velvet | $487.26 |
| Green Velvet | $468.20 |
| | |
| --- | --- |
| Pros | Cons |
| Easy and quick conversion | Low height |
| Free of creaks and groans | Low durability |
| Budget price | |
The Dorel Kebo Futon is very basic and elementary. It is a perfect addition for those looking at a simple futon with no frills or fuss. It is the kind of futon that is sure to appeal to men in general who love to nap on their sofas. It has a low floor clearance, which makes it difficult to get up from the futon or sit on it, especially for the elderly and those with mobility issues. However, the height makes it perfect for the younger kids. The mattress is made of plush foam with a microfiber cover that feels like suede. The legs are quite sturdy to withstand the boisterousness of kids and pets alike. The cover is both hypo-allergenic and free of any nasty chemicals.
Key Features
Weighs 69.5 lbs.
69x 32x 28 inches futon dimension
Three adjustment angles of 120 degrees, 160 degrees, and 180 degrees
Made of wood
600 lbs. Maximum weight capacity
Available in four colors; black, charcoal, chocolate brown, and red
Pricing
| | |
| --- | --- |
| Size | Price |
| Full Size | $164 |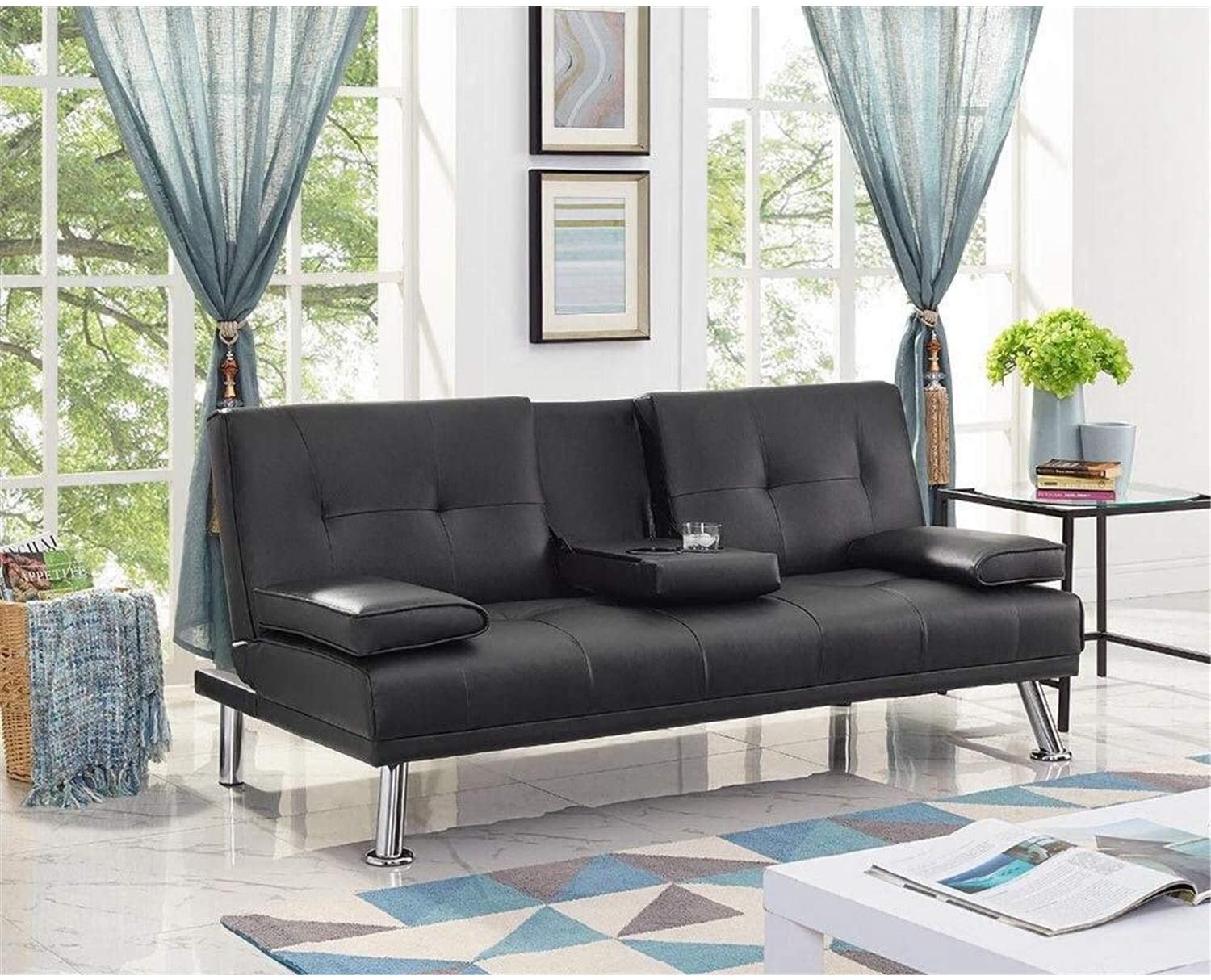 | | |
| --- | --- |
| Pros | Cons |
| Removable side armrests | Small size |
| Middle armrest with cup holder | Lightweight and prone to damage |
| Faux leather | |
Naomi Home Futon is a great choice if you are looking for modern contemporary looks. It comes in faux leather upholstery with a button back pattern, which makes it perfect for minimalistic room décor. It is available in two solid colors of black and white with chrome legs. The front legs are slanted, with the back legs being straight for good stability. The armrests are on either side and in the middle as well. The middle one is cleverly hidden and features convenient cup holders for those movie binge nights. The faux leather used in the construction is of good quality with a smooth texture.
Key Features
Weighs 62 lbs.
66x 32x 33 inches sofa dimension
66x 38x 14 inches bed dimension
Three armrests
Two cup holders
Available in two colors
Faux leather upholstery
Metal frame
Pricing
| | |
| --- | --- |
| Size | Price |
| Twin Size | $179.99 |
Q&A Corner
Can You Use a Futon as A Regular Bed Every Night?
Futons have become highly comfortable pieces of furniture. Along with comfort, futons also give good body support. They can hence be used as a regular bed. There is nothing that links futon continued use with health issues.
Are Daybeds More Comfortable Than Futons?
Generally speaking, daybeds are more comfortable than futons. However, personal preference plays a major part in this factor. People tend to prefer futon for its functionality
What is The Lifespan of Futon Mattresses?
Futon mattresses last for 5 to 10 years on average. The use of the mattress also plays a key role in determining the lifespan.
Final Take
Futons are great solutions for those looking for a comfortable dual-purpose bed and sofa mixed together. The traditional Japanese style futons are hard and only suitable for hardened sleepers, but the western style futons are the perfect blend of comfort and functionality. Futons give you the flexibility of offering a good night's rest without the hassle of looking for a spare mattress or roll on an air bed for emergency sleepovers. The best part is that they do this without compromising on style.