Best Anti-Aging Pillow
SLEEP & GLOW
Fights Sleep Wrinkles with Orthopedic Height Adjustable Memory Foam for Sleeping on Back and Side (Made in Italy)
We earn a commission if you make a purchase, at no additional cost to you.
The Sleep and Glow Anti-Aging Pillow is a new product on the market that claims to help reduce wrinkles, improve skin elasticity, and diminish the appearance of dark circles. It does this by using a combination of memory foam and cooling technology to create a comfortable and supportive sleeping environment.
Here are some of the pros and cons of the Sleep and Glow Anti-Aging Pillow:
Pros:
Comfortable and supportive
May help reduce wrinkles and improve skin elasticity
May help diminish the appearance of dark circles
May help improve sleep quality
Comes with a 30-day money-back guarantee
Cons:
Expensive
Some users have reported that the pillow is too firm
Not all users have reported seeing results
It is unclear how long the results will last
Overall, the Sleep and Glow Anti-Aging Pillow is a promising new product with some potential benefits for the skin. However, it is important to note that more research is needed to confirm these benefits and that the pillow is not a magic bullet for anti-aging.
Here are some additional things to consider before purchasing the Sleep and Glow Anti-Aging Pillow:
Your skin type: If you have sensitive skin, you may want to avoid the pillow as the cooling technology may irritate your skin.
Your sleep position: If you sleep on your stomach, you may find the pillow to be too firm.
Your budget: The pillow is quite expensive, so you may want to consider other options if you are on a tight budget.
The Sleep & Glow Pillow 
The Sleep & Glow pillow is an anti-aging pillow for back and side sleepers that promises less fatigued skin, a refreshed face and a healthy back. Its design is quite technical, which is why even though it's often marketed for its beauty benefits, it also has a lot to offer physiologically.
Overview of The Sleep & Glow Pillow 
This pillow is designed and produced in Europe and it has been patented in Europe, the US, and Japan. The company offers a 30-night sleep trial with a money-back guarantee. On top of that, they stand by a 3-year warranty. The pillow retails for $195 on their website.
Construction of The Sleep & Glow Pillow 
The pillow only comes in one size with the following dimensions: 22" x 15" x 5" and it's made with some pretty remarkable memory foam. Every part of this pillow has been made with the intention of ad addressing some type of problem. Even the pillowcases, which are offered in both Tencel and silk versions, have been well thought out. This pillow is constructed with European materials that are non-toxic, safety approved materials that also have ISO quality control system certification.
My Sleep & Glow Pillow Findings
*Important Note*
After filming this review, I realized that I made a mistake in terms of how I demonstrated laying on the pillow. I used the pillow upside down. Doing so can actually cause headaches and further neck problems. The higher bolster has to touch the forehead and the lower bolster, the chin. I apologize for the confusion.
The biggest selling point of the Sleep & Glow pillow is within its construction. It not only looks meticulously built but it is. I can tell that some incredibly intelligent people created this pillow and that's confirmed when Sleep & Glow mentions that it was designed with the help of both cosmetologists and orthopedists. Cosmetologists are most likely a familiar term if you came to this article interested in beauty and anti-aging but for those who aren't familiar with orthopedists, they are knowledgeable and skilled in the "prevention, diagnosis and treatment of disorders of the bones, joints, ligaments, tendons, and muscles." This is also known as our musculoskeletal system. In short, they're masters of human anatomy.
Despite the Sleep & Glow Pillow being primarily marketed for what it has to offer aesthetically, it's psychological components shouldn't be overlooked. While it was created to help you look your best it also assists with maintaining spinal alignment as well as proper curvature of the neck. Why is this important? Because our spinal alignment is essential to our health. If our spine is out of whack, odds are other things are as well. The construction of this pillow seeks to address that concern by providing you with the physiologically-correct body position during sleep, encouraging spinal alignment and a happy cervical curve. For those who have already existing musculoskeletal issues, it's advised that you consult your physician/chiropractor/orthopedist if a pillow like this can adequately meet your needs. It's quite possible that it's not the right solution for you.
The method in which it aids in anti-aging is multi-faceted. First, there's the form (the way it's shaped and cut), then the material used to create it (memory foam), and then the pillowcases it comes with.
In addition to being comfortable, the memory foam used in its construction is dense where it provides perfectly adequate support but it's not so firm that it feels stiff. You'll achieve comfortable side and back sleeping and the way certain portions of it are cut out, it does a great job at cradling your head regardless of how you sleep (keep in mind this is not for stomach sleepers). The neck support, all thanks to the shoulder cradle, is really out of this world.
One of the most advertised features of this pillow is how it prevents your face from getting smushed. There's just no better word for it than that because most likely, you totally know what I mean when I say it: smushed. The anatomical shape of the pillow helps minimize skin twisting and folding and this works by avoiding your face from directly having to lean too much into the pillow when on your side. This works to prevent sleep wrinkles, morning puffiness and those unsightly pillow marks and creases that some of us wake up with. As an added side note, if you want to avoid vertical wrinkles to the decollage area, you will want to sleep on your back. If you want to avoid wrinkles altogether, sleeping on a pillow that encourages this, is already a big step in the right direction. If you insist on sleeping on your side, using a pillow like this one is an improvement.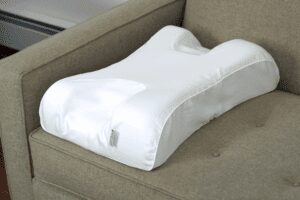 The pillowcase options that Sleep & Glow offers are Tencel and silk. Apparently, both have some pretty interesting characteristics that further improve the effectiveness of the Sleep & Glow Pillow. Both also happen to be made of natural fibers. One thing I want to mention, for those who may not be aware, is this: When silk is generally mentioned (anywhere on the internet), satin is usually following along behind it.
While it's not relevant to this pillow, I'd like to just educate some people (because embarrassingly, I recently learned it myself and it's an essential distinction). Satin is not a replacement fabric for silk. Silk is an actual fabric, while satin is a type of weave used to achieve a smoother feeling fabric. So silk is the real thing and with this pillow or pillowcase, that's what you'll be getting. Our eco-friendly readers will also be happy to know that both pillowcase fabrics offered, silk and Tencel, are biodegradable.
Silk is a natural protein fiber consisting mainly of fibroin (an insoluble protein) and it's created by certain insect larvae in the formation of cocoons. The best-known silk comes from the mulberry silkworm. Silk has a few compelling characteristics:
Doesn't absorb moisture

Doesn't absorb creams

Reduces hair breakage

Prevents hair tangling

Moisture-wicking

Naturally elastic

Helps regulate body temperature

Keeps you warm in winter, cool in summer
Here's an interesting fact about silk from Wikipedia.com:
"The shimmering appearance of silk is due to the triangular prism-like structure of the silk fiber, which allows silk cloth to refract incoming light at different angles, thus producing different colors."
One of the most interesting things that I learned about silk is that sunlight tends to encourage the decomposition of silk by atmospheric oxygen so it's best kept out of the light.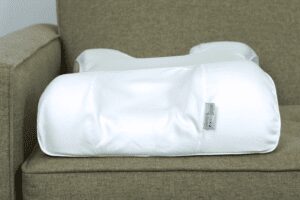 Tencel is the brand name of a fiber that is known as lyocell. While it's technically considered a synthetic fiber, it's retrieved from natural materials and goes through a lengthy process to be transformed into fabric. The result is a luxurious high-quality fiber. Tencel also has a few intriguing characteristics:
Made from eucalyptus fiber (which doesn't require irrigation or pesticides)

More breathable than cotton

Hypoallergenic and bacteriostatic properties (suitable for sensitive skin)

Softer and stronger than most cotton

Has less of a tendency to wrinkle

Its production utilizes less land and water than cotton

Amasses less odor and bacteria when compared to other fabrics
It's true that this pillow is pricey when compared to more cheaply designed versions but it's almost not the most expensive pillow I've seen. Specialty pillows like this can easily run $200 to $300. I've seen others that were even higher. I understand that this may sound insane to most people but to target particular problems, or particular areas of the body, people are willing to spend if the product does what it claims. Specifically constructed designs require resources. But for the money they ask, premium quality is typically what you receive.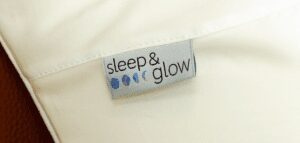 My Sleep & Glow Pillow Recommendation
I'm really impressed with this pillow. The quality of the materials used and its intricate construction certainly justifies the price. From the physiological aspect, I'm confident that it can help certain individuals with their neck and shoulder issues. From the beauty aspect, the combination of elements involved, such as the structure, the density of the memory foam, as well as the materials that were chosen for the pillowcase, sound promising. The first night I spent on the pillow, I started sleeping on my back and I woke up still laying on my back. That was surprising to me as I'm totally in love with side sleeping, nothing is nearly as comforting to me. Sleeping on your back, in general, is the most recommended thing to reduce and prevent wrinkles and if a pillow like this can help encourage that, it's worth the spend. For those skeptical, it may require some experimentation to know for sure if it's for you but I don't think the amount of reviews they've amassed is coincidental. There is obviously something they are doing right.
Disclaimer: All information, content, and material of this website is for informational purposes only and is not intended to serve as a substitute for the consultation, diagnosis, and/or medical treatment from a qualified physician or healthcare provider.
Best Anti-Aging Pillow
SLEEP & GLOW
Fights Sleep Wrinkles with Orthopedic Height Adjustable Memory Foam for Sleeping on Back and Side (Made in Italy)
We earn a commission if you make a purchase, at no additional cost to you.