Recently updated on March 10th, 2023 at 04:03 am

Yawnder readers get the best deal on the Leesa Hybrid mattress with our exclusive link Activate Here
The Leesa Hybrid mattress is a new foam and spring hybrid mattress from the makers of the Leesa mattress. It is a great feeling mattress where the pocket coil system gives it an extra feeling of luxury. It has the signature white striped design towards the bottom of the mattress and is a bit thicker than the Leesa.
Even the Sapira site is a sort of luxury experience. There is extensive information about the construction of the mattress and the sourcing of the material. This mattress is 100% made in the USA which means buying a Sapira directly supports the US economy.
Unboxing the Leesa Sapira Mattress
The Sapira comes in a cool black box that gives it some sophistication.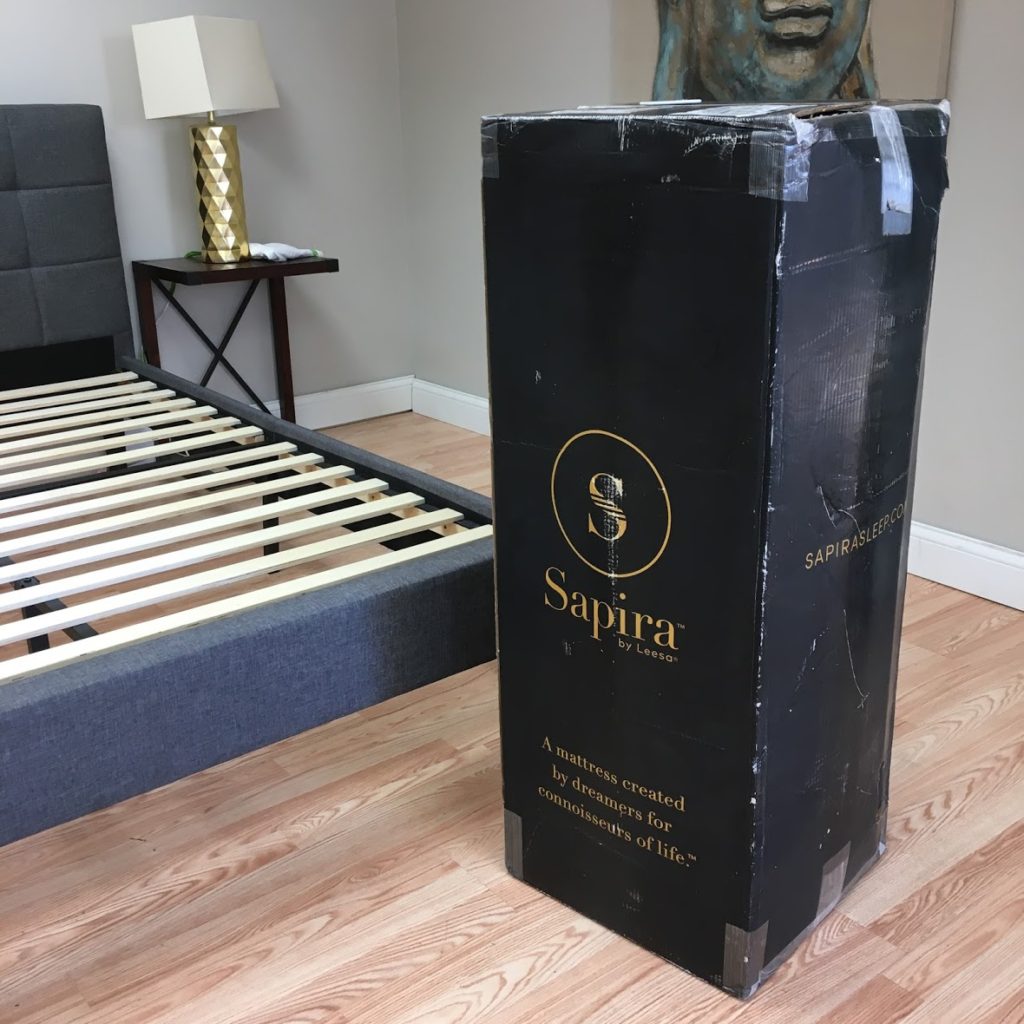 Below is a video of the mattress as I take it out of the packaging. I took it out of the box ahead of time since it is heavy and it took a little longer than a typical boxed mattress.
Construction of the Leesa Sapria Mattress
What I really like about this company is that they are transparent with not only their sourcing of material but the materials and amounts of material they use in the mattress. This gives customers the ability to make comparison and understand how the mattress works.
When it comes to comfort, more material isn't always better. There is a point at which more foam, springs, etc. really doesn't add value. Sort of the princess and the pea effect. I could tell that Sapira put a lot of effort into getting a great combination of foam blends with an excellent pocket coil system to create a great mattress.
Cover: A single knitted length of fabric (made in the USA) is beautifully tailored to hug the mattress and your body. Subtle quilting and our signature "patterns" of life stripes add to the elegance and comfort.
Performance Layer: The 1.5" top layer is a high performance 3.75 lb high-density foam. This performance layer does not retain heat, is hole punched to allow air flow cooling, and provides enough bounce for freedom of movement.
Density 3.75 lb
Indentation Force Deflection (IFD) 20 – 26
Memory Foam: A 1.5″ layer of 4lb high performance memory foam provides body contouring and pressure relief to relax your body.
Density 4 lb
Indentation Force Deflection (IFD) 9
Stabilizing Layers: A 1" top and bottom layer of 2lb high-resiliency foam envelops the pocket spring allowing for seamless transition of the performance foam and memory foam.
Density 2 lb
Indentation Force Deflection (IFD) 32 – 38
Pocket Springs: A thousand premium grade steel pocket springs provide a unique core support layer. The unique pocket spring system provides superior edge support, unparalleled body contouring and virtually zero motion transfer.
The Sapira is 100% American Made using CertiPUR-US® approved foams.
My Leesa Sapria Findings
Below is a video showing how much bounce you will get with this mattress. Since it has coils and foam it will give you bounce but not much motion transfer:
Below is a picture to give you an idea of how much this mattress sinks. Even though it has multiple layers of foam above the springs, you won't sink much into this mattress.
I opened the cover to give you an idea of how each layer works and what you can expect in terms of feel:

Below is a picture of the layers to give you a more detailed shot of construction.

My Leesa Hybrid Mattress Recommendation
The Sapira mattress would be a great choice for people that like the pressure relief that foam offers but want a bit more support and the bounce that an innerspring gives. This company has a stellar reputation for customer service and their charity work. People looking to upgrade their sleep environment with a mattress that is going to appeal to a wide variety of sleepers should seriously consider the Sapira.

Yawnder readers get the best deal on the Leesa Hybrid mattress with our exclusive link Activate Here