Best Classic Mattress Feel
Saatva Classic
Traditional innerspring feel that you know and love
365 Night Trial
Free white glove delivery and mattress removal
Comes in 11.5 or 14.5 inch depth
We earn a commission if you make a purchase, at no additional cost to you.
Saatva Mattress Review Findings 2023
I recenty bought a Saatva mattress to review this past year to update my findings and ensure that the Saatva Classic Mattress is still a quality mattress. Before that, Saatva sent me a mattress to review back around 2017 and back in 2012 I purchased my first Saatva before I started Yawnder. So I guess you could say this is the longest standing mattress review I have ever done. All the while I have reviewed other Saatva mattresses, including the Loom and Leaf and Zen Haven. Saatva makes a firmer mattress than most of the other online brands and they also have some new releases including the Saatva Memory Foam Hybrid and the Saatva  Latex Hybrid.
For those heavy sleepers out there, Saatva introduced the Saatva HD which can go toe to toe with the Big Fig and Helix Plus. I found the Helix Plus to be the softest of the three top mattresses for heavy people.
Saatva Classic Mattress Review Updates
Remarkably, the Saatva mattress has stayed true to its original construction of a dual coil system with a bit of foam and an organic cotton cover. Since 2012 they have expanded their lineup of mattress models to suit a wider range of firmness and materials but what has remained consistent is that the Saatva brand continues to dominate the online mattress space in terms off offerings. So if a spring mattress isn't your thing, take a look at the Loom and Leaf for a phenomenal foam mattress option or the Zen Haven which is the natural latex option from Saatva. They even have a mattress that can compete with the Sleep Number bed which is the Solaire mattress.
Ordering Your Saatva Classic Mattress
You can order your Saatva Mattress direct through their website and recently they have opened some Saatva Showrooms in select cities. Saatva showrooms are also known as, "Viewing Rooms". I always think it's best to try a mattress before you buy it because no matter what a reviewer says, nothing beats you actually trying it out yourself. So if you leave near one of these viewing rooms, go check out the full Saatva Collection.
The Saatva mattress has great support and the motion transfer is minimal. I tested the Saatva Luxury Firm. Below is a video to give you an idea of bounce and motion transfer on the Saatva. If you want a bed with bounce, there's still nothing that will beat an innerspring mattress:
The Saatva Luxury Firm mattress is at a medium firmness level. You can now get different firmness levels in the Saatva Classic mattress, the Plush Soft, Luxury Firm and Firm. The Saatva Luxury Firm is still the most popular option.
For context, the Winkbed Luxury Firm is softer than the Saatva Luxury Firm as the Winkbed has a softer quilted top. However both have good support and the level of softness for the top layer is really a matter of preference but I do think the Saatva  Luxury Firm will appeal to most peoples firmness preference, knowing they want their mattress on the firmer side.
How Much Does the Saatva Mattress Cost?
Below are the current prices of the mattress as listed on the Saatva website as of this writing. Saatva really doesn't do coupon codes so there's no sense in searching for one. Back in the day when Saatva first started, they never had any sales or deals, the price you see is the price you get and most new online mattress brands followed suit. It was great because you never had to worry about losing out on a sale.
Since then, the online brands have gotten into the sale game just like the traditional mattress store retailers. It would be odd go to the Saatva website and see that they aren't running a sale. Everything is perpetually on sale and sometimes the sales are better than other times of the year. I have found that Black Friday and Memorial day are in general where you will find the best mattress deals.
Saatva Mattress Construction
You can choose between a 11.5 inc thick Saatva and a 14.5 inch thick Saatva Classic. According to Saatva, they feel the same but I'm not sure how that can be since they are physically different. That said, here's a picture of the profile of the 11.5″ Saatva Classic: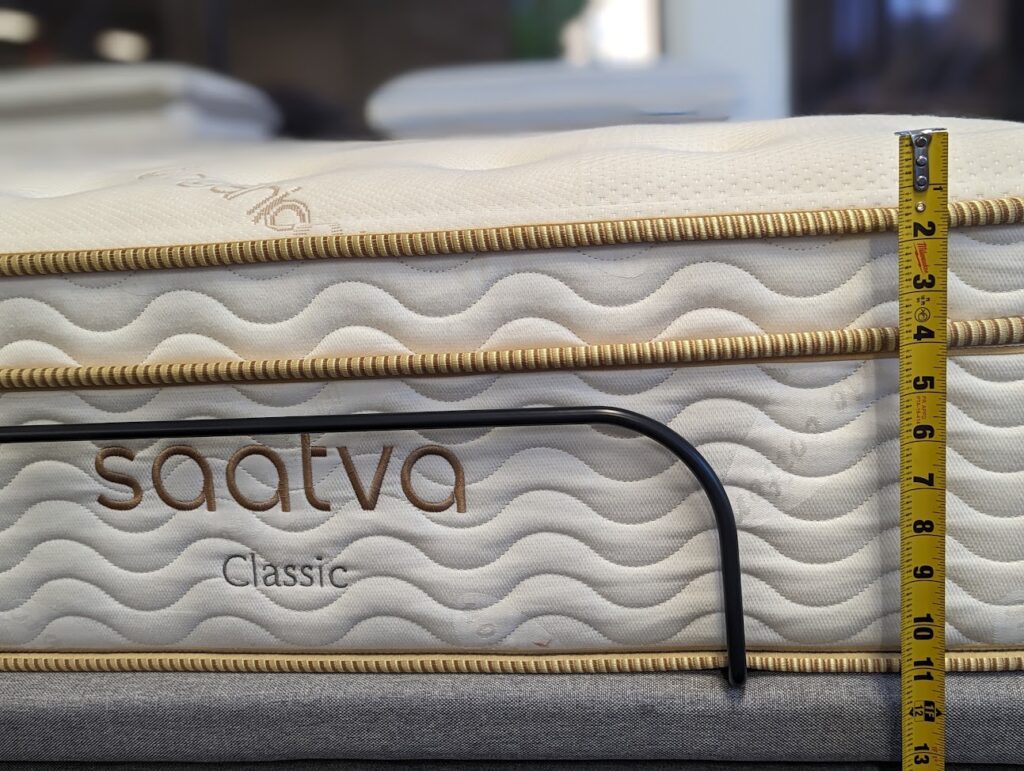 Saatva mattresses are made in the USA and from what I gather the are made throughout the United States in a network of mattress factories.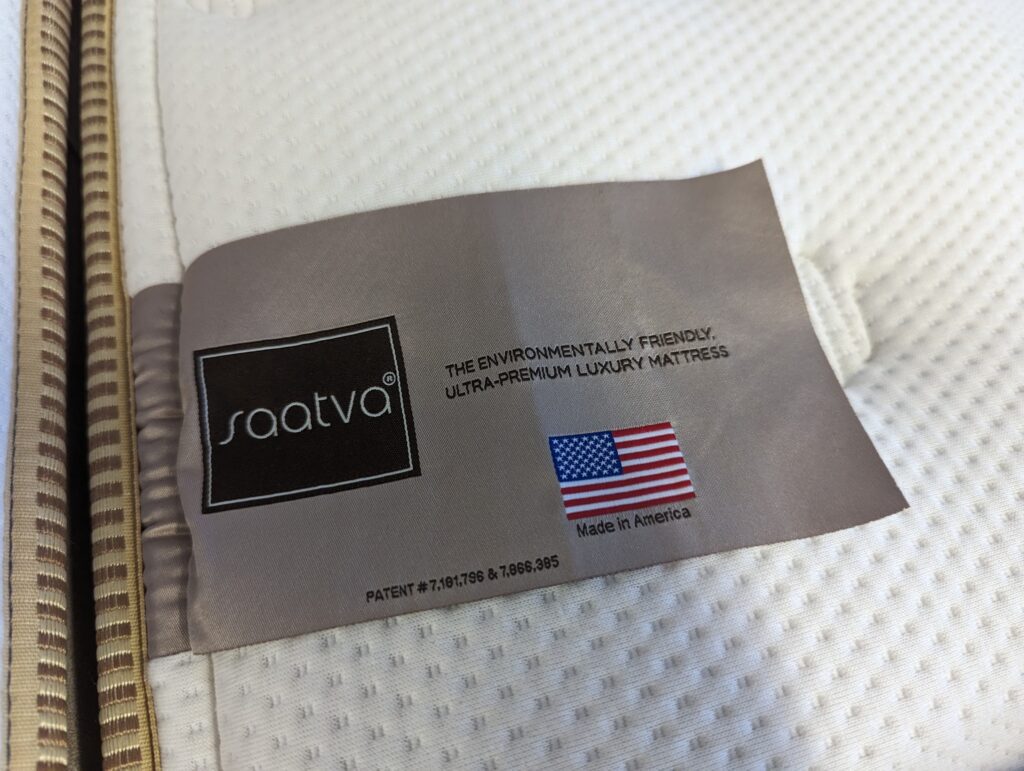 The Saatva mattress is built with two coil systems. A traditional coil system as the base layer and individually wrapped pocket coils on top of that.. This means that each coil works independently which means less motion transfer and more contouring to every curve of your body.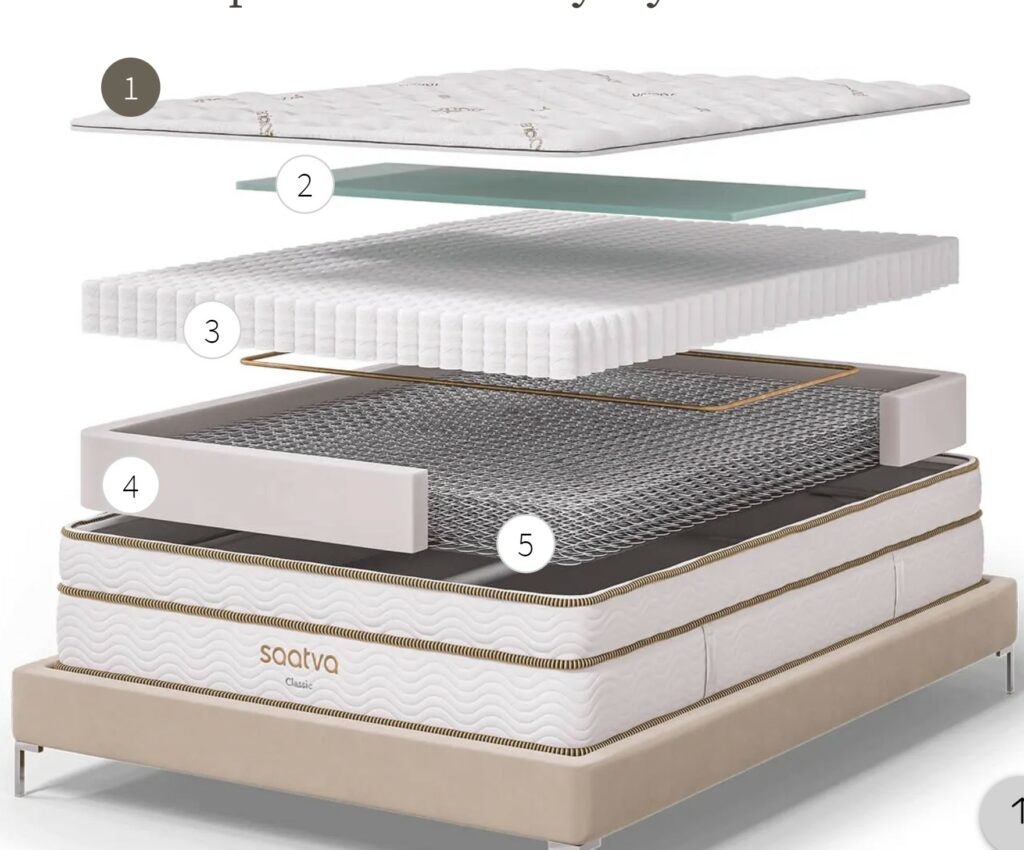 I took the liberty of cutting open my Saatva Classic Luxury Firm. This is a picture of the inside of the Saatva Classic.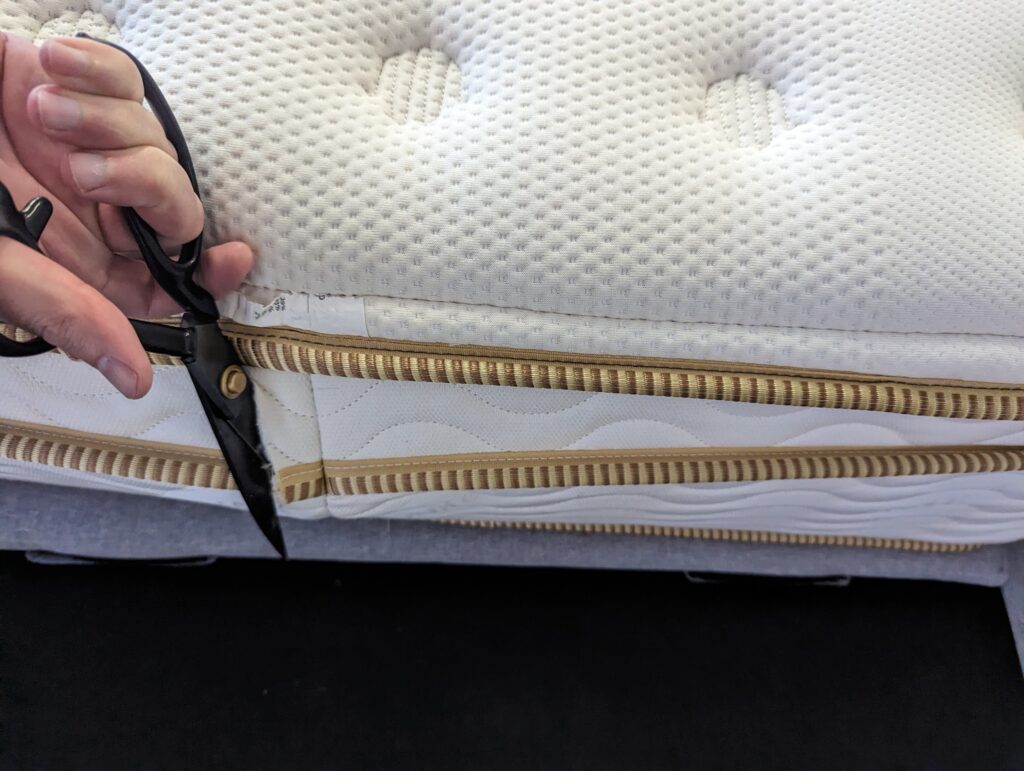 First, I cut through the cover, which exposes the foam border around the mattress that is used for edge support. Not this is commercial grade foam, not memory foam so it is a rigid foam to provide the edge support. The foam creates a border around the mattress about 3 inches thick.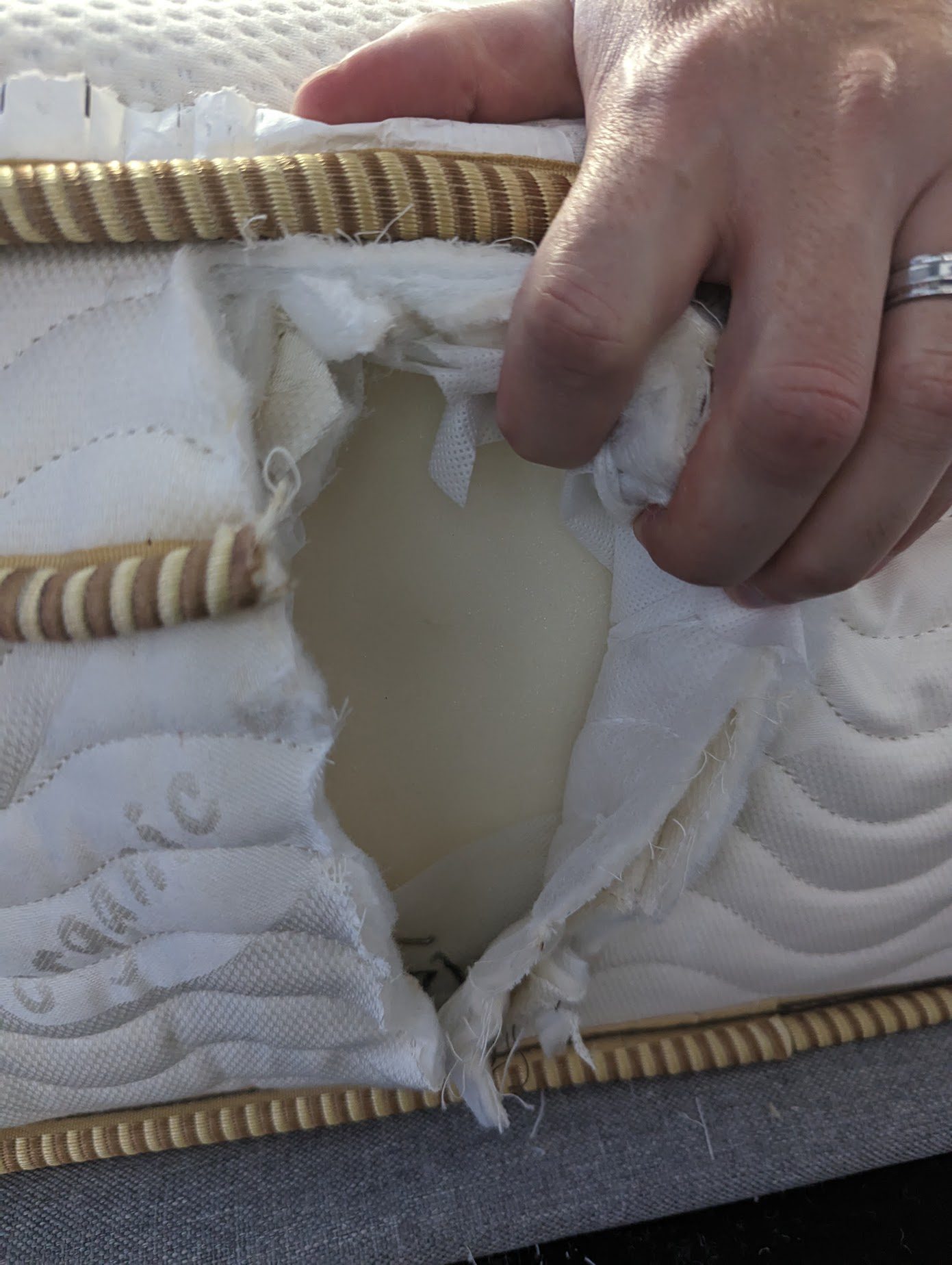 The base layer of the Saatva is a fabric padding which the first layer of coils sits on.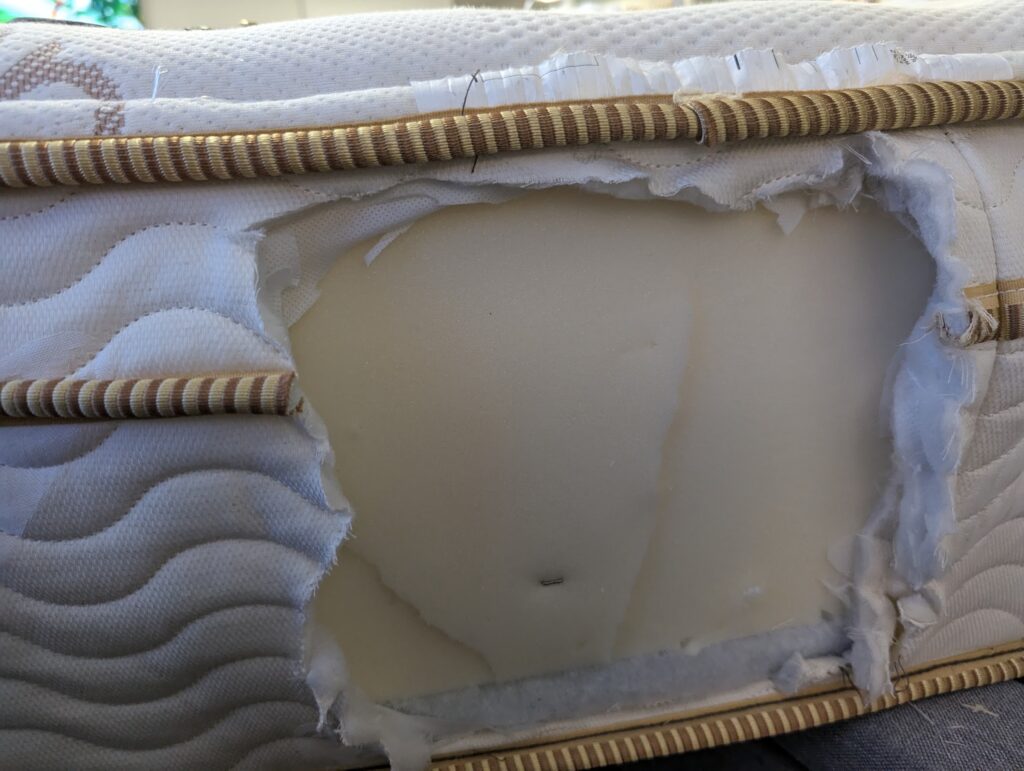 Below is a picture of the Saatva Classic coil system. From what I can tell, there is the base layer of coils which are all tied together and then a felt pad above that and then the pocket coils. This is one of the few mattresses I have seen sold online with traditional steel coils and then pocket coils above it. Without the pocket coil layers, this mattress would have a lot of motion transfer. It also is a reason the Saatva is not a bed in a box. like a memory foam mattress.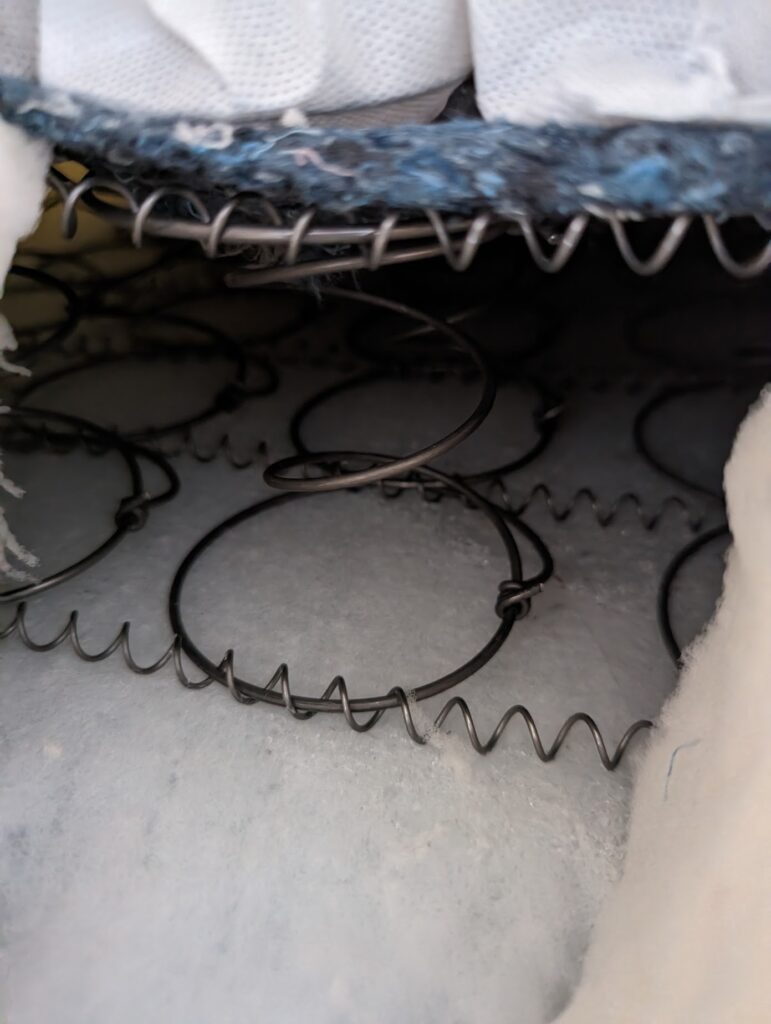 The top layer of the Saatva is made with organic cotton. It is a quilted top so it allows you to sink into the top of the mattress a bit.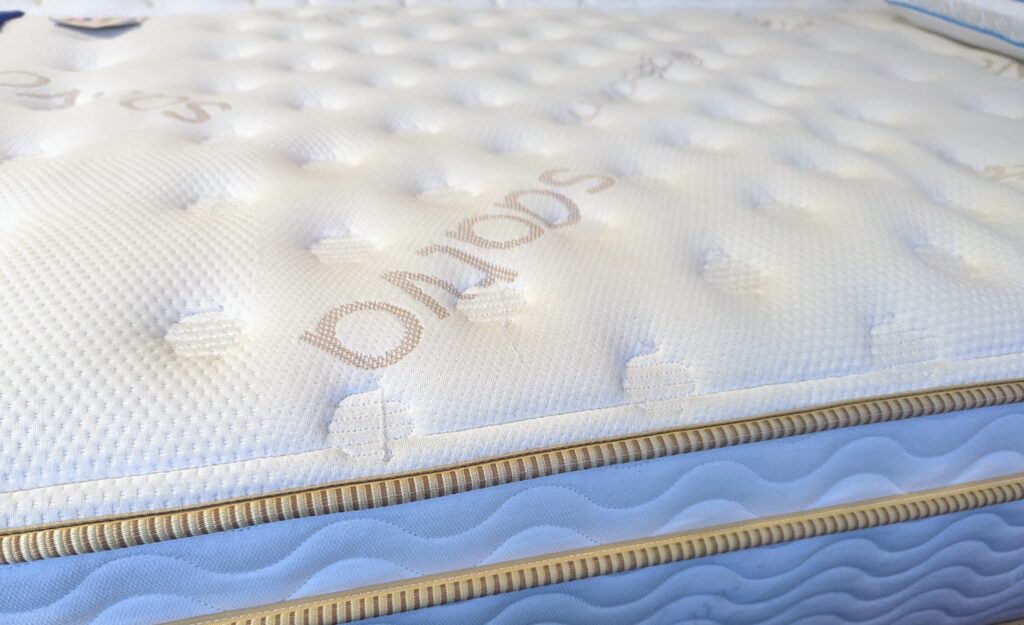 This mattress also has good edge support. That means you can use the whole surface of the mattress. If you get to the edge you won't feel like you're going to fall off.
Here's another updated photo for my 2018 review of the Saatva that shows sinkage from another angle.
As far as cooling, Saatva does a great job with temperature regulation. The organic cotton top is very soft and breathable. Granted the Saatva is not an organic or all natural mattress but having the cover made with organic cotton is nice. I don't believe it is 100% organic cotton though.
If you're looking for a quality innerspring mattress that has a soft cushioning top layer with great lumbar support, this is it. I weigh over 200 lbs. and had no issues with caving or lack of support. This could be due to what they call their lumbar zone quilting that has extra support for your lower back.
What I hear from many people is that they will buy an innerspring mattress from a brick and mortar store and sleep great on it for a few months then will notice impressions. Saatva has solid construction and will hold up over time. Best of all you are saving money up front by getting a superior product at a fraction of the cost of comparable high end store brands.
Saatva offers an amazing 1 year trial home trial. This is one of the longest trials and they join the ranks of DreamCloud, Nectar, Brentwood Home and Nest Bedding that also have 1 year trials.  That means you get to try out the mattress in the comfort of your own home for all four seasons in hot and cold temps to make sure it's the right fit year round.
If you don't like the mattress within that year and want to return it, Saatva charges a small return fee, at the time of this writing it's less than $100 to pick up the mattress and refund your money. Given that you already get free white glove delivery and removal, this is a bargain.
A traditional mattress store will give you store credit instead of a cash refund. This means you're actually stuck with whatever mattress they have to offer. Or, they may charge a restocking fee of up to 20% of the cost of the mattress which means you are out hundreds of dollars, not to mention the trial is not nearly as generous.
I have slept on many innerspring beds both from traditional stores like Slumberland,  Mattress Firm, etc. If more people realized the value they get with these online brands, I think there would be a much higher adoption rate.
Saatva also offers quality foundations along with white glove delivery. That means they will bring the bed into your house and room of your choice and remove your old mattress. With many online companies, you need to figure that part out on your own.
If you already have a good foundation though, no need to buy a new one. As long it is a solid, breathable surface, your Saatva will work great.
Does Saatva Work with an Adjustable Bed?
Another point to note is that people often ask, can a Saatva mattress be used on an adjustable bed? The answer is, yes. The 11.5-inch version will work on an adjustable base however, the 14.5 inch version does not so make sure you choose carefully. I recommend going with the 11.5 inch version so that if you decide to upgrade to an adjustable bed in the future, your mattress will be compatible.
Which Saatva Mattress Firmness is Right For Me?
The Saatva Classic comes in multiple firmness options so that you can get a feel that is optimal for your sleep style.
Stomach Sleepers should go with the Firm Saatva Classic. The firmer Saatva gives you extra support for your lower back which is what you need as a stomach sleeper.
Back Sleepers should go with the Luxury Firm version so they get just the right amount of sink and pressure relief to keep their upper back relaxed. This is also known in the industry as a medium firm feel.
Side Sleepers can go with the Luxury firm or Soft. The Saatva Classic skews firmer than most online brands so if you want more contouring and tend to get sore hips sleeping on your side, go with the Saatva Soft.
Does Saatva Have Memory Foam?
Yes there is some memory foam used towards the top of the Saatva for back support and pressure relief.
Final Thoughts on the Saatva Classic Luxury Firm Mattress
Along with the Saatva Classic, there are now hundreds of innerspring mattress brands to buy online with generous trials. Some of my other favorites are the Winkbed, DreamCloud, Nest Bedding and Brooklyn Bedding.
The Saatva Classic is certainly a classes and many have rated it up there with some  top luxury mattresses. There are plenty of hybrid mattresses to choose from but Saatva has a feel all its own.
Saatva now as a 1 year trial period so there's plenty of time to see if its a good fit. 
The mattress industry and changed dramatically since I bought my first Saatva and I expect more good things to happen with Saatva and mattress technology in general.
You can get a side-by-side comparison of WinkBeds vs Saatva Here.
Disclosure: We aim to highlight products and services you might find interesting, and if you buy them, we may get a small share of the revenue. I have an affiliate relationship with Saatva
Saatva Mattress Negative Reviews
Like any product, Saatva mattresses may receive negative reviews from some customers. Some common complaints that people have mentioned about Saatva mattresses on Reddit include:
Poor customer service: Some users have reported poor customer service from Saatva, including difficulty getting a response or resolution to their concerns.

Uncomfortable: Some users have found Saatva mattresses to be too firm or too soft, leading to discomfort or pain.

Durability issues: Some users have reported that their Saatva mattress did not hold up well over time, with issues such as sagging or springs breaking.
Delivery issues: Some users have reported delays in receiving their Saatva mattress or issues with the delivery process.

Some negative reviews of Saatva mattresses that have been reported by customers on various websites:
Comfort issues: Some customers have reported discomfort while sleeping on a Saatva mattress. Some have found it too firm, while others have found it too soft. Some have also reported that the mattress has a tendency to sag or develop body impressions over time.

Poor customer service: Some customers have reported dissatisfaction with Saatva's customer service, including difficulty getting in touch with representatives, long wait times, and unsatisfactory responses to their concerns.

Delivery issues: Some customers have reported problems with Saatva's delivery process, including delays in shipping and difficulty coordinating the delivery.

Durability issues: Some customers have reported that their Saatva mattress has not held up well over time, with issues such as sagging, lumps, and springs breaking.

Off-gassing: Some customers have reported an unpleasant smell when they first unpacked their Saatva mattress, which persisted for several days or weeks.
What Mattress is Better than the Saatva Mattress
There are several mattresses that are considered to be better than Saatva in terms of comfort, support, and overall value. Here are some options you may want to consider:
Purple Hybrid Premier: This mattress combines a supportive coil system with Purple's patented hyper-elastic polymer grid for exceptional pressure relief and comfort.

Tempur-Pedic ProAdapt: This mattress uses memory foam to contour to your body and provide support where you need it most. It also comes in different firmness levels to suit your preferences.

Avocado Green Mattress: This mattress uses natural materials like organic cotton and latex to provide support and comfort. It's also eco-friendly and sustainable.

Helix Midnight Luxe: This mattress is designed to provide customized support based on your body type, sleeping position, and other factors. It also has a plush, comfortable feel.
Ultimately, the best mattress for you will depend on your individual preferences and needs. It's important to do your research and try out different mattresses to find the one that works best for you.
Is the Saatva Good for Back Pain?
The Saatva mattress is designed to provide both support and comfort, which are important factors for people who suffer from back pain. The mattress uses a coil-on-coil system that offers sturdy support to the spine, and it also has a layer of memory foam to provide pressure relief and contouring to the body.
Many people who have used the Saatva mattress have reported experiencing relief from back pain. However, it's important to note that everyone's body is different and what works for one person may not work for another. Additionally, the severity and underlying cause of your back pain may also affect how well the Saatva mattress can alleviate your symptoms.
If you are experiencing chronic or severe back pain, it's always a good idea to consult with a healthcare professional before making any changes to your sleeping surface. They may be able to provide additional guidance on how to manage your pain and whether the Saatva mattress is a good option for you.
The Saatva Latex Hybrid
The Saatva Latex Hybrid mattress is a premium, eco-friendly mattress offered by the Saatva Company. It is designed to provide a comfortable and supportive sleeping experience, while incorporating natural materials for a more environmentally-conscious choice. Here are some key features of the Saatva Latex Hybrid mattress:
Construction: The Saatva Latex Hybrid mattress is made up of several layers, including a natural Talalay latex layer, which is known for its responsiveness, durability, and breathability. This layer is combined with individually wrapped coils to create a supportive and pressure-relieving sleep surface.

Organic materials: The mattress utilizes organic cotton for its cover, and the latex layer is made from natural Talalay latex, which is harvested from sustainable sources. Additionally, the mattress includes a layer of organic wool, which acts as a natural flame retardant and temperature regulator.

Support and comfort: The combination of the responsive latex layer and the individually wrapped coils offers a balance of comfort and support. This design helps to promote proper spinal alignment and minimizes motion transfer, making it suitable for couples and different sleep positions.

Breathability: The natural Talalay latex layer and the coil system work together to promote airflow throughout the mattress, helping to keep you cool during the night.

Eco-friendly: The Saatva Latex Hybrid mattress is made with environmentally-friendly materials and manufacturing processes, which reduces its carbon footprint and makes it a more sustainable choice for consumers.
In contrast, the Saatva Original mattress is a luxury innerspring mattress that features a coil-on-coil system, with a layer of individually wrapped coils for support and a layer of interconnected coils for added durability. While both mattresses offer comfort and support, the Saatva Latex Hybrid stands out for its eco-friendly materials and its natural latex layer that provides a unique feel and additional benefits such as breathability and pressure relief.
The Saatva Latex Hybrid mattress is not entirely organic, but it does incorporate several organic and eco-friendly materials in its construction. Here are some of the organic components found in the mattress:
Organic cotton cover: The mattress features a cover made from organic cotton, which is a more sustainable and chemical-free option compared to conventional cotton. Organic cotton is grown without the use of synthetic pesticides, fertilizers, or genetically modified organisms (GMOs).

Organic wool: A layer of organic wool is used within the mattress as a natural flame retardant and temperature regulator. Organic wool is sourced from sheep raised without the use of harmful chemicals, and it is processed using eco-friendly methods.

Natural Talalay latex: The mattress includes a layer of natural Talalay latex, which is derived from the sap of the rubber tree. Although not certified organic, natural latex is an eco-friendly and renewable resource, as it is harvested from sustainable sources without the use of synthetic materials.
While the Saatva Latex Hybrid mattress is not 100% organic, it does incorporate a significant amount of organic and eco-friendly materials, making it a more environmentally-conscious choice for consumers who prioritize sustainability and natural materials.
More Products from Saatva
| Product Image | Product Name / Price | Primary Button / Secondary Button |
| --- | --- | --- |
| | | |
| | | |
| | | |
| | | |
| | | |
| | | |
| | | |