The Puffy mattress company was founded in 2017 by Arthur Andreasyan, who has a background in e-commerce and retail. Andreasyan was inspired to start the company after having a negative experience with buying a mattress online. He felt that the process was too confusing and that there weren't many good options available.
Andreasyan set out to create a mattress company that would offer a better customer experience. He wanted to create a mattress that was comfortable, affordable, and easy to buy. He also wanted to offer a generous sleep trial and warranty.
The Puffy mattress was launched in 2018 and quickly became one of the most popular mattresses on the market. The company has been praised for its customer service, its high-quality products, and its affordable prices.
In 2021, Puffy launched the Puffy Lux Hybrid Mattress, which is a premium hybrid mattress that combines the comfort of foam with the support of coils. The Puffy Lux has been even more popular than the original Puffy mattress, and it has won numerous awards from sleep experts and industry publications.
Today, Puffy is one of the leading mattress companies in the world. The company sells its mattresses online and in select retail stores. Puffy is also expanding into other sleep products, such as pillows, sheets, and bed frames.
Here is a brief timeline of the history of Puffy mattress:
2017: Puffy mattress company is founded by Arthur Andreasyan.
2018: Puffy mattress is launched and quickly becomes one of the most popular mattresses on the market.
2021: Puffy launches the Puffy Lux Hybrid Mattress, which is a premium hybrid mattress that combines the comfort of foam with the support of coils.
2023: Puffy is one of the leading mattress companies in the world, selling its mattresses online and in select retail stores.
Puffy is committed to providing its customers with the best possible sleep experience. The company offers a generous 101-night sleep trial and a lifetime warranty on all of its mattresses. Puffy is also known for its excellent customer service.
Puffy Lux Mattress Review 2023 Update
The Puffy Lux Hybrid is a side-sleepers dream. I was given a free queen-size Puffy Lux for review.  It is a super soft mattress that still provides good support and ultimate pressure relief. However luxury is not cheap. A queen size retails for $1,595 after discounts. This mattress is a 6 layer sleep system that seamlessly blends each layer for the ultimate in pressure relief

Ordering and Unboxing the Puffy Lux
The Puffy Lux is available exclusively on the Puffy website. Ordering is easy and your mattress will arrive quickly. Mine took about a week after the order was placed.  This mattress comes with a 101 night trial period so shipping is free and returns are also completely free if you return within the trial period. Your mattress will come shipped in a box like the one below.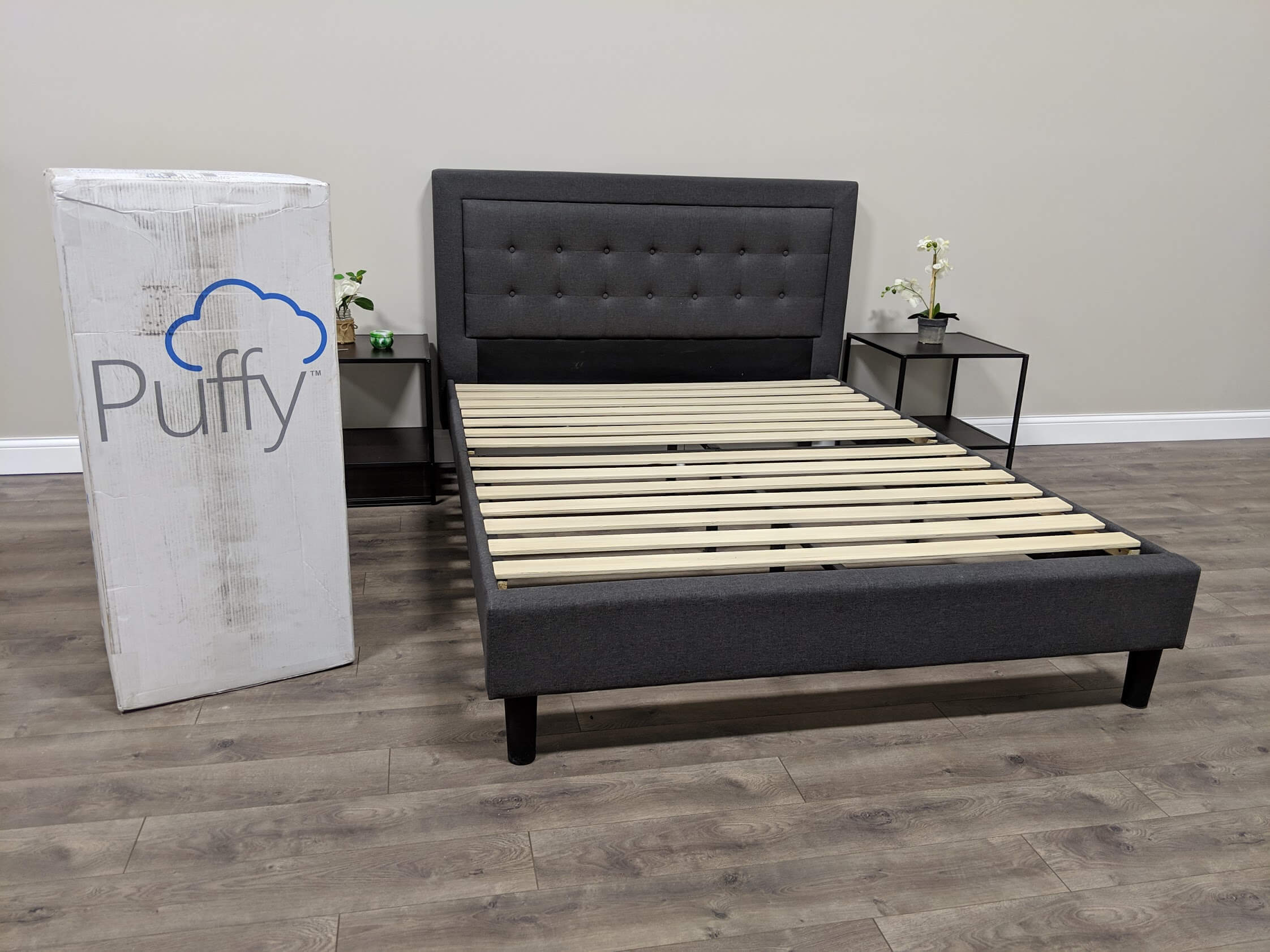 Here's a photo of what it looks like outside the box. Because it is roll packed it will take some time to decompress but not that long. It should be ready to sleep on within about 8 hours. You may notice some off-gassing beyond that time though so if you are sensitive to that, I would give it a full day to air out.

Overview of the Puffy Lux Mattress
Here's a little video of the Puffy Lux in action. What you'll notice is that compared to the original Puffy you will sink into this mattress even more.
How Much Does the Puffy Lux Cost?
Below are the current prices as listed on their website.
The Puffy Lux Hybrid Mattress costs $2,149 for a queen size. However, Puffy often has sales, especially during major holidays, where you can save up to 30% off your purchase. You can also often score free bedding with your purchase, which adds to the overall value.
The Puffy Lux is a hybrid mattress, which means it uses a combination of foam and coils. This gives the mattress the best of both worlds: the comfort and pressure relief of foam, with the support and bounce of coils.
The Puffy Lux is also a medium-plush mattress, which makes it a good choice for most sleepers. It's soft enough to provide pressure relief, but firm enough to provide support.
Overall, the Puffy Lux is a high-quality mattress with a competitive price. It's a good choice for sleepers looking for a comfortable and supportive mattress.
Construction of the Puffy Mattress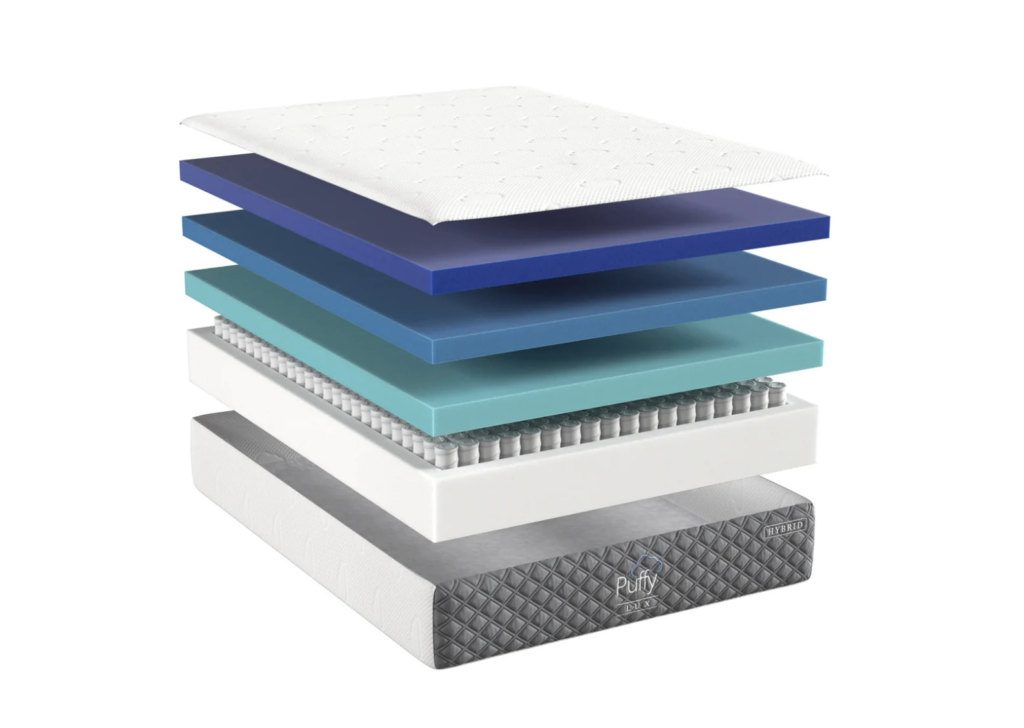 Here are the construction specification in Puffy's own words:
Stain-Resistant Cloud Cover
Hypoallergenic top cover keeps your mattress squeaky clean and fresh.
Cooling Cloud™ Foam
1.5 inches of gel-infused breathing foam for sleep that's easy, breezy, and comfortable.
Plush Dual Cloud Foam
1.5 inches of pressure-relieving cloud foam for minimal strain and maximum recovery.
Climate Comfort™ Foam
2 inches of humidity-resistant foam wicks away moisture for sleep that's never stuffy.
Firm Core Support Foam + Contour-Adapt Coils
7 inches of high-density foam with a contour-adapt coil base to help stabilize your mattress with advanced edge support.
Grip Base Cover
Helps your mattress stay put as you toss and turn to your heart's content.
What is the Puffy Lifetime Warranty?
I always advise people to read the fine print but here's the warranty in a nutshell. I think having a 101 night trial period is more important since it will give you ample time to decide if this is a good fit and if not, it's a free return within the trial period.
In the event that we in our sole discretion determine that your Defect is legitimate as per this Warranty, your choice in remedies will be:
During your first 10 years of owning your Puffy™, we will replace your bed with a brand new Puffy™ Mattress free of charge.
Beyond the first 10 years, Puffy™ will completely repair or replace your Puffy™ mattress. There may be a $50 shipping charge incurred each way. However, Puffy™ will waive all transportation charges if it is confirmed that a materials or manufacturing defect(s) is(are) present.
At your discretion, Puffy™ offers a "Quick Sleep" offer after the first 10 years of coverage. Should you choose this option you opt to keep your original Puffy™ foam mattress. Instead of us repairing/replacing your original defective mattress, we deliver you a brand new Puffy™ at half of the original price you paid.
My Puffy Lux Findings
Here's a picture of how much my 14 lb. bowling ball sinks into the mattress. As you can see you get quite a bit of sinkage, even more sink than the original Puffy.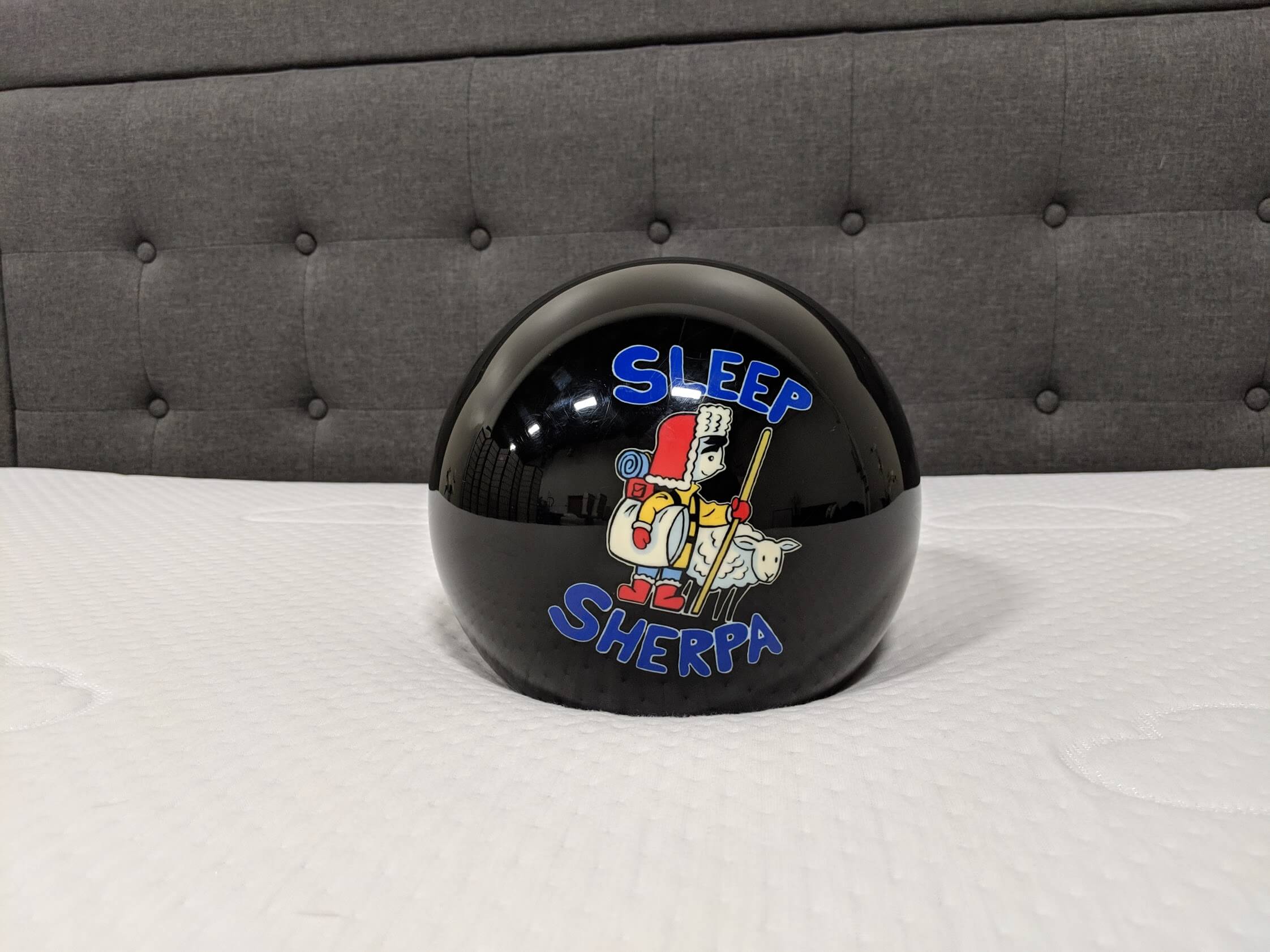 In terms of motion transfer there basically isn't any. It's an all foam mattress with lots of foam so you won't wake your partner at night. I don't think you will be moving much anyway since this mattress is so good at pressure relief you will likely stay in the same position longer on this mattress.
Here's a look inside the Puffy Lux to give you a better idea of how each layer reacts. The top layer which is the comfort layer is the slowest to relax but that's because it needs to provide maximum contouring. The middle layer is a transition layer which has some contouring and some support benefits. The bottom layer or base layer is the support layer and provides a solid, consistent sleep surface.
My Puffy Lux Recommendation
While this mattress is a bit pricier than its competitors, I am very happy with how well it relieves pressure. Dedicated side sleepers will really appreciate this and especially if you have tried other soft mattresses that just don't cut it. I can't claim that this mattress is for everyone and that's OK. The Puffy Lux was designed to address the most pressing needs of side sleepers which is shoulder and hip pressure relief and excellent contouring. If you are a side sleeper on the hunt for pain relief and aren't happy with the alternatives, give the Puffy Lux a try.

Puffy Consumer Reports Rating
Puffy mattresses are highly rated by Consumer Reports. The Puffy Lux Hybrid Mattress is ranked #13 in Consumer Reports' Best Mattresses of 2023 rating. Consumer Reports praises the Puffy Lux for its pressure relief, edge support, and motion isolation.
Consumer Reports also notes that the Puffy Lux is a good choice for sleepers of all weights and sleeping positions. However, the company does warn that some sleepers may find the Puffy Lux to be too soft.
Overall, Consumer Reports recommends the Puffy Lux Hybrid Mattress as a good value for the price.
Here is a summary of Consumer Reports' ratings for the Puffy Lux Hybrid Mattress:
Pressure relief: Excellent
Edge support: Excellent
Motion isolation: Excellent
Firmness: Medium-plush
Overall rating: Good value for the price
It is important to note that Consumer Reports only tests a small sample of mattresses each year. Additionally, Consumer Reports' ratings are based on a variety of factors, including performance, features, and price. As a result, it is important to consider your own individual needs and preferences when choosing a mattress.
If you are considering a Puffy mattress, I recommend reading the reviews from other consumers. This can give you a better idea of how the mattress performs for different people. You should also take advantage of Puffy's 101-night sleep trial so that you can try the mattress out for yourself before you commit to buying it.