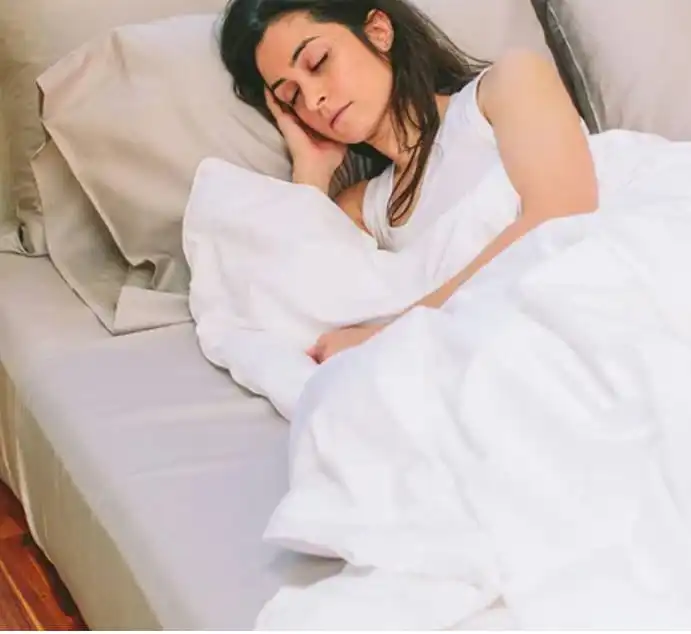 We earn a commission if you make a purchase, at no additional cost to you.
Benefits of a Silk Comforter
Before we get into the Nest silk comforter review, let's go over the biggest benefits of a silk comforter. If you have never owned a silk comforter, you are in for a totally different sleep experience. Here's a few things you can expect. 
Silk Comforters drape your body closely and eliminate any air gaps giving you a more consistent temperature across your body and throughout the night. 
Silk comforters are better than cotton, wool and even down at regulating temperature, you won't get too hot or too cold meaning you will stay asleep longer and less prone to changing positions at night. 
Silk comforters are thinner than a typical down comforter which means they are lighter but work better than a down comforter. 
You can use a silk comforter in a warm or cold environment. Either way they will feel great. 
It's hard to beat a silk comforter when it comes to durability. This could easily be the last comforter you ever buy if you take care of it. 
The Nest Silk Cloud Comforter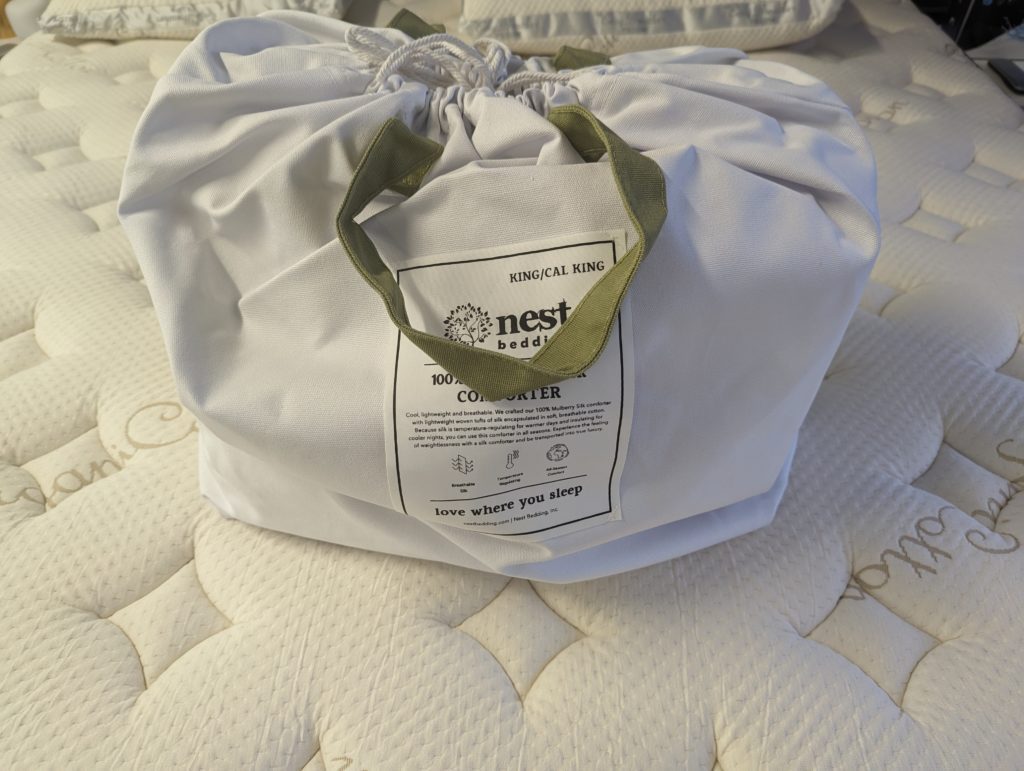 I recently received a silk comforter from Nest Bedding for review.  Let's just start out by saying you can go crazy with silk. Frette sells their Villa Silk Duvet Filler for $3,100 in a king, and I'm sure it's amazing but you don't need to break the bank to get the benefits of silk. The Nest silk comforter sells for $499 in a king/cal king.
Even if you have a queen size bed, I recommend going with the king size since it will cover more of your bed and you won't have to fight your partner for bedding at night. 


When you order through Nest, you package will arrive in a nondescript box and inside it will be wrapped in plastic. 
The comforter itself is also wrapped in plastic just in your package gets wet al0ng the way. You also get a nice cloth bag to store the comforter when not in use.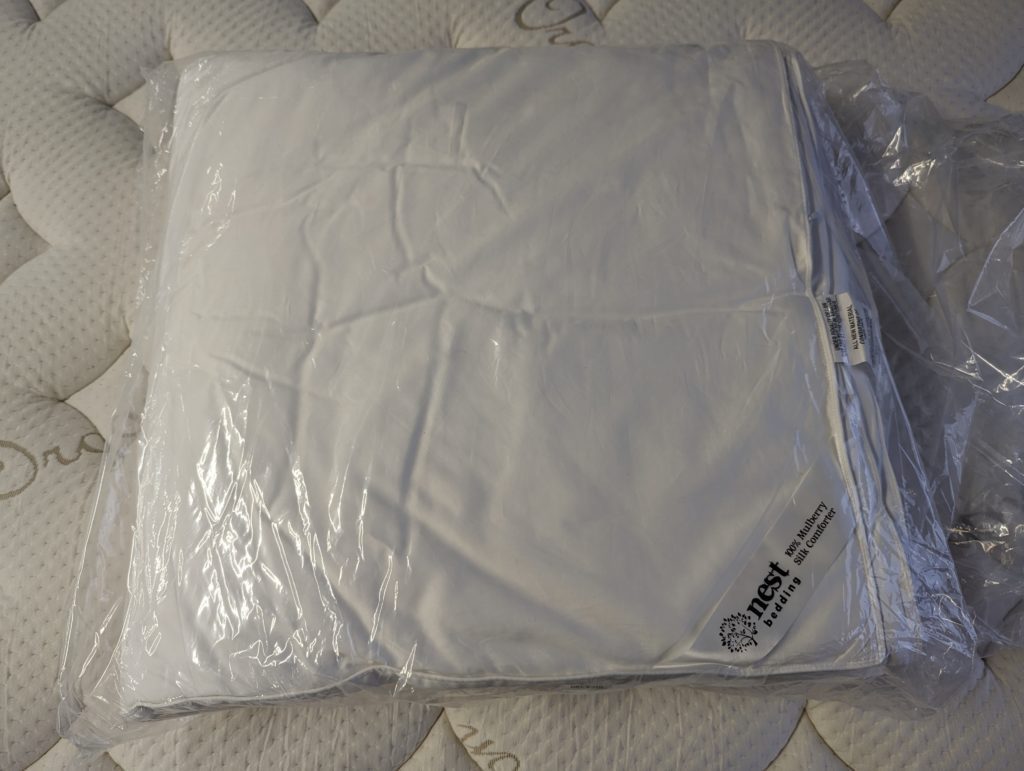 Once opened you can start using it right away, there's not harmful smells and it feels great right out of the box. I do recommend a duvet cover to keep it clean though. I recommend a bamboo or Tencel duvet and sheet set to further help regulate temperature and keep you cool. 
As you can see, this duvet is fairly thin compared to 
Most other silk comforters sold online have a minimal amount of filling, but not ours. Our Mulberry silk comforter fill amount is 200gsm/ 2.0 Kg. We found after extensive research and testing, that 200gsm is the perfect fill amount to make this comforter best for all seasons. Experience the feeling of weightlessness with a Silk Cloud Comforter by Nest Bedding.
Breathable and naturally wicks moisture. 
Mulberry Silk fill feels like no other.
Sleeps cool during the summer and lightly warm during the winter.
Temperature regulation for all four seasons.
White color, with loops for duvet attachment.
Reusable carry tote; simply snip off our logo and reuse it for storage or as a carry tote.
Dimensions
Full/Queen 86″ x 90″
King/Cal King 104″ x 94″

Cover Material
100% Organic Sateen Cotton, 300-TC
Fill Material
100% Mulberry Silk, 200-GSM/ 2.0 Kg
19 momme, Grade 6A Silk floss. 
Spot clean or dry clean only. 
If stained, dap stains with a clean white cloth with a vinegar and water mixture. Let air dry in sun. 
Machine washing is not recommended. If you must machine wash this silk comforter, do so on a delicate rinse cycle only, and do not spin. Machine dry with wool dryer balls on a air-dry cycle or hang dry in the sun.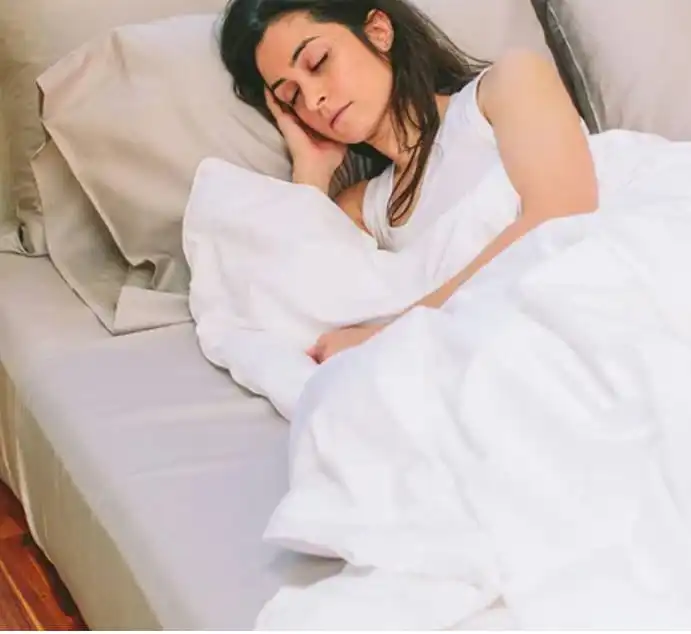 We earn a commission if you make a purchase, at no additional cost to you.