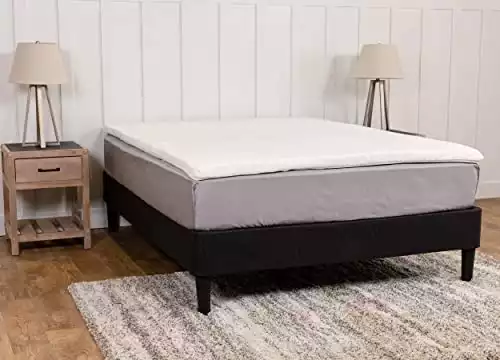 We earn a commission if you make a purchase, at no additional cost to you.
The MyPillow mattress topper is unique in several ways:
Triple-layered construction: The MyPillow mattress topper is made up of three layers of different types of foam, each with its own unique properties. The top layer is made of MyPillow's patented foam, which is designed to provide superior support and durability. The middle layer is made of transitional foam, which provides optimal comfort and helps to evenly distribute body weight. The bottom layer is made of a supportive base foam that provides a solid foundation for the entire topper.
Phase change material (PCM) cover: The MyPillow mattress topper cover is made with a PCM fabric that helps to regulate body temperature throughout the night. PCM is a material that absorbs and releases heat as needed, helping to keep you cool in the summer and warm in the winter.
Removable and washable cover: The MyPillow mattress topper cover is removable and machine washable, making it easy to keep clean and fresh.
Affordable price: The MyPillow mattress topper is relatively affordable compared to other mattress toppers on the market.
In addition to these unique features, the MyPillow mattress topper is also backed by a 60-day money-back guarantee and a 10-year warranty. This gives you peace of mind knowing that you can return the topper if you're not satisfied, or if it becomes defective within the warranty period.
Overall, the MyPillow mattress topper is a unique and affordable option that offers a variety of benefits, including superior support, comfort, and temperature regulation.
MyPillow is one of the best bedding brands in the market. It comes with a price to match the quality it provides but don't let that deter you from opting for its brand-new mattress topper. Whether you want to give new life to your old mattress or are looking for a serious bed overhaul, the MyPillow mattress topper is just the thing for you. It is the best value for money mattress topper out there and is guaranteed to change the way you sleep forever. Good sleep begins with a good mattress. You need to have the perfect comfort and support balance to get that perfect night's rest. Unfortunately, your mattress can play havoc with this since mattresses tend to get old pretty quickly. This is where a good mattress topper helps you by saving you from that extra budget stress of buying a brand-new mattress. This review shall take you through the all-new MyPillow mattress topper and why it should rank high in your to-buy checklist.
What is MyPillow Mattress Topper
MyPillow started by manufacturing only pillows. Over the years, MyPillow has branched out to manufacture mattresses, mattress toppers, and sheets along with their patented pillows. They use the same foam they use for their pillows in their mattresses. The mattress topper is made of foam and sports a multi-layer foam structure. This is coupled with phase changing cover designed to provide the optimal cooling experience and comfort right through the night. It also claims to help calm and ease any pain you might have through its pressure points and keeps your body temperature well-regulated during sleep. The main features of the MyPillow mattress topper are:
Optimal Design for Optimal Comfort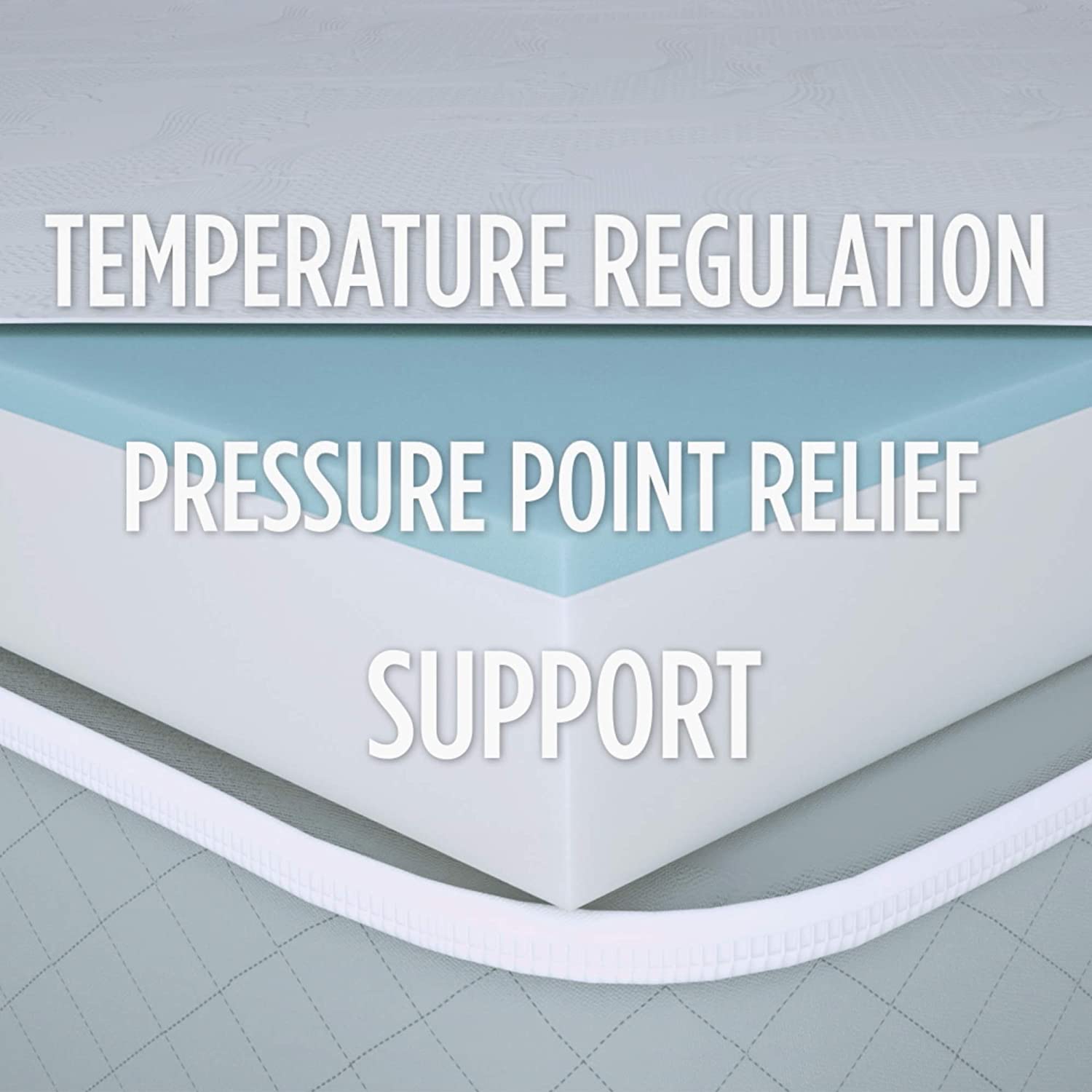 MyPillow Mattress topper comes with a 3-layer design and sports a 3-inch depth. Each of these three layers is individually built, and they each play a different role. These layers are:
Top Layer
: This layer is made of a dense yet thin foam structure and is responsible for the even distribution of the body weight, which helps to ease the body pressure and provide good support to the body frame.
Middle Layer
: The middle layer is made of firm foam. It supports the top layer structure and provides firmness to the mattress.
Lower Layer
: This layer is responsible for the contouring of the mattress and is made of solid foam meant to give support.
Corner Straps
The good thing about the MyPillow mattress topper is its eye for detailing and practicality. It is very difficult to keep a topper in place. Most toppers come with an array of wires and support things to keep them in place. MyPillow keeps it simple yet functional with four corner straps. These straps are made of high-quality, durable materials that ensure that they do not easily succumb to wear and tear or breakages. They also secure the mattress properly, so there is no mattress slides or unexpected slips.
Zip Closure Cover with Temperature Regulation
The cover of the MyPillow mattress topper comes with a zip closure. The material itself has temperature-regulating properties that enable it to absorb body heat keeping you nice, cool, and relaxed during the night. The zip ensures easy maintenance. You just have to unzip the cover of the mattress topper and throw it in the washing machine whenever you want to clean it. It is also recommended for tumble dry, or you can hang dry as well.
Available in All Sizes
You will find that generally, mattress toppers are only available in any one size. With MyPillow mattress topper, you can be assured to get the size you want. Apart from the average mattress, they have the full range available for you to choose from, including RV Queen and California King.
Ease of Transport
The mattress toppers are vacuum sealed and can easily be folded. This makes for easy transport even when dealing with an RV queen-sized mattress topper.
Competitive Price Point
MyPillow mattress toppers are slightly on the expensive side, but they are highly competitive for the quality they provide. The good news about this is that they regularly feature on the seasonal sales where you can easily pick one out for a fraction of its original cost.
Attractive After-Sales and Warranty Policy
The after-sales service provided by MyPillow mattresses is excellent. This is a company that believes in its products and likes to stand by them. They offer you a 60-day hassle-free and easy return policy. It also features an attractive 10-year warranty.
The Good and the Bad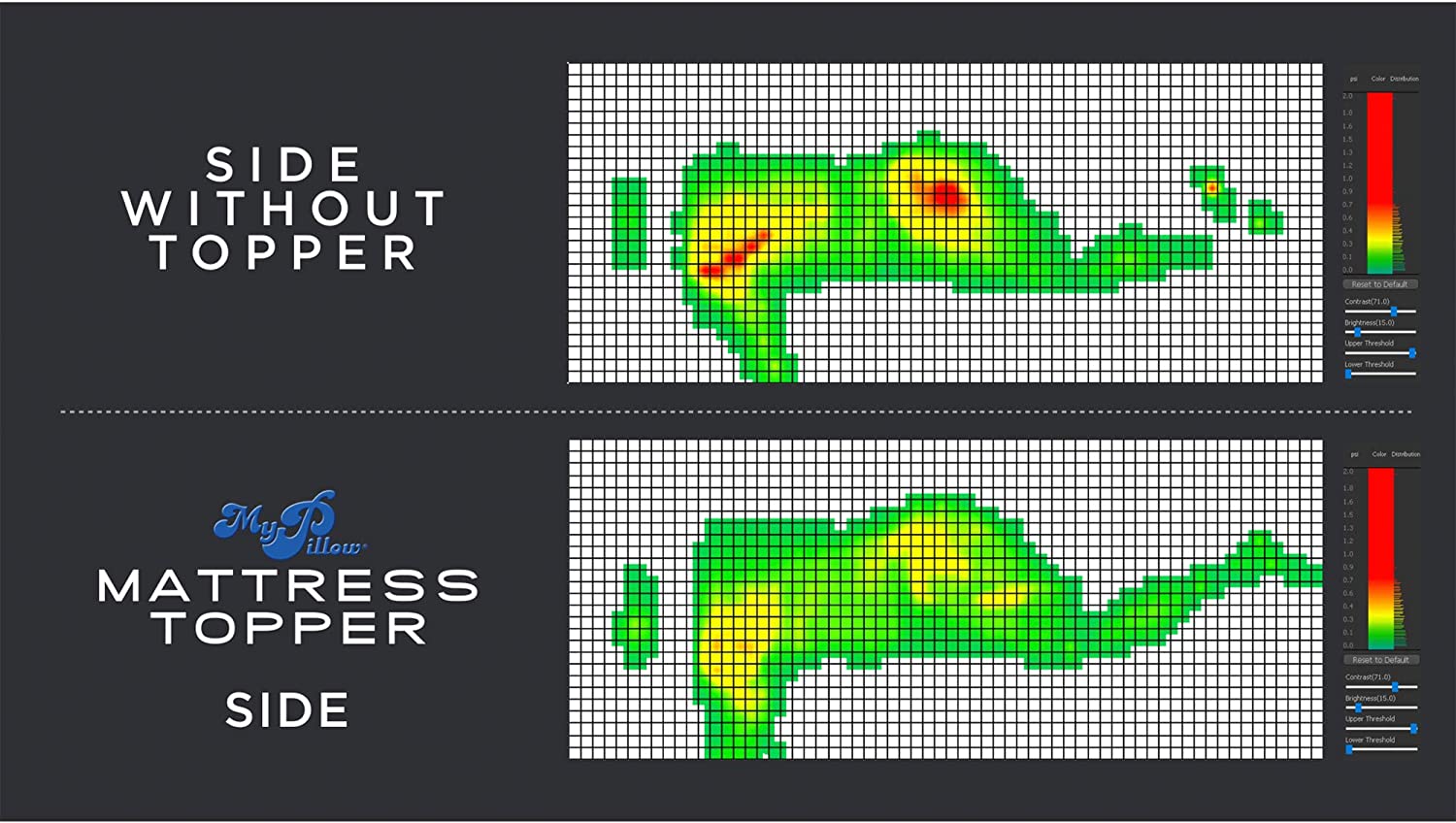 CEO of MyPillow guarantees that their foam mattress topper will transform your bed into the "most comfortable bed" you ever had. The only question that arises now is that does the MyPillow mattress topper justify the price point it sells at. Here is a list of the pros and cons that will help you get a clearer picture:
Pros
A perfect blend of firmness, comfort, and contouring
Effective in increasing the shelf life of old mattresses
Highly durable
Simple and functional design
Known to ease joint pains and pressure points discomfort
Available in all sizes
Cons
The top layer is a little too firm
Expensive price point
Not suitable for hot sleepers
How Much Does It Cost?
MyPillow mattress topper price ranges between $284.99 for a twin size to $499.99 for a California King and Queen size. They come with two free standard pillows, and financing is available for over $200. Shipping costs are $29.95 and take 7 to 10 days from FedEx.
Last Thoughts
Mattresses toppers are an excellent way of extending the life of your mattress. Given how expensive mattresses are, they cannot be replaced frequently. In this scenario, it is always wise to help keep them in optimal condition for as long as you can. MyPillow mattress topper is a wonderful choice for this purpose. It is the best in its line, and the build quality makes it worth the extra money.
Shop the My Pillow Mattress Topper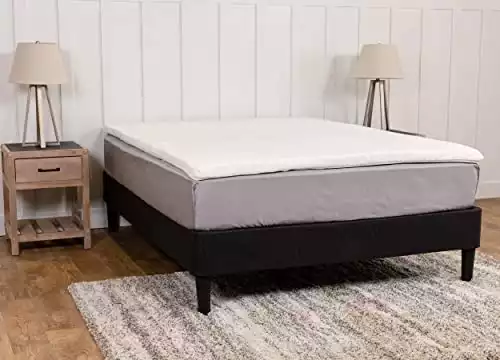 We earn a commission if you make a purchase, at no additional cost to you.
My Pillow Mattress Topper FAQ
Do pillow top mattress toppers work?
Yes, pillow top mattress toppers work. They can add a layer of softness and comfort to your mattress, making it more plush and inviting. Pillow top mattress toppers can also help to relieve pressure points and improve your sleep quality.
Does my pillow make a mattress pad?
No, your pillow does not make a mattress pad. A mattress pad is a thin layer of padding that goes on top of your mattress to protect it from wear and tear and to add a bit of extra comfort. A pillow is a much thicker and softer object that is used to support your head and neck while you sleep.
Is the My Pillow mattress topper cooling?
The My Pillow mattress topper is not specifically designed to be cooling. However, it is made of memory foam, which is a material that is known for its ability to absorb heat. This means that the My Pillow mattress topper may help to keep you cool at night.
What is the best mattress topper around?
The best mattress topper for you will depend on your individual needs and preferences. However, some of the most popular and highly rated mattress toppers include:
Casper Sleep Wave Hybrid Mattress Topper
Tuft & Needle Mattress Topper
Layla Sleep Copper Infused Memory Foam Mattress Topper
Tempur-Pedic Cloud Breeze Mattress Topper
Zinus Ultima Memory Foam Mattress Topper
When choosing a mattress topper, it is important to consider the following factors:
Material: Mattress toppers are made from a variety of materials, including memory foam, latex foam, and down. Each material has its own unique properties and benefits.
Thickness: Mattress toppers come in a variety of thicknesses. A thicker mattress topper will provide more cushioning and support, but it may also be more expensive.
Firmness: Mattress toppers come in a variety of firmnesses. If you have a soft mattress, you may want to choose a firmer mattress topper. If you have a firm mattress, you may want to choose a softer mattress topper.
Price: Mattress toppers can range in price from around $100 to $1000. It is important to set a budget before you start shopping.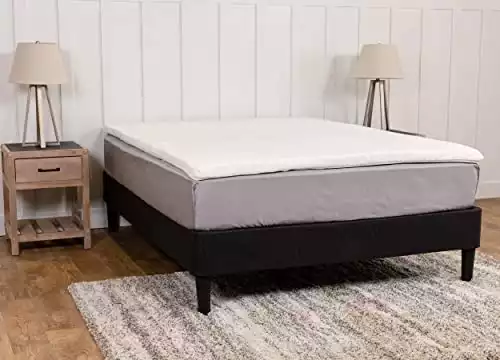 We earn a commission if you make a purchase, at no additional cost to you.
As of August 4, 2023, Mike Lindell, the founder and CEO of MyPillow, has not been arrested or charged with any crimes. However, he is currently under investigation by the FBI for his role in the January 6th, 2021 attack on the U.S. Capitol.
Lindell is a vocal supporter of former President Donald Trump and has repeatedly made false claims about the 2020 election being stolen. He was also present at the White House on January 6th, where he met with Trump and other Trump allies.
In the days and weeks leading up to the January 6th attack, Lindell promoted the idea that the election had been stolen and that Trump should be reinstated as president. He also donated money to groups that were organizing the attack.
It is important to note that Lindell has not been charged with any crimes related to his alleged role in the January 6th attack. He is currently under investigation by the FBI and it is unclear whether he will be charged with any crimes in the future.