Allswell made a splash with extremely affordable mattresses and bedding. They now offer innovative mattress toppers at a great price. The lineup includes a 3′ graphite infused topper and a 3″ and 4″ graphite and copper gel topper. A mattress topper is an affordable way to make a firm mattress softer. If your mattress sags, you probably need a new mattress but if the problem is firmness, these toppers are the way to go. They also come with a 30-night trial which gives you time to know for sure if they are solving the problems with your mattress.
Overview of the Allswell Mattress Toppers
These mattress toppers are available exclusively on their website. You can even opt for 2-day shipping to get it extra fast. It will arrive in a box and come wrapped in plastic. As you can see below it is super compact but comes to life quickly and is ready to sleep on in a few hours.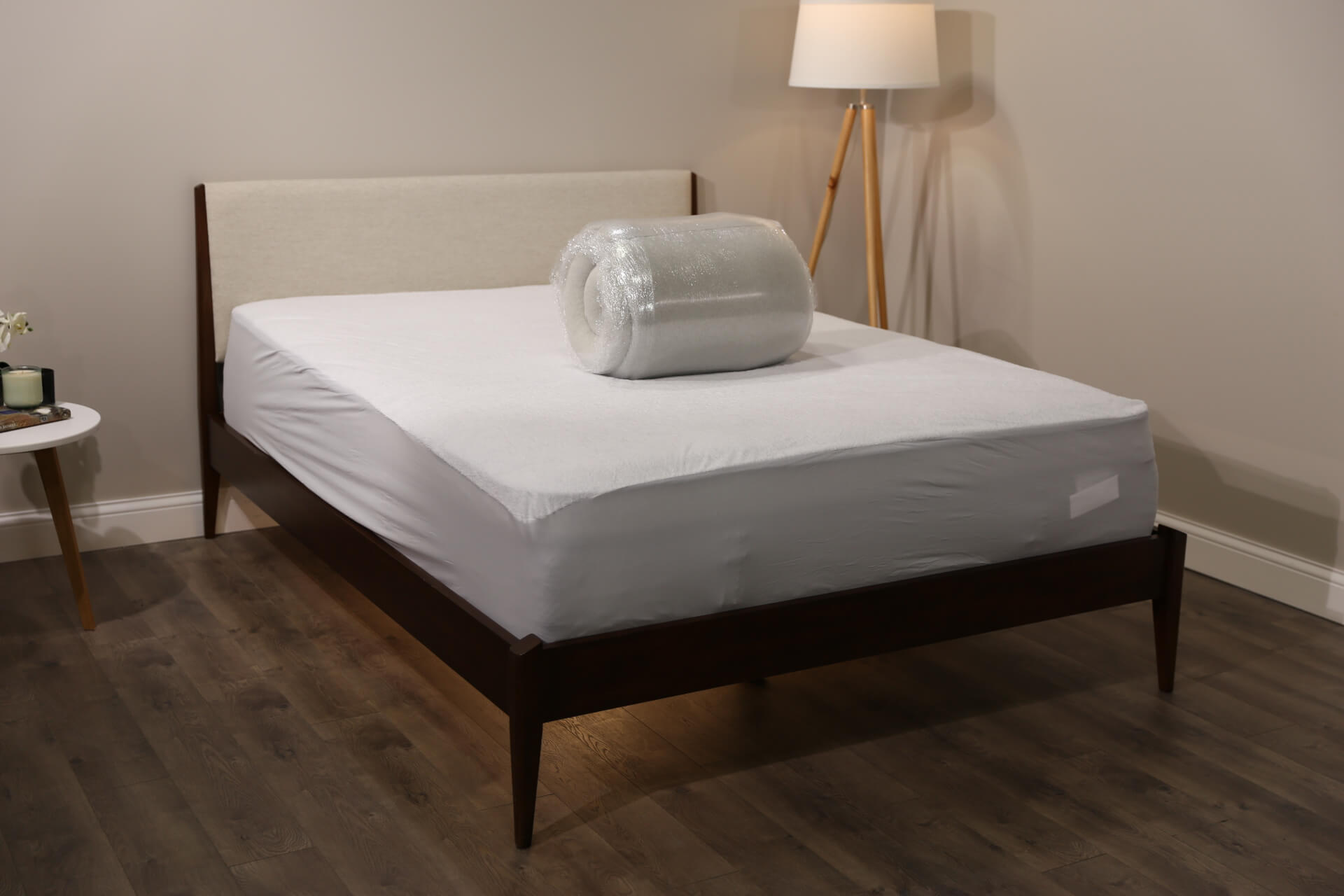 The video below is an overview of the 3″ graphite infused topper. This is their most affordable option and is best for people looking to make their mattress softer while not compromising any support.
This video explains the benefits of the 4″ graphite and copper gel topper. It is ideal for side sleepers who want optimal pressure relief.
Allswell Mattress Topper Construction
A mattress topper is basically an extra layer of your mattress so whatever issues are underneath it will still exist. I only recommend a topper if your original mattress is just too firm. Mattress toppers have a tendency to trap more heat than your mattress but Allswell has incorporated graphite into their foam to mitigate this. Basically, graphite is highly conductive and draws heat away faster than a traditional topper.
The 4″ Cool Touch topper adds in a copper gel material. Copper is also conductive and has antimicrobial properties. The top layer of this mattress has phase change material which is cool to the touch. You will see a white stripe across the middle of the topper where the effect is strongest and where your body will likely need it the most. Keep in mind that the more layers you put over the topper, the less noticeable the effect.
In the picture below you can see the white stripe in the middle of the topper which is the coolest part.

Here's a pic of my 14 lb bowling ball on the topper to illustrate sinkage.

Below is a pic of the 3″ graphite topper.


Allswell Mattress Topper Cost
Below are the prices of the toppers as of this writing. As you can see it is certainly a more budget-friendly option over buying a new mattress.
Why You Should Invest in a Graphite Infused Mattress Topper
Mattress toppers have long been prized for their ability to enhance the comfort and longevity of a mattress. However, the advent of new materials like graphite infusion has revolutionized the mattress topper industry, offering a plethora of unique benefits. Here are some compelling reasons to invest in a graphite infused mattress topper:
1. Superior Temperature Regulation
One of the most notable advantages of graphite infused mattress toppers is their superior temperature regulation. Graphite is a natural heat conductor, which means it can effectively draw heat away from the body and disperse it, keeping you cooler as you sleep. This makes graphite infused mattress toppers a perfect solution for those who tend to sleep hot or live in warmer climates.
2. Enhanced Comfort
Beyond temperature regulation, graphite infused mattress toppers also enhance overall sleep comfort. These toppers offer a plush, supportive surface that can alleviate pressure points, leading to fewer aches and pains and a more restful night's sleep.
3. Durability
Graphite infused mattress toppers are known for their durability. The infusion of graphite strengthens the topper's structure, reducing the risk of sagging, indentations, or wear and tear over time. This can prolong the lifespan of both the topper and the mattress itself.
4. Hypoallergenic Properties
Graphite naturally possesses antimicrobial properties, making these toppers a good choice for allergy sufferers. A graphite infused topper can help reduce the presence of allergens in your bed, promoting a cleaner, healthier sleep environment.
5. Eco-Friendly Choice
Graphite is a naturally occurring element, and its use in mattress toppers offers an eco-friendly alternative to synthetic materials. For those who prioritize environmentally conscious products, a graphite infused topper can be a sound investment.
6. Improved Sleep Quality
By combining all the benefits – from temperature regulation to enhanced comfort and hypoallergenic properties – a graphite infused mattress topper can significantly improve the quality of your sleep. Better sleep quality, in turn, can contribute to improved overall health and well-being.
Investing in a graphite infused mattress topper can provide a host of benefits, making it a worthwhile consideration for anyone seeking to upgrade their sleep experience. As with any bedding purchase, it's recommended to consider your personal sleep preferences, needs, and budget before making a decision.
Why Should You Get an Allswell Mattress Topper?
I have found that as I age, I become more particular about my mattress. As a kid, I could sleep on just about anything, anywhere. Now, if my mattress isn't calibrated to a specific firmness, I just don't get quality sleep. Mattress toppers are an economical way to address pressure point issues. They are also much more compact than a mattress and easier to return. Mattress topper technology has evolved along with mattress technology by offering you the latest cooling and comfort materials so adding a topper is going to be an upgrade.
Considering a typical online foam mattress is 10 inches thick and retails for around $800 in a queen size, a 3″ queen size topper for $109 is a lot more mattress for the money. You also need to consider that the base layer in foam mattresses is a support layer so again, if your support layer on your existing mattress is sound, you are getting a lot for your money.
My Allswell Mattress Topper Recommendation
If you wake up with a sore back, that may be a structural issue with your mattress and you should consider buying a new mattress with proper support. If your mattress is still in good shape, adding a topper is the way to go. For most people, a 3″ topper will do the trick but if you are a side sleeper and tend to sleep hot, definitely go with the 4″ cool touch option. Allswell is making a name for itself by becoming a value leader with mattresses and they do the same with this strong lineup of mattress toppers.