The company Bed in a Box was one of the pioneers of offering compressed mattresses online. Their Silk Symphony Mattress is a two-sided mattress with one side being relatively soft and the other firm. This mattress comes with a 120-night trial and 20-year warranty. Bed in a Box makes all their mattresses in the USA. This company has been around long before the latest wave of online brands. They also offer the whole bedroom solution from pillows to adjustable beds.
Overview of the Silk and Symphony
Here's a quick video overview of the mattress. For the video, I am sitting on the soft side.
True to its name, here's the box that it comes in. Shipping takes about a week.
Upon opening the box I found a nice t-shirt and a cozy blanket. A great addition and nice surprise.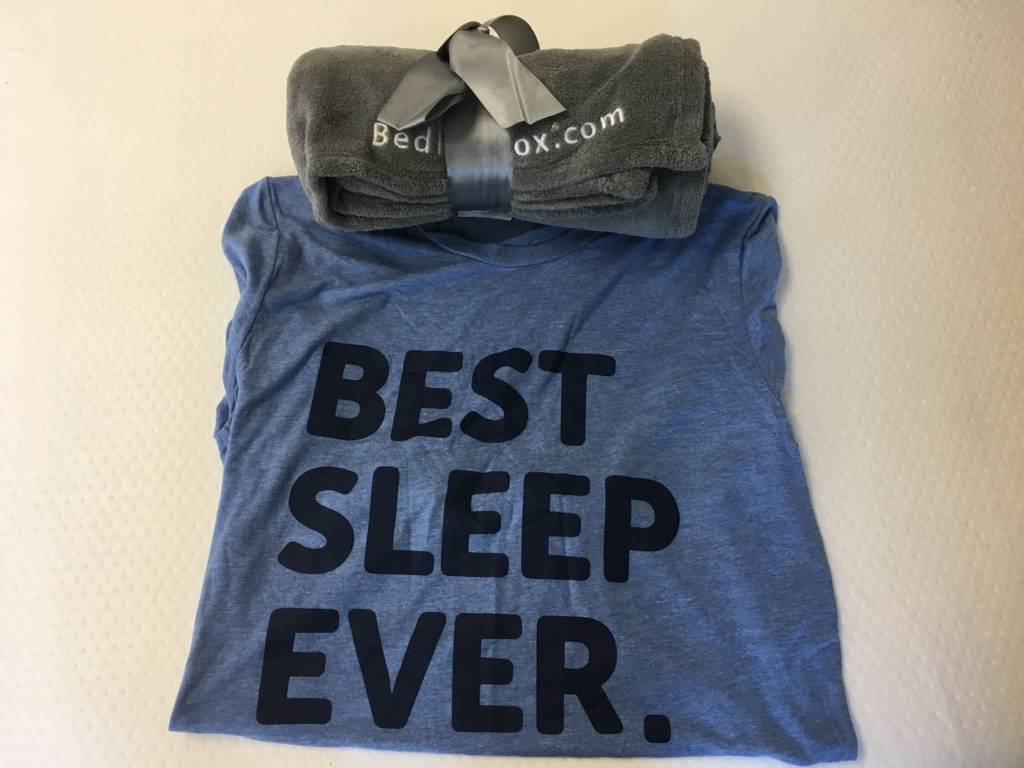 How Much Does the Silk Symphony Cost?
Here are the current prices as listed on their website:
Twin   $1,049
Twin XL  $1,099
Full $1,499
Queen $1,599
King $1,699
Cal King $1,699
Construction of the Silk Symphony Mattress from Bed in a Box

Here are the construction specifications as listed on their website:
1 SILK BLENDED COVERQuilted & moisture wicking
2″ Quilted-top
Made with a silk blend for beauty, comfort and durability
Silk is the strongest (and one of the softest) natural fibers
Has a high rate of absorbency and will draw moisture away from the body, allowing you to sleep cooler
Two layers of soft quilting foam that works with memory foam to relieve pressure
Flip Side: Flat-Stitched
A breathable silk blend cover
1″ of firming foam quilted into the cover to offer extra support for those who like a very firm mattress
Accommodates back and stomach sleepers
2 3″ COOLREST® GEL FOAMSleep cooler & relieve pressure
Perfectly contours to your body providing improved pressure relief to reduce tossing & turning
Open cell structure increases air flow, contributing to a cooler sleep
Reduces motion transfer, allowing you to move without waking your partner
3 lb density rebounds (takes it shape) quicker making it easier to change positions
3 8″ SUREALIGN FOAM Support & align your spine
Designed to support & correctly align your spine so you can sleep better with less tossing & turning
Works in tandem with CoolRest® Gel memory foam and provides perfect support for long-lasting comfort
Helps to distribute body weight evenly across the mattress
2.4 lb density core is more durable than conventional foams & accommodates any sleep position
My Silk Symphony Findings
I first tried the soft side of the mattress and that's the side I like best. Here's a picture with my bowling ball that illustrates how much sinkage you can expect. The bowling ball weighs 14 lbs.
Here's the same bowling ball on the firm side of the mattress where you will notice it doesn't sink much at all.
I unzipped the cover to see how it was constructed.
Here's a picture of the layers.
This video will how each layer reacts. In this video the top layer is the soft side. The bottom layer is the firm side.
To give you an even better idea of how this mattress feels, here's a video that illustrates motion transfer on the mattress.
Here's a video showing how fast heat dissipates from the top of the mattress. I found this mattress to sleep fairly cool for being all foam.
My Silk Symphony Recommendation
The Silk Symphony is an excellent mattress for people who want an initial plush feel but want really good support. Although it looks like you can really sink into this mattress, I found that it gives great support and will sleep cool. This is the first mattress I tried where there is silk blended into the cover. I'm not sure how much silk is used compared to other material but it definitely has a silky smooth feel and silk is great for regulating temperature as anyone with a silk comforter can tell you.
The Silk Symphony is on the pricier end of the spectrum at $1,599 for a queen size however it is two-sided and you get two comfort levels built in so it would make a great mattress for guests.
Also, because it has two firmness options, It is great for all sleep types.
Here is a list of all BedInABox.com models and prices, as of October 12, 2023:
| Model | Size | Price |
| --- | --- | --- |
| Essential Memory Foam Mattress | Twin | $399 |
| Essential Memory Foam Mattress | Twin XL | $449 |
| Essential Memory Foam Mattress | Full | $499 |
| Essential Memory Foam Mattress | Queen | $599 |
| Essential Memory Foam Mattress | King | $699 |
| Original Hybrid Mattress | Twin | $499 |
| Original Hybrid Mattress | Twin XL | $549 |
| Original Hybrid Mattress | Full | $599 |
| Original Hybrid Mattress | Queen | $699 |
| Original Hybrid Mattress | King | $799 |
| Azul Memory Foam Mattress | Twin | $599 |
| Azul Memory Foam Mattress | Twin XL | $649 |
| Azul Memory Foam Mattress | Full | $699 |
| Azul Memory Foam Mattress | Queen | $799 |
| Azul Memory Foam Mattress | King | $899 |
All BedInABox.com mattresses come with a 100-night free trial and a 20-year warranty.
Please note that prices may change at any time.