Recently updated on March 17th, 2017 at 04:20 pm
Disclosure: We aim to highlight products and services you might find interesting, and if you buy them, we may get a small share of the revenue.
As a new mom of a six month old baby who excels at many things (smiling, army crawling, sitting!) but is not a great sleeper, I was excited to try out a few products I heard about on different mom websites.
The
Zipadee Zip
seemed to be talked about a lot, especially when babies are just beginning to transition out of Velcro or blanket swaddles.  I was disappointed to see that the Zipadee-Zip wasn't for sale on Amazon (I love Prime!), but when I searched for "Zipadee Zip" on Amazon, the top hit was the
Love to Swaddle Up
. We purchased them both to compare them for my first post on Sherpa Jr.!  Just so you know, these are my own opinions, and I am not being compensated by either Zipadee-Zip or Love to Swaddle Up.  Hopefully that makes my review more valuable to you!
My little guy Lucas helped me to open up both packages, and get a first look at the Zipadee-Zip and the Love to Swaddle Up.  Take a look at our video!
[youtube https://www.youtube.com/watch?v=H0HTVwund7Y?rel=0]
Checking Out the Zipadee-Zip
The Zipadee-Zip, sold by a company which is aptly named Sleeping Baby, costs $36.95 plus $7.95 shipping and handling (which will take 7-10 business days?!) for a total of $42.90.
The Zipadee-Zip is made of a middle-weight cotton and comes to triangle points at the end of each arm.  Lucas wasn't sure what to make of the fact that he could no longer get to his hands while in the Zipadee-Zip, but he had a pretty good nap the first time he wore this.  I think the weight and feel of the fabric is a bit underwhelming, especially for the price.  It doesn't seem to be a warm enough fabric for the winter time in a cold climate like ours in Michigan, but of course it means that it is well-suited for warmer climates and seasons.  The Zipadee-Zip has a little piece of fabric covering the zipper under the chin, which is nice so the baby won't get stuck by it.  I hate those little snaps on many baby outfits, so a zipper is definitely preferable.  I like that the sizing is big, leaving lots of room to grow.
Checking out the Love to Swaddle Up
The Love to Swaddle Up is made by a company called Love to Dream, and is sold for $26.40 on Amazon (and is available for Prime two day shipping if you have Amazon Mom).  It can also be found at Buy Buy Baby and Target.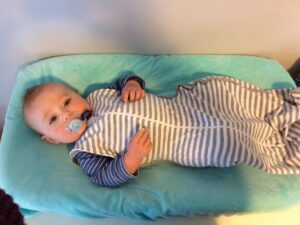 Before we get into the ins and outs of the Love to Swaddle Up, here's a huge piece of important information that I totally missed: in tiny writing at the bottom of the back of the box, it says, "Do not tumble dry.  Line dry in shade."  I was trying to be a responsible mom who washes stuff first, and virtually everything for my son can be put in the dryer.  I didn't even think about not drying this, so of course it shrunk, big time!!  Why doesn't the company pre-shrink this product?  It makes no sense!  Maybe they just want you to buy more of them!  I followed the sizing guidelines when I picked this on Amazon, and ordered Lucas size large (for 6-9 months, 18.5-24 lbs.).  He is 18 pounds right now.  I will be shocked if this even fits him for one month!  It is already really tight, so much that he looked a little nervous when I zipped it up on him the first time!
On the plus side, the Love to Swaddle Up features a nice quality stretchy and breathable cotton fabric with easy zip off wings.  This is how their product differentiates itself.  You can quickly zip off the little shoulder wings to allow one or both of your baby's arms to be free.  Since my little guy is past having his arms swaddled up, I only had him try the zipped on arms for a minute, and he was not into it!  He likes his hands too much!  So I easily unzipped the wings off and it was a little sleep sack.  This product is designed to have a skinny middle which hugs the baby tightly, mimicking a swaddle.  One thing I really liked is the "genius twin zipper" as they call it on the box.  When zipped, it has one zipper at the top and one at the bottom, which of course allows for easy diaper changes.  This also allows you to put your baby in the Love to Swaddle Up and then buckle them in their car seat if you were heading back from somewhere at bedtime, since it unzips at the bottom and frees their legs.  This product also features a sewn-on covering of the top zipper so little chins don't get hurt.  I wish Carter's would do that with their products!  One final feature that I thought was sort of silly was a little hole in the back of the product so you can check if there is a dirty diaper.  I think the good old sniff test is all you need.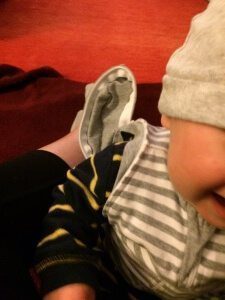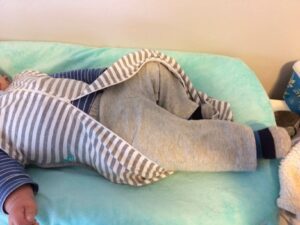 The Final Say
Overall, I recommend the Zipadee-Zip over the
Love to Swaddle Up
.  I like the triangle arms so my little guy can't scratch himself overnight, and there is plenty of room to grow.  Although the Zipadee-Zip fabric is not luxurious, I do like that there are a ton of patterns to choose from. The "Roar!" dinosaur pattern I chose is a little girly for what I was expecting, since I was trying for gender neutral.  I think the Zipadee-Zip is priced a bit high, and with shipping that is so slow (in this day and age!?), but the company knows they have a good product and parents are desperate for any sleep help they can get!
I was irritated that the Love to Swaddle Up shrunk so much, and that the warning was so tiny about line drying the product.  Who line dries stuff anymore?! Having said that, I can see the value of the Love to Swaddle Up for when your baby is transitioning from a swaddle to a sleep sack using the zip off wings.  Good luck if you try either of these!
Here are videos of us trying out the Zipadee-Zip and after that, the Love to Swaddle Up!
Check back soon for more Sherpa Jr. reviews of products to help your little angel get some more sleep!
Disclosure: We aim to highlight products and services you might find interesting, and if you buy them, we may get a small share of the revenue.