Best Modern Bed Frame
Thuma
Get Black Friday Savings Now at Thuma!. Thoughtfully designed and crafted to elevate any bedroom. The Bed includes the frame, extra-strength cushion-coated slats, and either The PillowBoard or The Headboard.
We earn a commission if you make a purchase, at no additional cost to you.
The Thuma Bed frame has been all over Instagram this past year and to be honest, I thought it was all a bunch of hype. It's easy to make a product look good in a photo studio and give customers the impression that a bed is easy to assemble. Trust me, I have been disappointed with more products than I would like to remember. Finally, after getting questions over and over again from people about the Thuma, I broke down and purchased one to see if it lived up to the hype. Below are my findings. In short, this is the best quality and most easy to assemble plaftorm bed I have reviewed but it does come at a price. At $1,095 for a queen-size frame, it is an investment but if you want something that will last a lifetime and can be set up and taken down with ease, this is the bed you have been waiting for.
Ordering & Assembling the Thuma Bed Frame
Currently, the Thuma Bed is only available to purchase through the Thuma website. While their signature wooden bed is by far the most popular product, they now have an assortment of bedroom furniture, including nightstands and headboards to complete the look. It only took a week for my bed to arrive after placing my order. It was delivered by FedEx in 3 boxes.
To be honest, the longest part of the assembly is just unboxing and removing all the packaging. Once that is complete you can start lining up the legs and sides.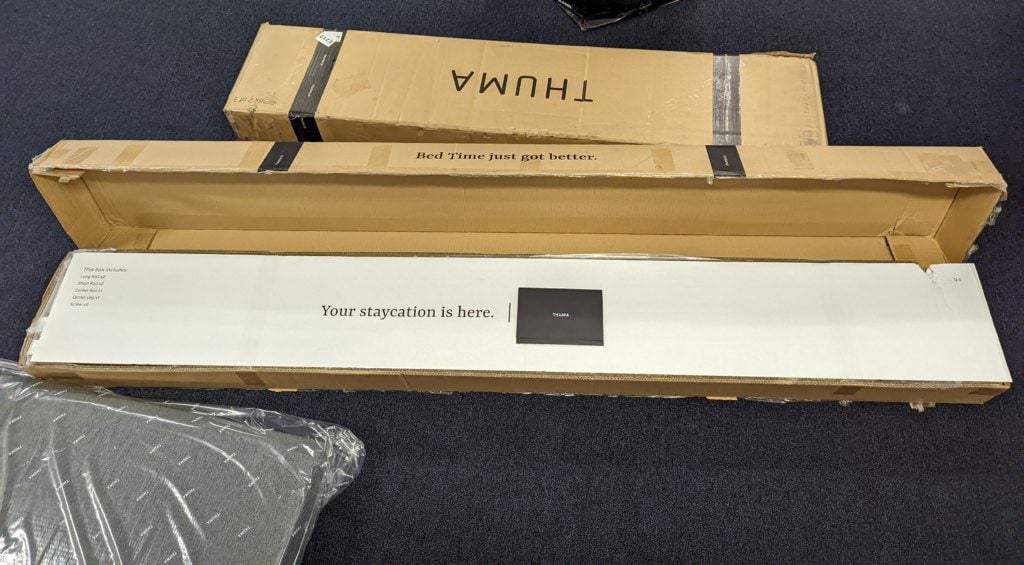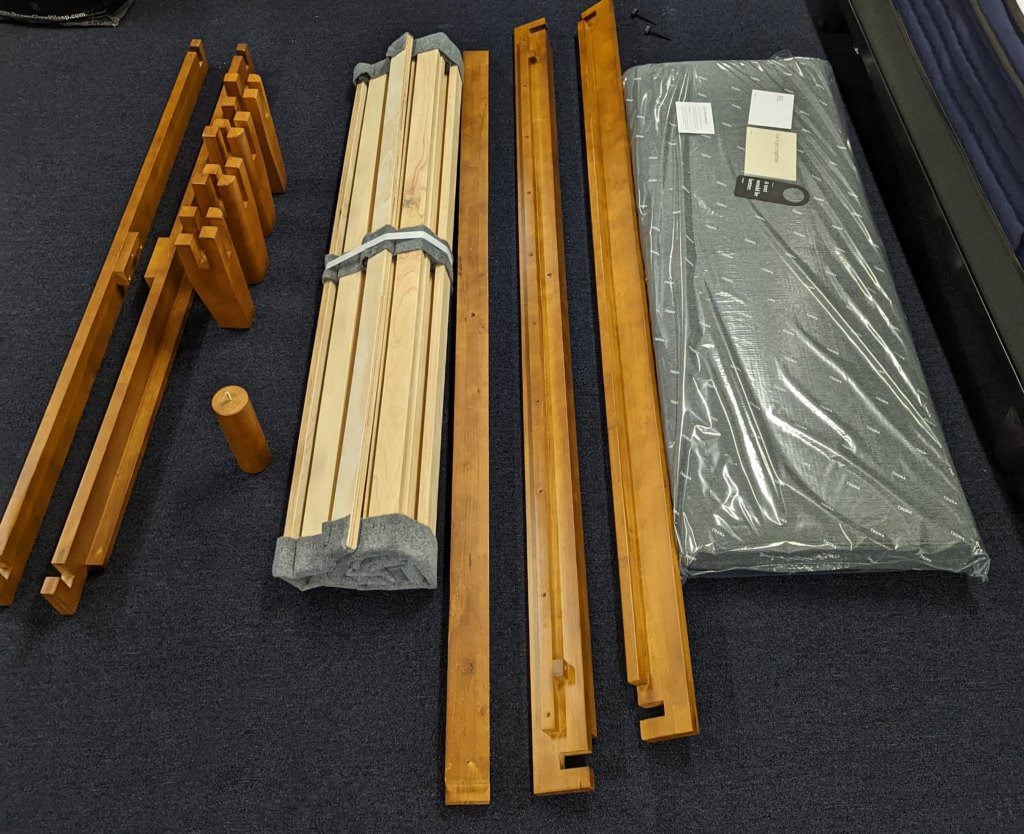 Assembly is a piece of cake but just make sure you read the directions carefully. It's easy to install the parts backward if you aren't paying attention like I did. Here's how not to do it. As you can see I have the sides upside down and inside out.
It isn't hard to correct since there aren't any screws needed at this point. Here's how it should look: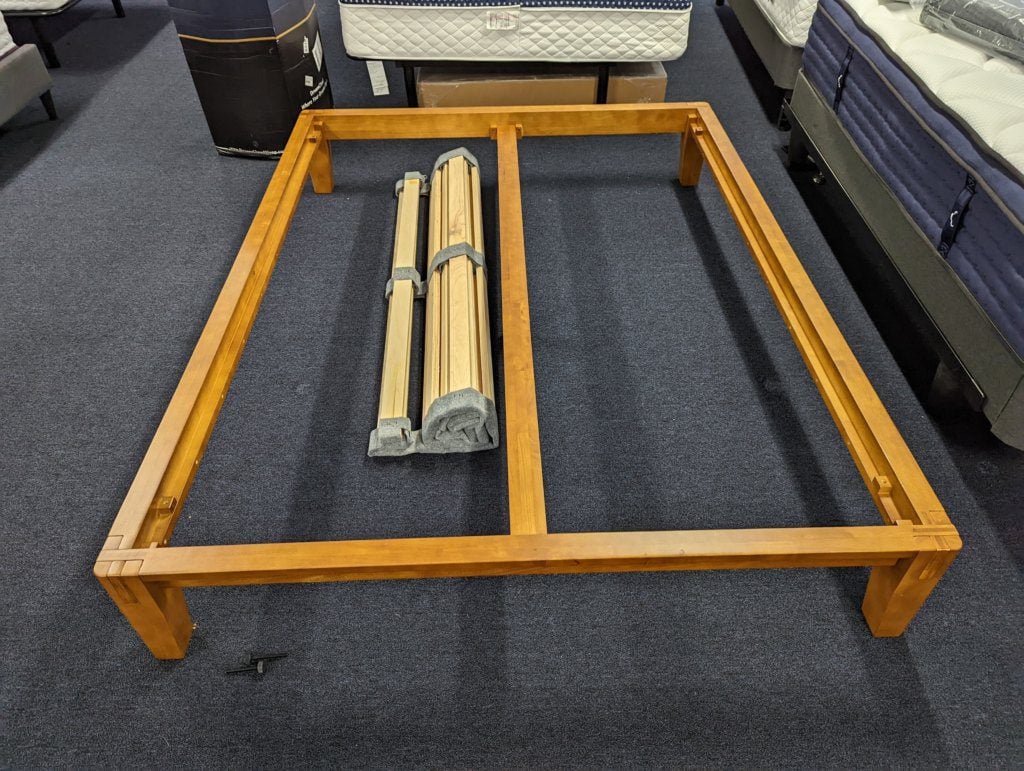 The last step is to screw in the two ends of the center support rail and lay the slats across the top.
My Thuma Bed Frame Findings
There aren't many Thuma furniture reviews right now but I know that this is going to be a popular brand which is why I purchased one. I also have done a Helix wood bed frame review which while less expensive at around $600 for a queen, is not nearly as nice or well built as the Thuma. While the helix wood frame also assembles without tools, it is not as sturdy as the Thuma. 
Initially, there were complaints about the Thuma bed headboard which is basically a foam cushion that comes standard with the frame. Recently however they have designed and now sell a proper headboard made of the same quality 100% upcycled wood as the Thuma frame. This will increase the overall  Thuma bed cost but is a worthwhile investment. Keep in mind that you do not need a box spring for the Thuma, your mattress will rest directly on the wooden slats and all mattresses are compatible, even online brands.
Will the Thuma work with an Adjustable Bed Frame?
Yes, the Thuma is compatible with an adjustable bed. However, you need to make sure that you buy a zero-clearance adjustable bed frame so that it can rest directly on the slats. I recommend the Yawnder 4.0  adjustable bed for the Thuma because it will sit directly on the slats, is very durable, has a 10-year warranty, and also is a great price given all the features. 
Best Value
Yawnder 4.0 – Adjustable Bed
From helping with back pain and snoring to allowing for the perfect TV-watching position or making it easier to get in and out of bed, the versatile Adjustable Base can do it all. Includes under-bed lighting, zero gravity, massage, and presets.
Zero Clearance, Compatible with the Thuma Bed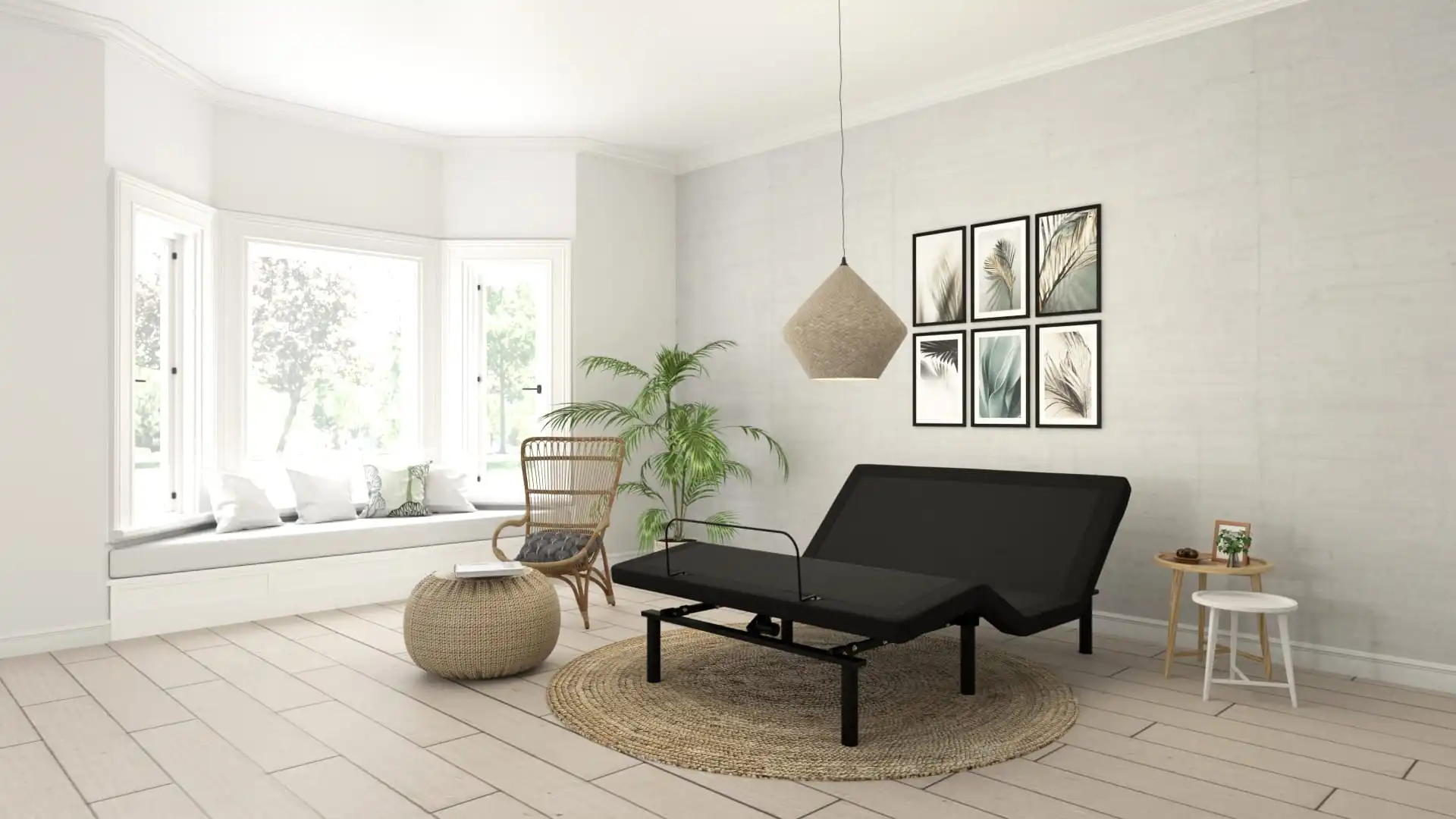 We earn a commission if you make a purchase, at no additional cost to you.
By resting the adjustable bed directly on the Thuma bed frame, you can still preserve that minimalist bedframe look and get all the benefits of an adjustable bed. 
There are some very significant differences between the Thuma and most of the platform beds you will find online. First, the frame is made of solid wood. This makes the bed sturdier and just looks better than one made with engineered wood. The Thuma is rated to hold 1,500 lbs. making it an ideal frame for heavier people or people that want to use an adjustable bed on a modern, minimalist frame like the Thuma.
There are no tools needed to assemble the Thuma, all the legs are held together through traditional Japanese joinery. As I said, it only takes minutes to assemble and disassemble. The wooden slats don't require screws either. The only screws needed are for the head and foot of the middle support board.
Most of the slat beds I have received for review or just purchased myself have slats that feel flimsy. The slats on the Thuma are thick and even have padding on the end so they don't make noise or scratch the frame itself.
The Thuma Price, Trial and Warranty
It's still rare to get a trial period for a piece of furniture but the Thuma comes with a 100-night trial. That means you get to experience the Thuma in your house and if you don't like it, you can return it for a full refund. They just ask that you keep the original boxes to pack it back in and they will send pre-paid shipping labels. Once it is received by the shipping and scanned in their system, Thuma will process a full refund. Since this bed is so easy to take apart, returns should be easy too.
While the price may seem high for a slat bed, keep in mind that you are paying for quality. There's no reason this won't last a lifetime and it has a timeless look that can go with just about any other furniture. I'm tired of buying cheap furniture that doesn't last and ends up creating more waste. A king-size Thuma frame is $1,195 which is only $100 more than the queen size and if you are someone who tends to move every few years like I do, this makes moving so much easier. I couldn't find much information on the Thuma warranty other than it's a lifetime warranty. So I assume that as long as you own it, they will cover against any manufacturer defects. Since this is such a simple piece of furniture, I really don't know what could go wrong with it.
My Thuma Recommendation
Thuma is becoming an incredibly popular bed and it's definitely worth the hype. Cheaper furniture from Ikea and Wayfair has it's place but Thuma is an investment in quality and sustainability. It's not only a stylish bed frame, it's also a quality bed frame. 
Right now there isn't a Thuma bed showroom except for the Yawnder Mattress Store in San Diego where we have a Thuma Bed on Display as well as popular online mattress brands which are compatible with the Thuma. 
Not only that, you can also use the Thuma with an adjustable base. I recommend the  Yawnder 4.0 base because it can sit directly on the Thuma with zero clearance and given the features, the price is unbeatable. The Thuma bed dimensions are slightly larger than the mattress that sits on it which makes it perfect for adjustable beds.
What's the Best mattress for the Thuma? 
While you can buy a Thuma mattress, I would rather go with something like the Eight Sleep Pod. The Eight Sleep mattress is a next-generation technology that dynamically regulates your temperature. You can get my full Eight Sleep Pod review along with the Eight Sleep Pod app info here. 
If you are looking for a cheaper alternative to the Thuma check out the Charm 2.0 from Valyou Furniture. I can't tell the difference and it is about half the price of a Thuma with different color options. Valoyou Furniture also offers a nice Thuma Nightstand dupe for less. Another Thuma alternative is the Silk and Snow bed frame. It has more detail than the Thuma and is also less expensive. Between the Thuma vs. Silk and Snow, I prefer the Silk and Snow frame due to the price. Even with a Thuma Bed Discount, both the Valyou Furniture Charm 2.0 and the Silk and Snow bed are less expensive. 
Thuma has recently introduced a proper headboard. Before they just had the regular foam headboard. 
There are many platform bed frames to choose from online and it can get overwhelming. In my experience, most of what you find on Amazon and even Wayfair is cheap and doesn't last long. The Thuma, Valyou and Silk, and Snow are built to last. 
Best Modern Bed Frame
Thuma
Get Black Friday Savings Now at Thuma!. Thoughtfully designed and crafted to elevate any bedroom. The Bed includes the frame, extra-strength cushion-coated slats, and either The PillowBoard or The Headboard.
We earn a commission if you make a purchase, at no additional cost to you.