We earn a commission if you make a purchase, at no additional cost to you.
The 8Hours Adjustable Pillow is another adjustable pillow that seeks to change the game by helping you maximize on sleep. Its foam is made with patented MemHex™ Internal Technology. The thinking behind this product is that if you can't adjust to your pillow, then have your pillow adjust to you. It's described as tech + nature coming together.
Overview of The 8Hours Adjustable Pillow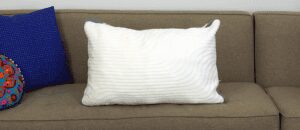 The 8Hours Adjustable Pillow is essentially suitable for everyone thanks to its customizable design. Whether you are a side, stomach or back sleeper, this pillow can work for you. The company offers an 88 Nights No-Risk Trial. The pillow itself retails for $95 and you can buy a multi-pack to receive anywhere from 2, 3 or 4 pillows at a discounted rate. If you order 4 pillows, you get one for free. Shipping is a flat fee of $5 for all US orders and returns are free, so long as it's shipped within the states. The pillow is designed and assembled in Italy (Molto bene!). 8Hours gives you the option to finance the pillow through Affirm if you so desire. This pillow comes with a 5 Year Warranty which is the longest warranty I've ever heard of for a pillow so I find that very impressive.
Construction of The 8Hours Adjustable Pillow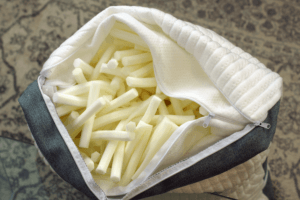 This pillow comes in a single standard size of  18″ x 27.5″ with a 2″ Loft gusset.
The outer cover is made from a natural cellulose fabric. It's moisture wicking and works to also distribute heat more efficiently so that you can sleep cool. Because of its water resistant properties, it's also designed to be antibacterial. It's both soft and durable and also made from 100% biodegradable and fully sustainable resources.
The foam for this pillow is referred to as MemHex™ Internal Technology. It's pretty interesting being that it's made with a honeycomb shape. The foam comes in its own case, and the pillowcase goes on top of that. This makes accessing the foam easy and convenient and the pillowcase easy to clean.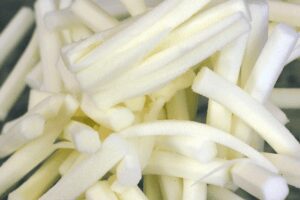 Be sure to disperse the foam evenly and to fluff your pillow. Because the foam pieces are rather large, this is important to making sure they all fit and lock into one another.
The pillow is not only Hypoallergenic but is also:
Approved by SleepScore Labs

STANDARD 100 by OEKO-TEX®

Certified

Tested for Quality Control and ISO 9001 Registered with SGS
SGS is the world's leading inspection, verification, testing and certification company. For a product to be OEKO-TEX® Certified, it has to go through some serious testing and the organization is known to have the highest standards in the industry. This guarantees that the materials have been tested to be free from harmful levels of 100+ different substances. The certification is voluntary, has to be reviewed and updated every year, is conducted by independent third party laboratories and is global, meaning that the standards are the same no matter the country.
My 8Hours Adjustable Pillow Findings
I wasn't sure what to think of the 8Hours Adjustable Pillow initially but the more I lay on it, the more I came to like it. It came packaged in a branded package that was designed well and the unboxing experience was simple enough. Unrolling the pillow was kind of crazy because since most pillows these days come compressed, you usually have to give it some time to catch some air and regain its loft. When the pillow finally came to life, I was shocked with the size of this thing. It was ridiculous! You should really watch the video at least to see this portion because it's amazing how big it became. I thought it would be too much foam to lay on but even without having to remove any foam, it was still incredibly comfortable. I usually like much fluffier pillows but actually felt really pleased and was impressed with how supportive this pillow was. Despite it holding its shape very well, I still found it to be incredibly soft and nice to rest on. While I feel this pillow can definitely accommodate any sleeping style, I think a pillow like this would be especially great for someone who is a side sleeper because getting that support between the neck and shoulder is so crucial to waking up pain-free and well rested.
My 8Hours Adjustable Pillow Recommendation
I feel this pillow has a lot of promise due to how supportive it is. For anyone with environmental concerns as well, this thing is sure to hit a home run. There is no weird off-gassing or odor, like what can be found in many other pillows so this was a HUGE plus. Who wants to wait hours or even days until they can finally sleep with their new pillow comfortably? It may sound ridiculous but some pillows don't ever stop smelling strange and that will not and is not the case with this. So as far as initial unboxing experience, this is something they really nailed. The foam is pretty funny and I wish I knew more about it but every company has their own trade secrets to protect. MemHex™ Internal Technology is trademarked for a reason and trademarking a product and a name isn't cheap so they've taken the steps necessary to protect their creation. The foam is also designed to be used in pillows ONLY. You would never hear of this from anyone else. It's very rare. Almost every company tries to develop a foam that can be used in an array of sleep products but that isn't always sufficient and I'm glad 8Hours is a company that understands this. Some reviewers said the pillow is "lumpy" and while that may appear to be the case, so long as you disperse the filling evenly, you shouldn't feel any discomfort. You are laying on foam after all, not rocks! The foam needs manual help to lock into place with all the other pieces. It just needs a little help to settle incorrectly. I consider this to be a pillow that is made well and one that will help you sleep soundly.
Shop the 8Hours Adjustable Pillow
We earn a commission if you make a purchase, at no additional cost to you.