The latest model of the Tempur-Pedic LuxeBreeze debuted in January 2023. It features a number of improvements over the previous model, including:
A new Pure Cool® Plus material that is designed to be even more effective at pulling heat away from the body.
A new Heat-Diffusing Layer that is placed between the cover and the Pure Cool® Plus material to help distribute heat more evenly across the mattress.
A new Ventilated Advanced Relief™ material that is designed to be more breathable than previous materials, allowing for better airflow and heat dissipation.
A new removable and washable SmartClimate® Cover that helps to keep the mattress cool and comfortable.
In addition to these improvements, the new Tempur-Pedic LuxeBreeze also features a number of other features that make it a great choice for sleepers who are looking for a cool and comfortable mattress, such as:
A pressure-relieving design that cradles the body and relieves pressure points.
A supportive design that provides the spine with proper alignment.
A durable construction that is designed to last for many years.
Overall, the new Tempur-Pedic LuxeBreeze is a significant improvement over the previous model. It features a number of new and improved technologies that make it even cooler, more comfortable, and more supportive.
Introducing Tempurpedic's latest innovation in sleep technology, the Luxe Breeze, a mattress designed to provide an 8-degrees cooler sleeping experience, which aims to help you fall asleep faster and maintain a comfortable slumber all night long. With the sleep industry becoming increasingly competitive, we were eager to put this new offering to the test, comparing it to other top-performing brands on the market.
Tempurpedic has long been recognized as a trailblazer in the world of memory foam mattresses. With their rich history and extensive expertise in creating, tweaking, and layering foam, they've earned a reputation as the gold standard in the industry. Their latest creation, the Luxe Breeze, has already generated quite a buzz, as it promises not only the quality and comfort that Tempurpedic is known for but also an innovative solution to the age-old problem of overheating during the night.
In this comprehensive review, we'll examine the Luxe Breeze in-depth, exploring its design, materials, cooling features, and overall performance. We'll also share our findings from rigorous testing, including feedback from real-life users, to help you determine if this state-of-the-art mattress is the right choice for your sleep needs. So, buckle up and get ready for an insightful journey into the world of Tempurpedic's Luxe Breeze.
Overview of the Tempurpedic Luxe Breeze
Here's a video overview of the Tempurpedic Luxe Breeze. Unlike most of the mattresses, I review this one can actually be tried out in stores.
Ordering your Tempurpedic Mattress
You can buy this mattress is a retail partner store, through their website or even over the phone. However you buy it, you are backed by a 90 day try out period. This means that you can sleep on it for 90 nights and if you don't like it you can return it. Just note that Tempurpedic may charge a shipping fee of $175 for the return. When you buy direct you also get free shipping and Tempurpedic's 10 Year Warranty.
This mattress comes with white glove delivery. You will get a call to schedule delivery of your mattress and it will be delivered to the room of your choosing. The delivery company will unbox the mattress and put it on your bed. Unlike most online companies, this mattress comes delivered its full size so there's no waiting for it to fully decompress.

Tempurpedic mattresses have other conveniences that other companies overlook such as handles underneath the mattress which make it easy to transport or rotate.

Construction of the Tempur-breeze luxe
Below are the construction details of this mattress.
A) Smart Climate Dual Cover System: Zip-off, cool-to-touch outer layer.
B) Pure Cool+ Phase Change Material: Exclusive technology that absorbs heat so you feel cooler.
C) TEMPUR-CM+ Material: Advanced TEMPUR material redesigned with maximum airflow for all-night cooling.
D) Ventilated TEMPUR-APR Material: Our most pressure-relieving material ever – now with an ultra-breathable design.
Here's a picture of the mattress without the cover. As you can see the foam is cleanly cut, they don't use too much glue and the inside looks just as nice as the outside. They even have a rfid tag on the foam so they can discern when are where the foam was made for quality control.
[sc name="tempurpedic-luxe-breeze-review-mini-fs"][/sc]
My Tempurpedic Luxe Breeze Findings
Given the price of this mattress, I had very high expectations going into my review. While looks certainly aren't everything, the do matter. I have come to find over the years that mattresses that look good often feel good. What I mean by that is the mattress is symmetrical, there are no sagging corners or loose threads, branding is clear, zippers are functional and the box it is shipped in is clean and sturdy. This mattress checks all those boxes.
Here you can clearly see the Tempurpedic logo and make and model. I'm sure this is in part because they are primarily sold in retails stores but it is nice to know right away that you got what you paid for and there is no doubt about the make and model.
This mattress actually has two zipper systems. One is accessible from the bottom and will allow you to take off the entire cover and the other will unzip the top cover. As you can see even the zippers are high quality, easy to use and durable.
What struck me first about this mattress was the cover. It just feels luxurious. I could tell right away that it was well made and will hold up for many years. Cheap covers can actually tear over time or more likely tear when they are being transported. The cover also plays a big part in the overall feel of the mattress.
For this review, I received the soft version of the LUXE breeze. Below you can see how much by 14 lb. bowling ball sinks into the mattress. Tempurpedic mattresses normally skew a bit firmer than most mattresses. With the soft version, I found it to contour very well without sinking too much. The newer Tempurpedic models such as this one have faster recovery times without sacrificing pressure relief. If you want an ultra-soft mattress, this probably won't be it but I think most people, especially side and back sleepers will really like how this mattress contours to your body.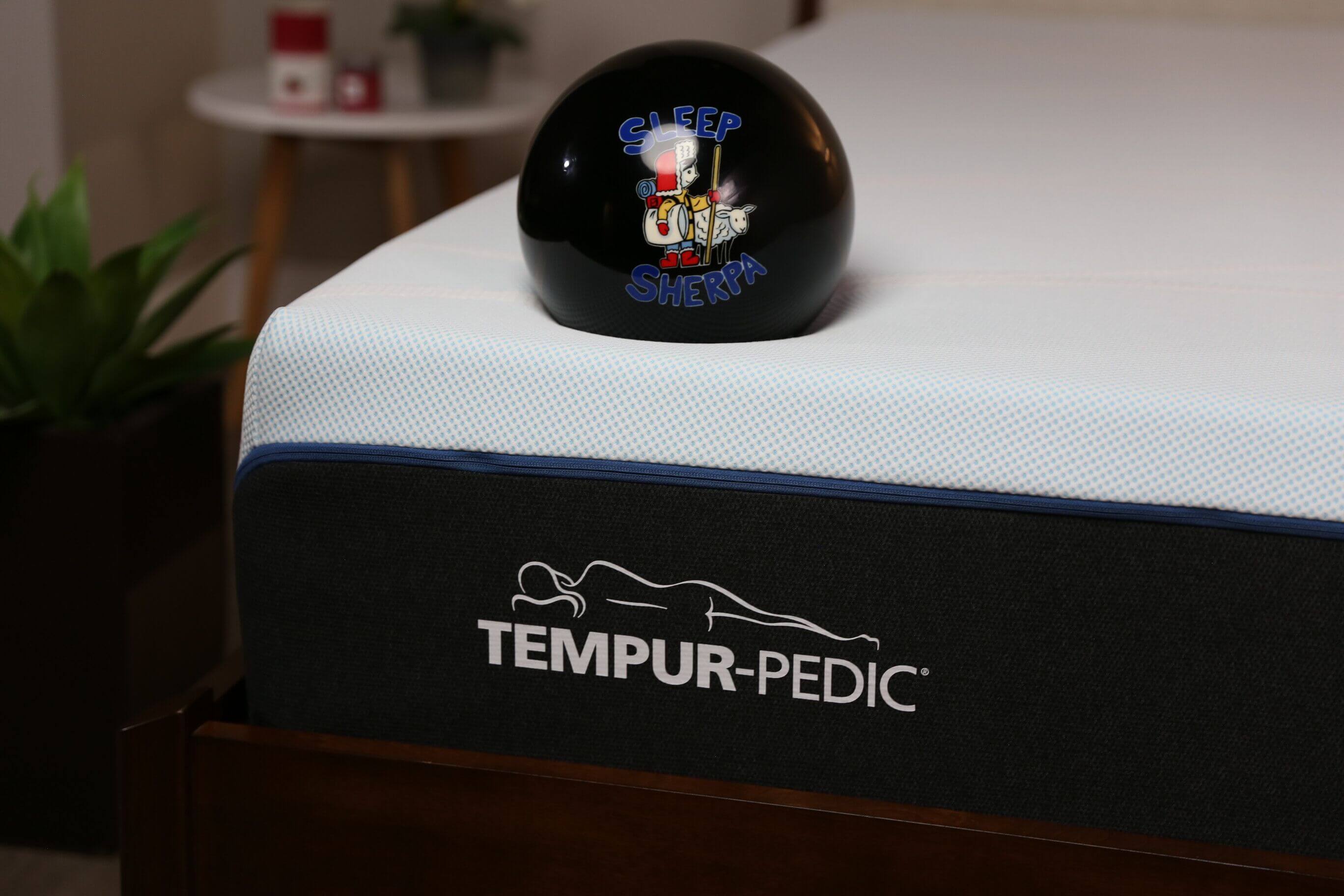 Here's another shot of contouring without the cover on.
There are many brands now that have cooling technology built into the mattress. But, they vary wildly in how much cooling material they actually add. With this mattress, they don't skimp. You will notice right away how cool it feels when you lay down. The idea is that it will cool your body to prepare for sleep and thus help you fall asleep just a bit faster.
Because this cover is made with a phase change material, I advise against washing it. You can wash it in a washing machine with cold or warm water, but it will decrease the cooling effectiveness of the cover. I advise using a mattress protector instead.
Memory foam is notorious for sleeping hot and normally the denser the foam the more heat it will trap. The LUXE Breeze is able to give you durable, quality foam with a new technology to help you sleep cooler giving you all the benefits of foam without any of the drawbacks.
My Tempurpedic Breeze Luxe Recommendation
Tempurpedic mattresses are not cheap. This model costs $4,499 for a queen size but keep in mind that Tempur often throws in incentives like 0% apr financing, credit towards an adjustable bed or other discounts throughout the year. You might be wondering what justifies the cost of this mattress over others. In short, I think it comes down to quality. You are buying a brand that knows how to make a foam mattress better than anyone. You are also getting quality material throughout from a company that will be around for a long time.
If mattresses were cars, the Tempurpedic would be the Maserati of mattresses. It looks and performs perfectly but it also comes with a cost. If you want to make a serious investment in your sleep, definitely check out the Luxe Breeze.
How Much Does the Tempurpedic Luxe Breeze Cost?
The typical price of the Tempurpedic Luxe Breeze mattress can vary depending on the size you choose. Prices generally range from around $3,999 for a Twin XL to approximately $7,998 for a Split California King. Keep in mind that these prices are subject to change and may vary depending on any promotions or discounts that Tempurpedic may be offering at the time.
To ensure that you're getting the best deal on your Luxe Breeze mattress, we recommend purchasing directly from Tempurpedic's official website. Buying from their website not only guarantees that you're getting an authentic product, but it also often provides access to exclusive promotions, financing options, and a more streamlined customer service experience. Additionally, Tempurpedic's website is the best place to stay up-to-date on the latest information regarding product specifications, warranties, and sleep trial periods.
The price of the Tempur-Pedic LuxeBreeze mattress varies depending on the size. Here is a breakdown of the current prices for all sizes:
| Size | Price |
| --- | --- |
| Twin | $3,999 |
| Twin XL | $4,299 |
| Full | $4,599 |
| Queen | $4,899 |
| King | $5,699 |
| California King | $5,999 |
Please note that these prices are subject to change and may vary depending on the retailer.
The Tempur-Pedic LuxeBreeze is a high-end mattress, but it is also one of the most popular and well-reviewed mattresses on the market. It is a good option for sleepers who are looking for a cool, comfortable, and supportive mattress.
Tempurpedic Luxe Breeze Alternatives
Several other mattresses on the market offer similar features and benefits to the Tempurpedic Luxe Breeze. Some of these competitors include:
Purple Hybrid Premier: The Purple Hybrid Premier mattress uses the unique Purple Grid™ technology, which is designed to provide excellent pressure relief while also promoting airflow to keep you cool throughout the night. It combines this technology with responsive support coils for added comfort and durability.

Sleep Number i10: This high-end mattress from Sleep Number features a dual-layer design that allows you to adjust the firmness level on each side of the bed. It also includes temperature-balancing technology to help regulate your sleep surface and prevent overheating.

Loom & Leaf by Saatva: This luxury memory foam mattress boasts eco-friendly materials and a cooling gel-infused foam layer to help regulate temperature. With its breathable organic cotton cover and additional support layers, the Loom & Leaf offers a balance of comfort, support, and temperature regulation.

GhostBed Luxe: The GhostBed Luxe is an all-foam mattress that utilizes cooling technology, including a layer of phase-change material and gel-infused memory foam. These features, combined with a cooling fabric cover, aim to provide a consistently cool sleep surface throughout the night.

Amerisleep AS5 Hybrid: This plush hybrid mattress from Amerisleep features a combination of proprietary Bio-Pur® foam, which is both responsive and breathable, and zoned pocketed coils for targeted support. Its design emphasizes pressure relief, cooling, and responsiveness.