[Tagline]
Take an EXTRA 15% off the Moon Pod or Super Moon (in addition to the 25% promo on-site) at checkout with coupon code SHERPA15 Activate Here
It's time to return to the moon. The Super Moon Pod is the next iteration of the original Moon Pod. It is basically 2 Moon Pods in one, making it more cozy and comfortable than the original and ultimately more like a bean bag than a chair but still classified as a bean bag chair. 
Overview of the Super Moon Pod
Here's a video overview of the Super Moon Pod along with the crescent, which is designed to support your head and provide an armrest. So far this is still the best bean bag chair you can buy. 
Ordering and Unboxing Your Super Moon Pod
Your Super Moon Pod will arrive in two boxes. Each box contains 1 regular Moon Pod insert and one box will contain the cover. These packages are light. The FedEx driver was able to place them over my gate without opening it. I think each box weighs around 25 lbs.

Make sure you are carefully opening the boxes. I recommend just tearing the tape off the box. If you use scissors, you risk cutting open the insert which will start oozing the small beads and wreck your Moon Pod.

The inserts are wrapped in plastic to protect them during delivery from any moisture. Once you take them out from the plastic you will notice some off-gassing which will eventually go away.

The Moon Pod and Crescent come with instructions for use but it's pretty straightforward how to get it setup.

The cover of the Super Moon Pod is machine washable. I washed mine on a normal cycle with extra rinse and put it in the dryer on a normal cycle. I didn't notice any fading or shrinking and it accommodated the inserts just fine.

Construction and Specifications of the Super Moon Pod
Below are some construction details taken from the Moon Pod website:
Approximate dimensions are about 50-56 inches x 20-24 inches x 20-24 inches. As you sit on the product and it widens, the products gets shorter.
Each Moon Pod weighs about 12 pounds. Because Moon Pod is human-filled (not by machine) there can be variance in the weight of your Moon Pod.
The only assembly required will be to slip the outer sleeve on the filled pod.
Made in Asia, assembled in the US.
Moon Pod is made from a super supportive material and is able to support upwards of 300 pounds. Additionally, Moon Pod has been tested on a wide range of users, and those up to 6'8" have found comfort in Moon Pod!
Moon Pod is filled with a custom density bead. Moon Pod's inner fill is brand new and will last for years.
While our bean bags are super comfortable, inviting sleep and everyday comfort to users, they are not appropriate for use by infants as a risk of suffocation could exist. Your safety is important to us!
How Much Does the Super Moon Pod Cost?
The Super Moon Pod retails for $675 but right now you can get it on sale for $499. You have 14 days from the day of delivery to submit a return. Make sure you read the fine print on the return policy as it is a bit more complicated than most return policies I have seen:
All return requests should be submitted to https://moonpod.returnly.com/.
All returns should be submitted within 14 from the day of delivery. Any return request after 14 days from the day of delivery cannot be considered.
Please do not submit exchange requests through our returns portal. If you have an exchange request due to any reason please email [email protected] directly. There is no need to submit an exchange request through our returns portal.
If and when a return is authorized, you'll receive step-by-step instructions. We retain the right to deny any return request. If your return is authorized, you are responsible for the return shipping costs, a re-stocking fee, and additional fees from products that are damaged or where the original packaging is damaged.
You must obtain an RMA number in order for https://www.moonpod.returnly.com to credit your account.
Returns must be properly and safely packaged to ensure all products arrive in new condition. Returns that are improperly packaged may cause damage to the item. If the item (including the sleeve) is opened or damaged, we will not be able to offer a full credit for your order.
Please note; replacement products are eligible only for exchange (if defective), and are not eligible for refund (unless they arrive defective).
My Super Moon Pod Findings
The Super Moon Pod has a quality zipper which is critical since you will be washing the cover and it is designed for a snug fit so the zipper will be strained a little when using it.

Here you can see how the Super Moon compares to the original Moon Pod. With the original, you can lay it vertically and sit more upright like a chair. The Super Moon lays horizontally and is made to be used more like a lounger which is why I highly recommend the Crescent which gives you more support for your upper back allowing you to sit more upright. If you are going to use this for gaming or with a computer, the Crescent is a must. It also will support your neck to alleviate neck pain. 
I chose the Neptune Blue color but next to me is the original Moon Pod in Cosmic Ash. You can also get replacement covers if you get bored of your color and want to change things up or just want a spare cover while you're washing the other one. My next cover will be rose quartz.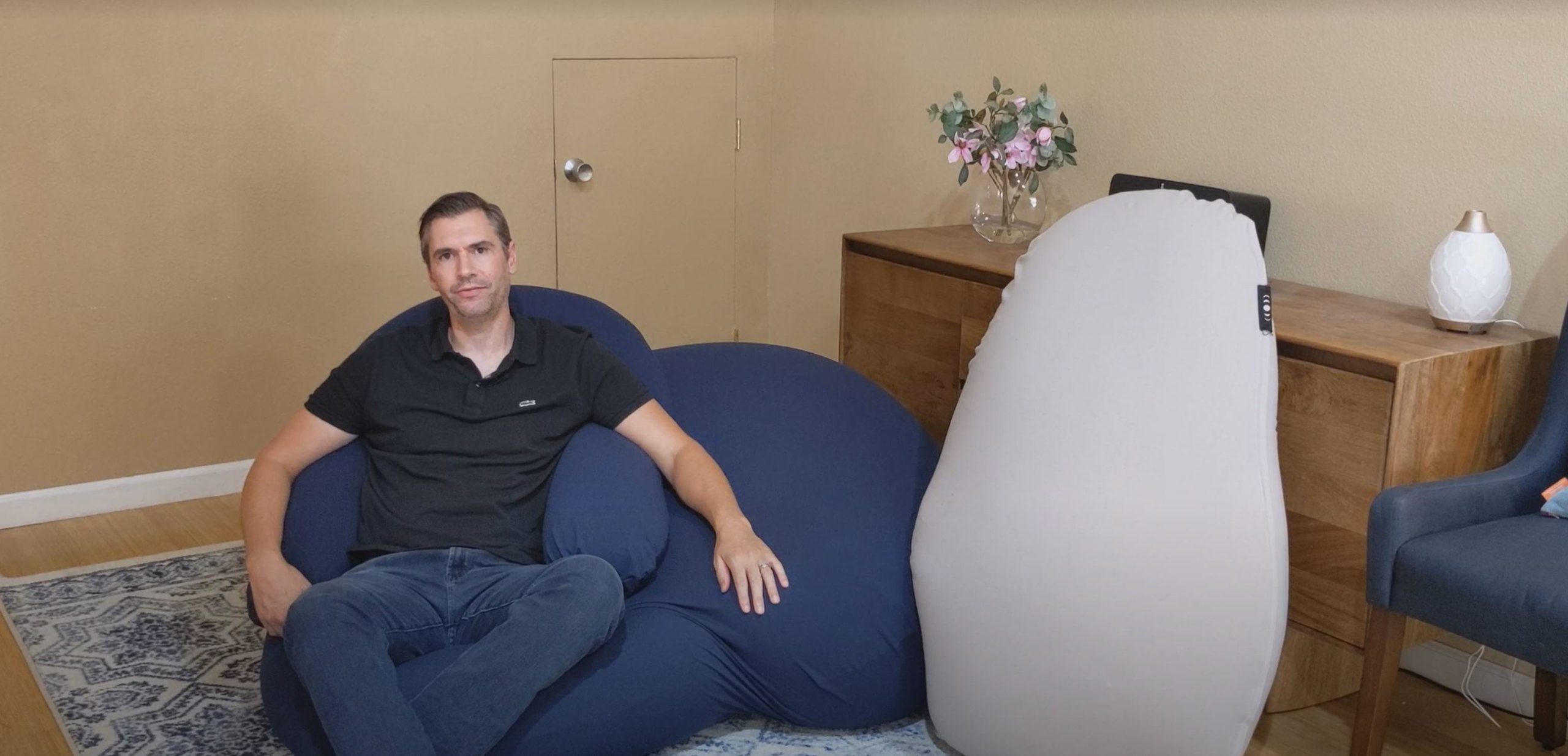 How Does the Moon Pod Feel?
The Moon Pod feels much more comfortable than a bean back because the fabric stretches to your body giving you more contouring and it doesn't lose support like a bean bag. The high-density beads hold up well but are still light enough that it's easy to move the Moon Pod from room to room, even the Super Moon Pod.
The Moon Pod mimics a zero-gravity feeling, hence the space age reference but it's great for anyone with aches and pains that just wants to float away. In fact, if you have ever done floatation therapy, this can be a similar feel. 
No matter you're age, sitting in a moon pod will harken you back to the days of playing video games in your parents basement. The Moon Pod now also comes with a foot rest so you can get even more relaxation and a true weightless feeling. This is due to the expanded polystyrene that conforms so well.   
And while the Moon Pod's price tag may seem high, after you factor in our exclusive coupon code on top of the existing saving on their site, it is much more affordable. 
Can You Wash the Moon Pod?
You can't wash the actual Moon Pod but you can wash the cover. I recommend a normal wash and then to dry on low heat. In between washes you can use a lint roller to keep it clean. 
My Super Moon Pod Recommendation and Final Thoughts
Lately, we have all been spending a lot more time at home and the Super Moon gives you a lot of versatility for the money. I like that it is light and easy to move around from room to room. The cover can be removed quickly and washes well without having to dry for multiple cycles.  I use it for movie nights, reading, and even with my laptop for work. It instantly conforms to your body and doesn't lose support like old bean bag chairs are prone to do.
If you're looking for a lightweight bean bag that can accommodate two people and is easy to move around, this is it. It's perfect for reading a good book in your living room and with all the color options, it's bound to go with your decor. The latest deals are posted on their website and we have additional savings through our exclusive coupon code. 
I never thought that the bean bag would make a comeback but the Moon Pod proved me wrong. 
Take an EXTRA 15% off the Moon Pod or Super Moon (in addition to the 25% promo on-site) at checkout with our exclusive coupon code SHERPA15 Activate Here