Fans of the Snuggle Pedic Pillow will now be pleased to learn that they can now buy the Snuggle-Pedic Mattress on Amazon. This mattress has some features you won't find anywhere else such as their airflow system that makes the mattress very breathable. The company also offers free customizations and exchanges if you aren't happy with the feel.
Overview of the Snuggle Pedic Mattress
A queen size Snuggle Pedic Mattress is currently on sale for $799 from Amazon. It qualifies for Prime shipping which is free and fast. Instead of a typical 30-day trial offered by Amazon, this company gives you a full 4 months to try the mattress in the comfort of your home.
It comes shipped in a box as seen below. This mattress is rolled, not folded which makes the box narrower and longer.
Here's a video overview of the mattress:
Snuggle Pedic Mattress Specifications
Below are the specifications and highlights of the mattress according to their Amazon page:
The PATENTED AIRFLOW TRANSFER SYSTEM works by creating 100 TIMES THE BREATHABILITY of other mattresses that only use ventilation holes or channels, but not both and do not connect the two like the ONLY THE SNUGGLE-PEDIC MATTRESS does!

Our Flex-Support Technology Gives The PRESSURE RELIEF of a Memory Foam/Gel Mattress, Only it is EASIER TO MOVE AROUND ON like a traditional mattress and MORE SUPPORTIVE. 100% MADE IN THE USA and CertiPUR-US Certified ECO-FRIENDLY and VERY LOW V.O.C.

PRESSURE RELIEVING SURFACE WITH EXTRA SUPPORTIVE & FIRMER LOWER LAYER gives you the perfect balance and universal comfort. Compare to Tuft & Needle, Leesa and Sleep Innovations to see the difference for yourself!

Hypoallergenic & Dust Mite Resistant. Rolled & Vacuum Sealed For Eco-Friendly Shipping & 90-NIGHT NO HASSLE REFUND GUARANTEE. ALL USA MADE HIGH QUALITY WITH INDUSTRY LEADING 20-YEAR WARRANTY and FREE CUSTOMIZATIONS and EXCHANGES. PLEASE CHECK "SOLD BY" SELLER NAME, ONLY SNUGGLE-PEDIC® PRODUCTS SOLD BY RELIEF-MART, INC. ARE GUARANTEED GENUINE AND WILL BE BACKED BY OUR WARRANTY, 4-MONTH SLEEP TRIAL, AND FREE PERSONAL CUSTOMIZATION POLICY

KING SIZE ZIPPER REMOVABLE COVER SYSTEM ALLOWS FIRMNESS ADJUSTMENT LAYER EXCHANGES THAT WE OFFER COMPLETELY FREE IF YOU ARE NOT SATISFIED WITH THE SUPPORT OR COMFORT. Our Kool-Flow® Extra Breathable Micro-Vented Cover Made In The U.S.A. with 43% viscose of bamboo, 56.4% polyester, .6% lycra KEEPS YOU COOL ALL NIGHT LONG!
My Snuggle Pedic Mattress Findings
This mattress feels great. It has a deceivingly simple construction but when you look under the hood it becomes apparent why this mattress works so well.
Here's a picture of my bowling ball on the mattress to illustrate sinkage. In comparison to other foam mattresses, this one sinks in about the same but transitions well even though there are only 2 layers. The bamboo cover is stretchy and breathable to give you the full feel of the foam underneath.
I appreciate that the mattress has a zipper system on the top part of the mattress. It makes it easy to adjust the layer if need be and you can also wash the cover although I always advise a mattress protector.
Here's what the mattress looks like upon opening. You can see what they call their Kool Flow technology which is the channels on the first layer of foam.
Here it is as a closeup. You can also see that the top layer has holes as well for even more breathability.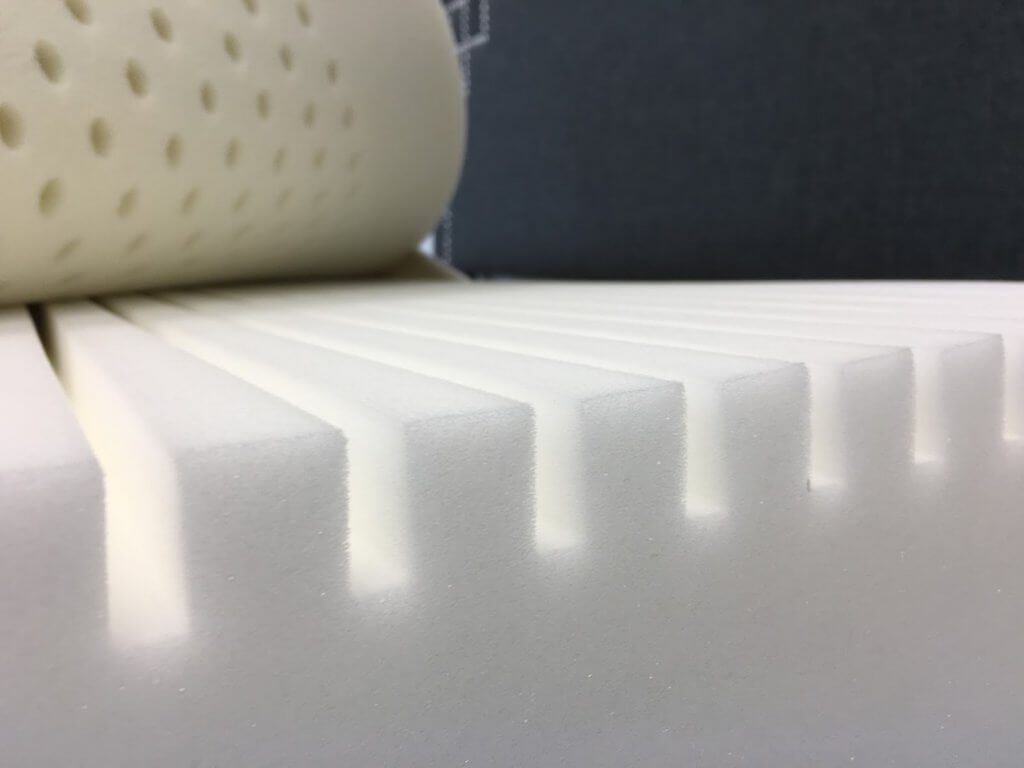 Here's a video that illustrates how quickly the mattress recovers. You can also see the channeled foam on the top layer
In the video below I use my infrared camera to show you how quickly the mattress can dissipate heat. The top layer of foam isn't that dense which is a plus from the start in terms of heat retention. Added to that it also has holes but is aided by the Kool Flow channels underneath.
Being a memory foam mattress this bed won't have much bounce to it. It absorbs motion well and will lead to less disturbances at night if you sleep with a partner.
My Snuggle Pedic Recommendation
People looking for an affordable memory foam mattress that sleeps cooler than most and is a little on the softer side will really appreciate the feel of this mattress. The comfort exchange is a great idea since you don't have to give up a whole mattress to make it firmer or softer.
The mattress has been on Amazon for a little while now but has already received 95 reviews, 93% of which are 5-star reviews.
Snuggle-Pedic has made a name for itself with their popular pillow and I think this mattress will be just as popular and well received.
Learn more about the Snuggle Pedic Mattress.
[vc_column_text class="sleep-sherpa-exclusive-deal"]

Get 10% off your Snuggle-Pedic Mattress with coupon code sleepsherpa10 at checkout.  Activate Here[/vc_column_text