Recently updated on May 23rd, 2018 at 07:09 pm
SleepOvation is a new mattress with a completely revolutionary design. It is a patented design that consists of 700 tiny matttresses. In other words, it is made up of independent pocket coils with a layer of foam over each of the coils so that each spring and piece of foam move independently. This not only makes for better conforming and pressure relief but also creates air channels so you will sleep cooler at night. The cover is also removable and washable. By being able to remove the cover, you can clean the inside of the mattress too as you can vacuum in between the coil systems.
Below is a quick snapshot of how each of these spring/foam units work on the mattress:

Not only is the support system a revolutionary design but the cover is also designed for maxium airflow and comfort. Here's a picture of the cover which is removable and washable.
You can now order this mattress direct to get special discounts not available when the mattress officially launches in September. I expect this mattress to have a strong backing given how unique it is.
"The Kickstarter community is a group of tech-savvy individuals perfectly fit to preview and assess our technology prior to launching", says SleepOvation CEO Richard Codos. "Kickstarter provides us with a new channel for early sales and valuable product feedback. In appreciation of this, we're offering backers sizable discounts and mitigating their risks", Codos adds.
Kickstarter supporters get discounts up to 33% off the retail price of the mattress, a 100% money back guarantee and a 100 night trial with free shipping within the United States. If you just want to get a feel for the technology, you can order 1 tiny mattress for $3. A California King goes for $990. All backers no matter thier plege amoung will get 1 tiny mattress after the campaign completion.
Here are the rewards for each level of backing: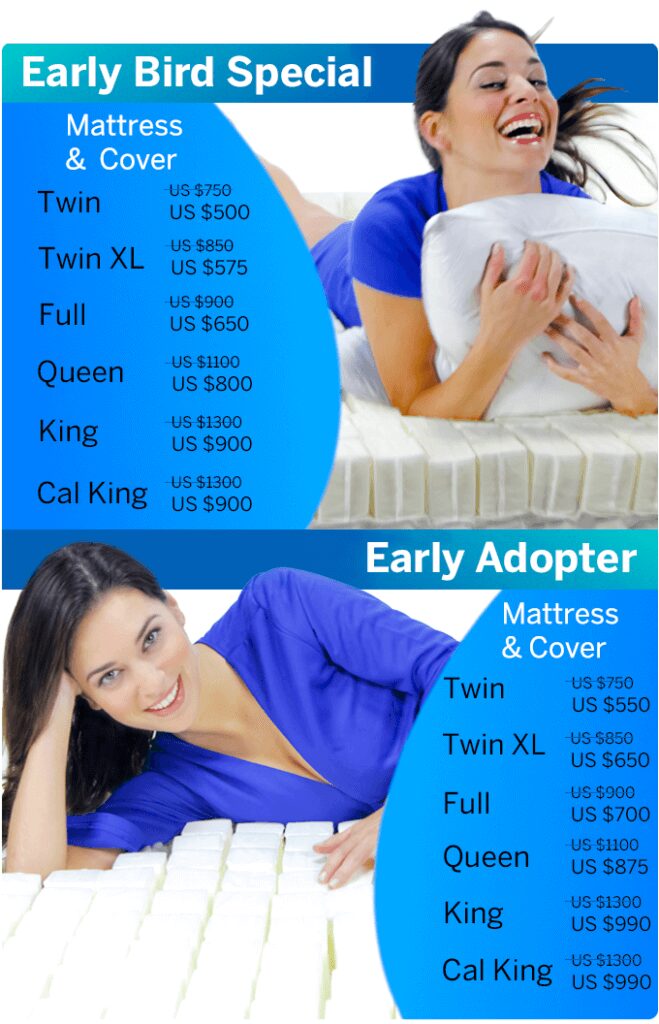 Here's what the mattress looks like with the cover off. As you can see there are hundreds of these individual spring and foam units to make up the entire mattress. Not only will this help with breathability but also help with contouring and comfort.

About SleepOvation
SleepOvation is a hi-tech mattress manufacturer focused on innovating the industry with its patented "Cushion Pocket Spring" technology. Our mattress is the culmination of a development effort by a dedicated team of sleep scientists and engineers with decades of mattress experience. Our mission is to improve your sleep-experience through unprecedented developments in sleep technology.
Just about all the mattresses I have reviewed are basically rectangles with traditional spring units and foam. I am really excited to get my hands on the SleepOvation mattress and try it out. I expect it to sleep cool and provide more conforming than a traditional mattress. Because you get the free trial period there is little risk and I'm sure it will be a great choice for hot sleepers. This could be the next evolution of the hybrid mattress.
You can learn more about the SleepOvation mattress and this unique technology and pre-order so you can be the first to get your hands on this mattress