Silk & Snow Foam
Premium 4 lb luxury memory foam and an innovative cover design come together to create a perfect sleep environment.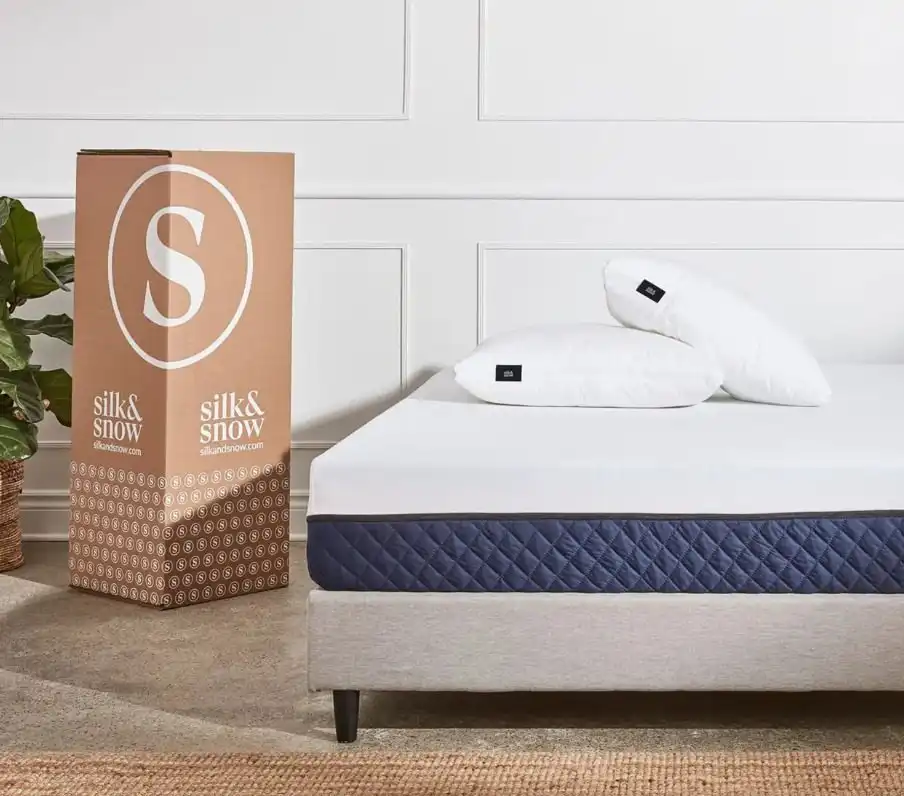 We earn a commission if you make a purchase, at no additional cost to you.
Silk & Snow is a Canadian mattress company that was founded in 2017 by Albert and Kenneth. They were inspired to start the company after they had difficulty finding a high-quality mattress that was also affordable.
The company launched its first mattress, the S&S Mattress, in 2017 through a Kickstarter campaign. The campaign was a success, raising over $700,000 from over 1,000 backers.
The S&S Mattress is a 100% foam mattress that is made with three layers of premium foam:
A top layer of cooling gel memory foam
A middle layer of supportive memory foam
A bottom layer of high-density base foam
The mattress is designed to provide pressure relief and support for all sleep positions. It is also CertiPUR-US certified, meaning that it is made with low VOC emissions and is safe for indoor air quality.
In 2019, Silk & Snow launched its second mattress, the Hybrid Mattress. The Hybrid Mattress is a hybrid mattress that combines foam and coils to provide a balance of support and comfort. It has a top layer of cooling gel memory foam, a middle layer of pocketed coils, and a bottom layer of high-density base foam.
Silk & Snow also offers a variety of other sleep products, including pillows, sheets, and comforters. All of the company's products are designed to help people get a good night's sleep.
Silk & Snow has quickly become one of the most popular mattress companies in Canada. The company has been praised for its high-quality products, affordable prices, and excellent customer service.
In 2023, Silk & Snow continues to be a leader in the mattress industry. The company is committed to providing its customers with the best possible sleep experience.
The Silk and Snow mattress is a memory foam mattress made in Canada. Think of it as the John Snow of mattresses, it's the King of the North. Like John Snow, of Game of Thones, it is strong and supportive but soft on the inside which is great for pressure relief. And like royaly it comes with a precious metal, silver. There is silver in the fibers of the cover which give it antimicrobial properties keeping the Silk and Snow mattress clean and fresh as the northern air.
Ordering the Silk and Snow
You can order a Silk and Snow direct from their website. Since it is a Canadian mattress company, it ships both to the US and Canada for free. After you place your order it should arrive in a box in about a week. Here's a picture of the box it arrives in.
A queen size retails for $850 but it is currently selling for $100 off at $750. This puts it in a competitive position pricewise. You also get a 100 day free trial so if you aren't happy with this mattress returns are free.  Below is a video overview of the mattress.
Construction of the Silk and Snow Mattresss
Below are the construction specifications as listed on the Silk and Snow website.
2″ Ultra-Dense Supportive Memory Foam
2″ Ultra-Dense Responsive Memory Foam
6″ Premium Support Foam
Polyester/Spandex/Silver Infused Zipper Cover
Here's a picture of the layers of the Silk and Snow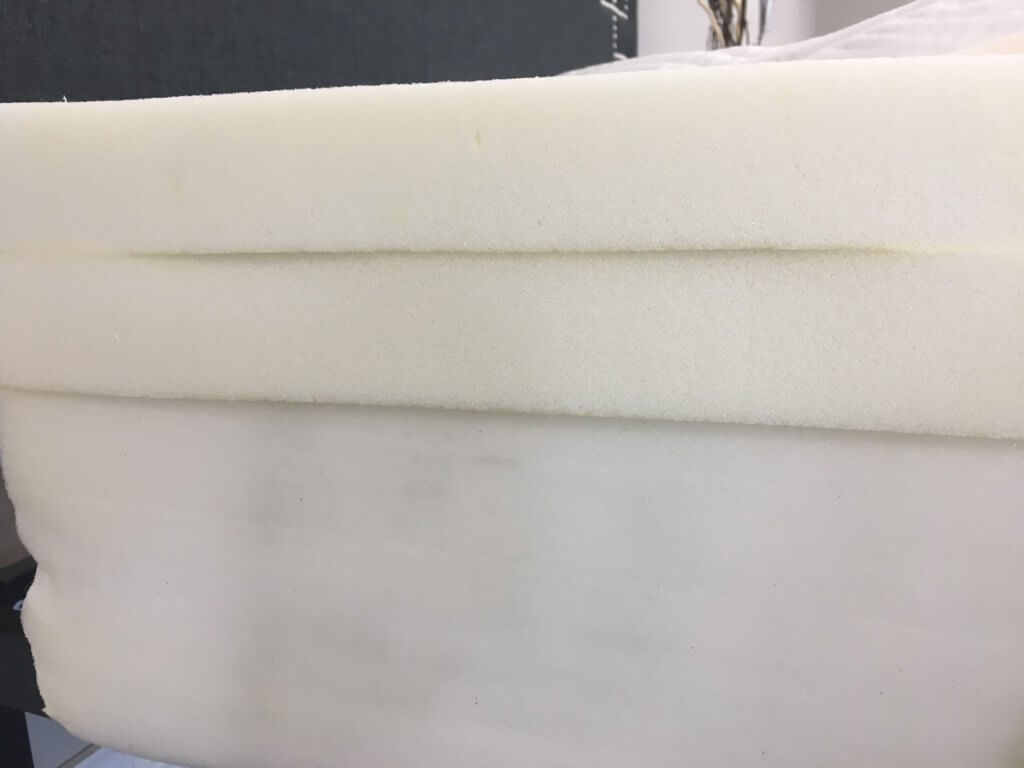 ULTRA-SOFT PREMIUM COVER MADE BY SCIENCE
A top cover made from one of the world's smartest natural materials. We used an innovative antimicrobial textile, powered by pure silver to help permanently prevent the growth of unwanted bacteria. Our silver technology is woven into the fibers, allowing the fabric to feel soft and luxurious.
EASY TO REMOVE TOP COVER
Keeping your mattress clean doesn't have to be a chore. Our mattress cover easily zips off, but only when you want it to.
LAYER 1 – OPTIMAL TEMPERATURE, ALWAYS
This layer provides a cooler, more consistent sleep surface every single night. 13x better than conventional memory foam, 16x better than latex.
LAYER 2 – NO MORE MARSHMALLOW SQUISH
This transition layer provides the spring and bounce you'd find in latex or coil bed. Unparalleled support, pressure relief and motion isolation that foam beds are famous for.
LAYER 3 – ALL ABOUT THAT BASE
This premium support layer is the foundation to it all. Strength, support and structure of the mattress starts here.
My Silk and Snow Findings
 This is a great mattress for people that are looking for the pressure relief that a dense foam mattress can offer and the responsiveness of newer generation foams. Overall its a solid mattres that should appeal to most people, especially those that want a mattress with an initial soft feel but still very supportive.
Here's a picture of how far the mattress sinks with the 16lb. Yawnder bowling ball. This mattress has some good sinkage and gives you good cradling. Not all foam mattresses do this as quickly as this one. you also get good recovery without as much push back.
Here's another video illustrating motion transfer. As you can see there is very little motion transfer on this mattress however there is some bounce as well which is illustrative of good recovery.

Let's take a look under the hood. Underneath the innovative antimicrobial cover you will find the layers of the Silk and Snow. Here's a video showing how each layer reacts. The top layer is the slowest to recover while the middle layer is the most responsive so that you get the bounce back while the top layer starts its recovery.
This mattress is fairly temperature neutral. Not too hot and not too cold. You definitely don't have the major heat retention issues like the old memory foam mattresses.  Below is a video shot with my infrared camera that shows how quickly heat dissipates from the mattress.
Aside from feel, the best part of this mattress is the cover. Having silver infused into the cover prevents bacteria from growing. Assuming you aren't prone to spilling in bed, you can then use this mattress without a mattress protector which gives you a truer feel of the mattress. Mattress protectors no matter how think will dampen the feel of a mattress to some extent. You can also wash the cover by unzipping the top as seen in the picture below.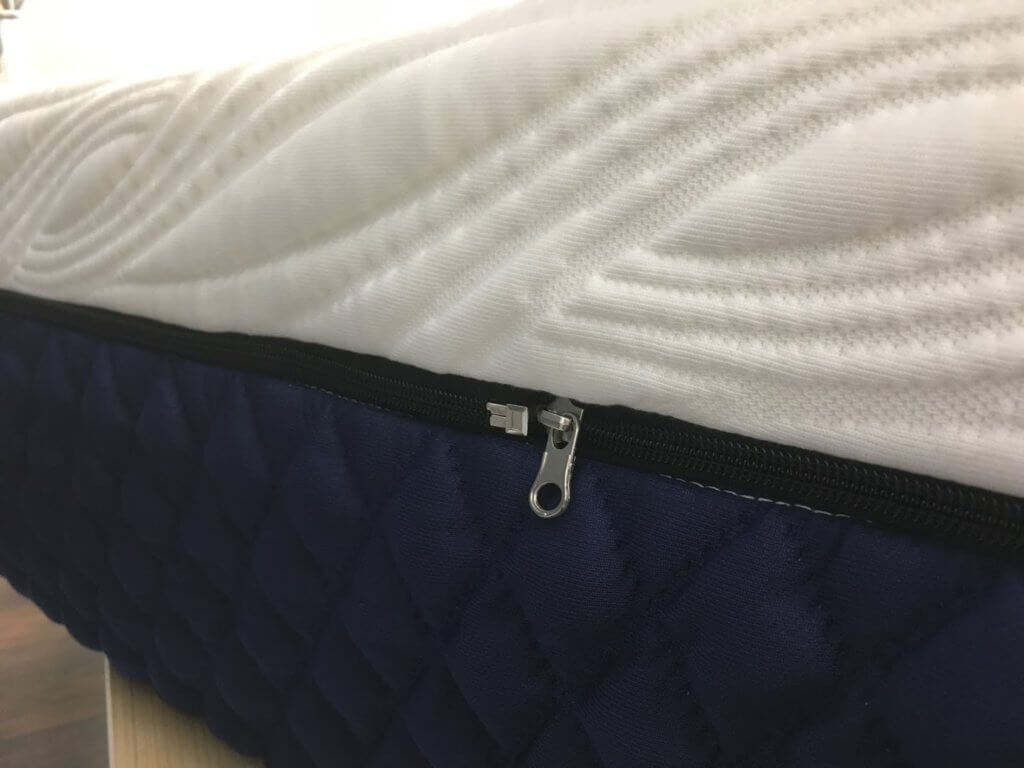 According to the site, "Our silver is infused into the fibers and the technology has been tested by the American Association of Textile Chemists and Colorists (AATCC) for effectiveness even after 100 washes." That means if you were to wash it every month it should get over 8 years of use out of it before the effectiveness of the cover dissipates.
My Silk and Snow Recommendation
Having slept on hundreds of mattresses now, I am confident that most people will find Silk and Snow to be of the most comfortable mattresses they have slept on. With the innovative cover it will be one of the cleanest mattresses as well. Silk and Snow is the perfect name for this mattress as it is as the cover stays as fresh as the driven snow and is as smooth as silk. The mattresses is as tempting to dive into as a freshly fallen snow.
Learn more about Silk and Snow
Silk & Snow Foam
Premium 4 lb luxury memory foam and an innovative cover design come together to create a perfect sleep environment.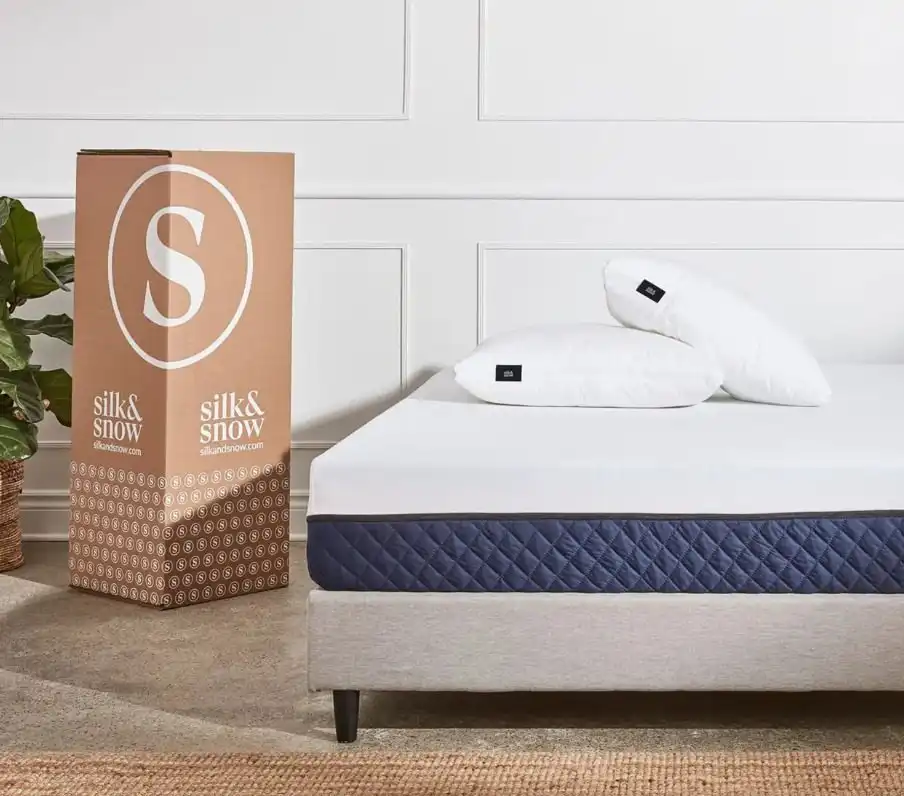 We earn a commission if you make a purchase, at no additional cost to you.