The Serta Perfect Sleeper series is a collection of mattresses that are designed to provide pressure relief, support, and comfort for all types of sleepers. The mattresses in the Perfect Sleeper series feature a variety of different materials and construction techniques, but they all share a common goal: to help you get the best night's sleep possible.
Some of the key features of the Serta Perfect Sleeper series include:
Zoned comfort: The mattresses in the Perfect Sleeper series feature zoned comfort, which means that they are designed to provide different levels of support for different parts of your body. For example, the lumbar region of your spine may need more support than your shoulders. Zoned comfort helps to ensure that your entire body is properly supported throughout the night.
Pressure relief: The Perfect Sleeper mattresses are also designed to provide pressure relief, which is especially important for side sleepers and sleepers with chronic pain. Pressure relief helps to reduce the amount of pressure that is placed on your body, which can lead to a more comfortable and restful sleep.
Cooling technology: Many of the Perfect Sleeper mattresses also feature cooling technology, which helps to keep you cool and comfortable throughout the night. Cooling technology is especially beneficial for sleepers who tend to get hot at night.
The Serta Perfect Sleeper series is a popular choice for sleepers of all types, and it offers a variety of different mattresses to choose from, so you can find the perfect one for your needs.
Here is a brief overview of some of the most popular mattresses in the Serta Perfect Sleeper series:
Serta Perfect Sleeper Hybrid: The Serta Perfect Sleeper Hybrid is a hybrid mattress that combines the best of both worlds: the support of a coil system with the comfort of memory foam. The Hybrid is a good choice for sleepers of all types, but it is especially popular with side sleepers and sleepers with chronic pain.
Serta Perfect Sleeper Innerspring: The Serta Perfect Sleeper Innerspring is a traditional innerspring mattress that offers excellent support and durability. The Innerspring is a good choice for budget-minded shoppers and sleepers who prefer a firmer feel.
Serta Perfect Sleeper Mattress-in-a-Box: The Serta Perfect Sleeper Mattress-in-a-Box is a convenient and affordable option for shoppers who want a high-quality mattress without the hassle of traditional mattress shopping. The Mattress-in-a-Box comes in a variety of different firmness options to choose from.
No matter what your needs are, there is a Serta Perfect Sleeper mattress that is right for you. With a variety of different models to choose from, you are sure to find the perfect mattress to help you get the best night's sleep possible.
I sleep on a new mattress almost every other week and most of them are direct to consumer, online-only brands. Every now and then, I do get sent a review sample of a legacy brand such as Tempurpedic, Simmons or in this case the Serta Perfect Sleeper. Serta was founded in 1931 and is the largest mattress brand in the United States but the Perfect Sleeper brand was released 2 years before the Serta brand name was introduced. Many hotel chains use their mattresses including Hilton Worldwide and Wyndham Worldwide. They merged with the online brand, Tuft & Needle in 2018. There's a lot to like about this mattress because they have almost a century of experience making mattresses and offer the same hassle-free returns as the online players.
Overview of the Renewed Night Mattress
Ordering the Serta Perfect Sleeper Renewed Night Mattress
You can order the Perfect Sleeper series mattresses directly through the Serta website or try it out at a local store by accessing their store locator. Ordering through the Serta site gets you free shipping, a 120 home trial, and free returns if you decide it's not a good fit. Either way, you order the mattress does not come in a box. It will arrive full size and a delivery company will bring it into your house. The delivery company XPO logistics coordinated everything and it was very easy to schedule my delivery date and time window online. They also called when they were about 30 minutes away. It's a good option if you don't want to have to drag a mattress from your doorstep to your bedroom.
How Much Does the Serta Renewed Night Cost?
The cost depends on which model you choose. I received the 1 layer of memory foam version which retails for $899 in a queen size, this is their entry level model. If you want extra layers of foam, the cost increases. You can refer to their website for the most current pricing. Also, keep in mind that their price should be the same as that found in the stores.
Construction of the Renewed Night Mattress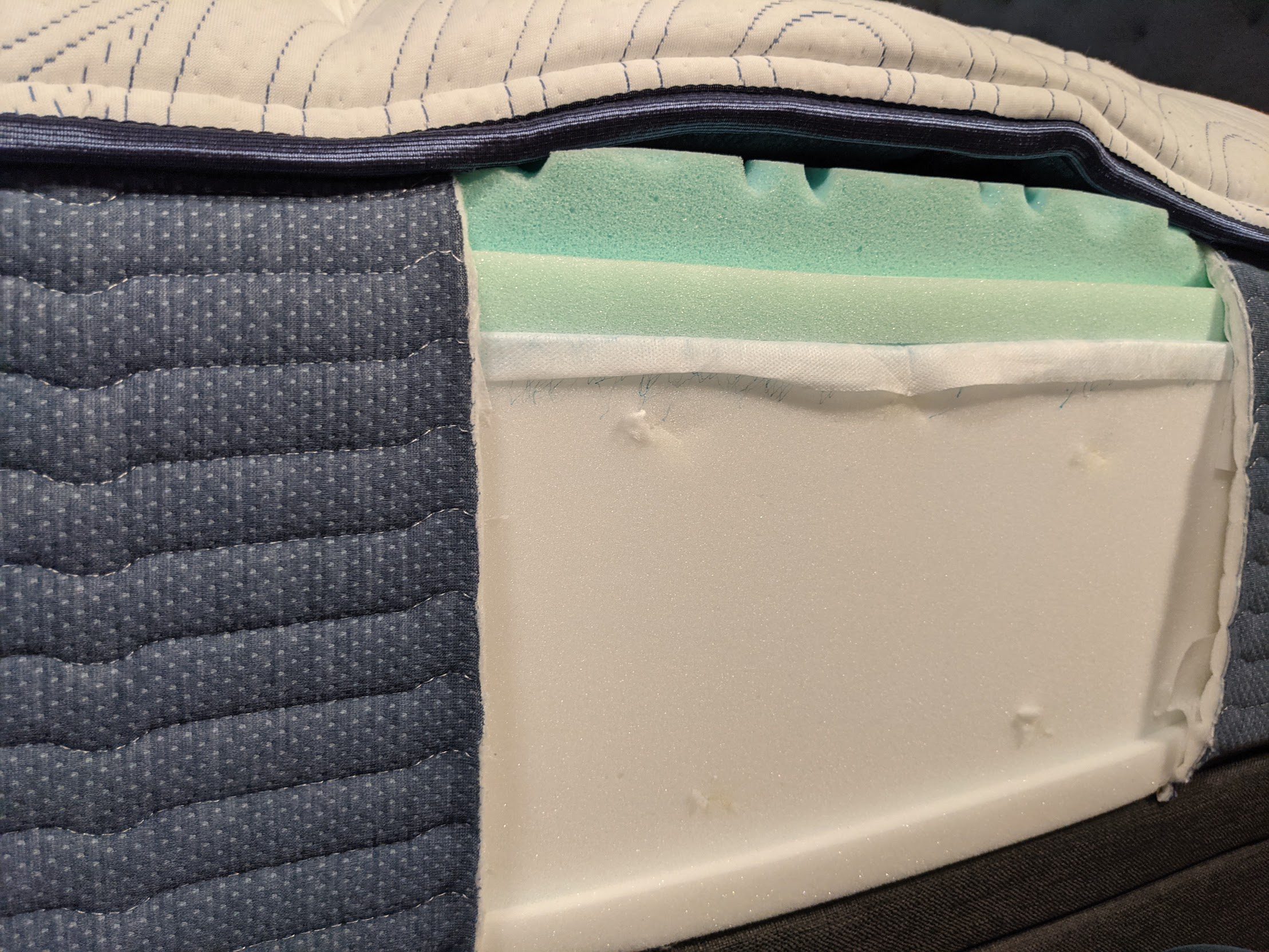 Below are the construction specifications of the Renewed Night mattress 1 layer of foam model as listed on the Serta website. For this review, I received the Plush version.
CoolFeel™ Cover
A luxurious, breathable cover with a cool-to-the-touch sensation from technology that is plant-derived.
HeiQ Vblock™
An exclusive, anti-microbial technology found on the surface of the mattress kills 99.9% of bacteria on contact, keeping your mattress fresh and clean.
HexCloud™ Gel Memory Foam
Serta's exclusive gel memory foam boasts unique geometric cut outs to deliver cool, contouring pressure relief for oh-so-relaxing sleep.
1000 Edition Custom Support™ Coil System
Individually wrapped coils deliver support and reduced motion transfer. This edition features Serta's BestEdge® Foam Encasement technology—an extra-deep foam rail to help reduce edge roll-off and extend the sleep surface.
My Serta Renewed Night Findings
I figured that this mattress may skew firm and I was right which is why I chose the plush model. The cover is quilted so you get an extra layer of pressure relief but even so, if you go firm, I imagine it will be really firm. The plush version felt more like a medium to me. Here's a photo of how much my 14 lb. bowling ball sunk into the mattress. When you lay down on the mattress you will sink into the quilted cover right away and it will cradle you while the foam layer provides most of the pressure relief and the springs provide the support.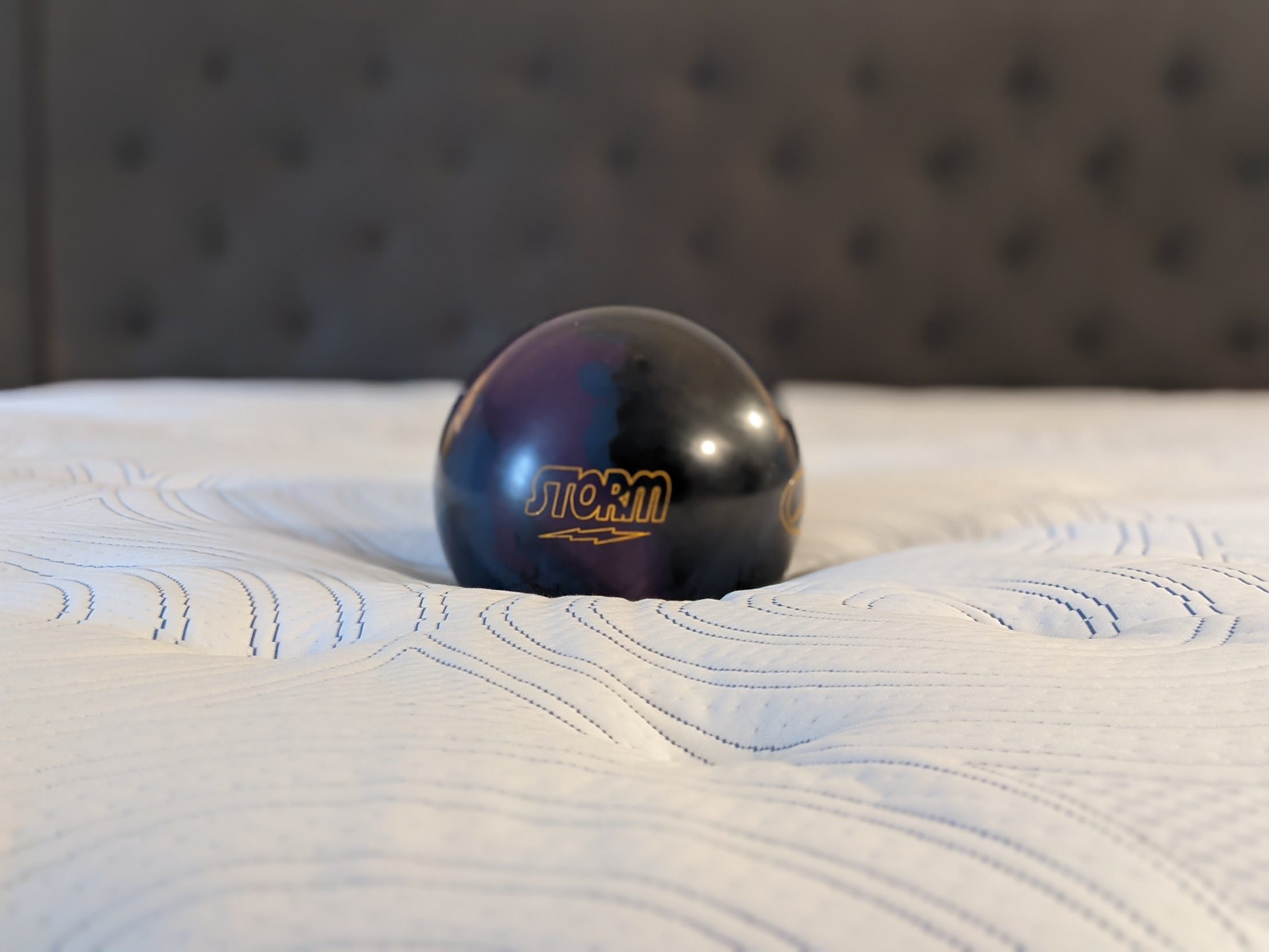 Here you can see how much my shoulders sink into the mattress while sleeping on my side.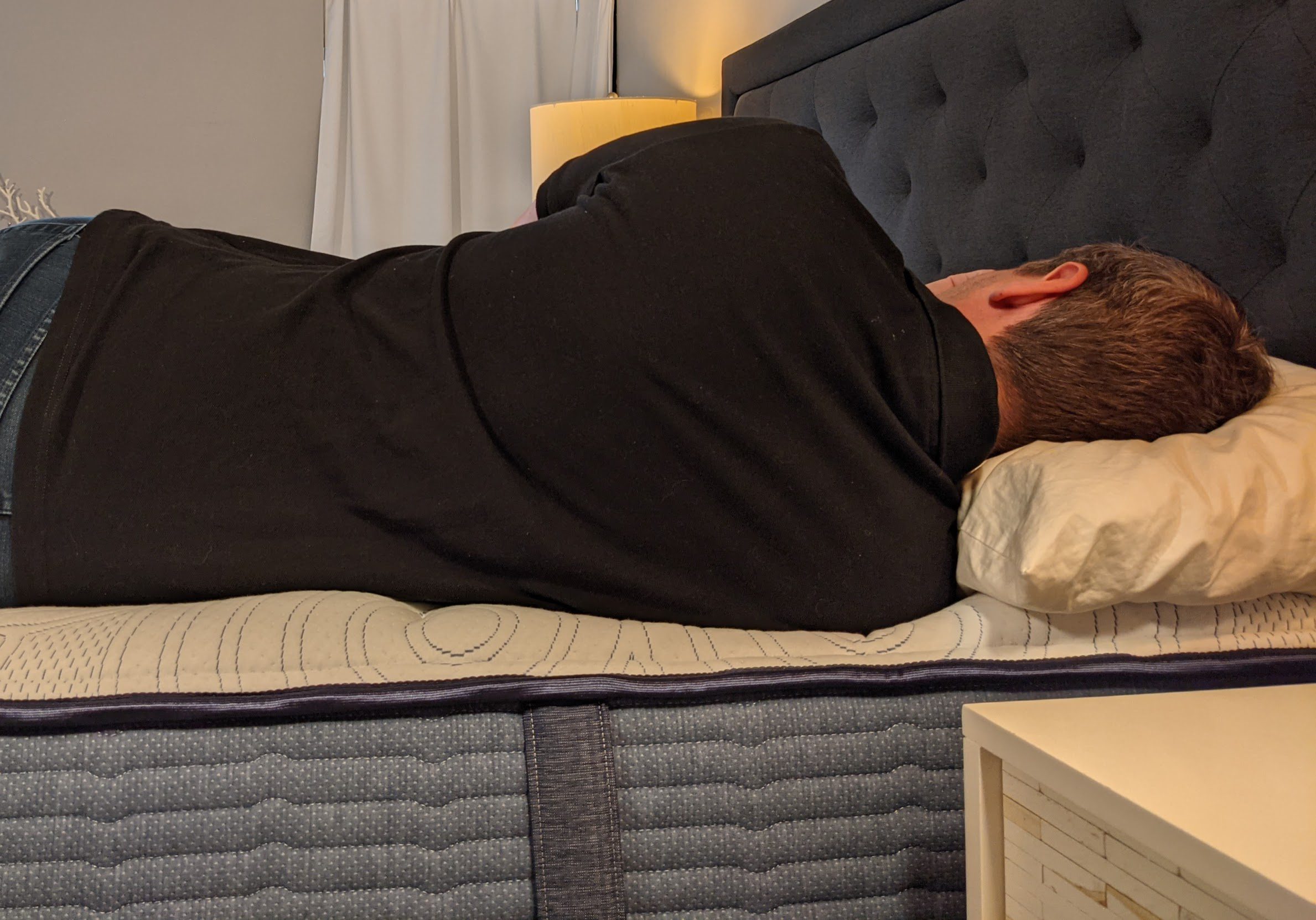 I slept on this mattress for about 3 weeks before writing this review and there are a few things that really stood out with this mattress. Let's start with the CoolFeel Cover. It incorporates phase change materials that are 53% bio-based content. In my experience, most phase change covers have a sort of stick feel to them and almost feel wet. That wasn't the case with this mattress. I didn't know it had phase change material until I looked up the details. The HeiQ Vblock is an antimicrobial technology applied to the cover to keep it fresh and to kill 99.9% of bacteria on contact. Although I still recommend a mattress protector, it's nice to know there is an extra layer of protection.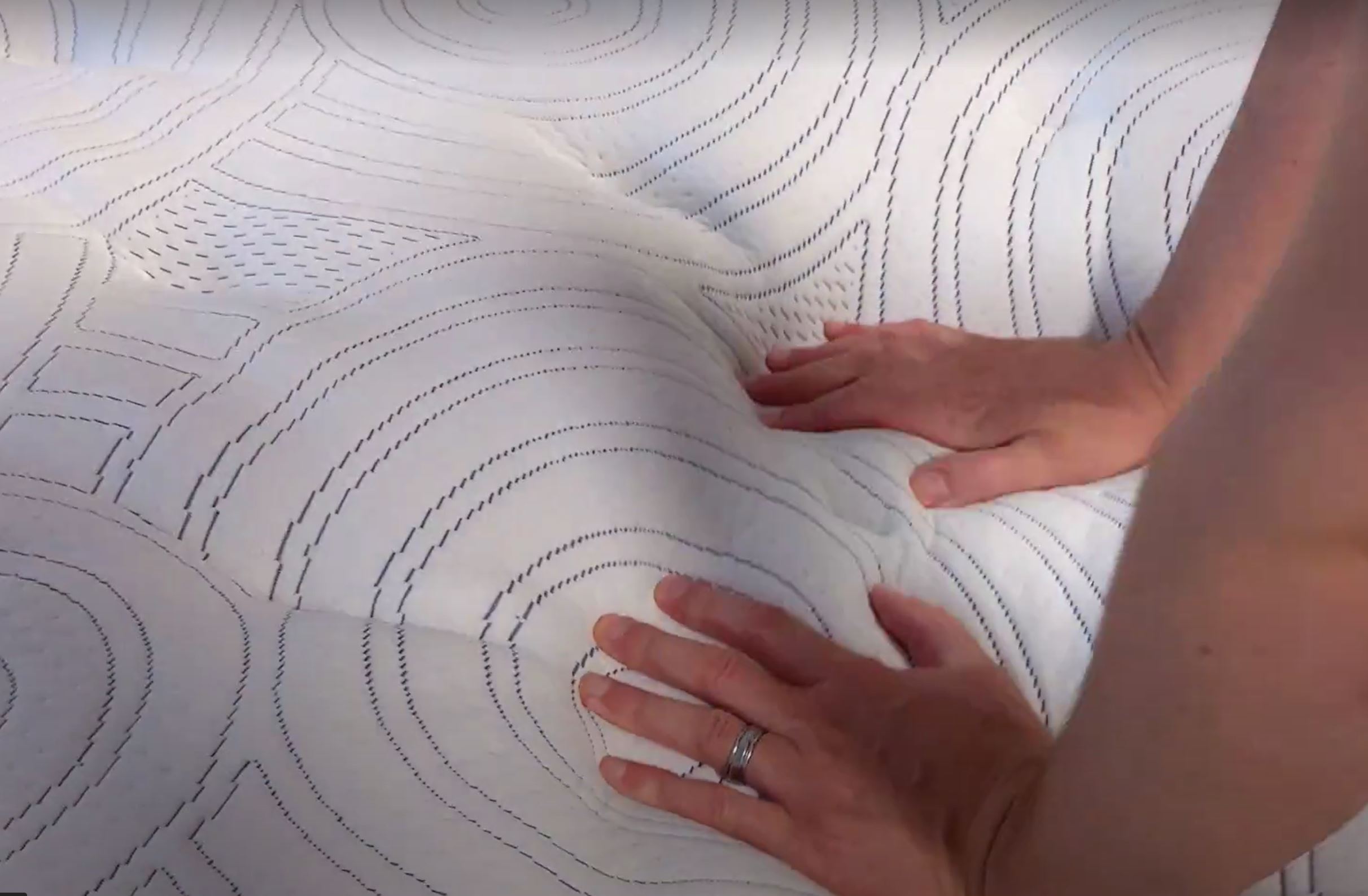 Although this mattress has springs, they are barely noticeable. I didn't feel my partner getting out of bed at night or tossing and turning. I'm not sure why that it but it can be largely explained by their use of pocked coils. check out the picture below where you can see the springs. I had to cut into the foam border to access them. The foam border is used to create a firmer edge so you won't roll off the mattress at night.
The third feature that stood out was the unique design of the foam layer. They call this the HexCloud Gel memory foam.  It is designed for cooling and better pressure relief. I didn't sink in like traditional foam and overall the mattress slept like a regular old-fashioned inner springs mattress without any foam. According to Serta, this new model of the Perfect Sleeper provides 40% better pressure relief than previous Perfect Sleeper models.
My Serta Perfect Sleeper Renewed Night Final Thoughts
Going with a legacy brand like Serta has many benefits. First, their free delivery into your house, 120-night trial, and free returns are the same or better than the popular online brands. They also have almost a century of mattress construction know-how. It was clear to me right away that they can add a lot of value to the mattress without adding cost. Since they are a manufacturer they can pass the savings directly to you, especially since they make so many mattresses to begin with. Normally phase change material, antimicrobial technology and a premium spring system would be an extra cost but you can get all this for under $900 in a queen size which makes it a phenomenal value.
I recommend the plush version of this mattress to people looking for a more medium feel. It has excellent lumbar support and really good pressure relief consider that they are only using one layer of foam. Because there aren't multiple layers of foam on this model, it will naturally sleep cooler too.  It's definitely time to take a look at the Perfect Sleeper lineup again.