Saatva is best known for their line of mattresses. They were one of the first direct to consumer mattress companies online. I bought a Saatva back in 2012 before I started this website. Since then Saatva has introduced a number of other mattress models, adjustable bases, and bedding including sheets and pillows. The Saatva Pillow has a Talalay latex insert that gives the pillow extra support. This is a versatile pillow that is sure to please every type of sleeper without any overhyped gimmicks.
Overview of the Saatva Pillow
Here's a video overview of the main features of the pillow. It has a very familiar feel. By that I mean it will feel like a traditional down or down alternative pillow but the latex insert gives it added support.
Ordering and Unboxing the Saatva Latex Pillow
You can get this pillow exclusively through Saatva. My order arrived in about a week and came in a box like the one below.
Inside the box you will find the pillow in another plastic, zippered bag with handles which keeps it clean and is great for storage later.
Here's the bag out of the box.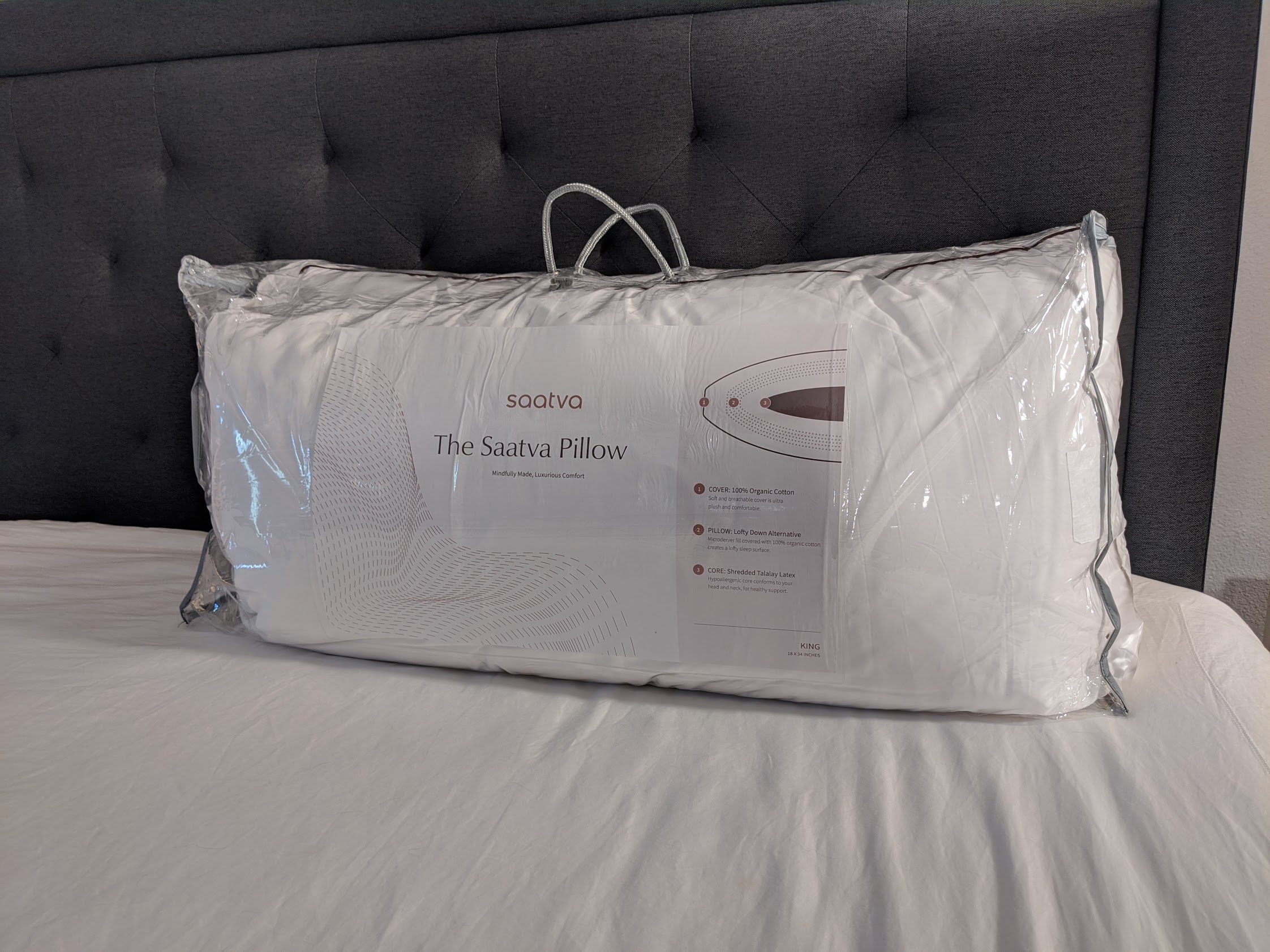 How Much Does the Saatva Pillow Cost?
This pillow retails for $145 in a queen size and $165 in a king size. If you buy a set of 2 king size pillows you get a discount of $40 It comes with a 45 day return period which means it's free shipping to you and free shipping on the return so you aren't out any money. Saatva excels with customer service so if you have any questions or concerns, they are easy to contact.
Construction of the Saatva Pillow
Here are the construction specifications as listed on the Saatva website.
Queen: 28" x 18" / King: 34" x 18"
COVER: 100% organic cotton

Soft, breathable sateen cover wicks moisture and sleeps cool. Gusseted sides offer long-lasting shape and contrast welting provides a luxurious, finished look. Unzip to wash.

PILLOW: Lofty and plush

100% organic cotton filled with silky, down-like microdenier fiber. This plush layer is hypoallergenic and promotes airflow for cooler, more restful sleep. Machine washable and made in the USA.

CORE: Shredded Talalay latex

Responsive 100% Talalay latex, for ultimate head and neck support. Recommended by chiropractors and orthopedists, Talalay is naturally hypoallergenic, dust-mite resistant, mildew proof, and has greater airflow than imported latex. Made from natural, renewable resources.
My Saatva Pillow Findings
The first thing I noticed was that these pillows were not roll packed and shrink-wrapped. If they were, it wouldn't affect the pillow but having them come in a full-size box made the opening experience more enjoyable and they weren't wrinkled and didn't have any smell when I put them on my bed.
The fist thing I noticed was the optic white cover. This is a removable cotton cover that can be washed. I still recommend using a pillowcase but I do appreciate the extra layer of protection.
On the side you will find zipper to access the inside of the pillow.
Inside the pillow, you will find the shredded Talalay Latex insert. If you sleep on your stomach you will probably want to remove this to make the pillow thinner. This also makes it a great guest pillow since it is easily customizable and has a very familiar feel. The top and bottom of the pillow have microfiber fill that makes the pillow feel like a down or down alternative pillow. Its very light and the fibers are silky smooth.
Here's a picture of the latex insert. It is square, not rectangular making it easier to swap out.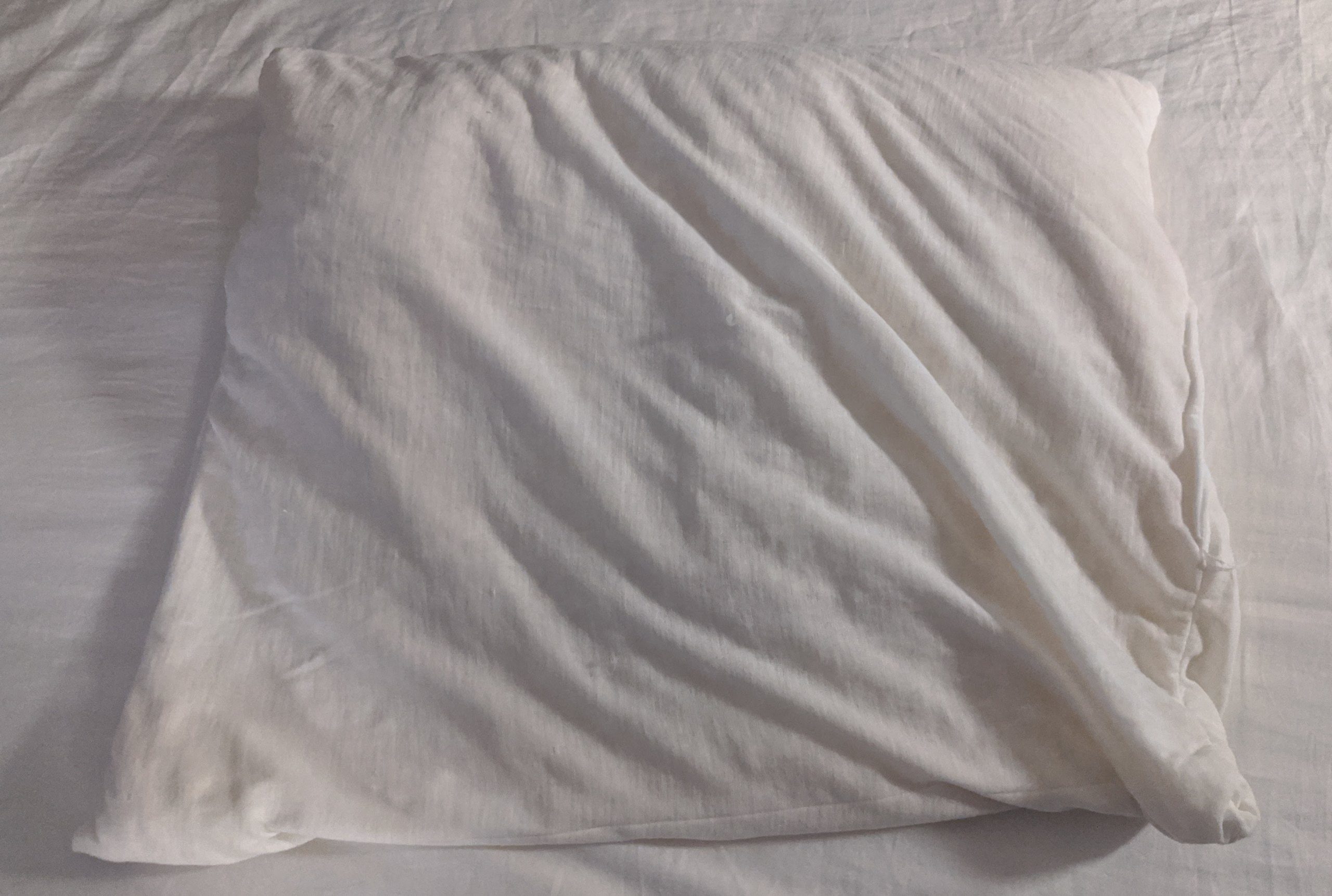 My Saatva Pillow Recommendation
I recommend this pillow for people looking for a traditional feel. Something like a down or down alternative pillow that provides a litte more support and more responsiveness. I like that you can make it thinner by removing the insert. That extra customizability helps justify the price and is something that I have seen in other pillows but this pillow just feels better. I also like the fact that you get 45 days to try it out to see if its a good fit. If anything, this is a great pillow for a guest room as it has universal appeal and will adequately fill up a pillowcase making the bed look beautiful.