We earn a commission if you make a purchase, at no additional cost to you.
Reverie is a privately held adjustable bed company founded in 2003 by Martin Rawls-Meehan and Tony Chang. The company is headquartered in Detroit, Michigan, and has manufacturing facilities in California and China. Reverie is known for its innovative and high-quality adjustable bed bases and mattresses.
Reverie's adjustable bed bases offer a variety of features, including head and foot elevation, massage, and under-bed lighting. The company also offers a variety of mattresses that are designed to work specifically with its adjustable bed bases.
Reverie's products are sold through a variety of channels, including its own website, specialty sleep retailers, and online retailers. The company also offers a free sleep consultation service to help customers choose the right adjustable bed system for their needs.
Reverie has won numerous awards for its products, including the "Best Adjustable Bed" award from Good Housekeeping magazine and the "Best Bed for Back Pain" award from Sleep Foundation. The company is also a member of the Better Business Bureau and has an A+ rating.
Here are some of the key features of Reverie adjustable beds:
Head and foot elevation: Reverie adjustable beds allow you to elevate your head and feet to a variety of positions, which can be helpful for relieving back pain, acid reflux, and other sleep problems.
Massage: Some Reverie adjustable beds come with built-in massage features, which can help to relax your muscles and improve your circulation.
Under-bed lighting: Many Reverie adjustable beds have under-bed lighting, which can provide a soft glow at night and make it easier to get in and out of bed.
Wall hugger design: Some Reverie adjustable beds have a wall hugger design, which means that they can be placed flush against the wall without sacrificing any functionality.
Bluetooth connectivity: Some Reverie adjustable beds can be controlled using a Bluetooth app, which allows you to make adjustments to your bed from anywhere in the room.
Reverie adjustable beds are a good option for people who are looking for a bed that can provide them with customized comfort and support. The company's products are also a good option for people who have back pain, acid reflux, or other sleep problems.
The Reverie 9T is THE most advanced adjustable base on the market. I can't speak highly enough of Reverie as a company. Their products are very well built and all made in the USA. They have a team of engineers that are dedicated to improving and innovating adjustable bases.
I recently received a Reverie 9T for the Yawnder Showroom. I still use the previous model the 8T in my house and after over a year of use it still works like new. Below is a video overview of the 9T and a demo of it in action. What you see in the video is the Dream Supreme II Hybrid Sleep System.
The Dream Supreme hybrid mattress has both latex and foam. This creates a more conforming feel than the all latex version of their mattress. You still get the dream cells to configure however you want but it just feels softer and you get more hug out of the mattress. I prefer this version over the previous because of the overall benefits of foam.
Here are the specification of the hybrid mattress:
Patented 6" DreamCell™ foam springs allow for dual firmness. Firmness level can be readjusted by rearranging foam springs. No motion transfer.
Dream Supreme II Hybrid comfort layer features 1" OEKO-TEX® certified, graphite-infused Talalay latex with 2" CertiPUR-US® luxe memory foam underneath.
Cashmere-blend woven cover finished with Feran Ice® wicks away moisture. Removable cover. Dry clean or spot clean only.
Mattress construction facilitates natural airflow for maximum breathability and temperature regulation.
12" mattress height.
OEKO-TEX® Standard 100 latex comfort layer and DreamCell foam springs. Naturally hypoallergenic and dust mite resistant.
CertiPUR-US® certified memory foam and RevTech™ foam. No VOCs or other harmful substances.
Intertek® Quality Performance Mark. Exceeds third-party tests for industry-leading durability and craftsmanship.
Available in the DreamTop™ (split head design) option.
10 year limited warranty.
Designed to maximize compatibility with an adjustable power base.
You can buy the mattress or the adjustable base separately. Most mattresses you buy online will work with an adjustable base. There are some exceptions including Saatva.
Here are the specs of the Reverie 9T as listed on their website:
The 9T™ is our most luxurious adjustable base with maximum technology and sleek styling.
Sleek grey, deck-on-deck design: upholstered upper and wood look hard body lower.
Infinite positions for head and foot, including presets for Zero Gravity, Anti-Snore and Flat and two extra programmable positions.
Innovative lumbar support better aligns with spine and can be adjusted by degree
Quiet, high-definition massage. 4 waves, 10 intensities.
OLED remote with high resolution screen.
Included portable wireless charging pad. Charge remote using built-in micro USB outlets.
Bluetooth® Smart enabled
Free Nightstand app for iOS. Can set Comfort Settings and Routines to run automatically.
Under-the-bed LED nightlight
ProGrip™ technology ensures consistent lumbar support while eliminating the need for retainer bars in most applications (retainer bars are still included).
Fits within most bed frames and attaches to most headboards.
Removable side rails for ultimate flexibility. Zero clearance.
850 lb weight limit.
20 year limited warranty.
Available in: Twin XL 38″x80″, Full 54″x74″, Queen 60″x80″, Split California King (2 pc) 36"x84"
Findings
I have a split king size Reverie 9T. It is basically two twin xl bases that are placed together. The advantage of having it split is that each side can move independently. So, if one person wants to read, sleep or watch TV on an incline, the other person can lay flat and sleep.
In the picture below you can see towards the bottom where there is a flap on the base that extends upwards for lumbar support. This can completely transform the feel of a mattress, even a worn out one.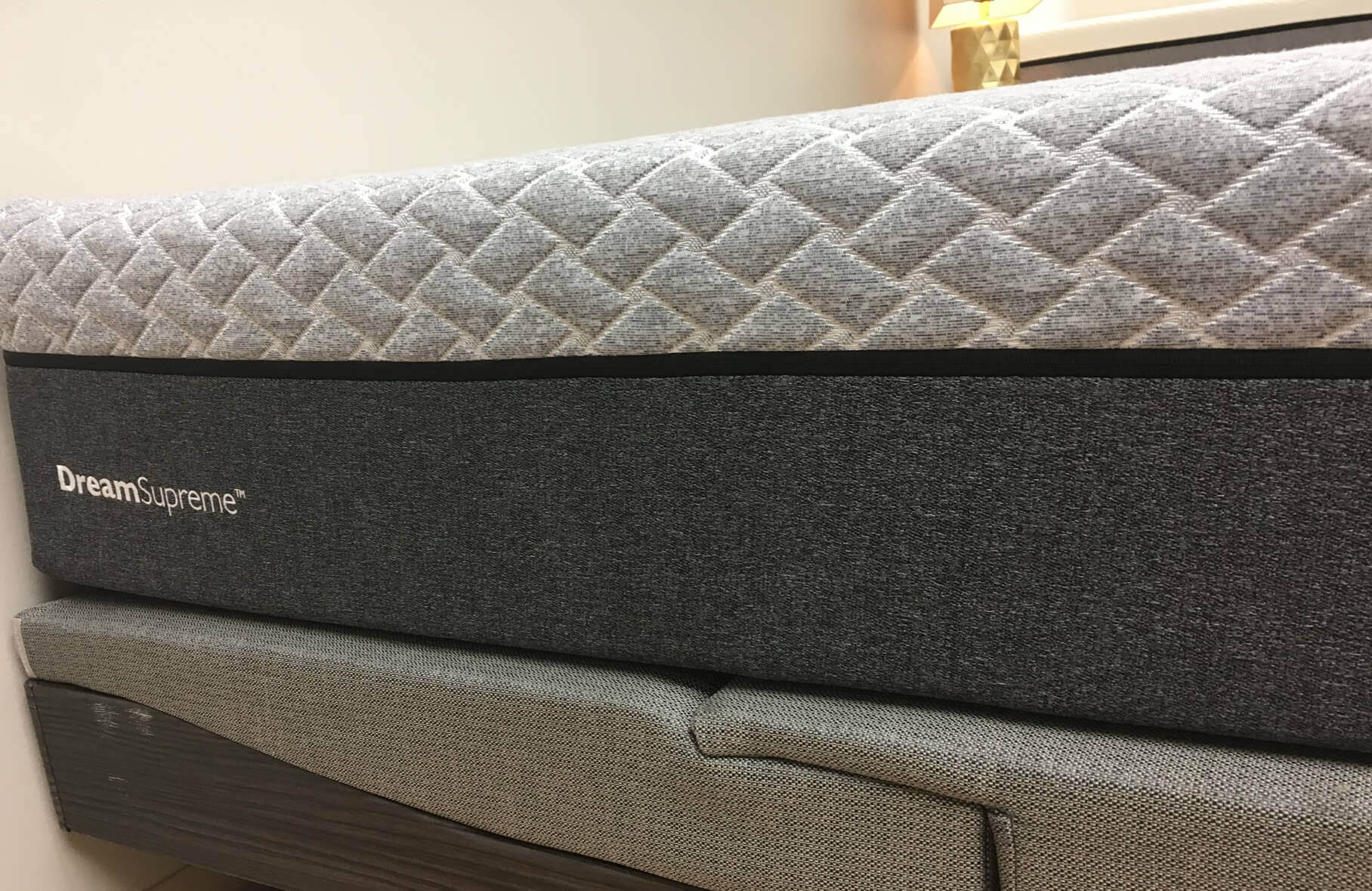 What makes the 9T a step up from previous versions is that when you go into zero gravity mode, you get better pressure relief.  I also like the faux wood paneling along the side of the base. There's really no need to encase the base in a bed frame. You can buy a headboard to go with the base as the 9T comes with a headboard adapter kit to complete the look.
The dream supreme hybrid mattress is one piece on the bottom and split at the top so that you feel more connected to your partner while sleeping. Reverie makes special sheets that will fit this type of mattress. As you can see one side is in the zero gravity position while the other is flat.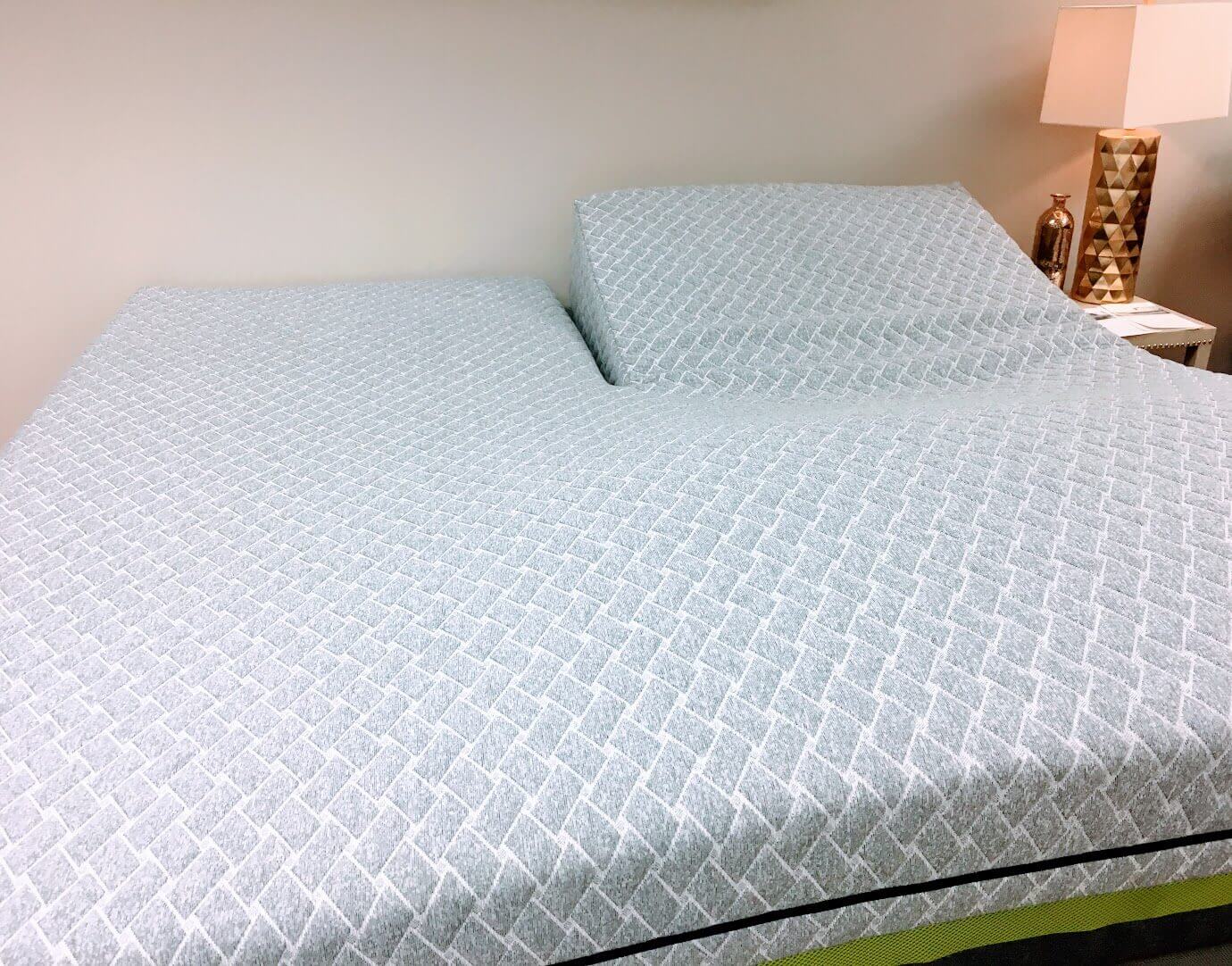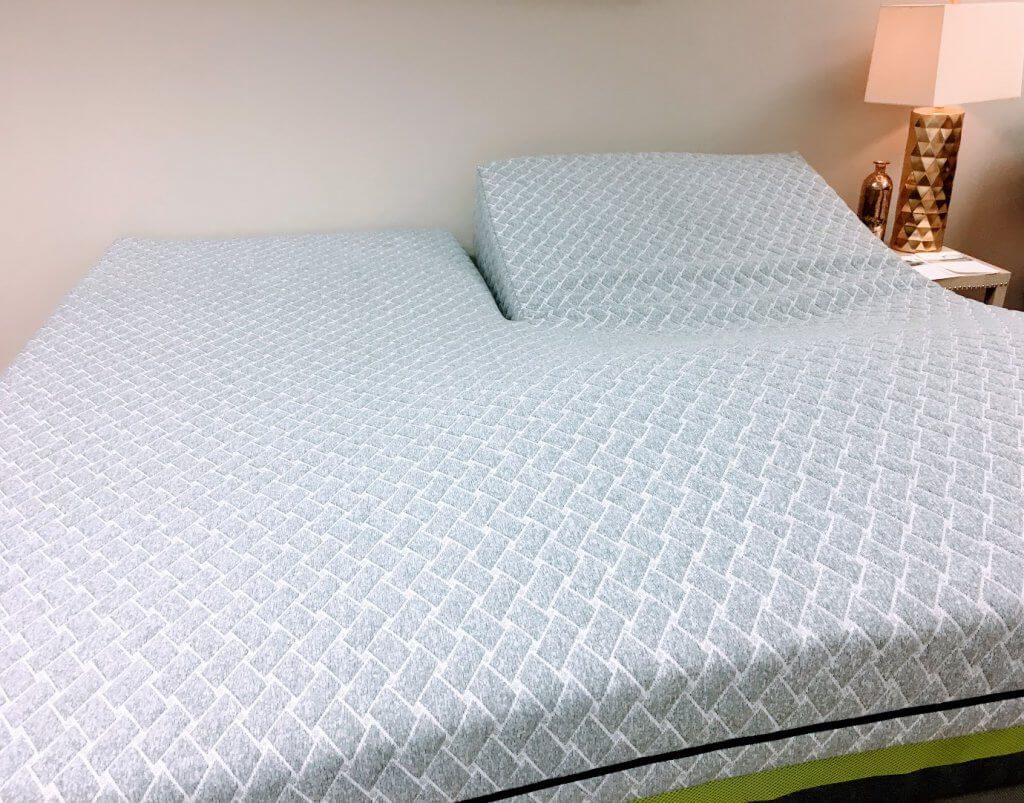 All mattresses that come in a box will work on an adjustable base which is almost all the mattresses I have reviewed on this site. Adjustable bases just aren't for old people with health issues anymore. Bedrooms are starting to become a secondary office and being able to turn your bed into a zero gravity massage chair is a welcome upgrade, especially for people that may live in a house with no office.
Adjustable bases transform your bed into a very versatile piece of furniture that you will enjoy for years.
Reverie Adjustable Base Models
ere is a list of all Reverie adjustable base models and prices, as of October 24, 2023:
| Model | Price | Image |
| --- | --- | --- |
| R650 | From $2,099 | |
| R550 | From $1,599 | |
| R450HT | From $1,599 | |
| O400 | From $1,199 | |
| O300 | From $1,099 | |
All Reverie adjustable base models come with a number of standard features, including:
Head and foot elevation
Wireless remote control
Zero Gravity preset position
Anti-snore preset position
Programmable memory positions
Under-bed lighting
Some Reverie adjustable base models also offer additional features, such as:
Massage
Wall hugger design
Bluetooth connectivity
Reverie adjustable base models are available in a variety of sizes, including twin, twin XL, full, queen, king, and California king.
Reverie adjustable bases are sold through a variety of channels, including the Reverie website, specialty sleep retailers, and online retailers.
We earn a commission if you make a purchase, at no additional cost to you.