The Purple 4 mattress is the premiere luxury model from Purple. It has 4 inches of their signature smart grid technology on top and below that are pocket springs that provide extra bounce and more contouring. It is surrounded by a foam encasement for superior edge support. I was just as excited to try this mattress as I was the original Purple over 2 years ago. In short, this is the ultimate side sleeper mattress. You will experience an almost weightless feeling on this mattress. If you are only an occasional side sleeper or more of a back sleeper, I would check out the Purple 3 mattress review.

Unboxing the Purple 4
Unlike the Original Purple, the Purple 4 comes in a box the size of the mattress. Here's the box that my queen size came in:

Here's a picture of the mattress out of the box

Overview of the Purple 4 Bed
This mattress along with the Purple 2 and 3 are more of an evolution of the Original Purple. What sets these models apart is that they include a pocket coil system instead of foam. Despite having springs they still contain motion incredibly well.
Here's a video overview with me on the Purple 4. The cover of this mattress stretches to work with the mattress. I also highly recommend the Purple Sheets and Purple Mattress Protector because they are also stretchy and breathable. They also have a heavier duty elastic band to keep the bedding from slipping off the mattress.
Ordering the Purple 4 Bed
You can only get this mattress exclusively through their website. Unlike the Original Purple, this mattress does not come compressed. Instead Purple offers free white glove delivery in the 48 contiguous states. This is important because this mattress is heavy. Here's the size and how much the Purple 4 mattress weighs:
Twin XL
Product Dimensions:
38"x80"x13"
Weight: 105 lbs
Shipping Dimensions: 44" x 16" diameter
Queen
Product Dimensions:
60"x80"x13"
Weight: 168 lbs
Shipping Dimensions: 60" x 16" diameter
King
Product Dimensions:
76"x80"x13"
Weight: 204 lbs
Shipping Dimensions: 76" x 16" diameter
Cal King
Product Dimensions:
72"x84"x13"
Weight: 202 lbs
Shipping Dimensions: 76" x 16" diameter
How Much Does the Purple 4 Cost?
Here are the prices as listed on their website
Twin XL $2,499
Queen $2,799
King $3,499
Cal King $3,499
Construction of the Purple 4 Mattress

Here are the construction details of the Purple 4 according to their website:
Comfort-Stretch Cover
4″ Purple Smart Comfort Grid
Specialized Comfort Foam
Responsive Support Coils
Plexus Side Panels
Top Layer: Hyper-Elastic Polymer with Non-toxic polyethylene copolymer powder coating on 1/2 " 2.0 density polyurethane foam
Base Layer: Polypropylene fabric encased coils on 1″ 2.0 density foam
Encasing: 2.0 density polyurethane foam
Coils: 13.75 gauge, 2-ply Polypropylene pockets, 95% recycled steel
Color: White
Fabric Content:
Knit fabric on top 98% polyester / 2% spandex
Quilted, woven fabric on the sides at 99% polyester / 1% spandex
The bottom is a woven fabric 100% polyester
Fire Retardant: Non-Toxic Knit Barrier (not chemically treated)
Basic Care: Spot clean with mild detergent (Eg: upholstery cleaner). Machine wash/dry not recommended.
My Purple 4 Mattress Findings
This is a mattress that you really sink into. In fact, it is the plushest among the entire Purple mattress line. Below is a photo showing how much my 14 lb. bowling ball sinks into the mattress.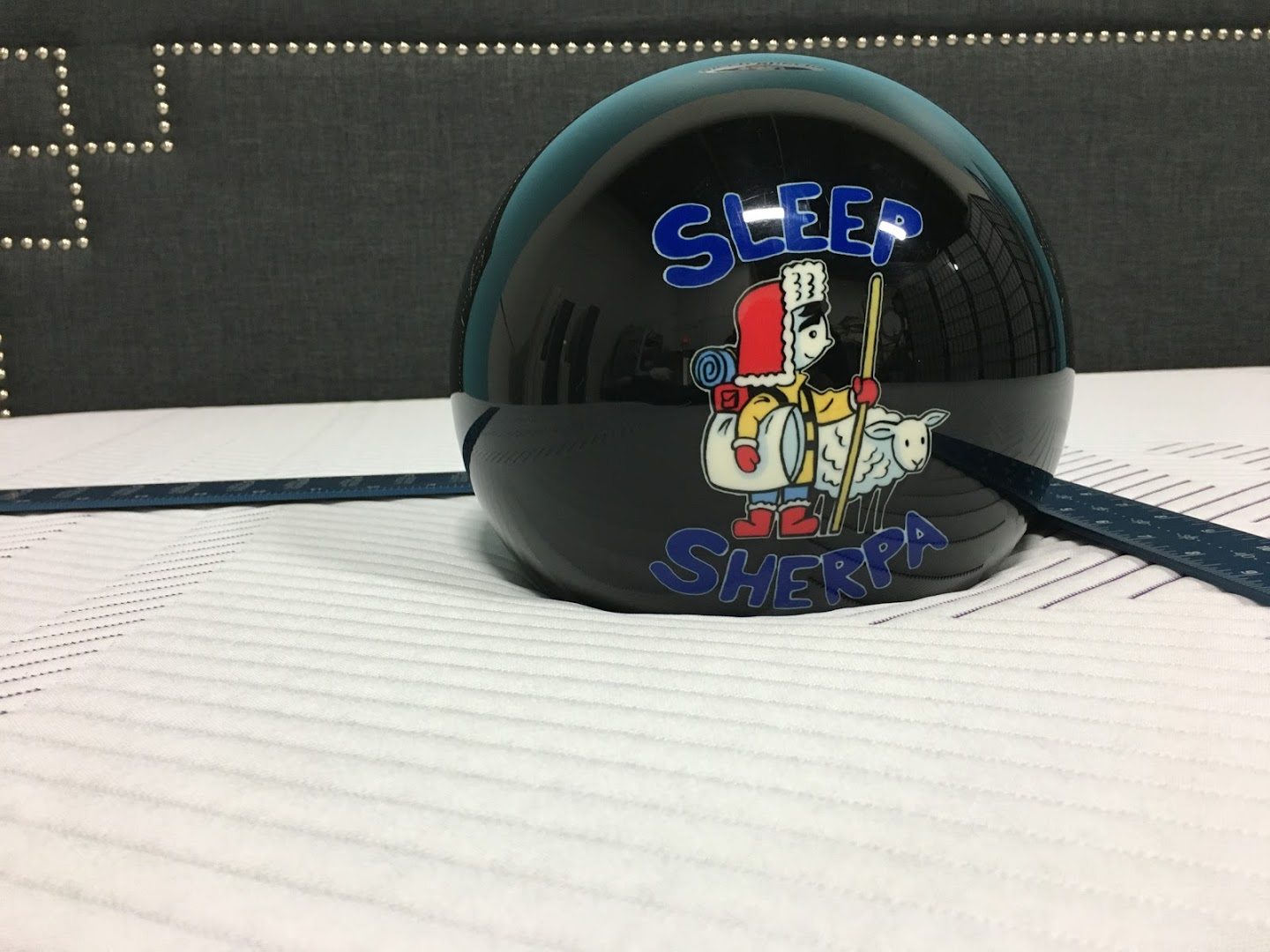 This is a very bouncy mattress as well but not in a bad way. You get lots of quick recovery with the smart grid system and true bounce with the springs underneath but despite the bounciness, motion transfer is contained very well.
Here's a video to illustrate this point.
Purple is one of the coolest sleeping mattresses on the market. If sleeping hot is your primary concern, you owe it to yourself to try the Purple. You don't lose any of this benefit with more of the smart grid. Below is a video illustrating heat retention on the Purple 4. It was taken with my infrared camera. I don't think this video quite does the mattress justice as heat is constantly dissipating through the grid keeping you cool.
Take a peek inside. Here's an up-close shot of the inside of the Purple. Notice how the comfort grid system bounces back instantly. It's almost like a jello type of responsiveness.
Here's a peek inside the purple. I pulled back the foam border so you can see the spring system inside.
My Purple 4 Recommendation
The Purple 4 is the ideal mattress for hot sleepers that want a luxury feel that is supportive and cool sleeping. I really like that they added springs to these models because it creates a seamless transition. People who have tried memory foam and can't handle them because of sleeping hot owe it to themselves to give the purple a try.