[vc_column_text class="sleep-sherpa-exclusive-deal"]

Get 15% off your Polysleep mattress with coupon code Sherpa at checkout Activate Here[/vc_column_text]
The Polysleep mattress is a memory foam mattress made in Canada. I was recently given a free queen size for review. It is made with a ventilated foam top that is responsive and more breathable than traditional foam. Another highlight of this mattress is that it comes with a liquid repellant cover. This will reduce the need for a mattress protector as spills will bead up on the mattress giving you time to clean up before liquids penetrate the mattress.
You can now buy the Polysleep Mattress in the USA
Overview of the Polysleep Mattress
The Polysleep mattress comes roll packed in a box and will be delivered to your door in about a week. It is made in Canada and is now available in the USA and Canada. It comes with a 100-night trial where if you aren't happy with it, you will get a full refund.
Here's a picture of the box that my queen size mattress arrived in.

Polysleep gives you a really nice tool to cut open the plastic packaging. Once you do this the mattress expands to shape and is ready to sleep on within a few hours. I recommend letting the mattress breathe for at least 2-3 hours before adding sheets and bedding. There will be some off-gassing with this mattress since it is an all foam mattress but it wasn't that bad and for the most part, dissipated after 3 days with most of the smell going away after about 3-4 hours.

Below is a video overview of the Polysleep mattress. In the video, you can get a sense of how the mattress reacts.
Construction of the Polysleep Mattress
Here are the construction details of the mattress as listed on their website. I appreciate how transparent this company is with their construction details. It really helps you make apples to apple comparisons among other mattresses.
Liquid – Repellent Cover
The cover gives you a delicate, soft feel to lie on. It is also liquid-repellent to avoid any accidents. The sides are made of mesh, which allows the mattress to be more breathable.
Ventilated Viscoelastic Hybrid Foam – 3.0 lbs / ft3
The top layer is anti-microbial. It allows air to circulate, keeping you cool while adapting to your body. It identifies the pressure points, reduces the temperature and the firmness of these points in seconds only. It prevents any moisture from accumulating.
Support Layer – 1.8 lbs / ft3
The support layer serves as a transition between the top layer and the base. It is designed for your comfort and provides full body support to ensure a better sleep.
Supportive Foam Base – 1.8 lbs / ft3
The first layer, or base, of the ultimate mattress, is built with high-density foam and acts as a box spring, while providing unparalleled reinforcement. It adds durability, strength and comfort without feeling too firm.
Proprietary Support Frame – 2.0 lbs / ft3
The proprietary support frame makes this mattress truly unique. This keeps the mattress from flattening out when you sit along any of the edges and helps to reinforce the structure.
Here's a picture of the inside of the Polysleep it's hard to see the transition layer since it is a white hue like the other layers but it is there.
As seen below by the mattress law tag, the Polysleep is made in Canada.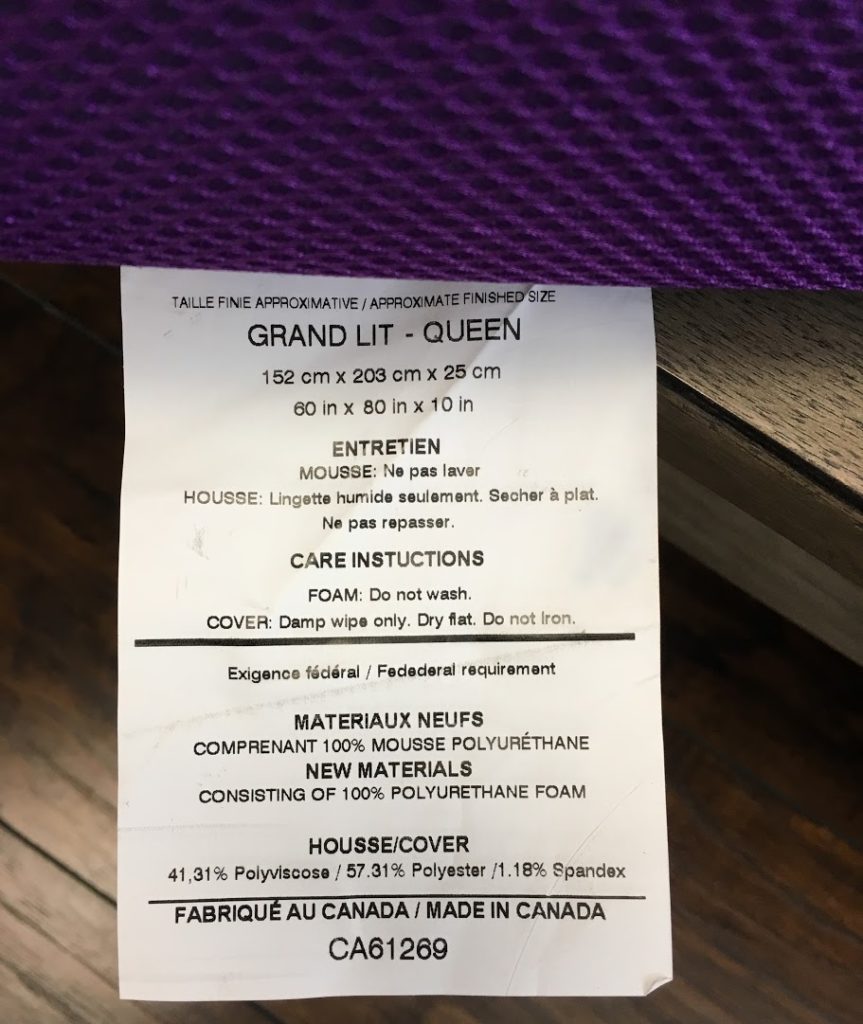 How Much Does the Polysleep Mattress Cost?
The prices below are Canadian Dollars.
[table id=58 /]
Here are the USA Prices
[table id=59 /]
My Polysleep Findings
Below is a photo that shows how much the Polysleep mattress sinks. I used a 14lb. bowling ball in this picture. What you will find is that the mattress sinks quickly and recovers quickly this is due to the properties of the top layer. It was designed to be easy to move around on.
Here's another video that helps illustrate this point and shows how each layer reacts.
There isn't too much motion transfer with this mattress since it is all foam. What I did notice is that the ball did bounce back a little as opposed to just sinking in which will happen with a denser foam mattress.
How Firm is the Polysleep Mattress?
Among the memory foam mattresses I have reviewed I found the Polysleep to be a medium firmness. You will sink in slightly but not a lot. This means it's easy to move around on and there is less "hug" to this mattress. It won't envelop you like a more plush mattress would which means less of the mattress around you to trap heat.
My Polysleep Recommendation
There are hundreds of options now for memory foam mattresses in a box. What sets the Polysleep apart is that they have added some new technology to the mattress. The liquid resistant cover really works and if you drink coffee in bed or are prone to spills, this mattress is a great choice where you don't have to use a mattress protector. A mattress protector will ultimately take away from the feel of a mattress by reducing its elasticity. It's safe to say that a protector is optional with this mattress.
Polysleep also incorporates the latest foam technology in their mattress. Although it doesn't conform as well as a denser foam mattress, it provides excellent pressure relief and quick recovery. The top layer is also breathable in that the channeled foam and mesh side panels help draw heat out of the mattress. This, in my opinion, is a better option than gel foam which only provides a temporary cooling effect.
If you are looking for a reactive foam mattress that sleeps relatively cool, has antimicrobial properties and a spill-resistant cover this is the mattress for you.
Canadain Customers: Get $70 off your Polysleep mattress with coupon code, SHERPA70 at checkout. Shop Polysleep
USA Customers: Get $50 off your Polysleep mattress with coupon code SHERPA at Checkout. Shop Polysleep USA
[vc_column_text class="sleep-sherpa-exclusive-deal"]

Get 15% off your Polysleep mattress with coupon code Sherpa at checkout Activate Here[/vc_column_text]