We earn a commission if you make a purchase, at no additional cost to you.
Pillow Guy pillows are a brand of high-quality pillows that are designed to provide comfort and support for all types of sleepers. They are available in a variety of different fills and firmnesses, so you can find the perfect pillow for your individual needs.
Some of the most popular Pillow Guy pillows include:
Down Pillow: This pillow is filled with 100% RDS-certified white goose down, which provides the ultimate in softness and luxury.
Down Alternative Pillow: This pillow is filled with a hypoallergenic down alternative fiber that provides the same feel and comfort of down, without the allergens.
Memory Foam Pillow: This pillow is made with high-quality memory foam that contours to your head and neck to provide pressure relief and support.
Gel Memory Foam Pillow: This pillow is similar to the memory foam pillow, but it also has a gel layer that helps to keep you cool and comfortable all night long.
Pillow Guy pillows are also available in a variety of different sizes and shapes, so you can find the perfect pillow for your bed and your sleeping position.
Pillow Guy pillows are known for their high quality and durability. They are also backed by a 100% satisfaction guarantee, so you can try them risk-free.
Overall, Pillow Guy pillows are a great option for anyone looking for a high-quality, comfortable, and supportive pillow.
The Pillow Guy Down Alternative Pillow is marketed towards gentlemen who could step up their bed game. The entire Pillow Guy brand offers an array of products, all meant to encourage men to pay more mind to this routine but an essential part of life.
The products they offer are pillows, sheets, comforters, duvet sets and also bundles to help you save in case you're looking for a nice package deal.
Overview of the Pillow Guy Down Alternative Pillow
Pillow Guy only has 2 types of pillows in their inventory but I believe it's more than enough; some people just don't like foam and there already exists an array of places where foam pillows are available. The Pillow Guy brand seeks to distinguish itself by representing men of higher class and higher taste, of which quality pillows like traditional down pillows remain relevant. Their down pillows are $150.00 each, a rather steep price but I have no doubt that the quality matches the price. Usually, things made of premium materials will cost you a premium price and that's just the reality. For those that want to spend less or are of a more animal-friendly tendency, the down alternative pillow is a solid option. With a price tag of $80.00, it's worth considering for the budget-minded.
Construction of the Pillow Guy Down Alternative Pillow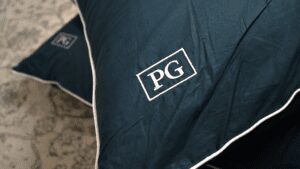 The Pillow Guy Down Alternative Pillow comes in two sizes: Jumbo and King. Jumbo is more or less just about the size of a Queen pillow (which are generally ~ 20" X 30"). I kind of wish they just sticked with the term, as anyone shopping for bedding is familiar with it but I respect their decision to focus on their male target audience. To be honest, if we're talking about men, King would be the appropriate term to take advantage of, for the most part.
Both come with the option of two densities: soft, meant for stomach sleepers, and overstuffed, designed for back and side sleepers.
| | | | |
| --- | --- | --- | --- |
| Size | Length | Width | Fill Power |
| Jumbo Soft | 20 | 28 | 30oz |
| King Soft | 20 | 36 | 42oz |
| Jumbo Medium/Firm | 20 | 28 | 55oz |
| King Medium Firm | 20 | 36 | 76oz |
My Pillow Guy Down Alternative Pillow Findings
The Pillow Guy Down Alternative Pillow is made of Poly Gel Fiber, a micro denier which is a synthetic polyester that's designed to resemble the look and feel of a down pillow. In this case, their blend is a mixture of a .09D (a denier fabric that has the softest down-like feel) and 3D3V (a denier fabric which gives it loft and helps the pillow to retain its shape). Poly Gel Fiber doesn't just seek to replicate the goose down experience but it also has great benefits which I doubt anyone could complain about, such as: it's naturally hypoallergenic and it's resist to dust mite, mold, and mildew—All incredibly gross things that most of us (I would hope) would like to avoid :-).
Pillow shells, that which houses the inner pillow material, are not usually a topic of conversation but what they've done with theirs is worth the mention and pretty interesting. Having utilized what's known as MicronOne Technology means their pillow fabric shells are more premium than most. MicronOne technology refers to a rather high-tech fabric, invented to effectively protect the skin and respiratory system. It's said to be the only material that's been scientifically tested to block out bed bugs and micro toxins, down to the size of one micron. The biggest flaw with MicronOne Technology however is that there isn't ENOUGH research behind it. This however is NOT a reason to think of Pillow Guy in any negative or skeptical way, as these are two completely separate companies. I consider Pillow Guy to be an absolutely awesome brand that has clearly done their absolute best to invest in the most high-quality materials for their high-class creations.
The color of the pillow cases for the down alternative pillows is something the company is quite proud of, and they should be. What they've dubbed to be "Pillow Guy Blue" is a striking and bold color, their own blend of Pantone colors, versatile enough to compliment various styles of bedding and decor. A lot of guys also tend to like blue so it was a great choice given their target audience. It is, after all, a rather sophisticated color. In addition, I like that their pillow cases were designed to be used as is. It feels like the sort of thing you'd get when purchasing a bedding set. It's distinct and of quality. I feel like most companies go with the generic look of pillows; they're always white, which is understandable (easy to know how clean or dirty they are, right?) but I appreciate that Pillow Guy chose to do something different.
It also comes with a hidden zipper (it's actually really well hidden) and white satin piping. Piping is usually a posh feature when it comes to any product and the luxury of having it in a pillow case is really nice.
My Pillow Guy Down Alternative Pillow Recommendation
I'll admit that I had a liking for Pillow Guy the moment I saw their commercial but pillows are more than their marketing and working here at Yawnder, you deserve the truth. The truth is that out of all of the pillows I've reviewed thus far, this one is probably one of my top two favorites. The quality matches its price, both the soft and overstuffed version provide more than sufficient support, it's well designed and really thought out, it achieves its purpose to look and feel just like a down pillow (I was really surprised how well they pulled this off because it's not easy), and the company isn't scared to be creative in terms of the look of their product and how they market it, which I think is really cool and what variety is all about.
I also think it's worth mentioning that despite their intense buffer against dirtiness, it's always recommended to clean your pillows routinely, so the fact that this pillow is machine washable is a huge plus.
Additionally, they provide Free US Shipping, a 30-Day Sleep Free Guarantee, free returns, and even monthly payments through Affirm, financing for those who can't afford the entirety of what they'd like to purchase, be it pillows or something else.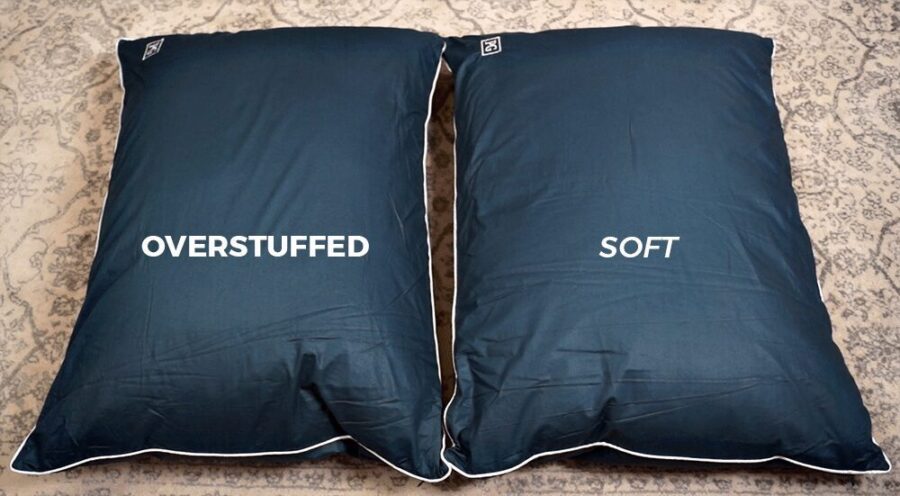 In terms of their marketing, what I really like is that there's a message associated with their products, which is not really typical of sleep products, if you think about it. Most companies are trying to provide a solution, which is great, sure, but not all of them state having a particular reason/purpose as to why they create their products in the first place.
If you haven't seen their entire commercial, there's mention how men who care about their appearance and their nice car, things speaking either of their social status or their attention to detail (or both), should care just as much about their sleep hygiene. Pillow Guy is making an attempt to remind people that they should have standards when it comes to their sleep, and how they sleep; it's precisely why one of their slogans is "Get your sheet together."
One's bedroom is no doubt telling of one's tendency towards cleanliness and whether we're talking about how others will perceive you because of it, or how you perceive yourself, this is an area worth investing in—regardless of whether or not you can afford the most premium products.
Seeing a line of products that are targeted towards men who are commonly known to not put much care or emphasis into their bedding, is refreshing. It's nice to see the topic brought up and Pillow Guy does it in a really sophisticated and polite manner.
Pillow Guy challenges men to "step up their bed game," and I think anyone dating a man who could do better in this arena, would definitely appreciate that.
This is a top-notch luxury pillow that one should not hesitate about; firstly, because of its quality and secondly, because of the company's values and finesse in addressing the topic of clean sleep.
We earn a commission if you make a purchase, at no additional cost to you.