[Tagline]
[vc_column_text class="sleep-sherpa-exclusive-deal"]

Get 15% off your Pillow Guy purchase with coupon code SLEEPSHERPA at checkout. Activate Here[/vc_column_text]
The Pillow Guy Goose Down Pillow is yet another item part of an incredible line of products from the clever brand Pillow Guy. I received and reviewed free one of their items in the past and was pretty impressed with their Down Alternative Pillow so naturally, I had very high expectations of their Down Pillow. This is a company that targets their items towards men who consider themselves gentleman and who pride themselves on their good taste.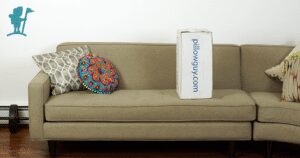 Overview of the Pillow Guy Goose Down Pillow
While the Pillow Guy only has two pillow types in their inventory, the choice to keep it simple is wise in their case. Their Goose Down pillow comes in two densities, soft and overstuffed. Their pillows are crafted with 100% Certified RDS (Responsible Down Standard) 650 fill power White Goose Down. They're encased in a down-proof cotton shell and then wrapped in their gorgeous white sateen cover that comes with stunning blue satin piping. The cover has a hidden zipper and truly feels like something a 5-star hotel would supply their guests (and should).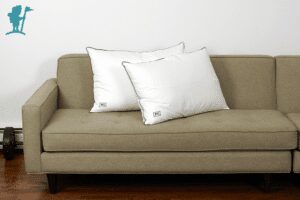 Construction of the Pillow Guy Down Pillow
Pillow Guy wants to separate themselves from the crowd as a company suited more for the elite. That being the case, their terminology can vary a little so keep in mind that a Jumbo pillow is more simply a Queen size pillow.
| | | | |
| --- | --- | --- | --- |
| Size | Length | Width | Fill Power |
| Jumbo Soft | 20 | 28 | 22oz |
| King Soft | 20 | 36 | 26oz |
| Jumbo Medium/Firm | 20 | 28 | 28oz |
| King Medium Firm | 20 | 36 | 36oz |
My Pillow Guy Goose Down Pillow Findings
Unlike the Down Alternative pillow, Pillow Guy's Goose Down Pillow is not made from a synthetic material so there's quite a process involved in trying to ensure that they're providing the most desirable product on the market. Their Goose Down Pillows are 100% Certified RDS (Responsible Down Standard) but for those that want further clarification on what that means, the information below is quoted directly from the official RDS website, which can be found at http://responsibledown.org.
—Any removal of down and feathers from live birds (live-plucking or molt-harvesting) is prohibited

—Force-feeding is prohibited

—Holistic respect for animal welfare of the birds from hatching to slaughter

—RDS down and feathers is properly identified; to ensures that non-RDS down and feathers are not mistakenly identified as RDS

—Each stage in supply chain is audited by a professional, third party certification body

—Only products with 100% certified down and feathers carry the RDS logo
If you want to read more about how RDS works, there is more information towards the bottom of the home page on their official site. That's where they discuss the certification process in further detail.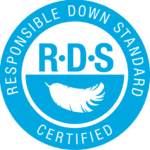 Another aspect that I really like about these pillows is that they're priced accordingly. Because Goose Down is a limited resource, it can be costly, which is why I appreciate the fact that their soft pillow, the one with less filling, actually costs less. Not every company is so honest but I believe that the Pillow Guy is and this is just one indication.
One thing I found interesting about this pillow is how different it was in terms of density between the soft and overstuffed pillow. With the Down Alternative pillows this was quite evident but I think that with the Goose Down pillows they've drawn the gap a little bit closer. I think this is a positive aspect actually, considering it's Goose Down which can lose it's loft over time. This however can be remedied. Down pillows just require their own maintenance in order for them to last long.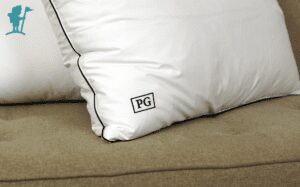 My Pillow Guy Down Pillow Recommendation
The Pillow Guy has created another top notch item that they can be proud to have in their inventory. While there is no doubt that I'm a fanatic of their advertising and would love to meet their marketing person, their products make it clear that their money is invested in far more than just their advertising. I rate this pillow an A+.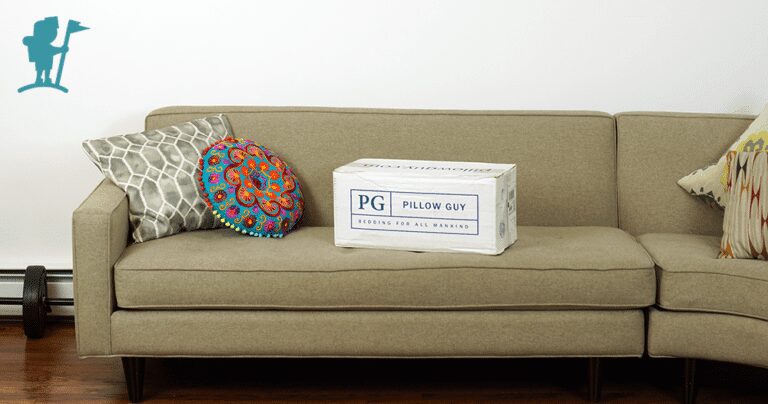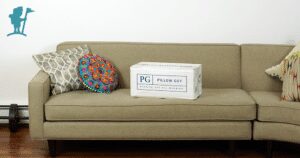 Learn more about the Pillow Guy Down Pillow
[vc_column_text class="sleep-sherpa-exclusive-deal"]

Get 15% off your Pillow Guy purchase with coupon code SLEEPSHERPA at checkout. Activate Here[/vc_column_text]