The Sleepgram pillow is an adjustable pillow that is designed to provide a comfortable and supportive night's sleep for all types of sleepers. It is made with a siliconized microfiber fill and supportive foam, and has a removable organic cotton cover.
The Sleepgram pillow is unique in that it can be adjusted to three different firmness levels: soft, medium, and firm. This allows sleepers to customize the pillow to their own personal preferences. The pillow is also adjustable in height, so it can be used by both back and side sleepers.
The Sleepgram pillow is also designed to stay cool and comfortable throughout the night. The siliconized microfiber fill is breathable and helps to wick away heat. The removable organic cotton cover is also soft and cooling.
Here are some of the key features of the Sleepgram pillow:
Adjustable firmness and height
Made with siliconized microfiber fill and supportive foam
Removable organic cotton cover
Breathable and cooling
Hypoallergenic
Machine washable
Overall, the Sleepgram pillow is a versatile and comfortable pillow that can be used by sleepers of all types. It is adjustable, breathable, and hypoallergenic, making it a good choice for people who are looking for a pillow that will help them get a good night's sleep.
The Sleepgram Down-Alternative Pillow is a beautiful pillow. Sleepgram's appeal is their emphasis on customization. Not only have they produced a great looking and great feeling pillow, but there's two more inside. The pillow comes with a fluffy outer layer and you'll find 2 more with the pull of a zipper. One layer has a red tab, which is more firm, the other layer has a blue tab, which is softer. The idea here is that you can change up the arrangement until you find a firmness best suited to your preferences. The company was founded in 2016 by two friends from Los Angeles.
The ability to customize provides a few different options

Identical in feel to a down pillow

Designed in the USA, Made in China

Looks like a high end, hotel quality pillow

A little on the pricey side, with a single Queen size pillow starting at $65

Can only be purchased directly from their site

Overview of the Sleepgram Down-Alternative Pillow
The best way to get your hands on this pillow is through the Sleepgram website. Here's what it looks like out of the box.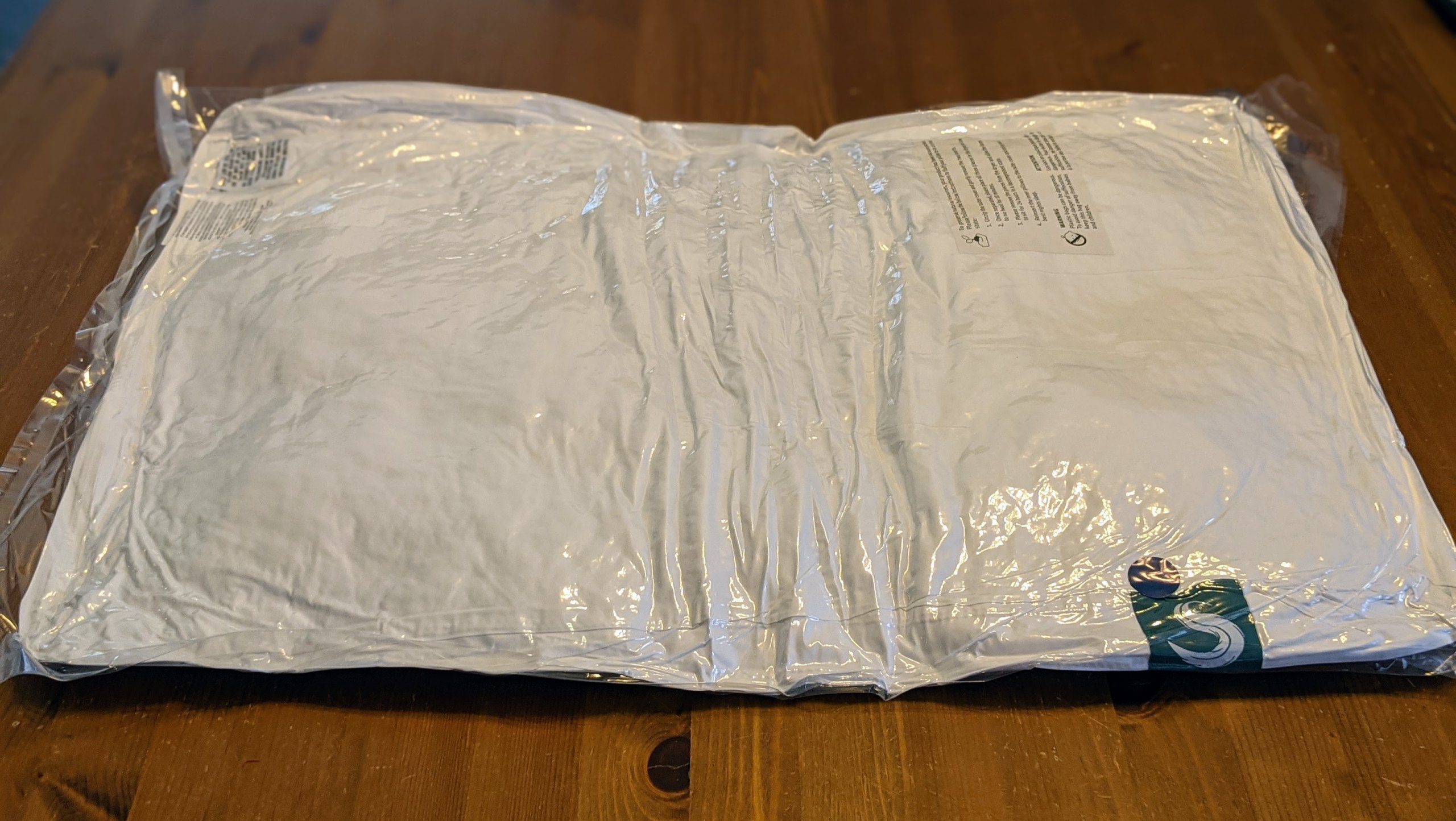 Below is a video unboxing, demo and review of the Sleepgram Down-Alternative Pillow.
Construction of the Sleepgram Pillow
The Sleepgram Down-Alternative Pillow is available in Queen and King sizes. Their website also offers pretty hefty discounts for 2 packs, 4 packs or 6 packs, if you like sleeping with a lot of pillows, or just have a big family.
 Size
Dimensions
Standard

 

18″ x 26″ + 1.5″ gusset

King

 

18″ x 33″ + 1.5″ gusset

My Sleepgram Pillow Review
There were a few things I noticed immediately about the Sleepgram pillow and I'll mention them all in order.
To start off, I really appreciated the modern and distinct packaging. It's nice to see that a company even included branded packaging in their business equation. It just says a lot. One could assume that if they're meticulous about how a package, with their product inside of it, looks, then it says that they'll pay the same attention to detail, when it comes to the actual product development.
Second, the pillow felt like a high-end item. The materials on the inside and out felt great to the touch. It really felt like a down pillow, even though it was not but that's the point, right? The Sleepgram Down-Alternative Pillow is soft, soft, soft. Yes, you get 3 options and I can appreciate that but this isn't exactly a solid feeling pillow. I like soft pillows, and their softest version (outer layer + blue tab pillow) of this pillow was just way too flat. The medium version (outer layer + red tab pillow) of it, however, and the firm version (outer layer + both red and blue pillows), were the best.
It's fluffy. It's comfortable. It's a genuinely pleasant pillow but I do not recommend this for someone who prefers firmer pillows or for someone who is used to foam pillows. It would absolutely not suit them. This pillow is for that one person that wants to be held by their bedding when they sleep. This is for the person who wants more than just a platform for their head at night.

My Sleepgram Pillow Recommendation
The Sleepgram Down-Alternative Pillow definitely does it's job, in terms of looking and feeling the part. The pillow however, could be more firm than it is, if it's meant to suit any type of sleeper, and any type of sleeping preference.
The thinnest layer inside the pillow (with the blue tab) provides no substantial support. The firm insert (with the red tab) provided much more support. I feel like Sleepgram could really upgrade the customization significantly if they provided more options. More options for firmness, by providing a layer with a higher density of microfibers, or even a foam layer, for those who might want a little bit of both, or those just curious to experiment. If this pillow is meant to be a one-size-fits-all approach, I think there is more to explore here.
However, if this pillow isn't trying to be a pillow designed for everyone, there is absolutely nothing wrong with it being sold or targeted specifically to individuals who like soft pillows. Because this is a great soft pillow.
There are a number of pillows that are often rated as being better than the Sleepgram pillow. Some of these pillows include:
Coop Home Goods Eden Pillow: The Coop Home Goods Eden Pillow is an adjustable pillow that is made with a shredded memory foam and polyester fiber fill. It is known for being soft and comfortable, while also providing good support.