Novosbed was founded in 2009 by Sam Lubell. Lubell was inspired to start the company after he had difficulty finding a high-quality mattress that was also affordable.
At the time, most mattress companies were selling mattresses through traditional retail channels, such as brick-and-mortar stores. This added a significant markup to the cost of mattresses. Lubell wanted to create a mattress company that would sell mattresses directly to consumers online, which would allow him to offer high-quality mattresses at a more affordable price.
Novosbed launched its first mattress, the Novosbed Mattress, in 2009. The mattress was an instant success, and the company quickly became one of the leading online mattress retailers in the United States.
Novosbed mattresses are made with high-quality materials and construction. The company offers a variety of different mattress models, each with its own unique features and benefits. Novosbed mattresses are also backed by a 15-year warranty.
In addition to mattresses, Novosbed also sells a variety of other sleep products, such as pillows, sheets, and comforters. The company also offers a sleep trial, so customers can try out a Novosbed mattress for 120 nights before deciding whether to keep it.
Novosbed is committed to providing its customers with the best possible sleep experience. The company offers a wide range of high-quality sleep products at affordable prices. Novosbed is also backed by a team of customer service representatives who are available to help customers with any questions or concerns they may have.
Novosbed has won numerous awards for its mattresses and customer service, including the "Best Online Mattress" award from Good Housekeeping magazine and the "Best Customer Service" award from Mattress Advisor.
Novosbed is a leading online mattress retailer that is committed to providing its customers with the best possible sleep experience. The company offers a wide range of high-quality sleep products at affordable prices, and it is backed by a team of customer service representatives who are available to help customers with any questions or concerns they may have.
I was given a queen size, medium firm Novosbed for free to review. Soon after unboxing the Novosbed, I knew it was of superior quality to some mattresses I have tried from online bedding companies. Novosbed is made with premium ultra-dense foams and because of that, you should easily get 15 plus years of good use out of it. Aside from the high quality, this bed feels great and the Comfort+ option gives sleepers piece of mind knowing that they can adjust the firmness of the mattress after purchasing. Novosbed is the first company to launch a product like this that has patented their approach. This mattress was designed with customization in mind; the folks at Novosbed understand that there is no one perfect mattress.
Summary: 9.1/10 – Shop Novosbed
Ordering the Novosbed
You can order the Novosbed directly from their site and choose from 3 different levels of firmness. For this review I chose the medium firm. I was also sent the comfort plus kit which allowed me to make the bed softer. You can also order a kit that will make the bed firmer. You can get this kit for free if you find that the bed isn't to your liking.
Placing the order is easy, your mattress ships in a box and will arrive in about a week. Novosbed eliminates all risk by offering a trial period of 120 days, which is substantially longer than other mattress companies. Since this mattress has very dense memory foams it may require more of a break in period than lower density rivals. I strongly recommend that anyone buying a Novosbed to give it at least 5 or 6 weeks of sleeping on it to get a true sense of how it feels.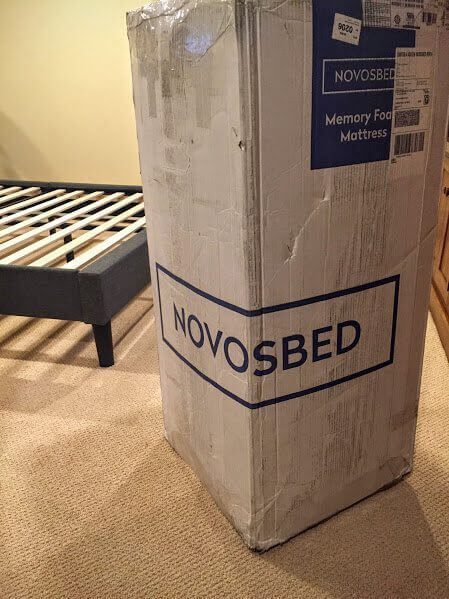 Novosbed ships throughout the United States and Canada. Right now there aren't that many online mattress companies shipping to Canada so this is a great feature.
Unboxing the Novosbed Mattress
Unboxing the Novosbed was similar to the other compressed mattresses I have reviewed.
My Novosbed Findings
This mattress measures 11 inches deep. Adding the Comfort+ option will give you another 2 inches of depth if needed. This mattress is constructed using ultra-dense foam though the densities differ slightly depending on the level of firmness you choose. All three firmness options have the standard base layer a transitional foam layer and a top foam comfort layer. Unlike some of the other online luxury mattresses, the Novosbed is designed without a pillow top, and offers a washable cover. It also has a thick spandex sub-cover under this removable top-cover to provide additional structure and support. This is a nice touch that adds a luxurious richness to the overall feel of the mattress.
Here's what the inside looks like:
The top has holes which makes it a bit more breathable.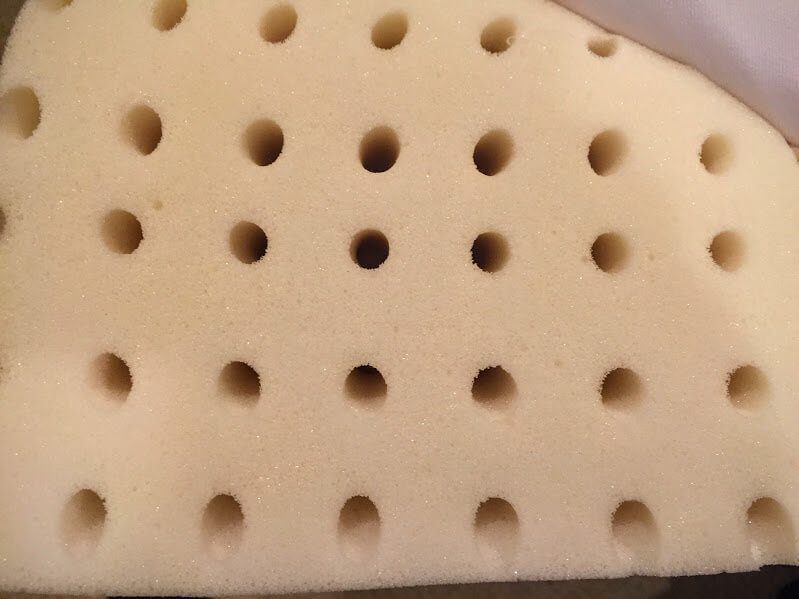 Compare this to the Tempurpedic Clouse Breeze below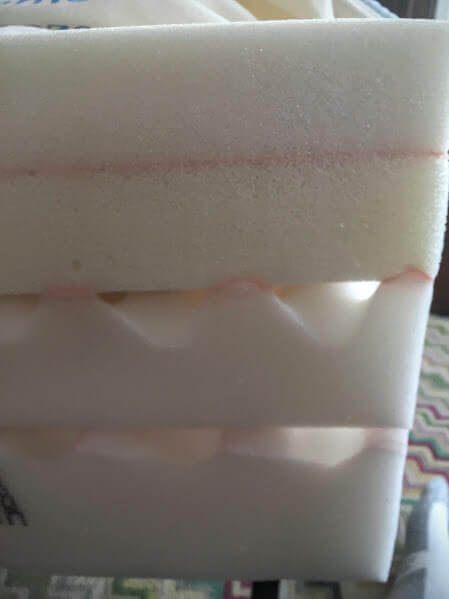 The Tempurpedic has two layers of convoluted foam to help with breathability. Below is the video of me squishing the Tempurpedic Cloud Breeze. You'll see that both Novosbed and Tempurpedic have dense quality foams but the Novosbed is much more affordable and includes the Comfort+ option
You'll notice that this bed feels more like a traditional high-end memory foam mattress in that it will contour more to your body and will be a little slower to recover than a Leesa mattress. Many others use a layer of latex that allows the mattress to bounce back into shape but the tradeoff is that these mattresses don't provide as much contouring pressure relief as an all foam mattress. Novosbed uses a design that is much closer to a Tempur-Pedic than any other online mattress company I have reviewed.
Here's how the layers react:
Additionally because Novosbed uses a denser foam, there is really no motion transfer. Check out the video below as an illustration.
Here's how that translates on the accelerometer: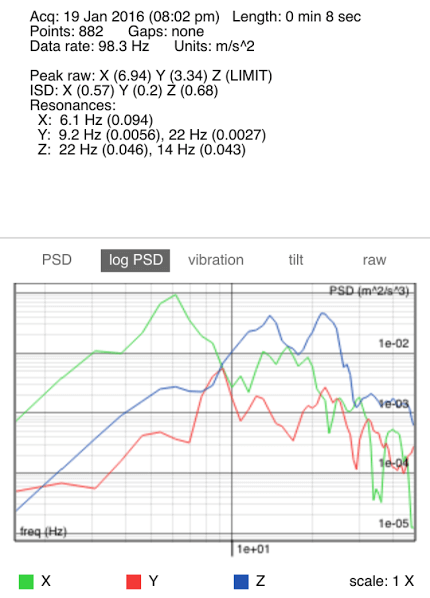 You will gradually sink into this mattress and find that it will address all your pressure points. You won't get stuck in it though as you don't sink too much. Below is the bowling ball on the comfort plus (soft) layer.
Here it is again on just the mattress (medium firmness)
This is what the Firm Comfort+ layer looks like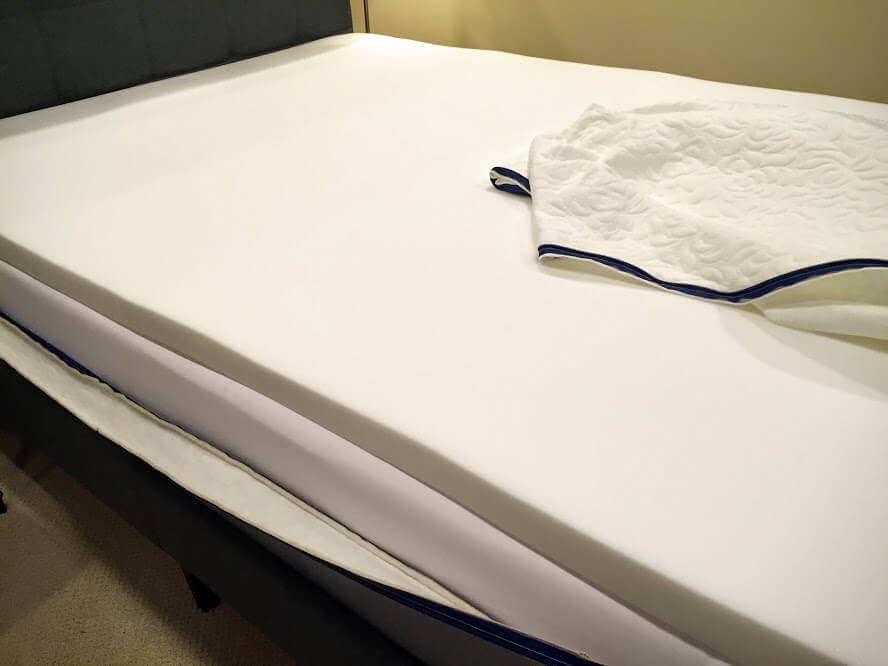 And here's an illustration of motion transfer with the firm layer:

Here is an illustration of sinkage with the firm layer:
I found that adding the soft comfort plus layer gave the mattress more of a pillow top feel. It definitely made the bed softer. I was comfortable on the bed without the soft layer but my wife preferred it.
Below is a video of how to install the comfort adjustment layer
Below is a video using my infrared camera to detect heat. This will give you an idea of how well it does with heat retention. I will be publishing more videos like this in subsequent reviews to give readers more context.
My Novosbed Recommendation

The Novosbed is a very high-quality mattress that should hold up very well over time. I found that the medium Novosbed felt a little more like a medium-firm mattress. This is consistent with higher-density memory foams, and would likely soften slightly over time. If not, there is always the option of using the Comfort+ kit to adjust the firmness. This mattress will be hard to beat in terms of motion isolation.

I really like this mattress. It is unique in an increasingly crowded online space, and I appreciate how Novosbed has not sacrificed the quality of foam or fabrics to lower their price. It is a little more expensive than some other online mattress brands but when you compare the specs you'll see why: pound-for-pound and stitch-for-stitch, the Novosbed is the most affordable luxury mattress on the market. You are getting what I consider to be close to Tempur-Pedic quality at a fraction of the price.
Disclosure: We aim to highlight products and services you might find interesting, and if you buy them, we may get a small share of the revenue. I have an affiliate relationship with Novosbed.