Nighslee is a brand that offers memory foam mattresses and other bedding products. Here's a brief overview of the Nighslee mattress:
Composition and Materials:

Nighslee mattresses typically utilize a multi-layered memory foam design. They promote the use of their patented AirGel™ memory foam, which is designed to be cooling, breathable, and pressure-relieving.

Cooling Technology:

One of the key selling points of the Nighslee mattress is its focus on sleeping cool. The AirGel™ technology aims to provide a cooler sleeping experience than traditional memory foam by ensuring better airflow and heat dissipation.

Firmness and Comfort:

Nighslee mattresses are generally designed to offer a balanced level of comfort and support. Their mattresses cater to a wide range of sleepers, offering contouring for pressure relief while also maintaining spinal alignment.

Cover:

Their mattresses typically come with a removable and washable cover, which is a bonus for those who prioritize easy cleaning and maintenance.

Certifications:

Nighslee's foams are CertiPUR-US certified, which means they are made without harmful chemicals or heavy metals and have low VOC (Volatile Organic Compound) emissions.

Consumer Experience:

Trial Period and Returns: Nighslee usually offers a sleep trial period, allowing customers to test the mattress and return it if not satisfied.
Warranty: They also provide a warranty on their mattresses, but the specifics can vary, so it's important to check the details.
Shipping: Nighslee mattresses are typically shipped compressed and rolled in a box for convenience.

Online Presence and Direct-to-Consumer Model:

Much like many other modern mattress brands, Nighslee operates using a direct-to-consumer model, selling primarily online. This approach allows them to bypass traditional retail markups and offer competitive pricing.
They usually have a user-friendly website with detailed product specifications, customer reviews, FAQs, and other resources.

Reviews:

Nighslee mattresses tend to get positive reviews for comfort, value for money, and their cooling features. However, as with any product, individual experiences can vary, so potential buyers should always check recent customer feedback.
If you're considering purchasing a Nighslee mattress or any other brand, it's essential to check the most up-to-date reviews, company policies, and product details directly from the company's official website or trusted retailers.
The Nighslee mattress is one of the best values when it comes to a no-nonsense foam mattress online. The reason being is that after current discounts you can get a king size mattress for $495. That includes free shipping to you and a free return if need be. So, for all those budget mattress shoppers out there, this is truly a steal. This mattress comes with a standard 100-night sleep trial where you can sleep on it for that amount of time and if not happy, return it for free.
There's no ultra fancy technology in this mattress but for people who are looking for an inexpensive foam mattress that is versatile to accommodate most sleepers, this is an excellent choice.
Overview of the Nighslee Mattress
Below is a video overview of the Nighslee mattress. As you can see it has a nice stretch knit cover to give you maximum contouring from the foam underneath.
Construction of the Nighslee Mattress
Here are the construction details that I found on their website. Overall this is typical for construction of an online foam mattress. What sets it apart though is the top layer which has tiny holes throughout for more breathability.
How Much Does the Nighslee Mattress Cost?
I'm amazed at how inexpensive this mattress is. You can get a king size for under $500!
My Nighslee Mattress Findings
Below you will see how much my 14 lb. bowling ball sinks into the mattress. There is just enough sink to properly address shoulders and hips.
The top layer is a gel-infused foam that has tiny holes for a bit more breathability. It's not a night and day difference from other foams but it does help a little.
Here you can see each individual layer. This mattress is made in China. The layering is clean and well made. It recovered faster than I expected out of the box. Usually, mattresses shipped from China take a lot longer to recover.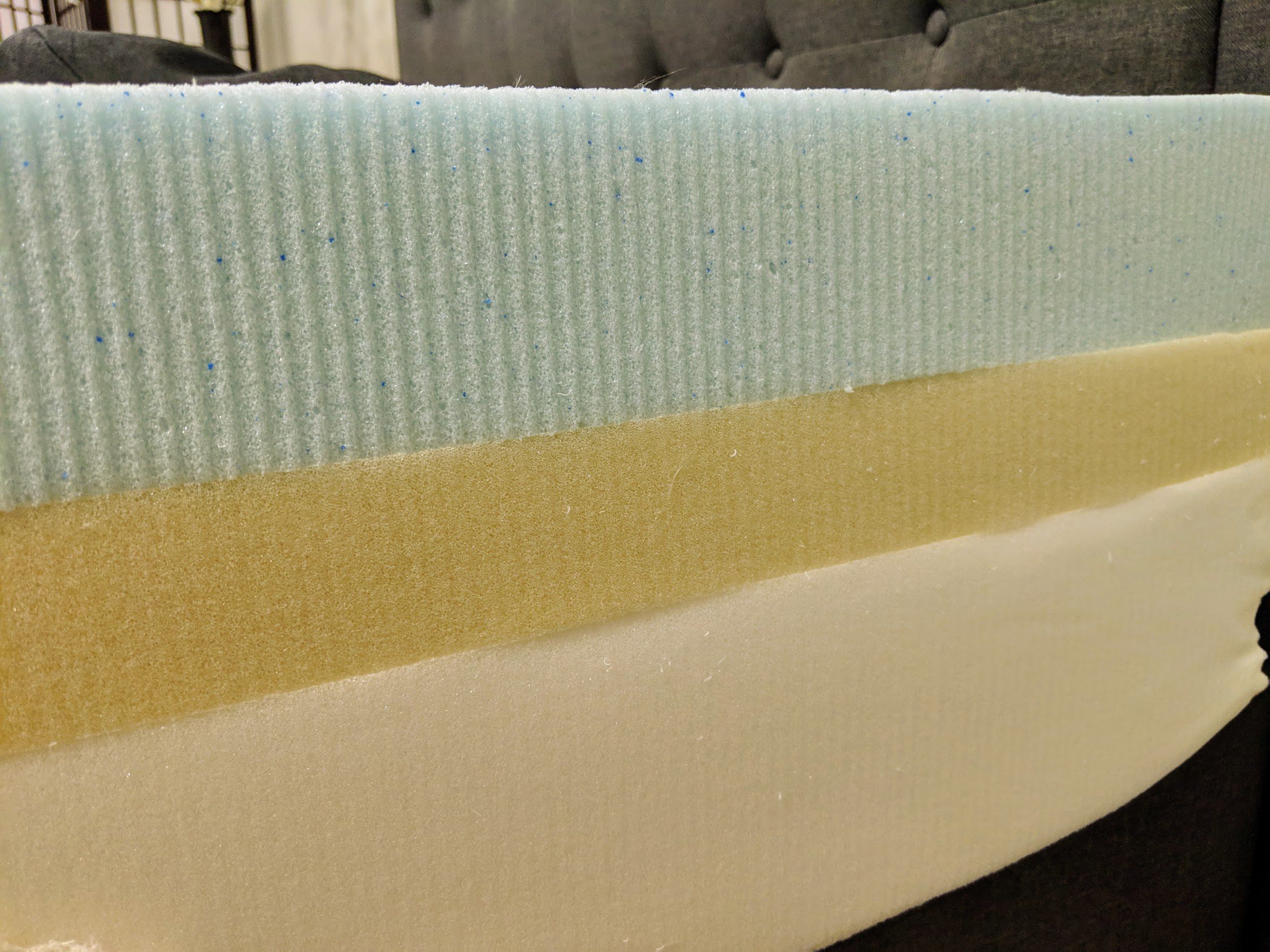 Here's a side view showing contouring again. The top layer is where you will get most of the pressure relief.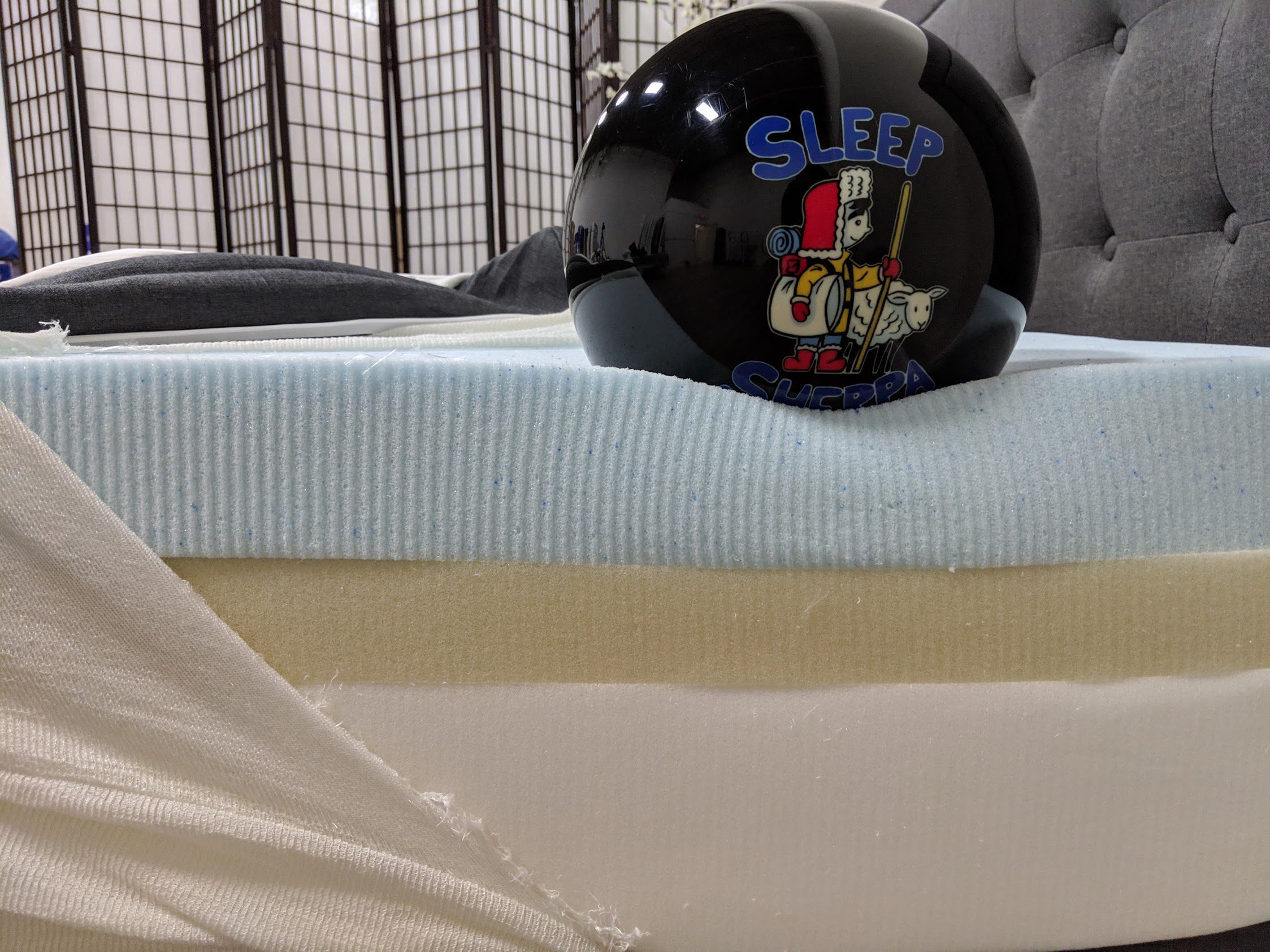 There's basically no motion transfer with this mattress. It's all foam and the top layer is soft enough to absorb the initial impact quickly.
Here's another video showing how fast the mattress recovers and what you can expect for softness. Again, the top layer provides the majority of the pressure relief while the other two layers help with support.
My Nigshlee Mattress Recommendation
Although there's nothing really groundbreaking about this mattress, what did take me a bit by surprise is what you get for the money. $495 for a king size mattress with this construction is about as good as you can get. There are other mattresses on the market with similar construction at this price point but the foam is not as good of quality and will feel much firmer. I expect this mattress to last just as long as others in the market for twice as much.
If you are used to sleeping on a medium-firm foam mattress and are looking for a replacement that won't break the bank this is your mattress.