Nectar Adjustable
ndependent head and foot elevation
Control via app or wireless remote with programmable memory
One-touch settings for zero gravity, anti-snore, TV recline, and more
Whisper-quiet two-zone massage, with 3 modes and intensities
4 built-in, convenient USB ports
Zero clearance
Adjustable height – 8 and 3-inch legs & 2-inch extenders included
Easy assembly with no tools needed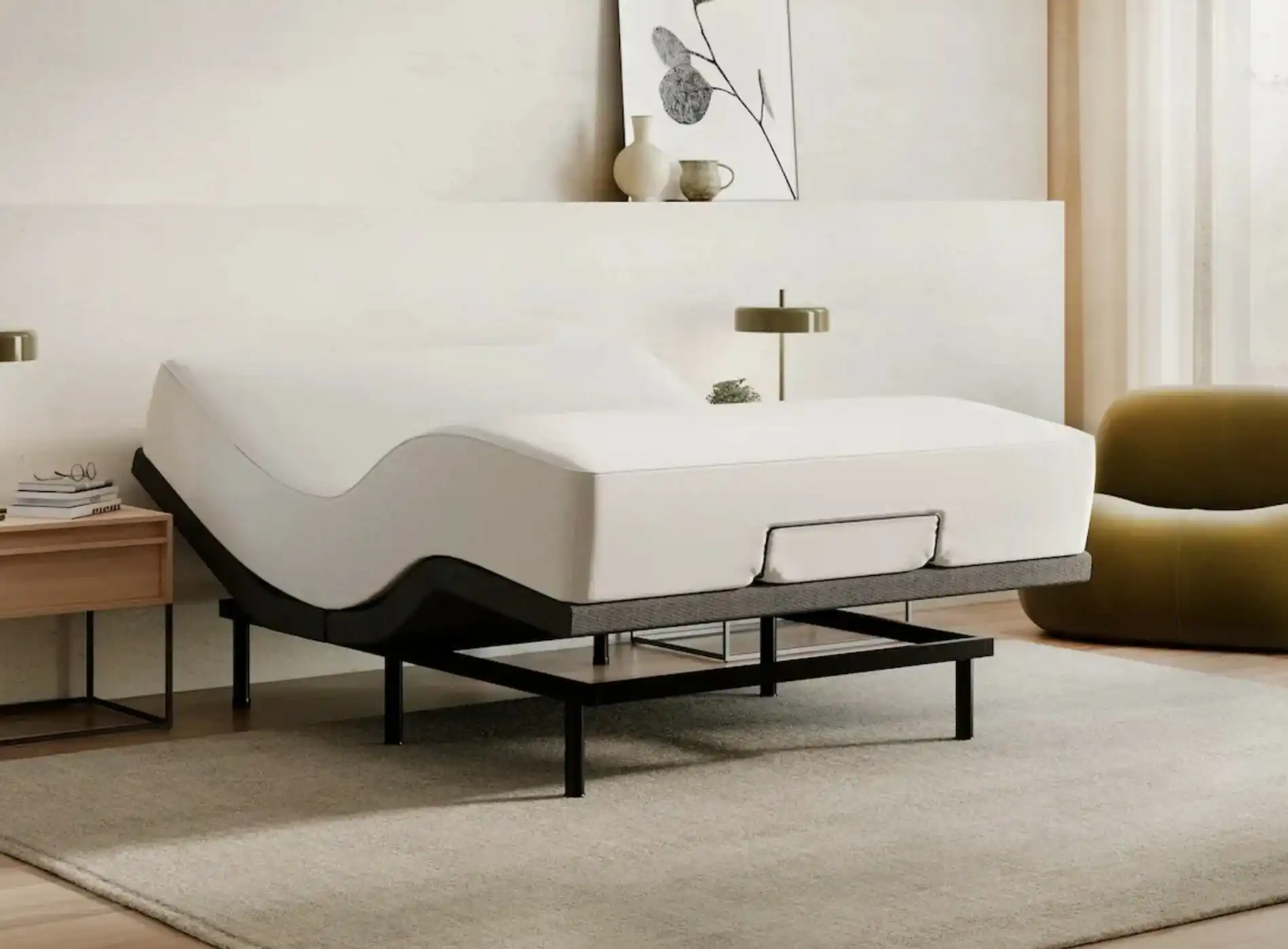 Yawnder readers get the best deal on your Nectar Adjustable Bed  Activate Here
Nectar offers an adjustable bed frame that will work with you Nectar mattress or any mattress that comes in a box. This bed frame is a really good value. A queen size retails for $799. In this review, we will break down what you get for the money and how it stacks up against the other adjustable beds on the market. While adjustable beds seem complicated, they aren't. In fact, many of them are made by just a handful of manufacturers so what it really comes down to is what features you want for the best price. Nectar delivers in both categories.
Overview of the Nectar Adjustable Bed
Here's a video overview of how the bed works and some of its main features. This base has a super quiet motor so it won't wake your partner if you adjust it while they are sleeping. It is super easy to set up too.
Ordering and Delivery of Your Nectar Adjustable
You can this bed directly through the Nectar website. Delivery should be about 1-2 weeks. Shipping is free and you get a 100-day risk free trial. If you don't like it, just hop on to the website and initiate a chat session to get it picked up free of charge.
It will come in a box like this.
How Much Does the Nectar Bed Cost?
Below are the current prices of the bed. I often get asked where to buy a twin size adjustable bed but I have yet to find one. Instead, they start at twin xl. Same with a California king adjustable bed, these aren't common and I don't know who makes them which is why I always recommend a regular king over a cal king. To make a king size adjustable you put two twin xls next to each other.
Twin XL $649
Full (sold out)
Queen $799
King $1,199
How to Setup your Adjustable
Setting this adjustable bed is a breeze it comes in a box the size of the bed so when you get it out of the box it is just about ready to go. All you need to do is attach the motor to the base, plug the cables to the power supply,  screw in the bottom legs, flip it over and plug it in.
Here's a picture of what it looks like right out of the box. As you can see there aren't that many parts.

All the plugs are color coded so it's easy to get everything plugged in quickly without mistakes.
Overview of the Nectar Adjustable Bed

This bed comes with the following features standard:
Adjustable Head and Foot
You can raise or lower the bed to your preferred setting. If you go with the split king you can adjust either side independently. If for instance you have acid reflux and want to sleep with your back elevated you can do that while your partner lies flat. In this case, I strongly recommend buying two twin xl mattresses. You can buy the same brand or different brands depending on preference.
3 Zone Massage
Want to massage your back and not your legs? This bed can do that. The gentle vibrations of this bed make help lull you into a relaxed state you help you fall asleep faster. If you make the massage a nightly routine before bed, your body will associate the massage with sleep.
Zero Gravity Setting
A zero gravity position puts the least amount of stress on your body and is a great sleeping position.
Programmable Memory
Over time you will find that perfect spot for sleeping or watching tv. Once you do, the remote has a programmable memory where you can save your position and get back to it with the press of a button. This turns your bed into a true piece of useful furniture so you don't have to pile up and move pillows around.
Here's a picture of the remote you get.

USB Plugs
Although it's not recommended you know it's hard to leave your phone out of your bed. Thankfully, this bed also has USB ports built in so you can charge your phone and go on a Netflix binge without draining your battery. This also creates a cleaner aesthetic and won't clutter your nightstand.
My Nectar Adjustable Bed Recommendation
For the money, you get some really great features. This is also true with the Nectar mattress both are an incredible value and will work together seamlessly. Compare this bed with similar features in the Leggett and Platt S-Cape which comes in at $1,149.o0 for a queen size and you'll see just how much value you really get.
Yawnder readers get the best deal on your Nectar Adjustable Bed  Activate Here
Nectar Adjustable Bed Complaints
Nectar's adjustable beds have received both positive and negative reviews. Here are some common complaints cited by customers:
Complex Assembly: Some customers have reported that the assembly process for Nectar's adjustable bed is more complicated than they anticipated. While the company provides instructions, users have found them to be unclear or difficult to follow, leading to frustration during the setup process.

Noise: Some users have mentioned that the adjustable bed can be noisy when changing positions. This can be particularly bothersome if you're trying to adjust the bed without waking up a sleeping partner.

Slow Adjustments: Several customers have noted that the bed's motors can be slow to respond, meaning it can take a while to reach the desired position. This can be frustrating for users who expect quicker adjustments.

Remote Control Issues: Some users have reported problems with the remote control that comes with the adjustable bed. These issues range from difficulties in pairing the remote with the bed to the remote not responding to commands.

Price: Nectar's adjustable bed can be quite expensive, and some customers have felt that the price is not justified by the product's performance.

Customer Service: Some customers have reported difficulties in dealing with Nectar's customer service. These issues range from delays in response to dissatisfaction with the handling of returns and warranties.
It's important to note that while these complaints are representative of some users' experiences, they don't necessarily reflect the experiences of all Nectar adjustable bed customers. Some customers have had positive experiences and are satisfied with their purchase. If you're considering purchasing a Nectar adjustable bed, it may be helpful to read a variety of reviews, both positive and negative, to get a more balanced view of the product. Also, keep in mind that your individual needs and preferences may differ from those of other customers, so what may be a deal-breaker for one person may not be a concern for you.
Nectar vs. Puffy Adjustable Bed
Nectar Adjustable Bed
Nectar, a brand known for its high-quality memory foam mattresses, has designed an adjustable bed frame that offers a plethora of features aimed at enhancing sleep quality. The Nectar Adjustable Bed provides customizable support and elevation, allowing users to find their optimal sleep position.
Key Features:
Independent head and foot incline: Users can adjust the head and foot sections independently, providing a wide range of positions for relaxation or medical purposes.
Wireless remote control: The bed comes with a user-friendly remote control, enabling easy adjustments without leaving the bed.
USB ports: Integrated USB ports on both sides of the frame make it convenient to charge devices.
Zero-gravity preset: This popular setting mimics weightlessness, which can help reduce pressure on the spine and promote relaxation.
Three-zone massage: The bed offers customizable vibration settings for head, lumbar, and foot regions, aiming to alleviate muscle tension and stress.
Puffy Adjustable Bed
Puffy, another prominent mattress brand, has designed its own adjustable bed frame, combining convenience and luxury. The Puffy Adjustable Bed boasts an array of features designed to offer a tailored sleep experience.
Key Features:
Dual-adjustment zones: Similar to the Nectar model, Puffy's adjustable bed allows for independent head and foot adjustments.
Wireless remote with LED backlight: The remote offers easy control of the bed's features, even in low light conditions.
Built-in massage: The frame includes a massage function with three intensity levels, targeting different body areas for stress relief.
Zero-gravity setting: This preset offers the same weightless sensation as the Nectar model, promoting relaxation and spinal decompression.
Adjustable leg height: Users can modify the bed's height to accommodate their preferences or storage needs.
Conclusion
Both the Nectar Adjustable Bed and the Puffy Adjustable Bed provide customizable support and comfort, making it difficult to determine a clear winner. The Nectar model offers three-zone massage and USB ports, while the Puffy bed includes adjustable leg height and a backlit remote control.
Ultimately, the choice between these two adjustable bed frames comes down to personal preferences and specific requirements. Consumers should carefully consider the unique features of each product, along with factors such as price, warranty, and customer reviews, before making their decision.
Nectar Adjustable
ndependent head and foot elevation
Control via app or wireless remote with programmable memory
One-touch settings for zero gravity, anti-snore, TV recline, and more
Whisper-quiet two-zone massage, with 3 modes and intensities
4 built-in, convenient USB ports
Zero clearance
Adjustable height – 8 and 3-inch legs & 2-inch extenders included
Easy assembly with no tools needed