I recently came across the Miracle Bamboo Pillow as I was perusing the "As Seen on TV" display at a local Walmart.  It was located on the bottom shelf next to the "Kitty Shack" and below "Bright Time Buddies" and adjacent to the Muscle Milk cooler. But, since I'm always on the lookout for new sleep products, this caught my attention. I also just reviewed the Miracle Bamboo Seat Cushion which I'm not a fan of.
Rather than purchase it from Walmart, I thought I would try purchasing it through the website. miraclebamboopillow.com. And what a fiasco that was.
What seemed like an easy purchase led me down the road of multiple checkout screens asking me to add extra pillows, pillow cases and sheets. The pillow listed at $29.95. The fine print is that you also pay $9.95 shipping & handling. At one point I was asked to upgrade to the deluxe for an extra amount which I did.. Below is the total amount I paid, $48.85.  You also have to pay for return shipping if you don't like it which will push the cost close to $60 if you return it.
Also, check out the $1 "Web Service Fee" since when did it cost extra money to buy something online?
If you want a "free" return shipping. You are asked to sign up for a program where you pay a MONTHLY SUBSCRIPTION fee of close to $13/month! It's free for 30 days but if you forget they will start billing you. Why doesn't this company accept free returns?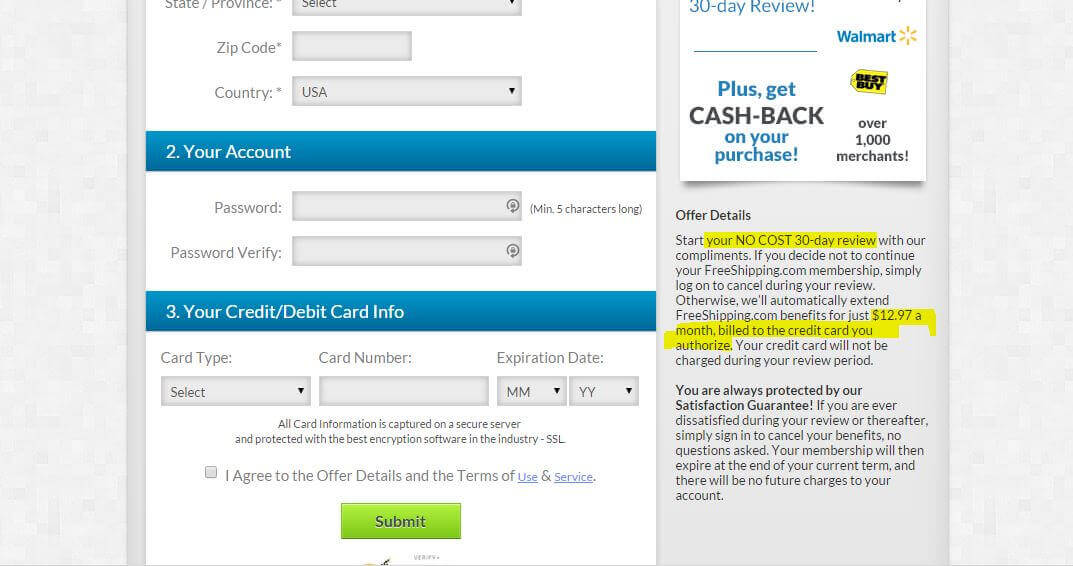 I haven't received the Bamboo Miracle PIllow yet but I did feel it at Walmart and I wasn't impressed at all.
Here's a picture of the pillow out of the packaging:
And here's a side view of the pillow.
Finally, here's a peek at the inside cover of the pillow:
UPDATE February 22, 2016
I finally received the Miracle Bamboo Pillow today so it has been almost a month now. Below is my video and initial reactions. I'm not that impressed with this pillow especially given all the hassle.
This company is now offering the Miracle Bamboo Cushion for your office chair or car seat. It's the same annoying checkout process as the pillow and inundated with upsells. Here's my final bill after trying to get the 2 for 1 offer that they are promoting. I paid $46.85. I still don't know what the "Web Service Fee" is.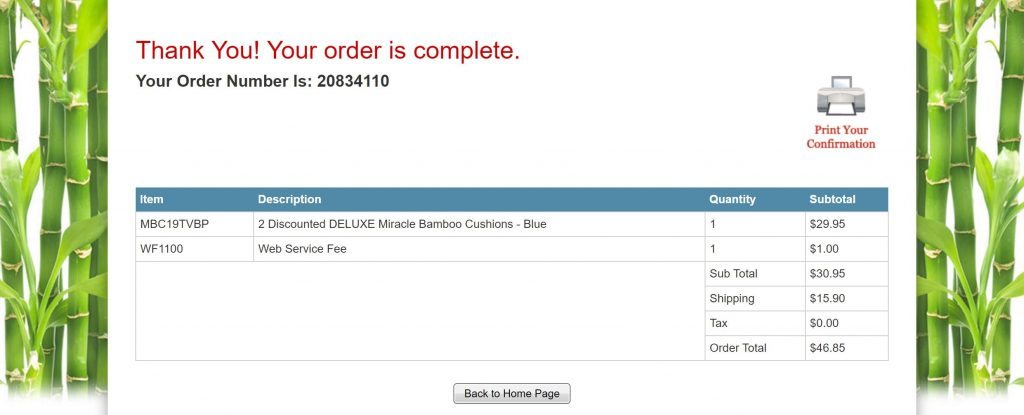 If after reading this you are still tempted to purchase the Miracle Bamboo Pillow, I recommend using Amazon. Amazon has hassle free returns.
A pillow I like more is the  COOP Shredded foam Pillow.
Disclosure: We aim to highlight products and services you might find interesting, and if you buy them, we may get a small share of the revenue. I do not have an affiliate relationship with Miracle Bamboo Pillow.