Mediflow Waterbase Pillow
Getting water on your pillow may sound like the last thing you would want but not in this case. For those in need of some serious neck support and neck pain relief, the Mediflow Waterbase Pillow might interest you. Especially considering that waterbase pillows are clinically shown to improve sleep, as well as reduce neck pain overall but don't worry; there will be more on that later.
The Mediflow Waterbase Pillow is a polyester pillow with a water base attached on the bottom. Sleep seekers are able to fill the water base to their preferred amount (up to 5 liters of water at a maximum) to reach their desired level of pillow firmness. Mediflow operates within the US and the pillow is also manufactured within the United States. A single pillow retails for $49.99 on Amazon, and a set of 2 retails for $79.99, allowing you to save at least $20. This pillow has a 4 out of 5 star review on Amazon, based on 3,000+ reviews. That being the case, I knew I had to see if the hype was real. 
Firmness can be customized easily from soft to medium to firm

A bit expensive given the materials and construction

Free shipping through Amazon Prime

Made in the USA

Looks like a traditional pillow with a hidden unique twist

30 day satisfaction guarantee, 1 year warranty against manufacturing defects
Overview of the Mediflow Waterbase Pillow
Below is a video unboxing, demo and review of the Mediflow Waterbase Pillow. It has a nice starting point to begin with, in terms of firmness. I would say that without any water at all, that the pillow has a medium firm feel.
Construction of the Mediflow Waterbase Pillow
Size : Only available in 1 universal size
Dimensions: 20″ x 28″ Jumbo size fits standard or queen cases
My Mediflow Waterbase Pillow Findings
The Mediflow Waterbase Pillow looks like any old pillow until it's turned to the back, where the water chamber is. Getting acquainted with the technology is a bit of a funny feeling because the concept is so unique.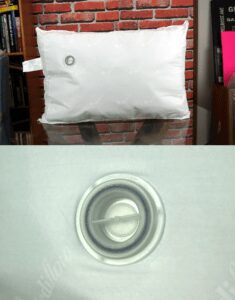 Opening the cap on the waterbase was easy, and the blue nozzle that comes included in the packaging was actually designed to help in this regard. So for anyone with long nails, or weak hands, fear not.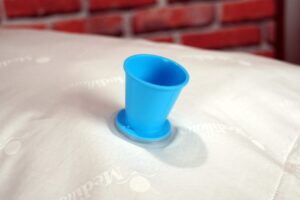 Mediflow provides you with a flow chart that is meant to serve as a guide on how much water you should be using. I found that the easiest way to fill the pillow was by reusing a 1 liter bottle from an empty bottle of water. A full liter isn't sufficient enough. You will need at least 2 liters (which is considered to provide soft firmness) to feel any substantial difference.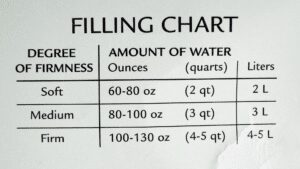 Pouring water into the waterbase was simple and kind of fun but I do suggest to do this slowly. I ended up with a small spill myself from looking away for just a moment. How you hold the nozzle will dictate how slowly or how quickly the pillow takes the water.
Once you're done pouring your desired amount of water into the water base chamber of the pillow, comes the important step of removing the air pocket. This is pretty important, so as to avoid having both air and water in the pillow- which can cause issues when pressure is being applied to it, like there will be when you're sleeping on it. When putting the cap back onto the waterbase, it is suggested that you use the blue nozzle to close it and tighten it. They include a diagram with the packaging to show you how to do this most effectively.

My Mediflow Waterbase Pillow Recommendation
The reason I am most impressed with the pillow is because there was actually a clinical study conducted to research the effectiveness of waterbase pillows. The study was published in the Archives of Physical Medicine and Rehabilitation and can be found on pubmed.gov, a US National Library of Medicine, sharing findings from the National Institutes of Health. That specific study can be found here.
The conclusion of the study entitled "Cervical pain: a comparison of three pillows" found that:
"The water-based pillow was associated with reduced morning pain intensity, increased pain relief, and improved quality of sleep."
The other two pillows that it was compared to was the subject's usual pillow and a roll pillow. Below is a screenshot of the actual study conducted:

The study alone made me feel that trying the MediflowWaterbase Pillow would be a wise experiment for someone with cervical pain or general neck tension and stiffness
.
The common symptoms of cervical degenerative disc disease is having neck pain and stiffness. That being the case, people with this type of particular health issue, need to take precautions on how they sleep, in terms of both mattresses and pillows.
On another note, some online reviews from people who have used the pillow, or are currently using the pillow, mention the possibility of the pillow leaking. This means how you tighten the cap of the waterbase chamber is especially important. Keep in mind to make use of the nozzle that comes with the pillow.
Pillows are recommended to be washed every 3 months so I think if you were to wash this pillow, it would be best to hand-wash it. However, over time that may affect the functionality of the pillow overall. Pillows are recommended to be replaced every 6 months so that's something to also think about but Mediflow's one year warranty on manufacturer defects can at least provide some comfort if any issues were to arise within that 1 year window.
Overall, I think the pillow is a really interesting and creative find. Knowing that a clinical study was conducted, even if on a relatively small sample size (41 individuals, but specifically with cervical issues) can shed some light on what this type of waterbase pillow can provide for individuals both with and without health issues.
If you'd like to give the pillow a shot yourself, you can find it here on Amazon.
Medical Disclaimer: The content featured here is not intended to be a substitute for professional medical advice, diagnosis, or treatment. Always seek the advice of your physician or other qualified health provider with any questions you may have regarding a medical condition.