Recently updated on June 17th, 2019 at 12:58 pm

Get $100 off your Diamond Mattress  with coupon code  SLEEPSHERPA100 at checkout Activate Here
I recently received a free GIFT. That is, Diamond Mattress sent me their newest line of mattresses named, Grateful, Intention, Faith and Transformation. Each has a distinct construction and feel. On top of that, each model comes in a soft, medium and firm so you can get the correct amount of support for your weight and sleep position. Diamond mattresses are made in their factory in Los Angeles which means more value for you. These mattresses come with a 120-night trial where you can sleep on them for that many nights and if you aren't happy, it's a free return. If you end up keeping your mattress, you are backed by their forever warranty.
For this review, I received all medium firmness models to be consistent with my findings. The Grateful mattress is the entry level model coming in at $999 for a queen while the Transformation is $1,699 in a queen size.
Overview of the Diamond Mattress Series
Here's a video overview of all four mattresses and what makes them unique.
Ordering Your Diamond Mattress
Since you are ordering factory direct and these mattresses are made in the USA, your order will come quick. Expect to receive it in 5 business days or sooner. It will come shipped to your doorstep in a box like the one below. I don't normally comment on boxes but this one looks nice and didn't come all banged up.

The mattress comes to life rather quickly but I would wait a good 7-8 hours before sleeping on it to let it breathe. Here's what it looks like out of the box.

In addition to a mattress, you also get some fun accessories.

How Much Does the Diamond Mattress Series Cost?
Below are the prices of each model as of this writing. Remember, these are before any discounts.
| Size | Grateful | Intention | Faith | Transformation |
| --- | --- | --- | --- | --- |
| Twin | $799 | $999 | $1,299 | $1,499 |
| Twin XL | $849 | $1,049 | $1,349 | $1,549 |
| Full | $899 | $1,099 | $1,399 | $1,599 |
| Queen | $999 | $1,199 | $1,499 | $1,699 |
| King | $1,299 | $1,599 | $1,899 | $2,099 |
| California King | $1,299 | $1,599 | $1,899 | $2,099 |
Construction of the Diamond Mattresses
These mattresses each take a different approach to comfort and therefore had a distinct feel. However, all are classified as a hybrid mattress meaning they are made with foam and coils. Diamond uses a patented pocket coil system to give you pressure relief and support where you need it most all while minimizing motion transfer. All 4 models measure 10 inches deep.
Grateful Mattress Construction
The Grateful is made with the following materials
Stretchable knit fabric cover
Pressure relieving gel foam
Patented coil system
Foam encase edge support
Here's what the inside of the Grateful looks like where you can see the layers.
Intention Mattress Construction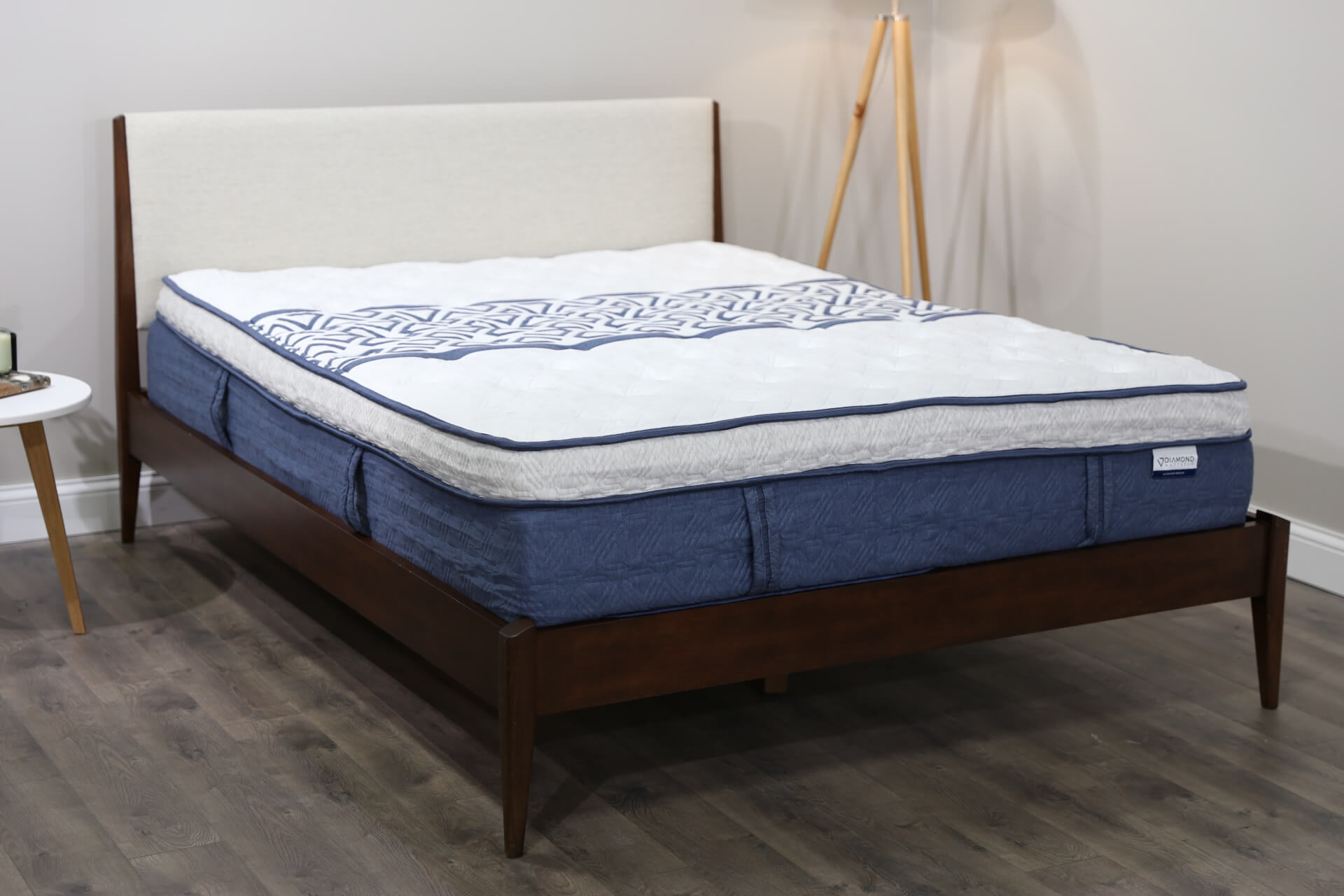 The Intention mattress differs from the Grateful in that they use a layer of convoluted foam beneath the stretch knit fabric. The foam is made with graphene which helps dissipate heat. The Convoluted layers create peaks and valleys that allow help air flow out of the mattress.
Here's what it looks like inside. I am pulling apart the border foam to show some of the coil system underneath.
Faith Mattress Construction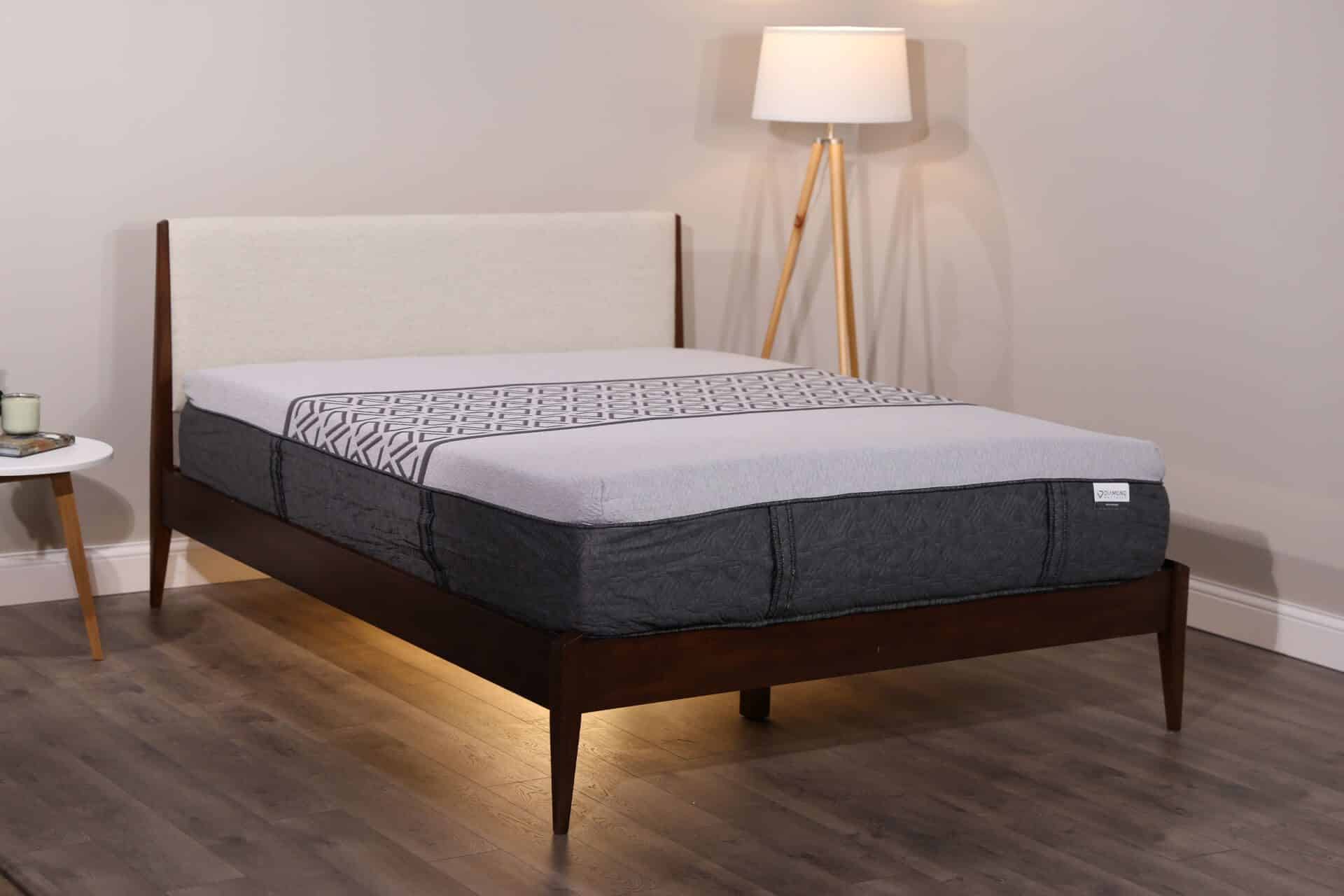 The Faith mattress introduces phase-change fabric to the cover which is a material that is cool to the touch and helps dissipate heat. Instead of a convoluted layer of Diamond Sparkle Foam, you get a solid layer which cradles you a bit more while still keeping you cool.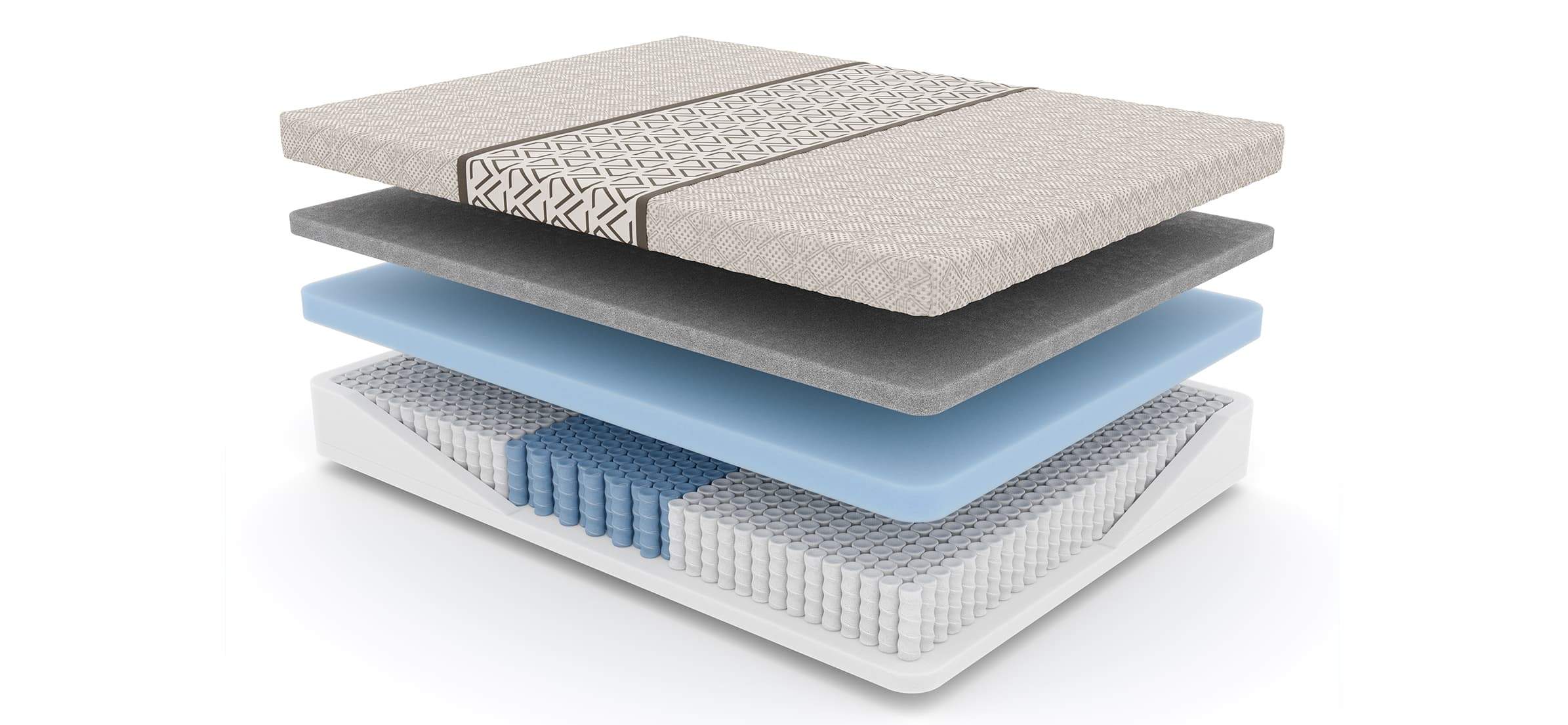 Here's a look at the inside of the Faithful mattress. Again, not too much deviation from the Intention but you do get more material along with the phase chance cover.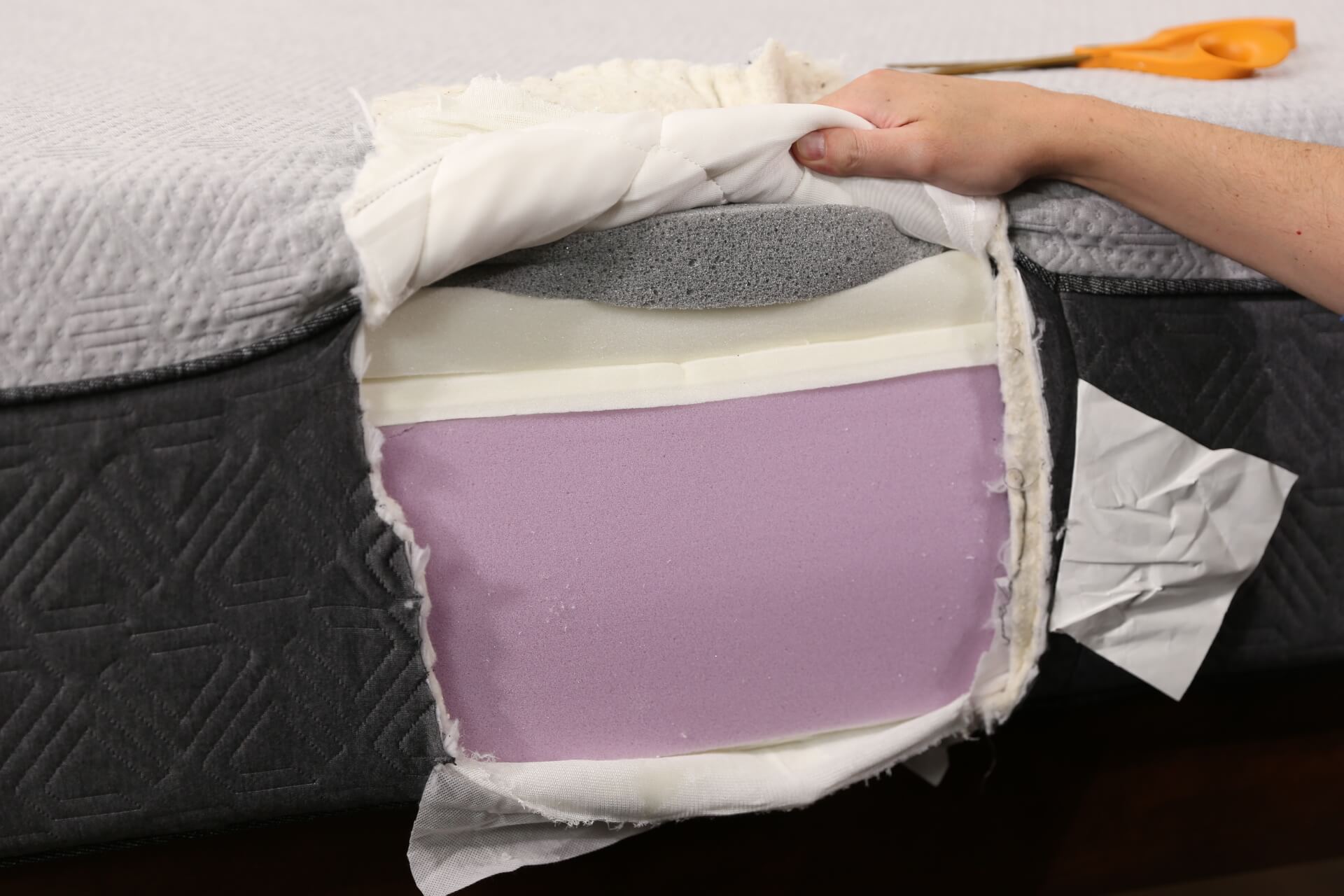 Transformation Mattress Construction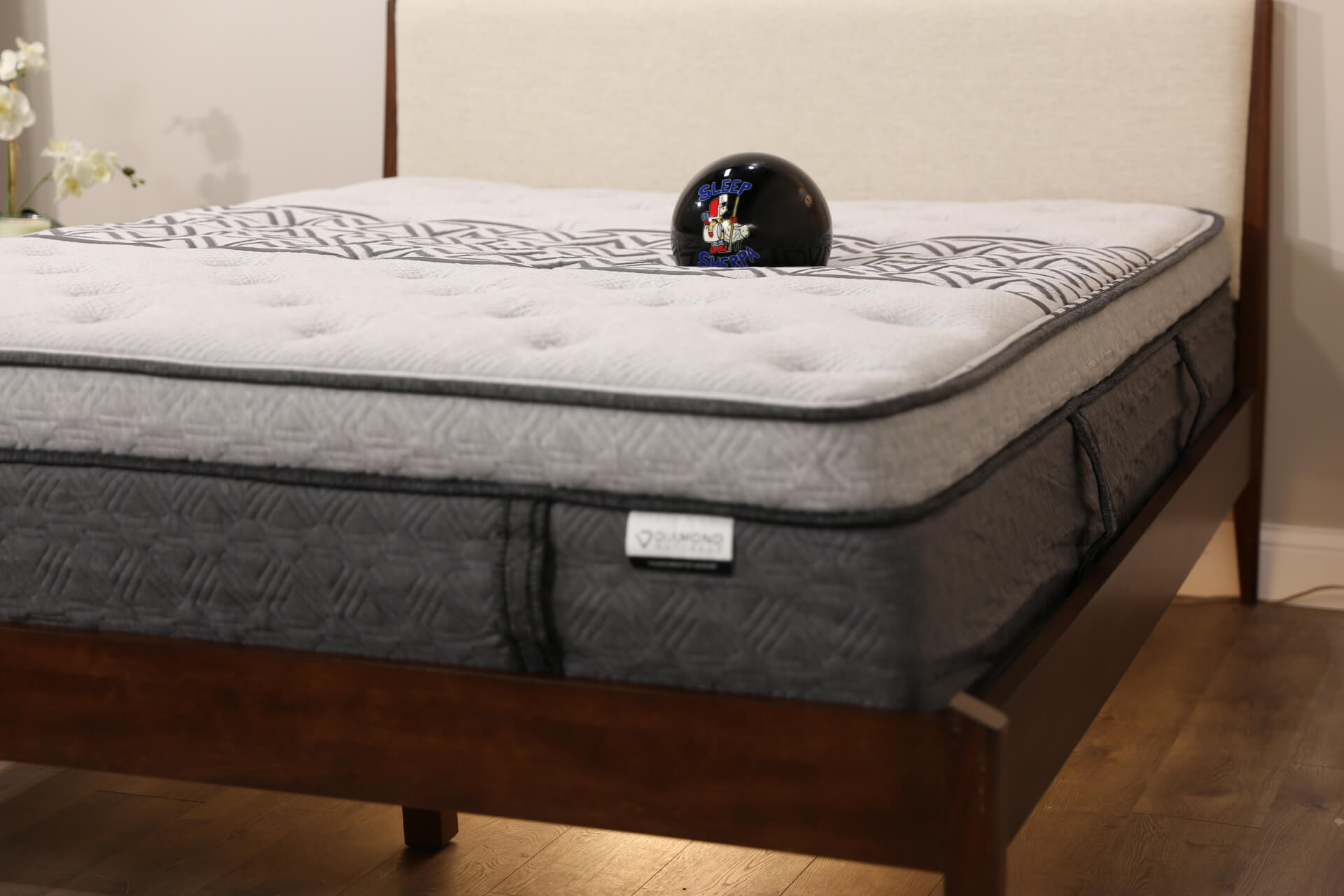 The Transformation has the same type of phase change cover that the Faith has as well as graphene foam underneath. Below that, you get over 1,000 micro-coils that provide faster recovery and better contouring. While the coils don't seem to provide much benefit individually, as you lay across the mattress you will notice a subtle difference between this mattress and the Faith.
Here's a look at the inside of the Transformation where you can see the layer of micro-coils.
My Diamond Mattress Recommendation
Diamond has really made a statement with this selection of mattresses. They have something for every budget and feel. I appreciate that they let you choose a mattress based on construction then choose firmness rather than forcing you into a specific construction based on firmness preference. All of the models are made with superior edge support. Some mattresses will try and achieve this through firmer coils around the perimeter but I found the foam used in these mattresses to work better.  Since you can choose 3 firmness levels for each of the 4 models, it can get confusing quickly. To make your decision easy, Diamond created a mattress selector tool that will make a recommendation based on your needs. I found it to be spot on with my preference.
I strongly recommend purchasing a Diamond mattress if you want a hybrid mattress that incorporates the best materials on the market. The Transformation mattress has a very unique feel and the micro coil system provides next level contouring making it an excellent choice for sleepers that want the most pressure relief without sacrificing support.

Get $100 off your Diamond Mattress  with coupon code  SLEEPSHERPA100 at checkout Activate Here