Recently updated on February 21st, 2023 at 07:08 am
I was given a Bedjet V2 Climate Control system with Biorhythm Sleep Technology. I first became aware of the Bedjet through the show Shark Tank on NBC. The Bedjet blows conditioned air under your sheets to keep you cool or warm. I recently was given the latest version that allows you to schedule how long it runs and at what temperature to create an optimal microclimate between your sheets. Since their debut on Shark Tank a few years ago, the technology has evolved and now you can control your Bedjet with your smartphone through a dedicated app.
Overview of the Bedjet
The concept of the Bedjet is simple. If you sleep hot or cold, this device will blow conditioned air into your bed to help warm you up or cool you down. There are many devices available to help keep you warm at night. Everything from more blankets to a heated mattress pad can be had at a reasonable price. However, there aren't that many products designed to keep you cool.
Here's an overview of what it does:
The WinkBed recently introduced the Climate Cool system but that is a proprietary technology that only works with their mattress. The Bedjet is a great solution for hot sleepers but is also accommodating for people that want to warm up fast on a cold winter night.
The V2 model that I received retails for $369 when buying directly from their website you also get a 60-day money back trial with free returns. It is also available to purchase on Amazon but it retails there for $399 and only comes with a 30 day trial period plus the cost of return shipping.
Specifications and Features
Below are the main features of the Bedjet as listed on their website.
BedJet cooling is awesome relief for stuffy bedrooms, hot sleepers, night sweats and hot flashes. Cooling mode power ventilates your bed, using room temperature air to wick out body heat and body moisture nearly instantly, is felt within 10 seconds. NOTE: BedJet is not an air conditioner and not a substitute for zero air conditioning in extreme heat (80 degree+) bedrooms. Room temp needs to be below 79 degrees for best cooling.
Night sweat management mode is proven to reduce body moisture to keep you dry and comfortable
Optional AirComforter sheet recommended for improved cooling air distribution.
Powerful warming makes cold feet a thing of the past. Forget bundling up with heavy pajamas for chilly winter beds and give your bedding that toasty hot sauna feeling in just seconds. Program thermostat regulated bed temperature by degree, from 72 to 104 degrees.
New BedJet V2 model includes essential oil Aromatherapy diffuser kit. Enjoy the therapeutic soothing effects of scented aromatherapy and freshen your sheets when running the BedJet.
Dual zone temperature upgrade available for independent cooling/warming of each half of the bed (See Dual Zone)
Save money on utilities — why heat/cool the whole house vs. just your bed?
No wires, no tubes, no electricity in the bed and no mattress pads to sleep on top of, no water to leak, lifetime washable air filter

Fits underneath any bed with 7″ space, side rail clearance only needs to be 3.5″, adjustable bed approved
60-day love it or return it guarantee, free return shipping (USA), fast 100% refunds with no restocking fees
My Bedjet Findings
Setting up the Bedjet was much easier than I thought it would be. I actually delayed installing it thinking it would be a chore. It is super simple. You basically just plug it in then connect the hose to the end of your bed and power it on. Not only is it easy to setup but it also is easy to take down and store. If you only want to use it in the summer or winter, it won't take up much space under your bed.
Here's a picture of all the parts in the box: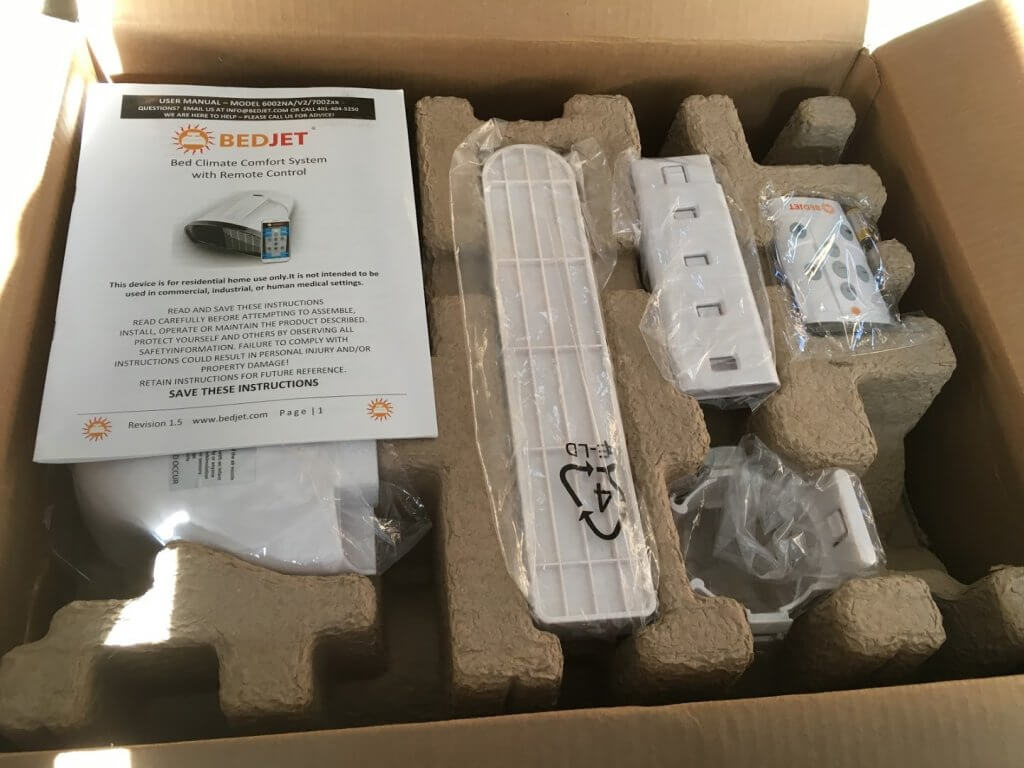 To install it to your bed, all you need to do is put the plastic mounting bracket underneath your mattress then attach the hose to the bracket. notice that I can fit the entire system underneath my bed. If your bed is too low, you can get a bracket to mount the system horizontally so that it takes up less space.
Here's a picture that shows the unit mounted horizontally:
So, how does it work? Once setup, you can control how warm or cool you want to make your bed. I tried the cooling feature right away and found relief in under a minute. During the Summer I still like to have at least a sheet covering me but the drawback is that it traps heat. The Bedjet can subtly blow cool air into your bed so that you will feel cool but get the comfort and security that a blanket provides.
Even if you have air conditioning you may find that your face can get cold while your body heats up under the sheets. The Bedjet helps to keep the temperature inside your bed more consistent with the outside temperature when you want to cool down.
Conversely, the heating option will warm you up where you need it most, your feet! An article published in the scientific journal Nature found that warm feet will promote the rapid onset of sleep. Since this device sits at the foot of your bed, your feet will be the first to warm up.
The Biorhythm sleep technology allows you to change the intensity of the Bedjet throughout the night. It comes with some pre-programmed settings that you can then tweak. For example, it can warm up your bed right away with more intense heat to start then cool down a little after you have warmed up then warm up again in the morning to help wake you up.
If you buy the Dual Zone system, you get two Bedjets that each control one side of the bed. In order to keep the climates at differing temperatures, they created a special comforter that has two chambers to hold the conditioned air.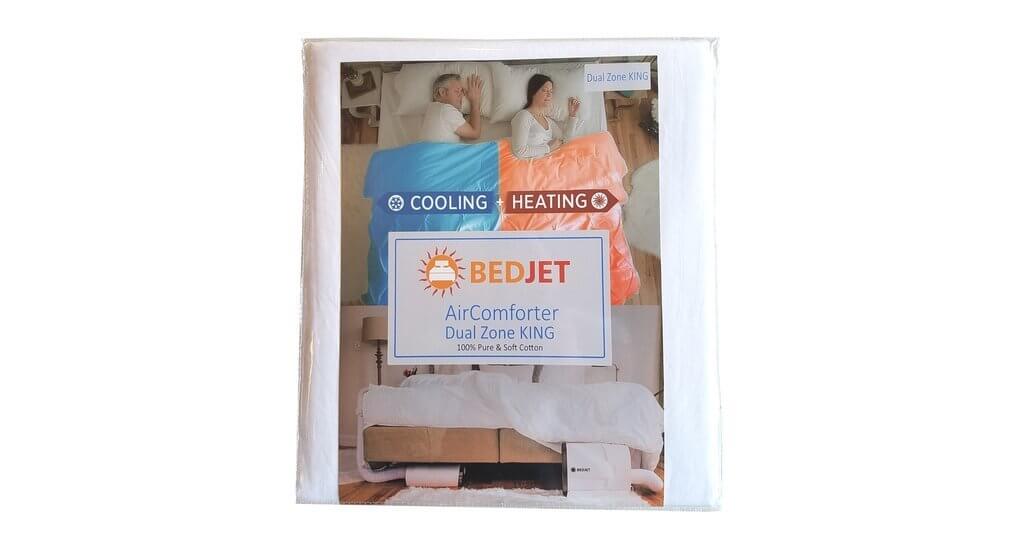 My Bedjet Recommendation
Having used many other products that help cool or heat your bed, I think the Bedjet is one of the best solutions for people that tend to sleep hot. Mattress manufacturers will add cooling gel or phase change technology to a mattress to help draw away heat but that is sometimes a temporary effect. The Bedjet keeps things cool between the sheets but it doesn't feel like a fan is blowing right on you unless you put it at the highest setting. Additionally, the warming feature would help you fall asleep faster when you are cold. Whether or not you use it to heat or cool, I like how it blows fresh air into your bed. People that tend to sweat at night will find some much-needed relief with this product.