The Beautyrest Black Calista series is a line of luxury mattresses that is designed to provide exceptional comfort and support. The mattresses in this series feature a variety of innovative technologies, including:
Advanced Pocketed Coil® Technology: This technology provides individualized support for each part of your body, regardless of your sleep position.
Micro Diamond™ Memory Foam: This foam is infused with micro diamonds to help dissipate heat and keep you cool while you sleep.
SurfaceCool™ Plus Fiber: This fiber layer is designed to wick away moisture and heat to help you stay comfortable throughout the night.
The Beautyrest Black Calista series mattresses are available in a variety of firmness levels to suit your individual needs. The mattresses are also backed by a 10-year warranty.
Here are some of the benefits of the Beautyrest Black Calista series mattresses:
Exceptional pressure relief: The Advanced Pocketed Coil® Technology provides individualized support for each part of your body, helping to relieve pressure points and promote a more comfortable night's sleep.
Superior cooling: The Micro Diamond™ Memory Foam and SurfaceCool™ Plus Fiber work together to dissipate heat and keep you cool while you sleep.
Durable construction: The Beautyrest Black Calista series mattresses are made with high-quality materials and construction, so you can be sure that they will last for years to come.
If you are looking for a luxury mattress that will provide you with exceptional comfort, support, and cooling, the Beautyrest Black Calista series is a great option to consider.
The BeautyRest Black Calista Extra Firm is a great mattress for people looking for optimal support. Although it is certainly a firm mattress, there is enough cushioning on the top layers to provide adequate pressure relief. This mattress is sold in traditional retail stores and online. Unlike many of the mattresses I review on Yawnder, this one does not come in a box. It comes through standard freight delivery.
Overview of the BeautyRest Black Calista
The Mattress will be delivered into your bedroom by the delivery company. Since it does not come roll packed it has been given time to breathe so there is really no smell with this mattress which is a big plus for people sensitive to the new mattress smell.
Here's what it looks like in the plastic packaging.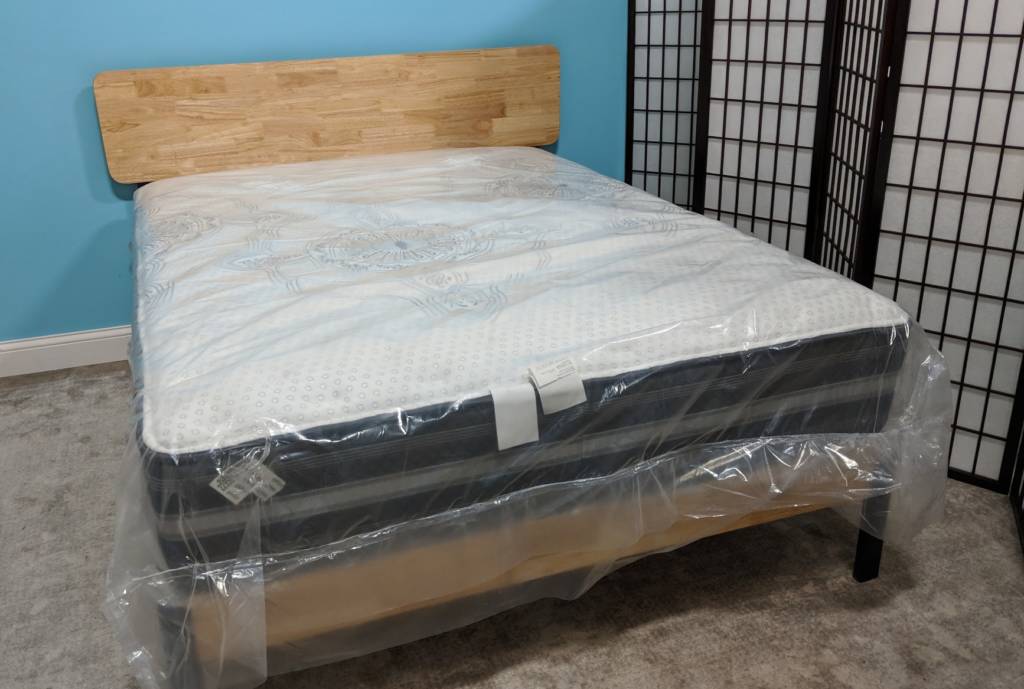 How Much Does the BeautyRest Black Cost?
Below are the current prices of the Calista
[table id=12 /]
Construction of the BeautyRest Calista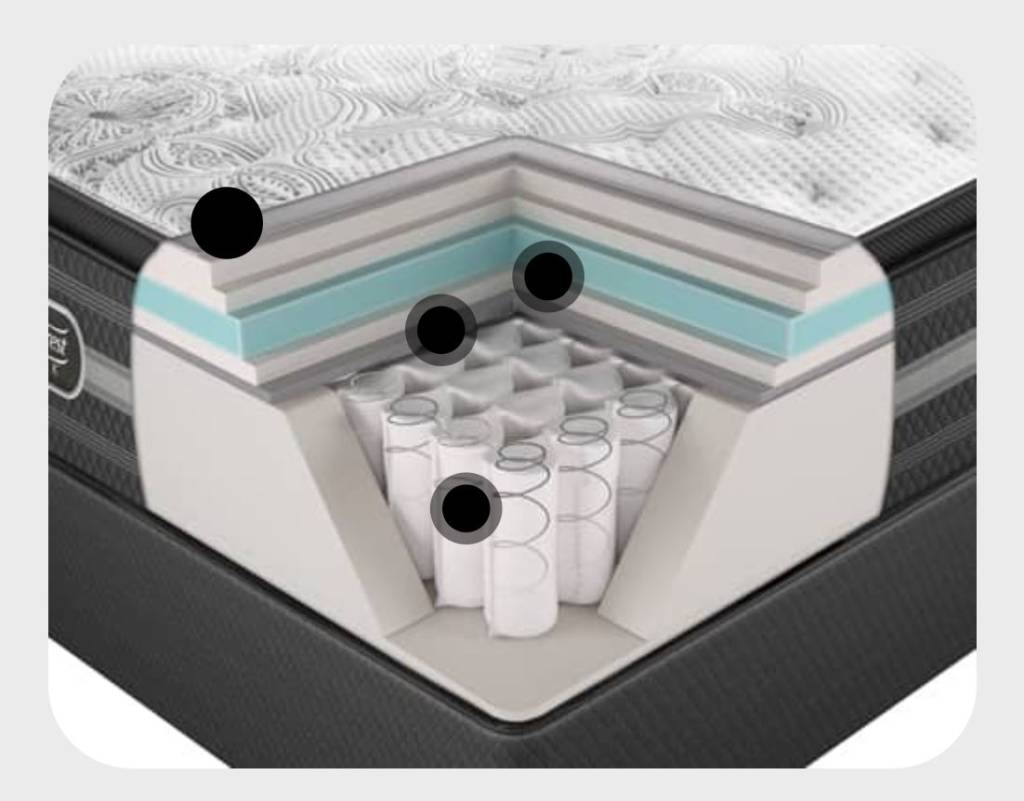 Below are the construction details as listed on their website.
SURFACECOOL™ FIBER
GELTOUCH® FOAM
Uniform distribution of gel throughout the foam helps provide comfort and support.
MICRO DIAMOND MEMORY FOAM
Works with our Advanced Pocketed Coil® Technology to create enhanced conforming back support. Micro diamonds in the foam help conduct heat away from the surface to prevent overheating.
ADVANCED POCKETED COIL™TECHNOLOGY
Patented triple-stranded coils help deliver "our best" comforting back support.
12.5″ Thick
Will work on an adjustable base
My BeautyRest Black Findings
I should point out that this mattress just looks great. The detail in the stitching is beautiful and the logo really pops.

This mattress also has handles stitched on the side which makes it really easy to rotate. If you and your partner are considerably different in size, it's a good idea to rotate the mattress so it wears evenly.

As you can see from the picture below, my 14 lb. bowling ball doesn't sink all that much.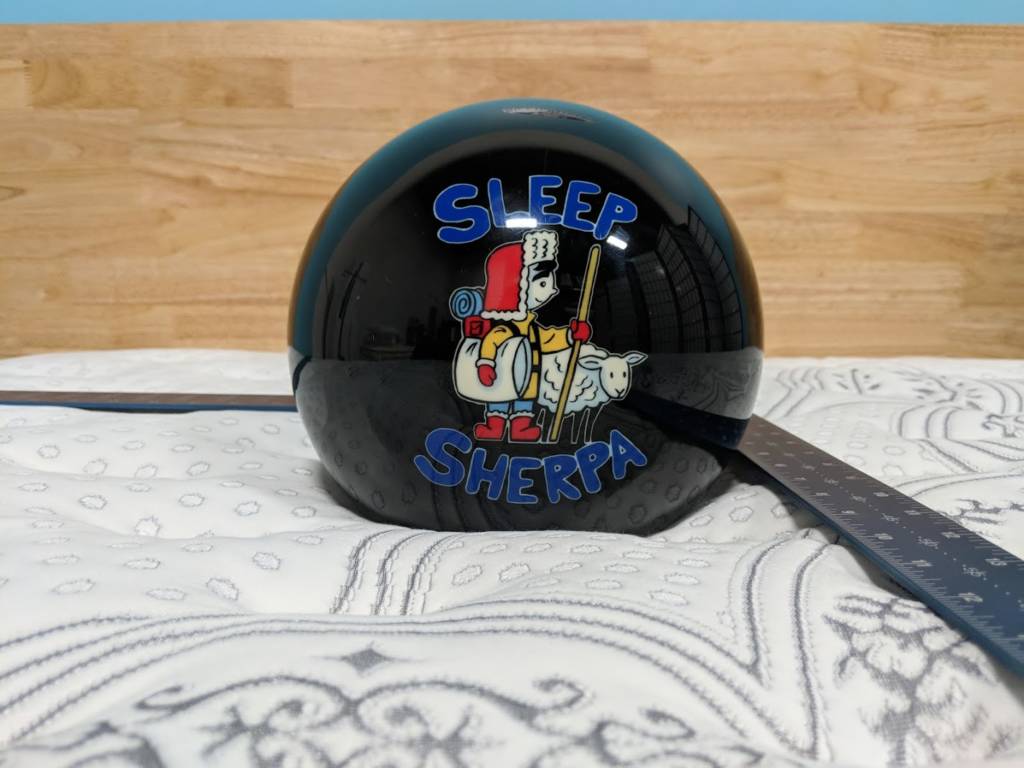 In this video I illustrate how it handles motion. although it does have a pocket coil system, because the mattress is so firm, there is very little movement.
I cut into the back side of the mattress to show you each layer. Here's what it looks like inside. The cover is stitched as opposed to a zipper cover. This made it harder to get into with scissors which is why it doesn't look so pretty.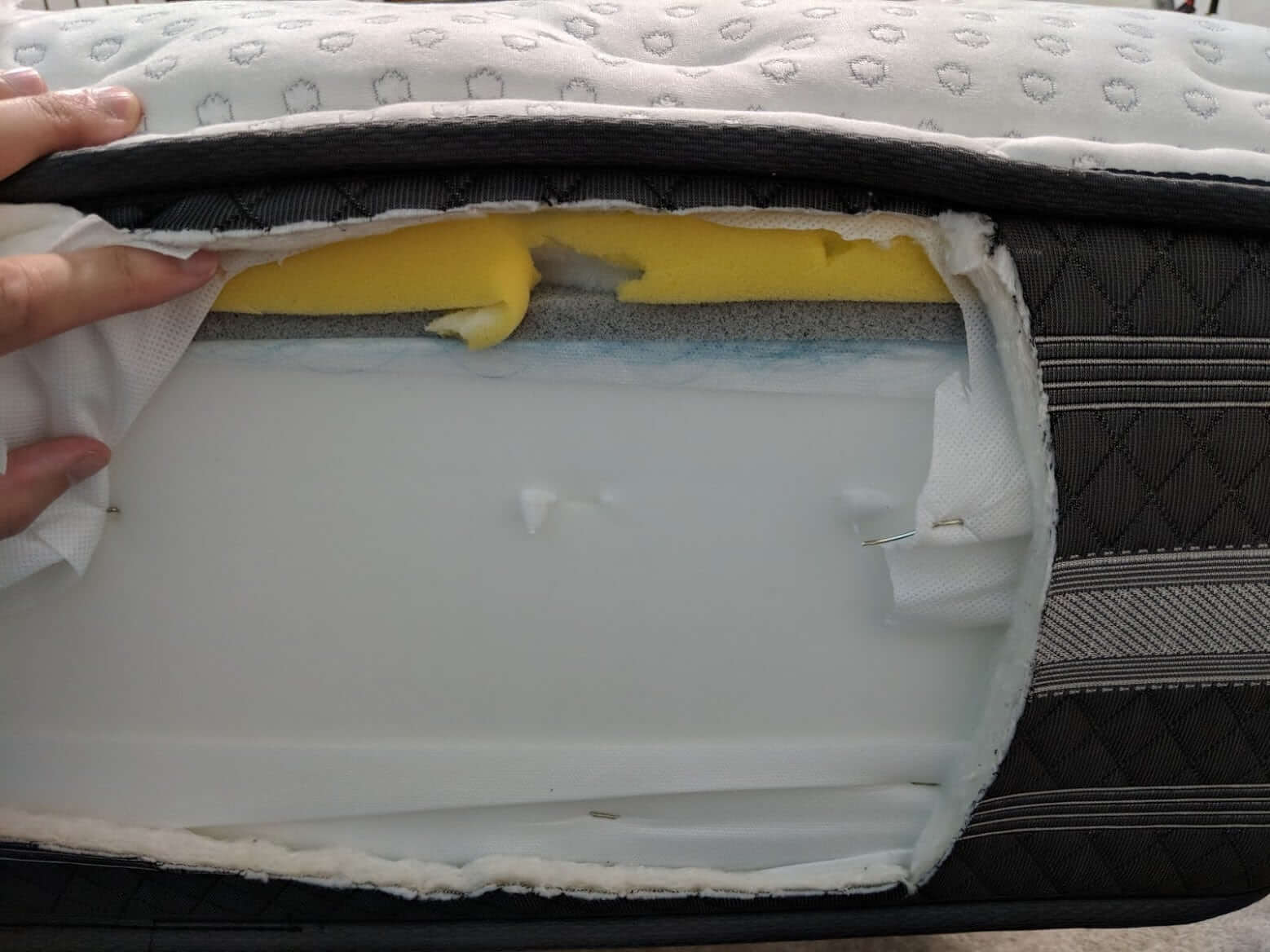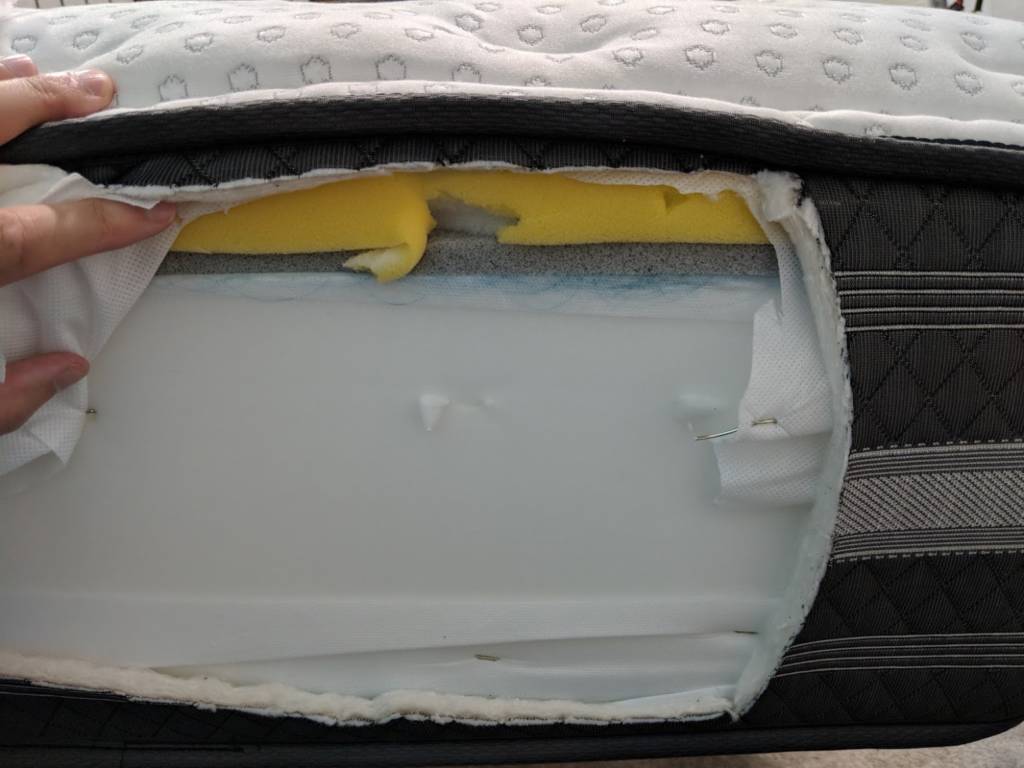 Here's a video showing how each layer reacts. You can't see the springs in this video because they are behind the perimeter foam.
Finally, I dug into the mattress so that I can show you the pocket coil system.
My BeautyRest Black Calista Recommendation
True to its name, this is a firm mattress. You won't sink much into this mattress which makes it optimal for stomach sleepers or anyone who likes a firm mattress. I also think it would be a great choice for heavy sleepers as it will give you proper support where you need it and the spring system will work to sink a bit more.
I really like how the Calista is layered. Although it is firm, it didn't feel hard. You can lay on this mattress for a long time without feeling uncomfortable.