Bear Mattress: A Timeline of Evolution and Expansion
2014: Origins and Founding In the heart of 2014, Scott Paladini laid the foundation for Bear Mattress, marking the commencement of a new era in the sleep industry. With the primary mission of crafting mattresses tailored for athletes and active individuals, Paladini embarked on a journey to harness innovative materials and design strategies.
2015: Market Introduction and Recognition Launching officially in 2015, Bear Mattress quickly gained traction. It was not merely another mattress in the direct-to-consumer market; Bear Mattress stood out with its special Celliant® technology. This FDA-determined textile promises to improve sleep quality, increase oxygenation, and aid in faster physical recovery.
2016-2017: Growth and Product Expansion Riding the wave of their initial success, Bear Mattress diversified its product lineup. Recognizing the different needs of sleepers, the brand introduced the Bear Hybrid – a concoction of pocketed coils and premium foam, aiming to offer a plusher, luxury feel without compromising on recovery benefits.
2018: Sustainability Initiatives Amidst the growing global emphasis on sustainability, Bear Mattress made eco-friendly strides. The brand ensured CertiPUR-US® certification for its foams, guaranteeing the absence of harmful chemicals and the reduction of carbon footprint in its manufacturing processes.
2019: Gaining Industry Acclaim The sleep industry took notice of Bear Mattress's consistent performance and innovation. Garnering accolades and recommendations from various sleep publications and experts, the brand firmly established its position as a frontrunner in the mattress market tailored for athletes.
2020: Navigating the Pandemic Era As the world grappled with the COVID-19 pandemic, Bear Mattress was not impervious to the challenges. Yet, they navigated these tumultuous times by emphasizing online sales, leveraging their direct-to-consumer model, and offering sleep solutions for a growing population working from home.
2021 and Beyond: Focused Expansion and Future Aspirations Bear Mattress continued its upward trajectory, emphasizing product refinement, customer engagement, and exploring avenues in sleep technology advancements. Their commitment to quality and the unique positioning in the market for active individuals ensures they remain a brand to watch.
I received a free Bear mattress for review. The Bear Mattress is a mattress designed for people with an active lifestyle who understand that sleeping isn't just what you do when you're tired, it's a way for your body to recover and heal so that you can take advantage of the day to come. That's why they have incorporated some of the latest technology into their mattress.
In early 2017, Bear Mattress partnered with the non-profit, Good Sports to help provide opportunities for all kids to participate in sports. According to the website:
As part of the partnership we will be participating in a 1% giveback of all net proceeds — meaning that for every Bear sleep product sold, a portion will be going to help Good Sports achieve their goal.
"A percentage of Bear's proceeds will be donated to Good Sports, allowing more children to partake in sports and fitness opportunities," said Scott Paladini, CEO and founder of Bear. "Bear was founded with an athletic ethos, and we're big believers in the idea that every child deserves the chance to benefit from the proven physical, social and emotional advantages that youth sports provide."
Ordering the Bear Mattress
If you have read my other reviews this will be redundant.  Ordering the mattress is very simple and straightforward. I was given a coupon code so the mattress was free. They accept all major credit cards and after your order is processed you can expect to receive the mattress in about a week or less. You get tracking information so that you know exactly when you package will be delivered and get a confirmation after it has been dropped off on your doorstep. A good thing to have if you are trying to coordinate getting rid of your old mattress. In short everything is seamless from placing the order to having it arrive at your doorstep.
Bear Mattress Unboxing
Bear Mattress was created by people who have been in the mattress industry for generations and have a thorough understanding of what makes a good mattress. I have slept on dozens of other memory foam mattress prior to this one and the Bear Mattress is right up there in terms of feel and quality. What sets them apart is that they are catering to people who live a more active lifestyle.
They are the first to incorporate celliant which is a synthetic fiber that has been proven to increase oxygenation in body tissue and reduce minor aches and pains. Celliant is woven into the top cover of the mattress so you are continually getting the benefit while you sleep, every night. This does not affect the feel at all. It is there working in the background for you.  Athletes wear celliant clothing to speed recovery but again, this is the first bed I have come across where it is built in.
Here's a video of the unboxing:
Construction of the Bear Mattress
Below are the updated 21067 specifications of the Bear Mattress. I appreciate that Bear is transparent with the construction and densities of the foam.
– Graphite Gel:  4.0 lbs / 1.5″
– Response Foam 1: 3.0 lbs / 1.0″
– Response Foam 2: 3.0 lbs / 1.0″
– HD Support Foam: 1.8 lbs / 6.5″
Below is a video of me squishing the mattress to give you an idea of how your body will conform.
Here's how it handles motion transfer. As you can see, there's not much motion transfer here as expected with a memory foam mattress.
Both my wife and I really like the overall feel of this mattress. It is about the same level of firmness as a Leesa and sleeps just as cool too. A big advantage for this mattress is the incorporation of the celliant fiber on the top layer. This technology is not cheap and for them include this in such a quality bed AND keep the price under a thousand is very remarkable.
My Bear Mattress Recommendation
If you have an active lifestyle and rely on your body to recover from a long run or hard workout at the gym, this is your mattress. It will give you that extra edge for recovery which translates into an extra edge the following day. If you are looking to purchase celliant sheets, expect to pay north of $250 for a set. So at that price point, you might as well just get a whole new bed!
Another popular mattress that gets mentioned with Bear is the Nectar Mattress. See how the Nectar compares to the Bear Mattress by reading the full Nectar Mattresss Reveiw Here
Get $50 off your Bear mattress purchase with coupon code sherpa50 at checkout Click Here to shop Bear Mattress.
Disclosure: We aim to highlight products and services you might find interesting, and if you buy them, we may get a small share of the revenue. I have an affiliate relationship with Bear Mattress.
Bear Mattress Models: A Comprehensive Overview
In the ever-evolving mattress industry, Bear has etched a name for itself, catering specifically to athletes and those leading an active lifestyle. A deep dive into their mattress lineup reveals the brand's commitment to innovation, technology, and varied sleeping needs. Here's a concise breakdown of Bear Mattress's most prominent models as of 2022:
1. Bear Original: The bedrock of Bear's lineup, the Bear Original is an all-foam mattress designed for optimal cooling and recovery. Comprising three layers of high-quality foam, this 10-inch mattress integrates graphite-gel memory foam at its core. The aim? To dissipate heat and offer balanced support. Suited for back and stomach sleepers, its medium-firm feel has been a hallmark since Bear's inception.
2. Bear Pro: A step above the Original, the Bear Pro is a four-layer, all-foam design boasting 12 inches in thickness. It incorporates copper-infused foam, targeting enhanced cooling and antimicrobial properties. Meticulously crafted, the Pro aims to offer a plush feel without sacrificing support, making it a top choice for side sleepers and those seeking a slightly softer surface.
3. Bear Hybrid: As the name suggests, the Bear Hybrid melds the best of both worlds: foam and coils. Standing at 14 inches, this luxury mattress integrates pocketed coils, offering a balance of bounce, support, and pressure relief. Topped with a quilted Celliant® cover – a textile known for its recovery benefits – the Hybrid positions itself as a premium option for those seeking a medium to medium-firm feel.
4. Bear Elite Hybrid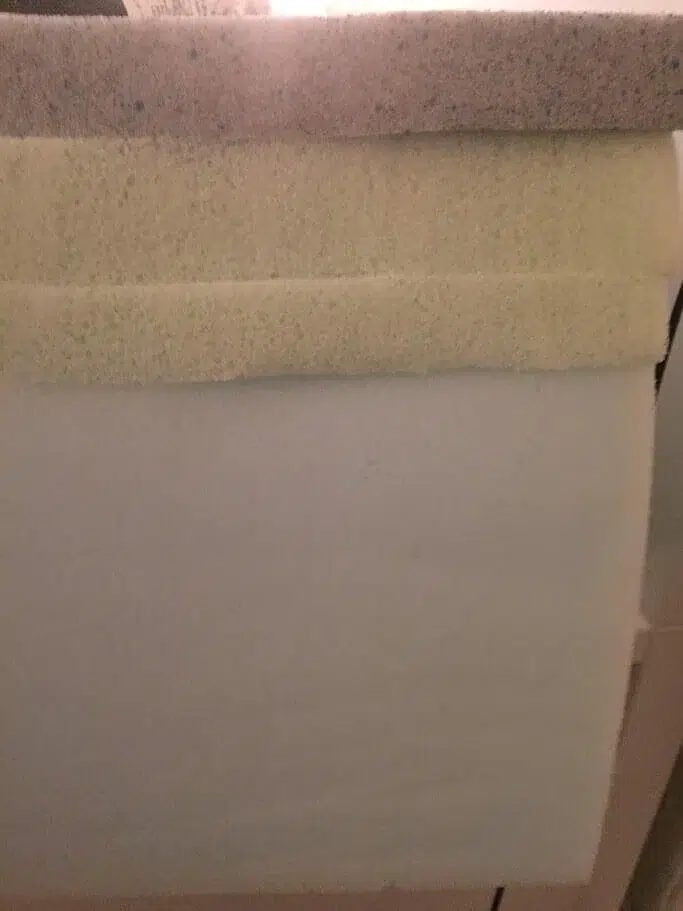 Price
| Mattress | Price (Queen) |
| --- | --- |
| Bear Original | $799 |
| Bear Elite Hybrid | $1,299 |
| Bear Star Hybrid | $1,899 |
| Bear Pro Hybrid | $1,599 |
| Bear Cub | $699 |
| Bear Trundle | $499 |
| Bear Trek | $1,099 |
| Bear RV | $1,099 |
Trial
All Bear mattresses come with a 120-night trial. This means that you can try out your mattress for 120 nights and return it for a full refund if you're not satisfied.
Warranty
All Bear mattresses come with a lifetime warranty. This warranty covers manufacturing defects, but it does not cover normal wear and tear or damage caused by misuse.
Construction
Bear mattresses are made with a variety of materials, including memory foam, polyfoam, and coils. The specific construction of each mattress varies depending on the model.
Here is a brief overview of the construction of each Bear mattress:
Bear Original: The Bear Original is an all-foam mattress with three layers of foam: a top layer of Celliant-infused memory foam, a middle layer of support foam, and a bottom layer of high-density base foam.
Bear Elite Hybrid: The Bear Elite Hybrid is a hybrid mattress with a layer of cooling gel memory foam on top, a layer of zoned support foam below that, a layer of pocketed coils, and a high-density base foam layer on the bottom.
Bear Star Hybrid: The Bear Star Hybrid is a hybrid mattress with a layer of plush comfort foam on top, a layer of zoned support foam below that, a layer of pocketed coils, and a high-density base foam layer on the bottom.
Bear Pro Hybrid: The Bear Pro Hybrid is a hybrid mattress with a layer of Celliant-infused memory foam on top, a layer of zoned support foam below that, a layer of pocketed coils, and a high-density base foam layer on the bottom.
Bear Cub: The Bear Cub is an all-foam mattress with two layers of foam: a top layer of memory foam and a bottom layer of support foam.
Bear Trundle: The Bear Trundle is an all-foam mattress with a single layer of foam.
Bear Trek: The Bear Trek is an all-foam mattress with three layers of foam: a top layer of Celliant-infused memory foam, a middle layer of support foam, and a bottom layer of high-density base foam.
Bear RV: The Bear RV is an all-foam mattress with two layers of foam: a top layer of memory foam and a bottom layer of support foam.
Bear Mattres Pros, Cons and Complaints
Bear Mattress Pros:
Comfortable and supportive: Bear mattresses are designed to provide both comfort and support, regardless of your sleeping position.
Cooling: Bear mattresses use a variety of cooling technologies to help you sleep comfortably, even if you're a hot sleeper.
Durable: Bear mattresses are made with high-quality materials and are built to last.
Affordable: Bear mattresses are relatively affordable compared to other mattresses on the market.
Long trial and warranty: Bear mattresses come with a 120-night trial and a lifetime warranty.
Bear Mattress Cons:
Off-gassing: Bear mattresses, like all memory foam mattresses, may emit a slight off-gassing odor when you first unbox them. This odor is usually harmless and dissipates within a few days.
Edge support: Some Bear mattresses have been criticized for lacking edge support. This means that you may feel like you're rolling off the edge of the bed if you sleep too close to the edge.
Motion transfer: Some Bear mattresses, particularly the all-foam models, may not isolate motion as well as hybrid mattresses. This means that you may feel your partner move around in bed, which could disrupt your sleep.
Bear Mattress Complaints:
Customer service: Some customers have complained about poor customer service from Bear Mattress.
Shipping delays: Some customers have complained about experiencing shipping delays with their Bear mattress.
Manufacturing defects: Some customers have complained about manufacturing defects in their Bear mattress, such as sagging or tears.
Overall, Bear mattresses are a good option for people who are looking for a comfortable and supportive mattress at an affordable price. However, it is important to be aware of the potential cons and complaints before making a purchase.