We earn a commission if you make a purchase, at no additional cost to you.
The Arctic Dreams mattress from Dreamfoam Bedding is designed for a cooler night's rest that is typically reserved for much higher priced mattresses. You can choose a foam core or the encased coil version.  The coil version retails for the low price of $374.25 in a queen size while the all-foam version is currently $336.75 after the current discounts. For people who live the RV lifestyle, you're in luck. You can also get this mattress in RV friendly sizes so you can sleep cool and comfortable on the road when air conditioning may not be an option.
Overview of the Arctic Dreams Mattress
Here's a video overview of the Arctic Dreams foam version.
Here's a  quick video overview of the hybrid version of the mattress.
After you place your order it will arrive in a box at your doorstep like the one below. It took about a week for mine to arrive. They are made in Arizona so shipping is fast.

How Much does the Arctic Dreams Mattress Cost?
Below are the prices of both models, the encased coil and foam core. You also get an additional discount at the Dreamfoam website that is automatically applied.
[table id=123 /]
Construction of the Arctic Dreams Mattress
Depending on what model you purchase, either the foam core or coil unit, these are the specifications as listed on their website.
A .75" ultra-soft quilted top offers plush, breathable comfort in a material designed to resist body impressions.
An advanced cooling panel, typically only offered with luxury mattresses, delivers cooling relief on contact.
A 2.5" patented layer of gel memory foam pairs ultimate optimal pressure point relief with just the right amount of responsiveness.
The Arctic Dreams mattress is offered with two core options:


The all-foam version, which features a 7.5" high-density foundation with open cell technology—giving the mattress structural firmness as well as durability.
The hybrid, which features a 6" layer of individually encased coils, designed to deliver ultimate pressure point relief while decreasing motion transfer between sleep partners. The coil system is paired with a 1" high-density foam base that adds durability to the mattress while reinforcing individually encased coils as they compress.

My Arctic Dreams Findings
This mattress is on the firmer end of the spectrum. I think that's because there's really only one layer of foam at the top and although the coils help with contouring they are still fairly firm. There's a little batting stitched into the cover to soften it up a bit.

Here you can see how much my 14lb. bowling ball sinks into the mattress. I really like the feel of the phase change cover. It's sort of a silky feel and is cool to the touch. Most mattresses at this price range will use a simple knit cover which gives you more of contouring. This mattress has batting stitched into the cover which gives the mattress a more traditional feel.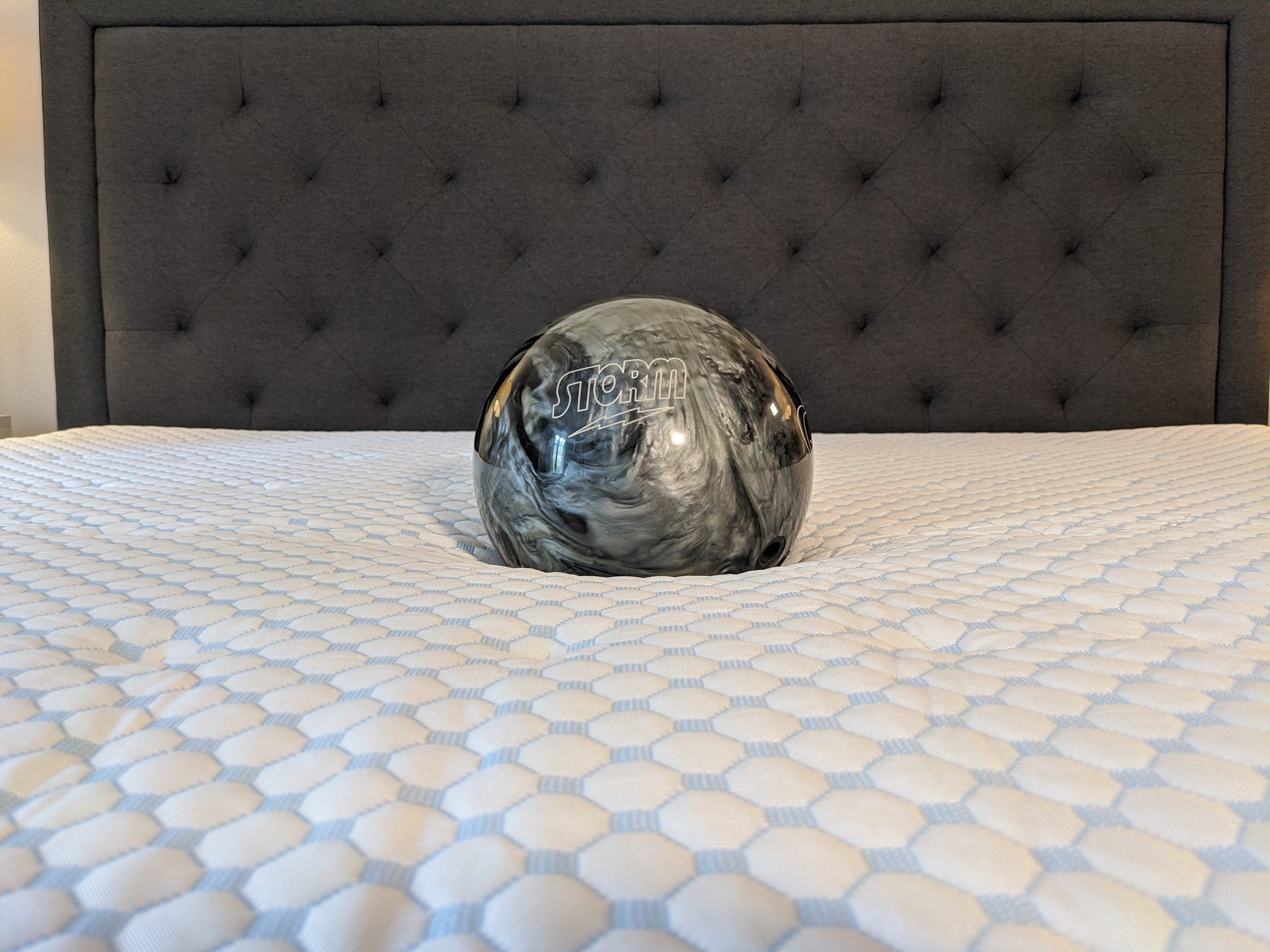 My Arctic Dreams by Dreamfoam Bedding Recommendation
I recommend the Arctic Dreams mattress for people on a budget that tend to sleep hot. It is a bit on the firmer side so it's better for stomach and back sleepers but side sleepers can still get benefit from the mattress if they are OK firmer feel and have good shoulder and neck support from their pillow. This mattress comes with a 120-night trial which is generous considering the price. That means you can have it for about 4 months at home to see if it's right for you. If you don't like it, it's a free return. You also get a 10-year warranty that is backed by Dreamfoam.
We earn a commission if you make a purchase, at no additional cost to you.