Apartment 2B Melrose Sleeper Sofa
Apt2B made-to-order sofas & sectionals achieve Goldilocks status in both cushion feel and depth. Cozy yet supportive with just enough lounge.
We earn a commission if you make a purchase, at no additional cost to you.
Apartment 2B (Apt2B) is a furniture company based in the United States that specializes in offering stylish, modern, and affordable home furnishings. Although there is limited information available on the company, here's a brief history:
Founding: Apt2B was founded in 2011 by Alex Back and Mat Herman, two entrepreneurs who shared a vision of providing high-quality furniture at competitive prices. Their aim was to cater to the needs of young professionals and first-time homeowners who wanted to furnish their homes with stylish yet affordable options.

Growth: Over the years, Apt2B has gained a reputation for offering a wide range of stylish and modern furniture pieces at reasonable prices. They have an online store that ships to customers throughout the United States, making their products easily accessible to a wide audience.

Products: Apt2B offers a diverse range of home furnishings, including sofas, sectionals, chairs, beds, dining tables, storage solutions, and home accessories. They also offer customizable options for some of their products, allowing customers to choose the fabric, color, and style that best suits their needs.

Collaborations: Apt2B has collaborated with various designers and influencers to create exclusive furniture collections. These collaborations have helped the company expand its product offerings and attract a larger customer base.

Recognition: The company has been featured in multiple media outlets, including popular magazines and online publications, for its stylish and affordable furniture options. This recognition has helped Apt2B establish itself as a leading brand in the home furnishings market.
Overall, Apt2B is a company that has grown significantly since its inception in 2011, and it continues to provide customers with a wide range of modern and stylish furniture options at competitive prices.
Their furniture is made in the USA and is as easy as ordering a book from Amazon. The founders, Alex Back and Mat Herman have won numerous awards for their furniture designs and continue to produce sophisticated-looking furniture at an accessible price. I was given a sleeper sofa to review because I know how hard it can be to find a good sofa bed for guests. It's important that the sofa looks good for the majority of the time its not in use but also feels good when people sleep on it. Below are my findings of their Melrose Sleeper Sofa.
Overview of the Melrose Sleeper Sofa from Apt2B
Here's a video of the Apt2B sleeper sofa. You can see how to set it up and how big it is in my living room.
When you order your sofa you can choose from 57 fabric options and 2 different wood finishes. If you are unsure about some of the fabric choices, they will send you a free swatch to help with your decision. From my experience, the colors from the website were a good representation of what I received. Shipping times vary, as of this writing, it can take 3-5 weeks for delivery but it can be much sooner. There's no setup needed for this couch, you will be contacted to schedule a delivery and it will be delivered into your house which is needed since this is a heavy piece of furniture.
How Much Does the Melrose Sleeper Sofa Cost?
As of this writing, the sleeper sofa costs, $3,268 for the memory foam mattress option. If you want to upgrade to the innerspring mattress, it will cost a total of $3,018. The color or leg finish will not affect the price. If you aren't sure what color or fabric to choose from based on the website, they will send you free fabric swatches. You also get free shipping and a 100 day trial period to see if it is the right fit for you. If you don't like it, it's a free return. They also offer financing through Affirm which will break the price down into smaller payments over time.
Construction of the Melrose Sleeper Sofa from Apt2B
First and foremost, this mattress is made in the USA. The construction is very sturdy and it's built to last.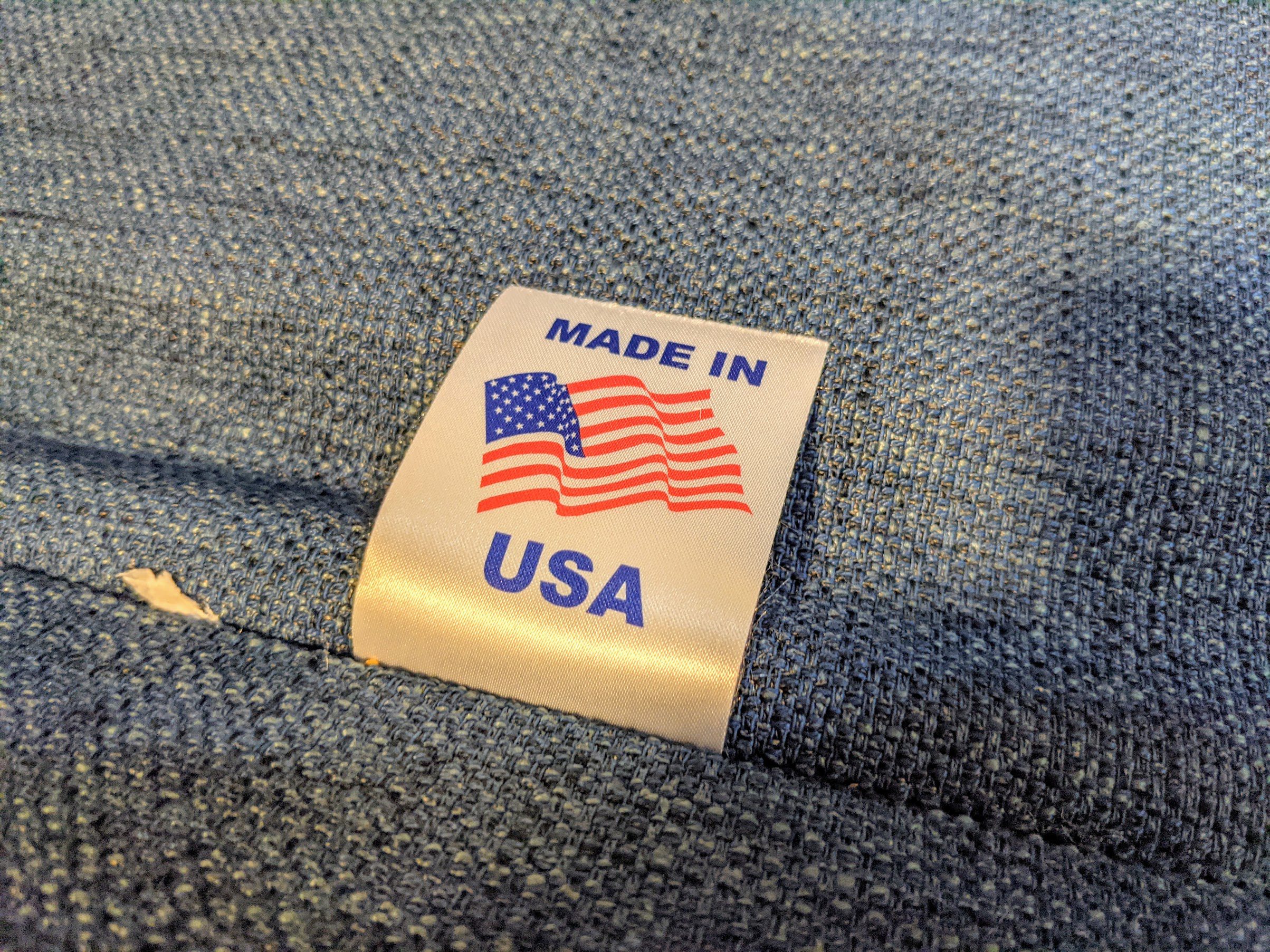 It's important to measure your room to make sure this sofa will fit properly. You also need to account for having the mattress out and that there is ample room around the mattress so you or your guests can easily get out of bed.
Details
Overall Dimensions
93″w x 39″d x 27″h
Dimensions w/ Mattress Open
93″w x 92″d x 27″h
Mattress Dimensions
60″w x 72″d x 5.5″h
Features
Custom made in Los Angeles, CA (made in USA)
Eco-friendly construction
Solid wood frame
Cleanable and breathable hypoallergenic fabrics
Reversible and flippable detached cushioning
Zippered, removable cushion covers for easy cleaning
Seat cushions are 2.0 density foam offering a cozy yet supportive sit / no flame retardants added
Lifetime guarantee on frame and workmanship
Deluxe 5.5″ thick innerspring mattress
Easy-fold steel mechanism w/1 year manufacturer guarantee
My Apt2B Sleeper Sofa Findings
My first impression of this couch is that it has a firm feel when you sit on it. This is typical with sleeper sofas but I found it more pronounced with the Melrose. It is in keeping with the modern look and so it won't leave impressions when you get out of it and always looks neat.

Here you can see how much it sinks with my 14lb. bowling ball.

Getting the bed out is easy. It comes standard with a memory foam mattress. For a little extra, you can make it a spring mattress but I prefer all-foam mattresses in sofa beds because they can only be so thick and its best to get as much cushion as possible.

You can see how much this mattress sinks with my bowling ball. It is a dense foam so you will sink a bit but it is dense enough so that you won't feel any of the steel frame underneath.

Sleeping on this sofa sleeper is actually pretty comfortable. Even sleeping on my side, I couldn't feel any steel bars underneath. Sometimes when I sleep on a sofa sleeper I can feel a crossbar underneath my hips which puts me out of alignment no matter how soft the mattress. This wasn't the case though. It is a firmer feel and so if you or your guests are side sleepers or like a firmer feel, I would get a mattress topper for this to soften it up.

This sofa has good quality zippers and the fabric fits snugly to the foam cushion inside.

Both the back and seat cushions are made with foam and have a zippable cover so that you can wash the fabric in case it gets dirty. It can be a little tricky to put the covers back on so I would recommend spot cleaning when applicable and only washing the covers if necessary.

My Apt2B Melrose Sleeper Sofa Recommendation
There are seemingly endless choices for sleeper sofas both online and in stores. What I like about Apt 2B is that you really get what you pay for. There are plenty of cheaper sleeper sofas to be had but you get what you pay for. This furniture will last decades and will wear well. The fabric is durable and high quality and with the option for free returns and a generous warranty, it's a safe bet.
Other Products from Apartment 2B
Apt2B offers a diverse range of home furnishings to cater to various tastes and preferences. Their product offerings include:
Sofas and sectionals: They provide a wide selection of sofas, sectionals, loveseats, and chaises in various styles, sizes, and materials. Customers can choose from different fabric options, colors, and configurations to suit their needs and preferences.

Chairs: Apt2B offers an assortment of chairs, including accent chairs, armchairs, dining chairs, and office chairs, in various styles and materials.

Beds and bedroom furniture: The company provides a variety of bed options, such as platform beds, storage beds, and upholstered beds, as well as other bedroom furniture like nightstands, dressers, and chests.

Dining room furniture: Apt2B offers dining tables, chairs, and barstools in various styles, sizes, and materials, making it easy for customers to find the perfect set for their dining space.

Storage solutions: The company provides a range of storage options, including bookcases, shelves, cabinets, credenzas, and media consoles, to help customers organize and declutter their living spaces.

Home office furniture: Apt2B offers functional and stylish home office furniture, such as desks, office chairs, and storage solutions, to create an ideal work environment at home.

Home accessories: In addition to furniture, the company also offers a variety of home accessories, including rugs, lighting, wall art, mirrors, and decorative items, to complete the look and feel of any space.

Outdoor furniture: Apt2B also provides a selection of outdoor furniture, including patio sets, outdoor seating, and dining options, to create comfortable and stylish outdoor living spaces.
Overall, Apt2B offers an extensive range of modern and stylish furniture options and home accessories to suit various tastes, preferences, and budgets.
Prices, Trial and Warranty of Apartment 2B Products
The company is known for offering competitively priced and affordable furniture. You can visit their website to browse their catalog and find the most up-to-date pricing information.
As for trials and warranties, Apt2B offers the following:
100-day trial for mattresses: Apt2B offers a 100-day trial period for their mattresses. If you are not satisfied with your mattress during this trial, you can return it for a full refund. However, they do require customers to test the mattress for at least 30 days before initiating a return, as it takes some time for the body to adjust to a new mattress.

Product warranties: Apt2B offers warranties for their products to ensure customer satisfaction and provide protection against manufacturing defects. Warranty periods may vary depending on the product category. For example:
Frame and construction: Apt2B typically offers a lifetime warranty on the frames and construction of their sofas and sectionals.
Fabric and cushions: The company provides a warranty on fabric and cushions, usually covering a period of 1 to 3 years. This warranty covers defects in materials and workmanship under normal residential use.
Other products: Warranties for other products, such as bedroom furniture, dining tables, and chairs, may vary. It is essential to check the warranty information for each specific product.
How Do I Contact Customer Service?
To contact Apt2B's customer service, you have a few options:
Email: You can send an email to [email protected] with your questions or concerns. Provide as much detail as possible, including your order number (if applicable), and a customer service representative will respond to your inquiry.

Phone: You can call Apt2B's customer service at 1-877-825-8705. Their team is available to assist you with your questions or concerns.

Live chat: Visit Apt2B's website and look for the live chat feature, usually located at the bottom right corner of the screen. You can chat directly with a customer service representative during their business hours to get immediate assistance.

Contact form: You can also fill out the contact form available on their website. Navigate to the "Contact Us" page, provide your name, email address, phone number (optional), and a detailed message. A customer service representative will get back to you via email.
When reaching out to Apt2B's customer service, be prepared with any relevant information, such as order numbers or product details, to help them better assist you with your inquiry.
Apartment 2B Melrose Sleeper Sofa
Apt2B made-to-order sofas & sectionals achieve Goldilocks status in both cushion feel and depth. Cozy yet supportive with just enough lounge.
We earn a commission if you make a purchase, at no additional cost to you.